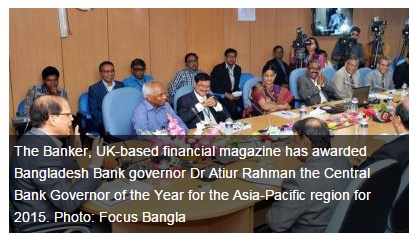 A UK-based financial magazine has awarded Bangladesh Bank governor Dr Atiur Rahman the Central Bank Governor of the Year for the Asia-Pacific region for 2015.

The Banker, a media entity of The Financial Times group, announced the award in recognition of his works, according to a BB press release issued on Tuesday.

It said Atiur has exemplified "how central banks can play essential role in promoting financing of socially and environmentally responsible initiatives without compromising on growth or macroeconomic stability".
The magazine has announced the names of the four other awardees for the other regions of the world, apart from Dr Atiur.
The BB governor has earlier won the Indira Gandhi Gold Plaque from India, Gusi International Peace Prize from the Philippines, WHO anti-Tobacco award, and membership of an elite small global UNEP advisory panel on designing a sustainable global financial system.