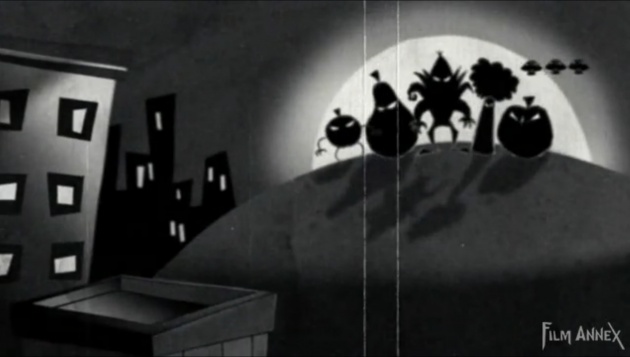 Has anyone told you to stop playing with your food when you were a kid? In Attack of the Giant Vegetable Monsters by animation filmmaker, Ken Turner, a little boy named Jack gets reprimanded by his mother when he gets busy playing with his vegetables instead of eating them. The film has been described as a parody of the monster movies from the 1950s-60s era by FILMAFFINITY and a marvelous piece of animation with more than a twist in its tale by KURIOSITAS.
Although we've left Halloween behind awhile ago, I chose Attack of the Giant Vegetable Monsters as the recommended film of the week on Film Annex due to its originality and great score. The film begins with thunder and lightning in a small, quiet town. Immediately, we're introduced to that "It was a dark and stormy night" kind of feel and know that something sinister is about to happen. And there they are! The once harmless and "adorable" vegetables are now on an evil rampage around the neighborhood. You might ask "Oh! Like Godzilla?" No! Not like Godzilla. We're talking about vegetables here. Vegetables attacking humans. I wonder how many of those people are vegetarians...
Most of the 6 minute short is black and white and looks like it was shot on 16mm film with all the delicious grain and noise. And the last bit is in color, equally visually impressive. Every time Ken Turner uploads a new film, I get more and more impressed with his stories and style. You can't miss the Tim Burton influence when you watch Turner's work, but what I love about him is that he doesn't hesitate to use bright colors, vibrant greens, vivid pinks... His characters are funny and never one-dimensional.
So for all the vegetarians and carnivores (and vegans) who are wondering what they should do on a rainy Tuesday, I'm saying, watch this movie. And if you like it, which I'm sure you will, visit Ken Turner's Web TV to watch more good stuff like other films and their making-of(s) check out his awesome drawings. Turner's illustrations and film work have been featured in print and online via the pages of The Toronto Star, Cartoon Brew, DRAWN!, IMDB, SlashFilm, Tim Burton Collective, The Line of Influence: A Tribute to Ronald Searle, Sketchozine and INSTORE Magazine.
Attack of the Giant Vegetable Monsters is now part Eren's Picks!
Watch the film:
-- Eren