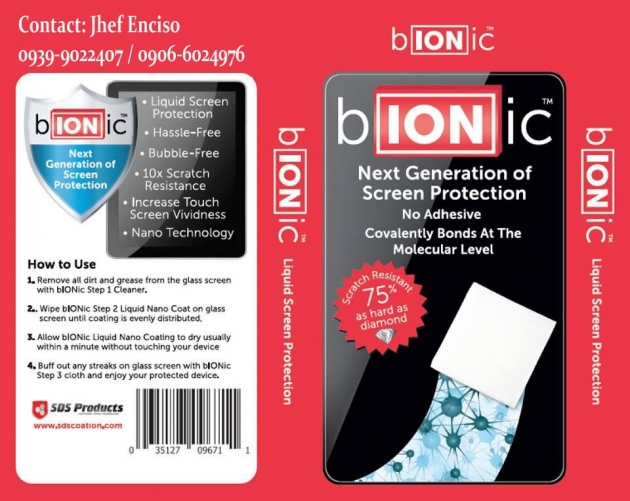 ATTENTION SMARTPHONE/TABLET USERS!!
-----------------------------------------------------------------
For Sale: SDS BIONIC SCREEN PROTECTOR
Price per piece: 1,200
(For discounts/bulk orders, add and pm me)
This one is the BEST SCREEN PROTECTOR for your valuable mobile gadgets. No need to look for the 'right size', this liquid screen protector will make your old or most recent purchase of android or iPhone a lasting investment. It also retains the clarity of the device's screen getting rid of plastic film. Check out the video on how it protects your phone from scratches.
HOW SDS BIONIC SCREEN PROTECTOR IS BETTER THAN ANY FILM-TYPE PROTECTION FOR YOUR MOBILE DEVICES?
SDS bIONic Screen Protector is a specialty coating containing a nanotechnology quartz-based material that provides the combined performance qualities of antimicrobial protection, hydrophobicity, scratch resistance, corrosion prevention, anti-static, dirt repellent and is an environmentally safe coating formulation. SDS bIONic Screen Protector is not a glue or an adhesive, rather it binds to the surface at the molecular level essentially becoming one with the surface.

This SDS Bionic product is available to PayBux users and we currently have 25,000 units of this product.
Register na sa Paybux para maka-discount.

"Basta Paybux, Quality Products!"
Contact: Jhef Enciso a.k.a Kaperahan Dot Biz
0939-9022407 / 0906-6024976