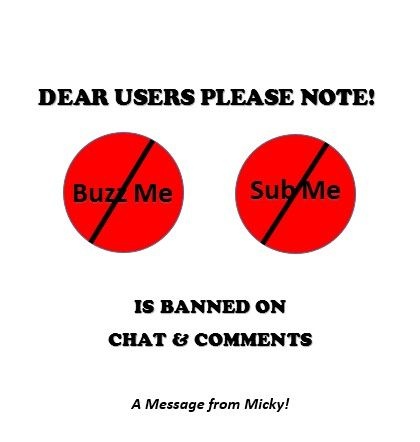 Bitlanders is a platform/place where users come for reading and watching some interesting and quality stuff that is published by its users. It is place which provides an opportunity its users who believe in quality contents that can attract other people towards their ideas through their posts.
But it has been observed by Mickey! the regulator/administrator of this amazing platform that some users are spamming here. Then he decided to take an action against them and posted a blog in which a message was given to the users that "ban will be imposed on all users that will be doing such spamming" on bitlanders afterwards.
1- What is Spamming!
According to new rules applied by Micky spamming is referred to use word "Sub me" and "Buzz me" in chat or comments. The user who will not obey this rule will be banned for a period of time as described by Micky! that is mentioned under here in this blog.
Micky observed many times that there are many users who come in chat just for the sake of buzz and sub. They are ruining the charm of bitlanders by just writing Buzz me and Sub me all the time for nothing. As a user of this activity has been seen many a times by me also whenever I opened chat. What I saw that many users were asking each others just buzz me and sub me.
As this activity was totally against the core purpose of this rewarding site, so it was decided by the authorities to ban such users and keep them away from this platform that is a quality content place.
NOTE: For Spammers only

Any user who spams with that type of buzz/sub requests both in the comments and the chat will be banned from bitLanders for 1 day and won't be able to log in or collect any Reward for that time period.
After reading this note please be a good user and avoid spamming. (A message only for spammers)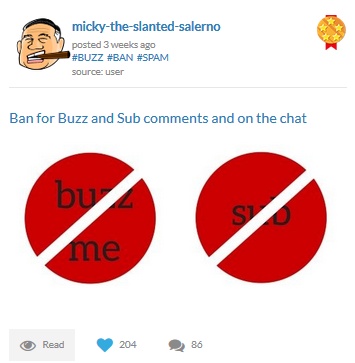 screen shot of Micky's Blog (taken by me)
2- EXAMPLES OF SPAMMING:
Now I will show you some users doing spam on bitlanders.Many blogs have been written by others users already that are showing such spamming so I will reference their link for information so that new users may notice that and avoid doing such things.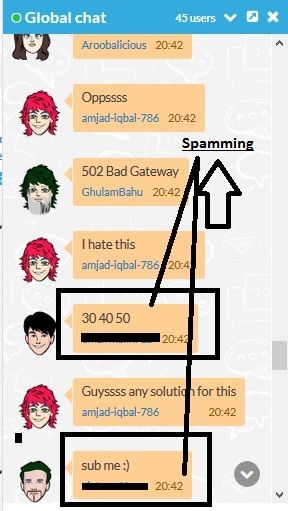 Example 1: Spamming in Global Chat:
For information now I will show you that some top users that were doing this before a message about spamming came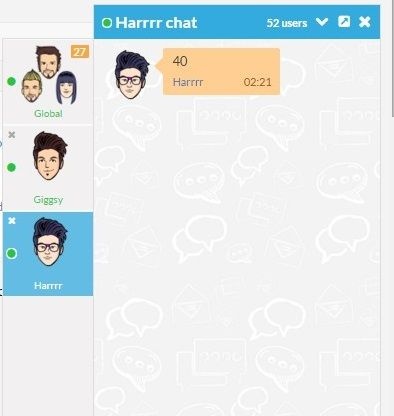 Example 2: Another way of spamming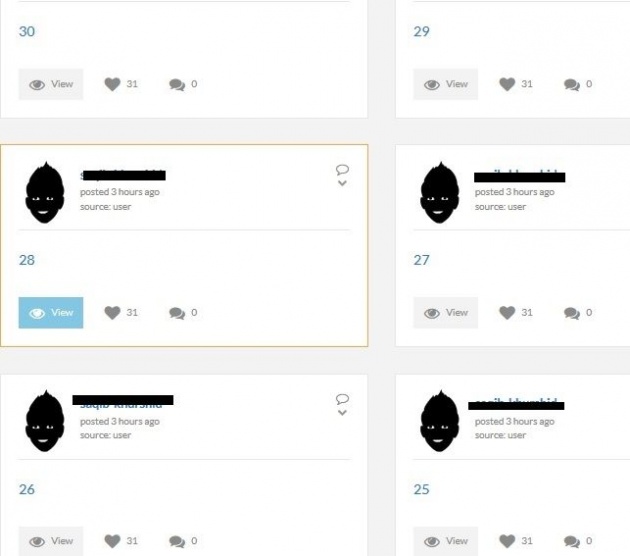 Example 3: Irrelevant posts another example of spamming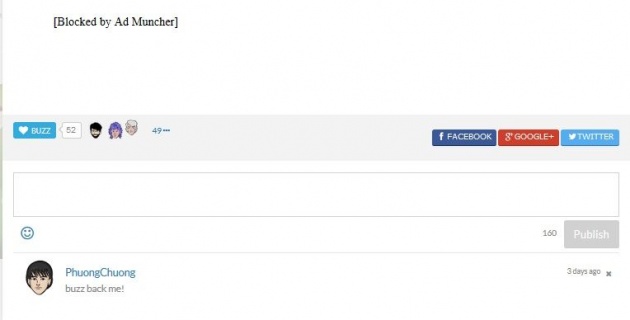 Example 4: Spamming in comments
The acts shown above
Use word sub me in global chat (example 1)
Spamming in PM (example 2)
Irrelevant posts (example 3)
Comments (example 4)
are highly prohibited by the bitlanders team so after seeing this please avoid doing this things because this can cause a ban on you and you will not able to earn reward and this will also have a negative on you at such platform. Peoples are advised here to avoid spammers and discourage them or guide them by writing them messages and then they will be able to understand the importance of this website that is giving reward in the form of Bitcoins. It is the only website that is rewarding its users when they use it and share their precious thoughts. So, it has provided the internet users an opportunity to spend their time in a rewarding way.
3- What is the purpose of Spamming:
Spammers do such things just for one thing and that is to get high score and Buzz , for this purpose they use each and every way to increase their buzz. They think that to do such things will increase their buzz and rank. But the reality is different. By doing such spamming things instead of getting high scores they may be banned from bitlanders and as a result their score and buzz may fall down instead of increasing.
UN-subscribe Spammers or to Guide them:
In my opinion, when someone see a spammer he should tell him/her that not to do this spamming act because it may cause a ban on you. If he stops spamming and do good work here then he should be followed otherwise if he keeps on spamming then we should UN-sub him/her. But firstly its will be sign of good act to guide him about his wrong work.
4- Earn Buzz and Reward through quality content/Review:
Bitlanders pay reward to their users when they wrote some quality content or upload some quality content. But for earning more reward and buzz user have to submit his content for review.
What is the "Content Review"?
"Content Review" is a feature which allows users to submit their contents to our editorial team. Once reviewed, submitted contents may receive additional Buzz bonuses depending on their quality. Higher quality contents will receive higher scores and higher bonuses.
Currently, only Blog Posts, movies and galleries may be submitted for review.
What are the requirements for the submission?
For Blog posts:
- Only English submissions will be accepted
- Submitted posts must be written in proper, well formed and well formatted English
- Submitted posts must be original
- Submitted posts must be exclusive and can not be present anywhere else on the web
- Submitted posts must be tagged accurately
For movies:
- Only English submissions will be accepted
- Submitted movies must be original
- Submitted movies must be tagged accurately
For galleries:
- Submitted galleries should follow a theme
- Submitted galleries must contain more than 5 images
- Submitted galleries must be tagged accurately
How do I achieve high scores?
For Blog posts:

- Write original content (Submitted posts must be exclusive and can not be present anywhere else on the web)
- Write in proper, well formed and well formatted English
- Make your posts visually appealing by adding related images and embedding related videos
- Do not plagiarize content from the web or other bitLanders users
- Make sure you use accurate and related tags
For more information please check the section "How to write a blog?".
For movies:
- Upload meaningful content
- Upload high quality movies(picture and sound)
- Present your movie well by writing an exhaustive synopsis and choosing a related image as a poster
- Do not plagiarize content from the web or other bitLanders users
- Make sure you use accurate and related tags
For galleries:
- Make sure your images are related and suitable for the theme of the gallery
- Upload high quality images
- Each gallery must contain more than 5 images
- Make sure you use accurate and related tags
What is the cost?
The cost varies depending on promotions, the amount of your latest submissions, avatar gear and avatar skills. Please read the submission page carefully before you submit.
Submitting your content for review does not automatically grant a bonus. Your content must respect the requirements stated above and be accepted by the editorial team. Submissions which are not accepted or do not follow the requirements will not be refunded.
Why should I submit my content for review?
Creating high quality content and submitting it for review is the best way to achieve a significant boost to your Buzz Score. One well written post is worth more than ten thousand spammy comments.
Data source: (Courtesy of Bitlanders FAQs under setting button)
My Journey on Bitlanders and my experiences without Spamming:
I joined this website two months ago. When I joined this website one question was always wandering in mind that how to get high buzz score. For this purpose at that time I spend as much time that I could. And after posting my content on it I was always looking for others to buzz me because at that time I was unknown from the reality about how can I get high buzz score. So, one day when I was exploring BitLanders website I found FAQs under setting button. I started reading it and that day I found that if I want to get more buzz and score I have to write my own blogs and then have to submit it for review for getting high score and buzz. Thus on that day I started the real using of bitlanders. I just made up my mind for writing my own content and submitted it for review.
When I got the result of my blog which I submitted for review I was very surprised to see that withing two day my buzz score increases rapidly and the daily earning also. Due to my this working I was able to secure my position in the Leader Board.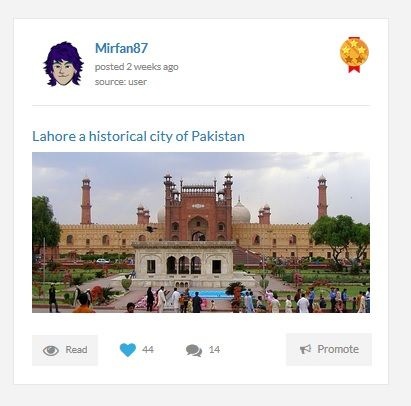 Link of my first blog click here
As a part of my experience I would like to suggest all the users including spammers that instead of using spamming things they must come forward and should write their own blogs and to sumbit it for review because that is the only way to get a high rank and to increase high buzz score. As Bitlanders use Buzz score as the key to arranging its users positions. The user who get high buzz score get high rank.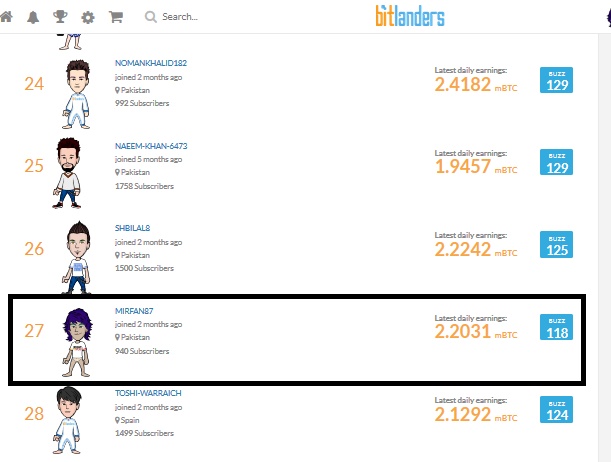 My Rank in Leader Board.
Just because of quality content and then submitting it for review I was able to reach Leader Board. Now I think it will be clear to everyone that if he wants to get high score he/she must follow the rules mentioned in FAQs. Link is available above or anyone can get it just by exploring setting button. Follow the instructions and just do work properly.
If a user do the daily tasks he/she will also get high score and buzz.
How to earn Rewards on bitLanders?
The Buzz Score is what determines how many Rewards you earn on bitLanders. There are different ways to increase the Buzz Score, and earn Rewards:
Upload high quality content such as:

Micro-blogs: Post short status updates, questions, thoughts, pictures, etc.
Blogs: Write quality blogs.
Movies: Upload quality videos.
Photo Albums: Upload your pictures.

Submit your content for review: Click the following link for tips to submit high quality content "Content Review" feature - What is it and how do I use it to increase my Buzz Score? ".
Receive Buzz from other users.
Fulfill tasks and quests: Check the Quests Box and Daily Quests box at the top right of the content feed and make sure you fulfill all of them regularly to earn extra Buzz Bonuses.
Invite friends: Through your Earn More page, you can invite friends to register. Once they do, you earn 3 Buzz Bonuses for 2 days and 20% of their Rewards for life. You can also invite friends through the Facebook invite on your content feed, you will be rewarded with 20 satoshis right away and 3 Buzz Bonuses for 2 days once they join as well!
Earn daily Buzz bonuses: A Buzz Bonus (direct power up) is a temporary bonus acquired through daily specific activities. It often lasts for 1 day.
- Daily Login Bonus: You will receive +1 Buzz Bonus everyday when you log in on bitLanders! (up to +7 per day)
- Content Treasure Bonus: By reading, watching and buzzing quality content, you may discover hidden treasure that will give you +1 Buzz Bonus for 1 day!

Donate: By donating part of your Rewards on bitcharities.com, you can get up to 3 Buzz Bonuses for 7 days which will increase your BuzzScore and overall Rewards.
Buy avatar accessories: Visit the shop to acquire avatar items that will earn you extra Buzz Bonuses.
Play FlapPig (For IOS click here to download; For Android click here to download
Data source: ( Courtesy of Bitlanders)
I hope now it will be very easy for users to understand that instead of spamming every user must write quality contents and then submitting it for reviewing may increase his/her score. Because Bitlanders teams is now working very hard to keep it safe from spammers.
Micky's another step to keep Bitlanders safe from Spamming:
As the users in global chat started using their own languages and it was creating problems. So, Micky came with an other idea to make English as the Global chat language only. To use any other language in global chat is ban now. Any one who use other language may be banned by the Micky. So, please avoid using any other language as it may cause ban on you for a period of time as decided by the Micky.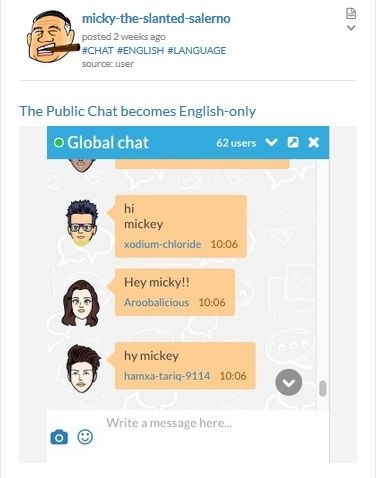 screenshot taken by me
To keep bitlanders free from spammers its team is working very hard by keeping an eye on global chats, comments and contents. So, Please avoid using spamming things and come forward to post quality content that will increase your buzz score and then you will be able to earn rewards. Comment on only quality posts that you like. Share the posts that you like.
I Hope this will help everyone to understand spamming and then to avoid it.
Thanks for reading.
Hats off for the team of Bitlanders who are working diligently to keep this platform alive and free from spammers.