Good day friends! Below is the Gospel for this week. I also included a short reflection after you read it. Thank you for reading!
Sunday, 31 August 2014 : 22nd Sunday of Ordinary Time (Gospel Reading)


Matthew 16 : 21-27

From that day Jesus began to make it clear to His disciples that He must go to Jerusalem; that He would suffer many things from the Jewish authorities, the chief priests and the teachers of the Law; and that He would be killed and be raised on the third day.
Then Peter took Him aside and began to reproach Him, "Never, Lord! No, this must never happen to You!" But Jesus turned to him and said, "Get behind Me, Satan! You are an obstacle in My path. You are thinking not as God does, but as people do."
Then Jesus said to His disciples, "If you want to follow Me, deny yourself, take up your cross and follow Me. For whoever chooses to have his life will lose it, but the one who loses his life for My sake will find it. What will one gain by winning the whole world if he destroys his soul? There is nothing you can give to get back your soul."
"Know that the Son of Man will come in the glory of His Father with the holy angels, and He will reward each one according to His deeds."
Gospel source: http://petercanisiusmichaeldavidkang.com/2014/08/30/sunday-31-august-2014-22nd-sunday-of-ordinary-time-gospel-reading/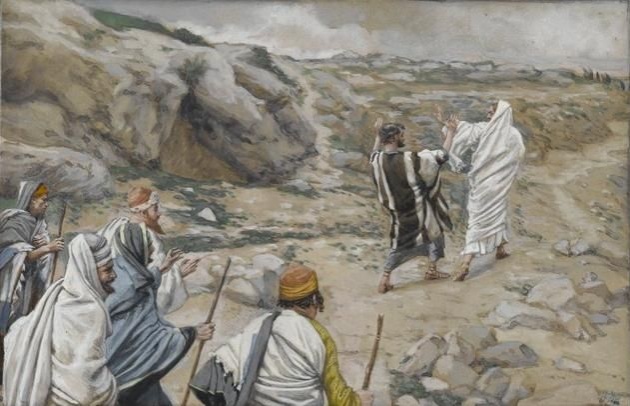 Reflection and Discussion:
There was a time when the situation in the Philippines is not normal due to political conflicts. That time, Senator Ninoy Aquino senior was in abroad and wants to go back to the Philippines even though the situation is not good. His Children said to him "Just stay there. It is dangerous for you to go back here in the Philippines." But Senator Aquino replied "don't be greedy and selfish!" But why did Senator Aquino said that to them? Because the country is in chaos, they really need the help of Senator Aquino. Because that time, he is the number 1 critic of the Marcos. Now let's go back to the gospel, Peter told Jesus not go to Jerusalem because of the possible danger He may face there. But Jesus chooses to face danger to reach other Nation, to teach them and to heal those who are sick. Sometimes what happened to Peter is also happening to us. For example, parents don't want their children to study overseas or on far away land because they are worried for the safety of their children. Another example is in Basketball. Even though a team has smaller lineups, they will choose to travel and battle with taller teams. It is not just because they really want to fight with taller and stronger guys even though they are small but it's their pride and heart for bringing the bacon of winning to their country.
There are rich and successful people. But before they reach this state, they made more sacrifices and they really work hard for it. If you want to have your own house or own car, you must work hard and find ways to increase your savings. Don't waste your money on unimportant vices. Every success has equivalent hard work and lots of sacrifices. Life is not easy.
We should face our problems how hard they may be. It is the cross that Jesus told us in following him. Like the cross, the path to an easy and happy life is not straight. There are many obstacles and trials. But even though life is hard, you know that you are not alone. God is always with us helping us carry our own cross.