Mitchell Starc rises to No.1 ranking while Steve Smith continues his meteoric rise up the batting rankings
Mitchell Starc has capped a stellar World Cup by rising to be ranked the world's No.1 one-day international bowler.
Starc took 22 wickets at an incredible average of 10.18 and an economy rate of 3.50 throughout the World Cup – a chief reason the men clad in gold lifted Australia's fifth World Cup trophy at the Melbourne Cricket Ground on Sunday night.
Starc had already risen to be the world's third-best ODI bowler during the tournament, but the latest update to the official ICC player rankings following the World Cup final confirmed his rise to be top dog.
Glenn Maxwell remains Australia's highest-ranked one-day batsman, still No.9 in the world, but Steve Smith is rising fast on the back of an outstanding tournament and, indeed, an outstanding summer.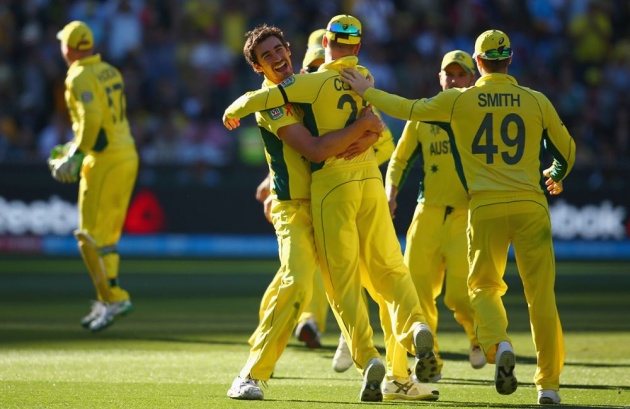 In what must surely rank as one of the all-time greatest individual summers across all formats, Smith joined legendary duo Mark Waugh and Ricky Ponting as the only Australians to score five consecutive ODI half-centuries.
He has risen from being ranked the 31st-best batsman in 50-over cricket after the World Cup's pool stages to the 14th best at the tournament's conclusion.
Fittingly for a batsman who swept all challenges aside this summer, Smith pulled the winning boundary off his hip through square leg for four to seal Australia's fourth World Cup title in the past five tournaments and give this team its own place in the annals of cricket history.
Smith is still ranked the third-best batsman in the team behind Maxwell (9) and George Bailey (10), but has overtaken Aaron Finch who slid three places to now be ranked 15th.
World ODI Rankings - Bowlers
1) Mitchell Starc
2) Imran Tahir
3) Saeed Ajmal
4) Dale Steyn
5) Sunil Narine
6) Trent Boult
7) Mitchell Johnson
8) James Anderson
9) Morne Morkel
10) Shakib ul Hasan
Other Australians
James Faulker (23)
Clint McKay (24)
Xavier Doherty (48)
Josh Hazlewood (70)
Glenn Maxwell (73)
Shane Watson (84)
World ODI Rankings - Batters
1) AB de Villiers
2) Kumar Sangakkara
3) Hashim Amla
4) Virat Kohli
5) Tillakaratne Dilshan
6) Shikhar Dhawan
7) Kane Williamson
8) MS Dhoni
9) Glenn Maxwell
10) George Bailey
Other Australians
Steve Smith (14)
Aaron Finch (15)
Shane Watson (25)
David Warner (27)
Michael Clarke (29)
James Faulkner (31)
Brad Haddin (69)
Mitchell Marsh (80)
Shaun Marsh (82)