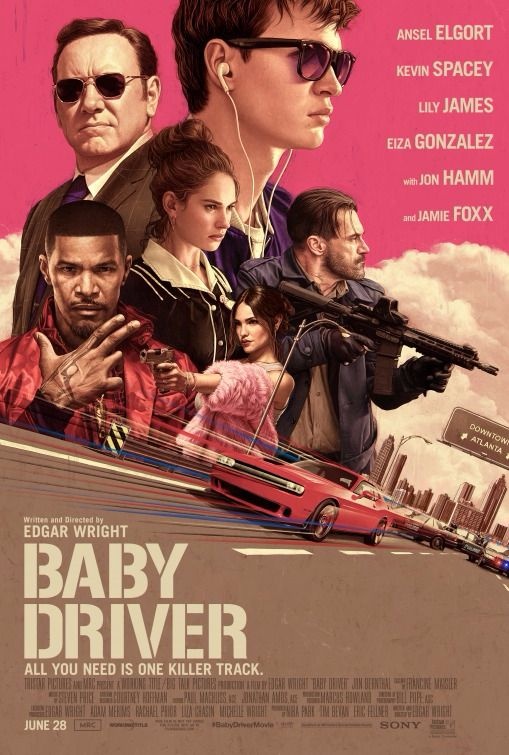 Image Source: Impawards.com
Hello, Bitlanders Family!! How are you all? I assume you all to be in greater spirits. This is my first ever Blog/Review (It took a little longer but as they say "Better late than never") and nothing better than a Movie Review. I went on to watch the movie in the cinema and 'Boy Oh Boy' it turned out to be a wonderful cinematic experience. It was one of the Finest Films of 2017 that I had witnessed and thought to myself that it would be a shame not to share the experience with other. So here am I with my Review of the Movie Baby Driver.
BRIEF INTRODUCTION
"Baby Driver" is an Action, Comedy & Thriller film both written and directed by Edgar Wright who is known for his work in famous movies "Shaun of the Dead" & "Hot Fuzz".The movie stars Ansel Elgar as BABY, Oscar Winners Kevin Spacey & Jamie Foxx with Lily James, Eiza González, Jon Hamm, and Jon Bernthal were the other notable mentions in the movie. Working Title Films and Big Talk Productions collaborated together and produced the film. Sony Pictures was responsible for worldwide distribution while TriStar Pictures acquired the rights for distribution of the film in the US.The movie was first premiered at the annual film festival SXSW on March 11, 2017, and was released in theaters on June 28, 2017.
Video Source: YouTube
MOVIE PLOT
Baby (played by Ansel Elgar) a young Gateway Driver suffering from a hearing Problem ( Tinnitus ) which he received during his childhood through an accident that also claimed the lives of his parents.As a treatment Baby listens to loud music and also records his everyday conversations that are mixed into songs. He works for criminal warlord/master heist planner Doc (played by Kevin Spacey) to pay off his debts which he accidentally indebted upon himself by stealing one off Doc's cars.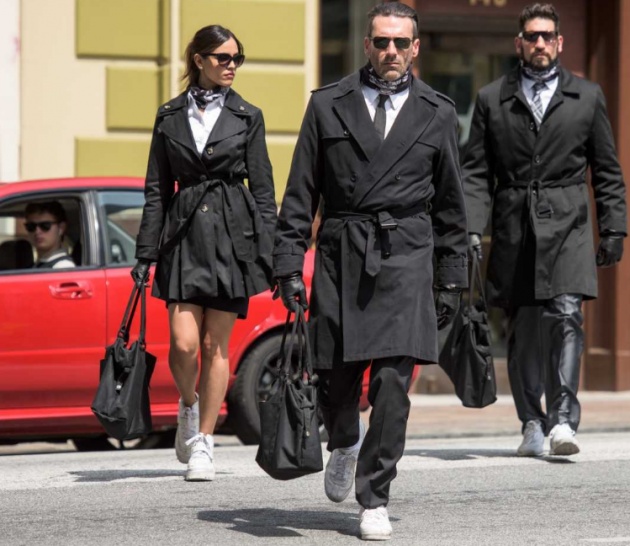 Image Source: IMDb.com
Buddy (played by Jon Jamm), Darling (played by Eiza González) & Griff (played by Jon Bernthal) accompany Baby in a successful Bank Robbery, where Baby displays his real skills behind the wheel and is able to smoothly drive away everyone out of danger. They meet Doc who informs Baby that he has one last work for him and post that all his debts will be cleared.
This opening Scene of the movie itself is creative, exhilarating & comprises of a fast paced car chase that keeps you hooked to the screen right from the word go. The sequence involves noise of Squealing tires and alarming police sirens and amidst that Baby skillfully manages to Dodge the police and vanish into the night.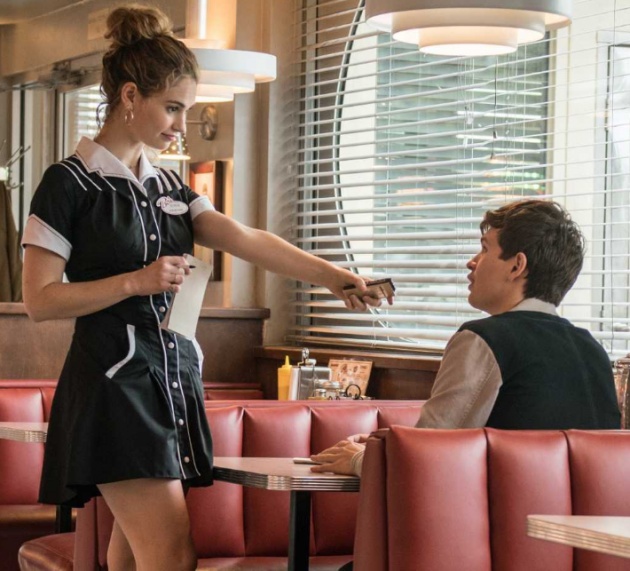 Image Source: IMDb.com
In the meantime, Baby meets Debora a young waitress (played by Lilly James ) at a restaurant who shares a similar interest in music like him and he starts to find happiness with her. They chat about different songs, especially the one with their respective names and Baby begins to imagine a normal life with her far away from the criminal world.
Deborah: What is your name?

Baby: Baby.

Deborah: Your name's Baby? B-A-B-Y Baby?
Shortly he meets up Doc for his final job, where he is introduced to his new crew, a scary hardcore criminal psychopath named Bats (played by Jamie Foxx), Eddie 'No-Nose' (played by Flea )& JD (played by Lanny Joon). Together, they are successfully again able to rob an armored truck loaded with money where Bats ends up killing a policeman and misses out on killing another one thanks to Baby's Driving skills. Next Day he goes to see the Doc to get his cut of the money and Doc tells him that his Debt is paid & he is free to go.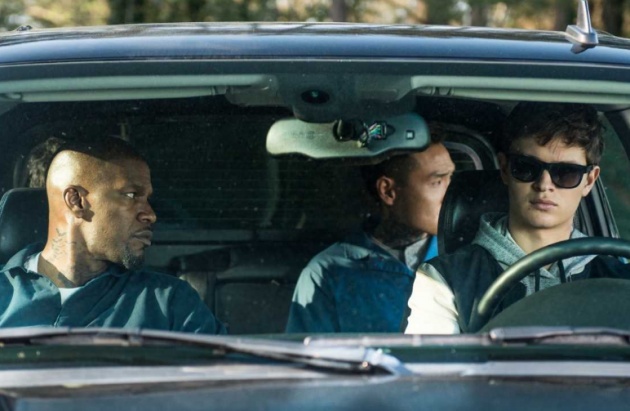 Image Source: IMDb.com
Thinking that his miseries are over, Baby starts a new life by taking the job of a pizza delivery driver and starts seeing Debora socially. However, he is encountered again by Doc who forces Baby to do another job for him and threatens to potentially hurt Debora if he refuses to join him. Baby reluctantly agrees to take part with him in the heist which involves US Postal Services Robbery. Accompanying Baby would be Cold Blooded hardcore Psychopath Bats, the ever so cool-party animal Buddy and his Outrageous and dishonorable wife Darling.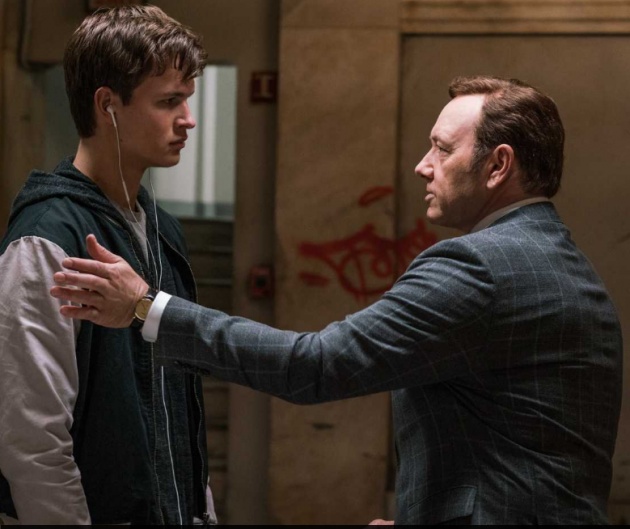 Image Source: IMDb.com
Now Baby must decide to whom his true loyalties lie and protect the ones those he loves...
At This point, the movie becomes really interesting, it is enthralling with loads of high octane action sequences to follow and simultaneously throws out a lot of questions at you!!!

Who survives the crazy Final Showdown??

Will Baby's escape plan with Debora work??

Is Bats really a Vengeful Psychopath or he's worse that that??

And finally what happenes to the FATE OF BABY !!!!

You must watch the full movie to get all the answeres!!!!
CAST AND CREW OF THE MOVIE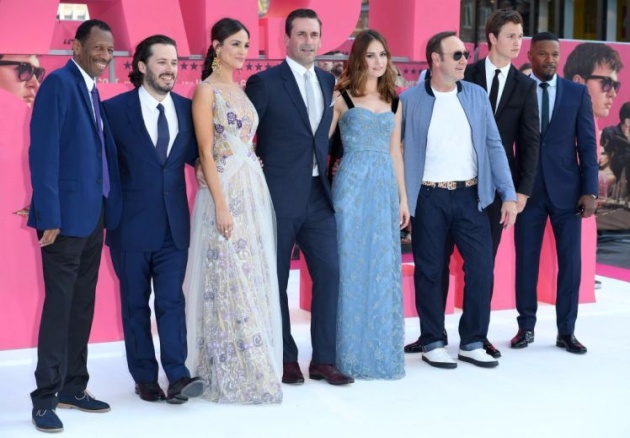 Cast of the Movie "Baby Driver" Premier at Mexico-Image Source- Google Images
Main characters breakdown
Baby played by Ansel Elgorrt - A young Twenty something gateway driver suffering from Tinnitus, whose loves for music and
Doc played by Kevin Spacey-the ruthless kingpin who is also a criminal mastermind and stops at nothing to get the job done.
Debora played by Lily James - Waitress working at a Local Restaurant and Baby's love interest.
Buddy played by Jon Hamm - Stylish, cool party animal who is a member of the gang.
Darling played by Eiza González - Scandalacious and dishonorable wife of Buddy who is also a part of the gang.
Bats played by Jamie Foxx - Violent and Vengeful Psychopath with impulsive and uncharacteristic behavior traits who works for Doc.
Griff played by Jon Bernthal - Doc's gang member who makes fun of Baby all the time.
Eddie "No-Nose" played by Flea - One of Doc's gang members.
JD played by Lanny Joon - Another one of Docs gang member who is killed by Doc himself for not being professional at his work.
Many said that the cast was perfect for the movie and every character had their own shades which made the movie a true delight to watch for the movie goers. You will not see a lot many movies where the concept of a conventional Protagonist aka Hero/Villian does not hold and is totally thrown at the audience to judge the personality of a Character. If you are one of those who Roots for their heroes to come successful in every situation in the movie, a few minutes later you would be praying for their survival. Ansel Elgorrt was Charming and youthful in his portrayal as Baby (You might know him from his Chocolate boy role in Oscar winning movie "The Fault in Our Stars"). His relation with Doc (Spacey) was a real joy to watch. What more can you say about Kevin Spacey when he is not being the President of United States (if you see House of Cards then you know what I am talking :) ), he is busy kicking some serious intensity on screen as Criminal kingpin (I believe those kinds of role truly suits him).If that was not enough then you had Jamie Foxx play the most absurd role of his life (Ohh! yes much more interesting than his Goofy portrayal as MoFu in the movie Horrible Bosses).The supporting cast is also great with Lilly James, Jan Hamm, and Eiza González standing out in their respective roles.
"Edgar Wright has put together a brilliant Ensemble of Actors; with each one of then shinning perfectly in their roles & with their great on screen chemistry keeps the audience glued to the screen."
SOUNDTRACK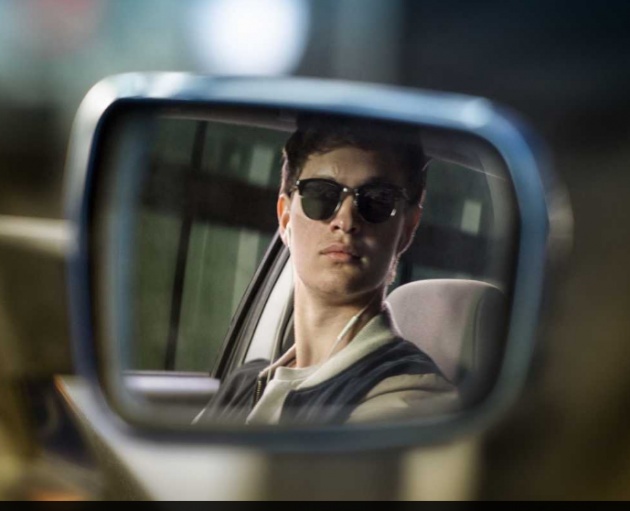 Image Source: IMDb.com
It's not a musical film, but when music is an essential part of life, for the main protagonist of your movie, you need to have some killer songs.Music you know can either make or break a movie and this case definitely made the movie a thrilling experience.
Baby Driver (Music from the Motion Picture) is the soundtrack album of the film. The soundtrack was released on June 23, 2017, on CD, vinyl and digital music via the Columbia Records imprint, 30th Century Records.[28] The album features a combination of artists, from various decades, including Blur, Run the Jewels, Sky Ferreira, Jon Spencer Blues Explosion, Queen and Golden Earring.[29] "Holy Calamity (Bear Witness II)" by Handsome Boy Modeling School and "Ready Lets Go" by Boards of Canada are used in the film, but are not included on the soundtrack.

Information Source Wikipedia.com
FINAL VERDICT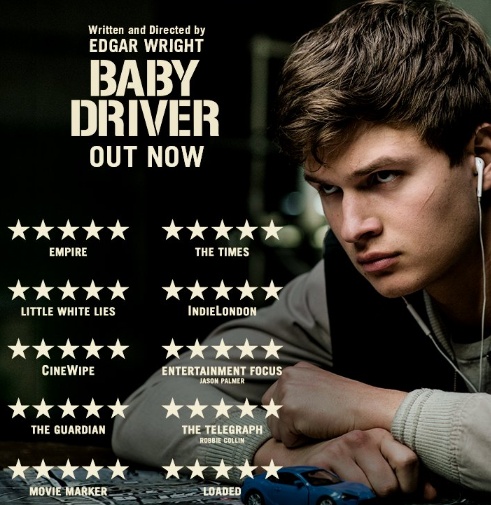 Image source: Twitter.com
Baby Driver is a kind of movie which is for everyone and everyone will find something to enjoy in the movie. I went to the theatre with zero expectations and came out with a thrilling cinematic experience. It was a Total Entertainer which had tastes of Humour, action sequences Chrographed on songs, brilliant performances by the cast and supporting member and last but not the least it is THE BEST HEIST FILM OF 2017.
** Peter Debruge of Variety Magazinecalled the film "a blast, featuring wall-to-wall music and a surfeit of inspired ideas"

**The New York Times' Manohla Dargis listed the film as a "NYT Critic's Pick", writing that the film "is so good that you want it to be better and go deeper, for it to put down its guns (or at least hold them differently) and transcend its clichés and cine-quotes so it can rocket out of the genre safe box into the cosmic beyond where craft and technique transform into art".

**CNN's Brian Lowry wrote that the film "is a crackling-good ride, one that organically weaves music and humor into a slick showcase for its cast.
Information Source: Wikipedia.com
Thank you so much whosoever spared some time in reading my Blog. I hope you would have liked it.
And before I go here are some Behind the Scenes Action sequences being shot. Enjoy the Video...
Video Source: Youtube
Have a Great Day everyone !!!