Film Annex joined forces with Citadel Software Company and created the Afghan Development Project in order to build Internet classrooms in the Baghnazargah School, located 5 km from the center of Herat, Afghanistan. The school was established in 1989 and hosts nearly 4000 students and 100 teachers of which are 50% male and 50% female.
Students start their studies in the middle of March and end in December. They attend school from Saturday to Thursday, 6 days a week, for 5 hours per day. Girls and boys share the school, and in some cases, girls go in the morning and boys in the afternoon. Some schools have three shifts and still maintain the 5-hour schedule.
The above shows the determination of Afghan students, parents, and educators to improve the level of education and literacy in Afghanistan, in the full respect of religious and cultural traditions of the country and its citizens. In the video below you will get to have a glimpse of the school and the traditional washing before prayer. You can see how well-mannered the children are as well as the level or pride and respect provided by the educators.
Here's a picture of the classroom that will be renovated with computer stations and Internet connections provided by Film Annex and Citadel: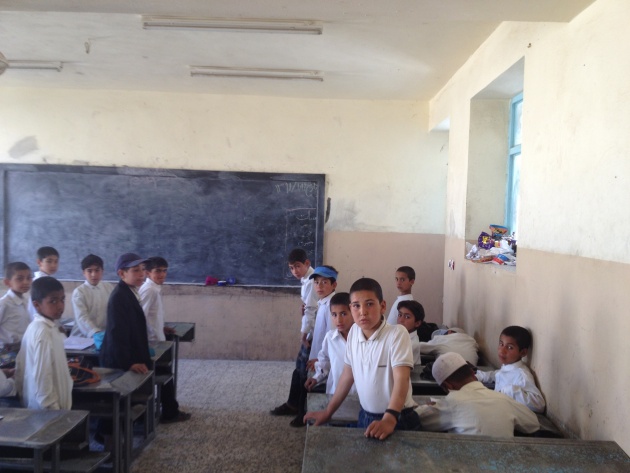 Film Annex's investment into Afghanistan schools for girls and boys, a total of 40 in the area of Herat, is a calculated opportunity to educate 160,000 Afghan children and consequently support the economy of Afghanistan and the growth of its GDP.
A great contribution and inspiration to the project came from the the interviews we did with 18 young Marines earlier this year in North Carolina. In fact, once the connection is provided, we are planning Skype classes between US Veterans and teachers to help the Afghan educators to introduce English into their curriculum. I suggest you to read great Veterans blogs by Jonathan Weinkiper and Jeffrey Moore.
Some people see this as an act of philanthropy, others as an admirable attempt to unite two cultures. I see it as a simple example of how a computer connected to the Internet can educate both ends of the world and provide financial security to young Afghans and young Veterans looking for business opportunities.
It took Film Annex only 10 weeks to get to this point, and speed is key to success.
Let's keep our focus clear: No Politics, just Internet.
follow me @rullifrancesco