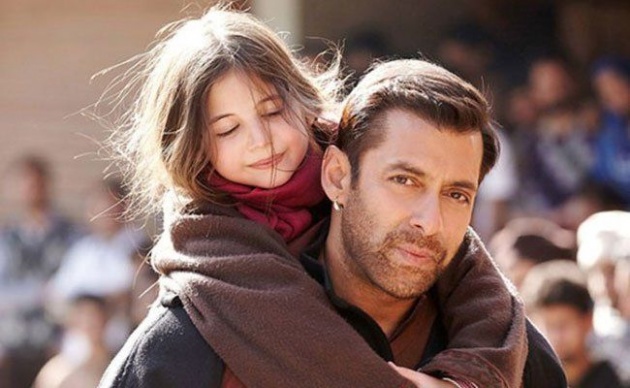 There are many ways in which Bajrangi Bhaijaan – a recent Bollywood hit featuring Salman Khan in the lead – can be described as a perfect depiction of reality in the milieu of intricate relations between Pakistan and India.
For a common viewer, the film triumphantly highlights the hurdles faced by Pawan Chaturvedi (nicknamed Bajrangi Bhaijaan) in taking the Pakistani girl back from the other side of the Wagah divide to her family in the Pakistani territory of Kashmir. But, this is not it.
The movie does much more than just shed light on the problems and difficulties confronted by common people when it comes to the border between the two countries whose ties have, for the most part, remained strained since partition. It also endeavors to mildly touch upon certain other very relevant issues that assume great significance for the entire human kind.
Like most of the Bollywood movies, Bajrangi Bhaijaan may have flaws and a few developments in the story may sound absurd and downright impossible but it leaves a message that carries strong philosophical impact – something that should allow deep introspection.
The movie shows Bajrangi Bhaijaan as a simple, honest, truthful and soft-hearted man who comes across a young Pakistani girl who is stranded in India. But, helping her becomes a huge challenge for him given the fact that she is mute.
He is a staunch believer and worshipper of Hindu god Hanuman who is also called Bajrangbali. But, his religious beliefs and national identity do not pose any hurdles nor do they cloud his thinking when it comes to ensuring the safety and well-being of the young Pakistani-Muslim girl.
The film carries an emphatic message of love, peace, coexistence, empathy and compassion – basic human traits that must take precedence over all other religio-political beliefs and geographical credentials. These are the characteristics in which should be rooted the correct definition of a genuine human being.
The hate mongers have been around since forever and they would continue to perform their sordid job for all times to come. But, the point to ponder here is whether they engage in this hate-mongering business for the benefit of the people at large. Of course, not. They do this because that's the time-tested tool to further their personal agenda.
But, what is our responsibility and job as sensitive human beings who can see, think and tell right from wrong?
Bajrangi Bhaijaan has emerged as a mega box office hit in India and it has also drawn rave reviews and upbeat public feedback in Pakistan.
Now here is a question: How would you react if the story of the film is reversed? If a man of strong Muslim beliefs risked his life and returned a stranded Hindu girl to a family in India? Would you have loved the movie as much as you do now?
Hate begets hate. Love begets love. The choice is yours to make.