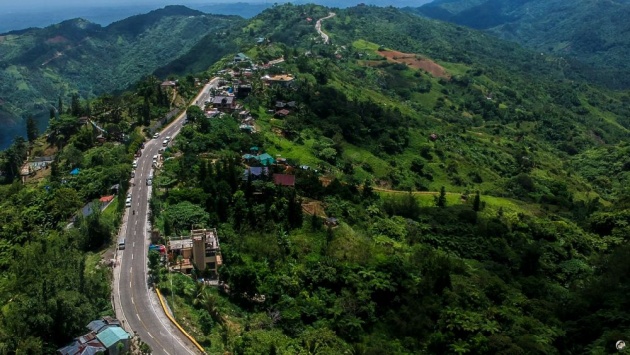 Image credits: Jean Beltran via bitLanders
It's our second day in Balamban, Cebu. This trip has no other kind of plan than just visiting as many spots in the said town. I had narrated in the previous blog post about our lunch at West 35, the visit at JVR Island in the Sky and dinner time at D' Village Antique House and Diner.
Although we originally planned on waking up early to catch up with how the mornings look like here in Balamban, but we failed as the weather was cold and both of us were glued to our bed!
Then we finally had the courage to rise as our hungry stomachs demanded food.
Adventure Cafe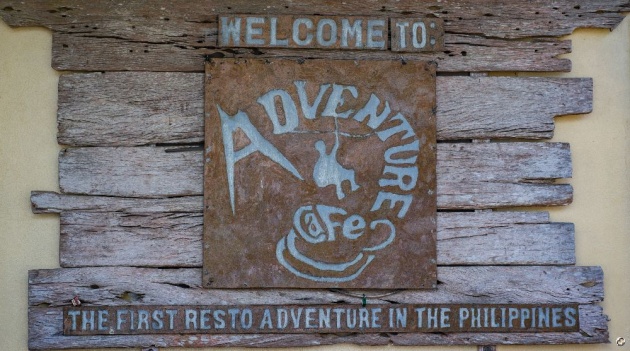 Image credits: Jean Beltran via bitLanders
JVR Island in the Sky doesn't offer meals but as per the friendly staff, we can have breakfast at Adventure Cafe because they are of the same company. So we walked towards the cafe, passing by the resort's colorful hanging bridge then towards the gates, then to the main highway. Just a few steps and we arrived at Adventure Cafe.
I have been here before and I know they have some Filipino breakfast options but that was years ago, I don't know if they had changed their menu. But upon reaching their menu options, I realized that nothing had changed. They still offer Filipino breakfast!
Adventure Cafe always has visitors even if it was still early. There were riders having coffee, local tourists who were seeking for some adventure as the cafe also has activities such as rappelling, wall climbing, and zip line. Their famous stress wall as well was one that I had always want to try but James said it is just a waste of energy and plates.
So, I had to stay in my chair and just order breakfast instead. Both of us ordered their adventure meals instead of the break camp options but I also requested for their corn soup as the weather was a bit cold and we need something to heat our stomach, of course, there was brewed coffee too in the menu.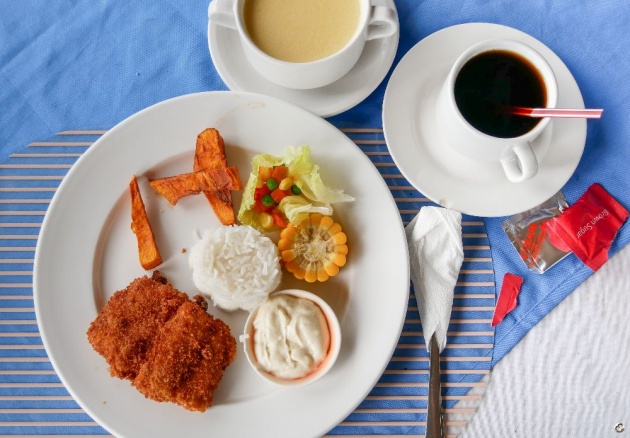 Image credits: Jean Beltran via bitLanders
My Fisherman's Knot included a breaded Cream Dory fish fillet with cheese and was served with Sweet Potato French Fries, corn cobs and a little serving of lettuce with steamed carrots, green peas, and corn kernels.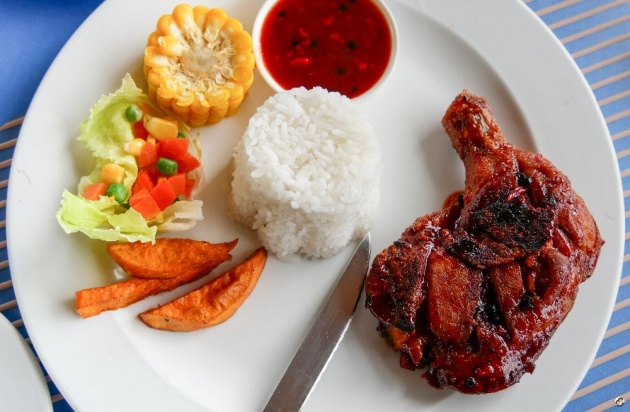 Image credits: Jean Beltran via bitLanders
James had ordered Caver's Meal which included a grilled chicken thigh with honey orange sauce, rice, of course, corn cobs, sweet potato french fries like mine and seasoned veggies.
I like the meals, there were no issues and James said he also like the chicken, well cooked and the coffee was nicely brewed. But I really wanted to try their Mango crepe too but then I believe it has too much sugar in it.
Florentino's Eco Park
Video credits: Jean Beltran via bitLanders
Dubbed as the Little Tagaytay of Cebu and I had no high expectation in this spot because I believe it may be somewhat similar to Buwakan ni Alejandra which is just in front of JVR Island in the Sky where we were staying plus we have been there once and we love the numerous flowers but there was still a lot of things going on, construction and plantation.
But lo and behold, I enjoyed our time here. The mountains in front were the same view of what we could see from our room but there are more things to see from the left angle! There's a hotel-like building with nice pool, I wonder who owns that, we'd love to stay for an overnight there in the future!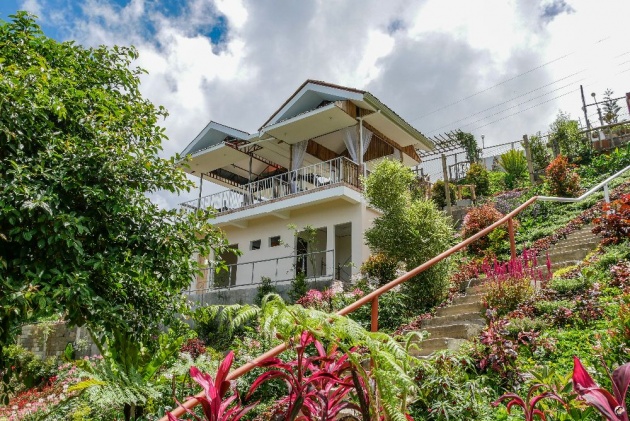 Image credits: Jean Beltran via bitLanders
Then there were native cottages under the tree which was refreshing and very relaxing too! The cold wind breeze was giving me a clear mind as I look into the ambiance of flowers and green lushes.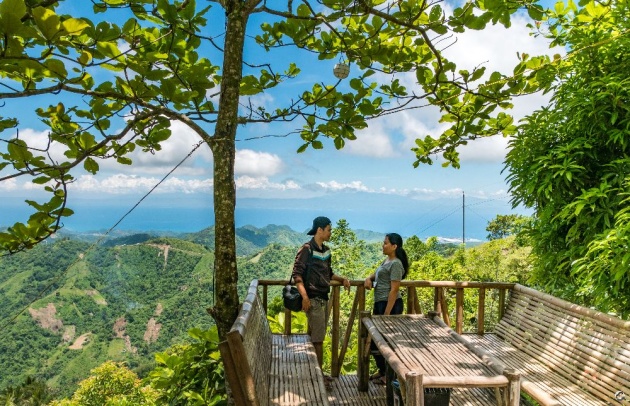 Image credits: Jean Beltran via bitLanders
Baguio de Cebu Eco Mountain Adventures
At 12 noon, we checked out of our room in JVR Island in the Sky. Although the sun was up, we could still feel the coldness of the air. Note by the way that we didn't have any electric fan or air conditioner in our tiny room because of the cold weather just like when we stayed in Baguio and Sagada.
But speaking of Baguio, there's another spot in Balamban, Cebu which has been referred as Baguio de Cebu and that's our final destination.
Video credits: Jean Beltran via bitLanders
Just a few minutes ride, we arrived at a Y junction with the tarpaulin indicating we were supposed to turn right. It didn't take a while before we reached the entrance area where we have to pay our entrance fees of Php 80 each and environmental fees of Php 5 per head.
We had to drive for another three kilometers before finally reaching the main area. Indeed the temperatures colder here but the people around were still in their t-shirts so the coldness can be tolerated. There were horses for horseback riding in which kids were enjoying. I didn't see any adult taking the horseback riding activity but there's a Sky Bike activity for the adults!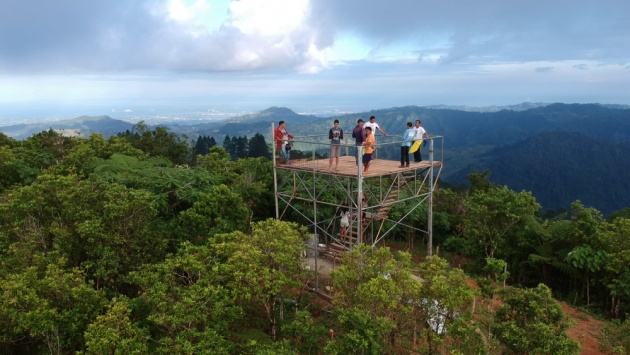 Image credits: Jean Beltran via bitLanders
Two bikes were on a cable and the rider will have to pedal his or her way to the end of the cable. It looks fine from our point of view but it seems like most of the riders would feel a little nervous at the start. It looked enjoyable too! Unfortunately, we don't want to ride it just yet because no one will take a good photo or video of the two of us.
However, the most interesting part here is the viewing deck, a two-story area which has just been recent construction, in fact, it is still under construction right now but it can already accommodate guests.
It allows guests to have a 360-degree view of Balamban, Toledo and Cebu City, even Mactan Island can be seen from here! It was awesome!
Mt.Manunggal Climb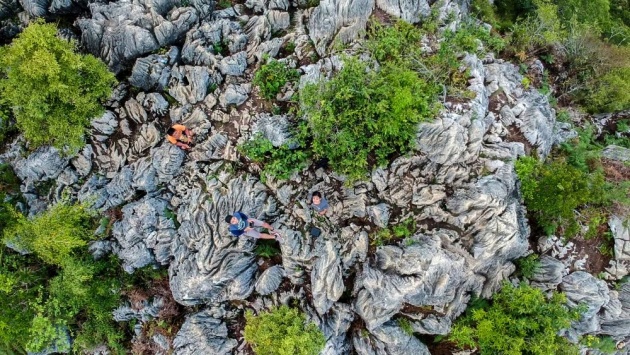 Image credits: Jean Beltran via bitLanders
I didn't see this coming and we had no plans of an instant trek but because our guide, Kuya Jerome said the route is easy and the climb is just average, we gave in and just proceed with the Mt. Manunggal climb.
Mt. Manunggal was where the former President Ramon Magsaysay's plane crashed and killed him together with the other passengers in that place. We passed by the plane engine and his built monument, indeed this was just a walk in the park. There are grasses, only cemented steps on an almost maroon type of soil.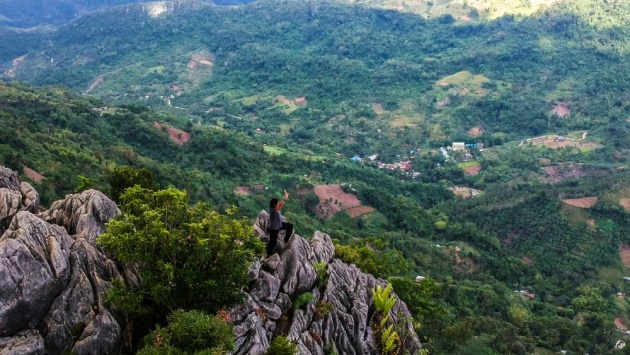 Image credits: Jean Beltran via bitLanders
I could see the mountain peak from the monument and it looked really high but Kuya Jerome told us that we were almost there. We reached a trail with high grasses which badly need some cutting! Then we finally arrived a rocky spot, in this part, we have to climb and use our upper body and core strength to lift ourselves. It reminded me of our Taraw Cliff climb where the rocks were sharp and spiky. It only took a few minutes and we were at the top of Mt. Manunggal!
The rocks were scary, we have to be careful about where to step and ensure that the rock is well placed. Reaching the top was rewarding! We had to take a lot of photos and videos while on top to remember that we had conquered Mt. Manunggal.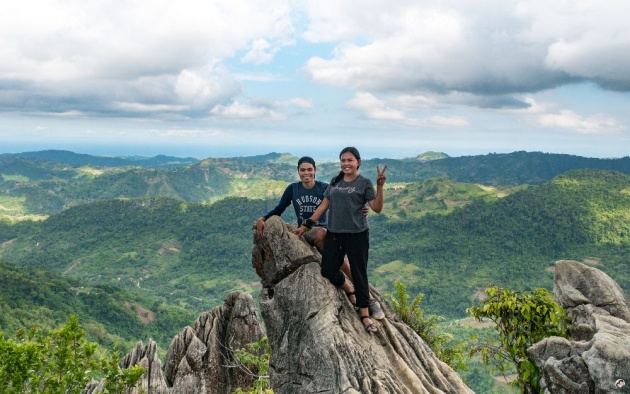 Image credits: Jean Beltran via bitLanders
Surprisingly, the time we spent with all the walking and the climbing was just 35 minutes! That made our day, it would have been a boring day if we didn't heed on to the call of adventure!
This blog entry was written and published by Jean Beltran-Figues for bitlanders.com.