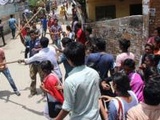 The ruling Awami League's student front, Bangladesh Chhatra League, attacked a procession of the Progressive Student Alliance on Wednesday at Government Tolaram College in Narayanganj, leaving at least 20 injured.
Police allegedly took no steps, although the ruling party's student body activists launched the attack in front of them on the college campus around 11:00 am.
However, additional law enforcers were deployed in the college area following the attack.
Leaders and activists of the Progressive Student Alliance, a platform of some leftwing student organisations, alleged that the BCL launched the attacks on them when they were marching in a procession from the Narayanganj Shaheed Minar to the office of the college principal to submit a memorandum demanding an end to BCL's admission trade and terrorism at the college.
They alleged police remained silent when the BCL activists were beating the alliance men.
But Fatullah police station sub-inspector Mostafa refuted the allegation saying, "The BCL workers were holding a procession on campus against the general strike. A tense situation developed when the alliance members went there to submit a memorandum."
Tolaram college BCL unit president Habibur Rahman Riyad also refuted the allegation that his party men attacked the alliance workers.
"The leaders and workers of the Progressive Student Alliance are drunkards and outsiders. So, the general students have resisted them," he claimed.