A two day one night visit to
Bantayan Island
is definitely not enough for me and James but that's the only time that we have. In the first place, what we only need was to relax and be with nature, to appreciate the beauty of the sun and the sea.
Thank goodness for holidays and that dream of being away from the busy city was made into a realization. Our company had set up Monday to be a holiday instead of a Wednesday so we can have a longer weekend while James had converted one day of his overtime into a vacation leave. So we got it set up and planned what we will be doing when in the island. Guess what we have planned? Well, nothing but just relaxing. To watch the sun set and rise by the next day. And perhaps some swimming time too but the would depend on the sea if it would be inviting.
This get away has been planned weeks before but there was a storm that had passed by the Visayas area and we really thought we won't be able to make it but God is good, He let us take a break from the city noise by taking the storm away or rather dissolving it eventually that instead of having storm on Friday, it was already sunny. Our main plan was to go there by Sunday and that was realized.
Bantayan is famous to the local tourists as well as the foreigners that most ones who visits here and fall in love with it would decide to retire there and live for the rest of their lives. That is also why there are lots of resorts available in the island. So there's no problem looking for a place to stay in there even if you don't call for a reservation, that would be fine but note that this might also get fully booked specially when it's peak season.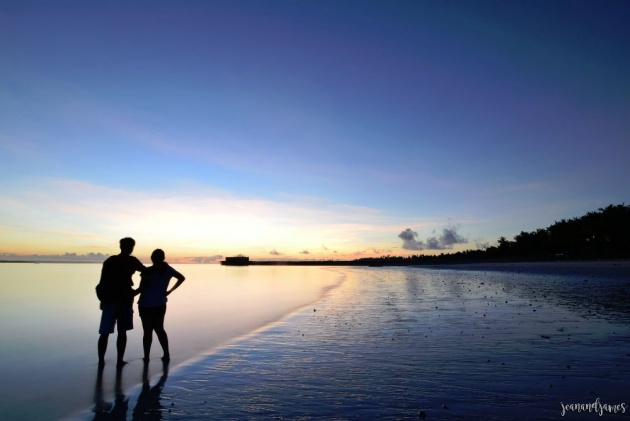 The last time we went there, we stayed at the Budyong Beach Resort which is located at the heart of Santa Fe and which has a great area since it is just best to the main spot where food is available since there are lots of restaurants and eateries around. Not to mention the great view of sunrise at the area too.
However, since my husband James' friend owns a resort somewhere on Bantayan and that my husband promised him he would stay at his resort, we had already set up that we'll definitely be staying there at the Beach Montemar, there name of the resort. Both of us were excited to be at the island and this blog is intended for the resort's review based on our experience, specially two days, one night stay. In fairness to the resort, I am making a Pro's and Con's list. Let's start with the Pro's.
1. Quiet and Peaceful
It was fortunate that we got the resort all by ourselves as no other guests were at the resort. It seems like this is indeed the off season on Bantayan as most resorts still have lots of vacant rooms.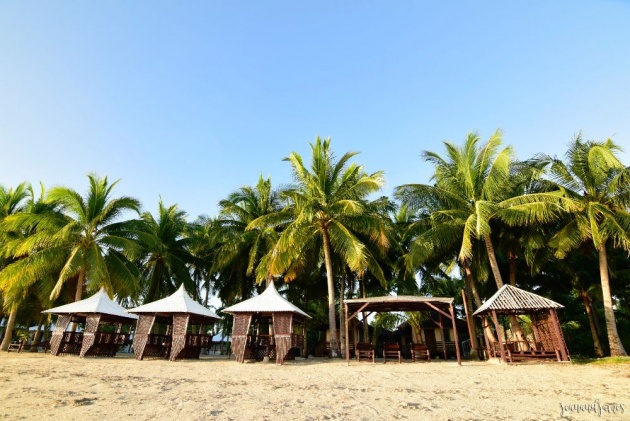 Since it was all me and my husband at the resort, it was super quiet and peaceful. All we could hear was the sound of the waves breaking into the shore. The flapping of the coconut leaves and some chirping of the tropical birds. It was amazing and that was our first time to be alone in a resort. To be totally alone doesn't really mean loneliness but for us, it means more time to relax and enjoy nature.
Because we were there only people or shall I say guests, we spent most of our time outside, we only stayed on the air conditioned room at night for sleeping. But the entire day and the entire afternoon, we were busy taking photos of the resort and simply enjoying each other's company.
In fact when we arrived there, we went straight to the bamboo beach chair and focused on the natural sound around us, we laughed a bit and talked some random things which made the trip more enjoyable. It is indeed with these kinds of trips that partners will know more about each other and will also be able to develop the sense of adjustment towards each other's company.

2. Wide Seashore and Beautiful Ambiance
From the entrance area up to the shoreline, beach sand welcomed us. The surrounding beaches are privately owned so it is understandable that the beach front won't get everyday maintenance but then Beach Montemar has its own workers and crews who are doing the cleaning every morning.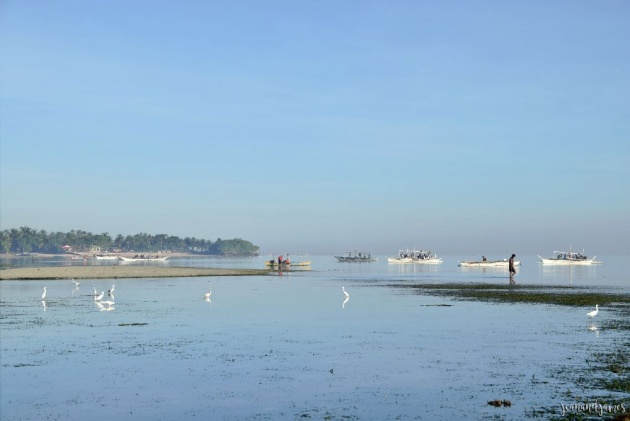 The beach has a tendency of bringing dead sea weeds into the shore so it is given that every single day, there will be something to sweep off. But despite the a-bit-dirty shoreline, it's ambiance is still beautiful and amazingly amazing specially during the morning since had watched the sun rise in our second day at the resort.
Wide white sand shore greeted us when we woke up early in the morning. We would not want to miss this opportunity of seeing the sun rise in this part of the Philippines and I had a wonderful experience with Bantayan sunrise way back in 2012 so I am expecting that it would also be a beautiful sunrise that we will be able to witness that day.
It is evident that the sunrise is also marvelous and I personally would just like to freeze that moment. Unfortunately, we won't be able to stop the time as much as we would like to. The entire morning was spent for sunrise viewing and taking photos of the entire beach area. We found a pack of sea birds also gathered at the grassy side of the beach looking or shall I say hunting for food.
After that part, we then spent relaxing at the hammock hanged between two coconut trees. I couldn't help but appreciate the beauty of the tropical coconut tree leaves moving from here and there and I need to also share this moment when I had been swinging on the hammock. I felt the wind into my face and the sound of the sea waves made me feel like I was alone in the island or perhaps my hushed and I were both left alone, stranded but but alarmed but instead glad to be with each other in this island.

3. Perfect for Couples
If your purpose of being in the island is to relax in a quiet beach, this will be a perfect spot for you. There are lots of beach resorts near the Santa Fe port which makes that area a bit crowded and perhaps noisy too specially at night when there are parties and disco evenings which actually occur once in awhile in there area.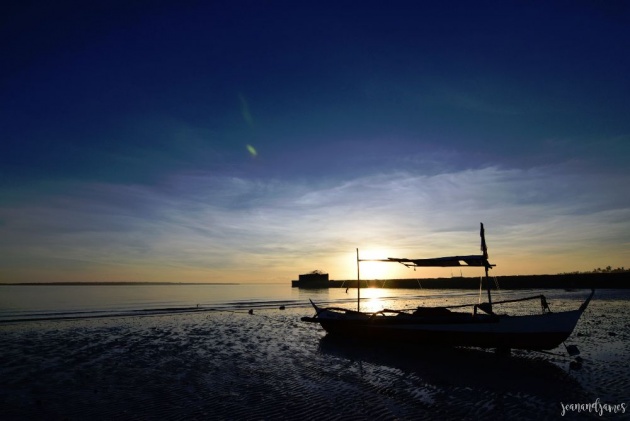 I know there are lots of couples out there who are looking for beach resorts where they could spend quality time with their partners and I do believe that this resort is perfect for the said purpose.
The neighboring resorts are privately owned so there are only a few people around. The fact that this area is not very accessible, it will look like a special hide out for couples. But ensure that this kind of hide out is legal.

4. Nice Rooms and Amenities
One of the few things that I find interesting us the way their rooms were designed. I actually feel like I want our future house to be designed like this from the outside but a more native feel. The architecture was good, the bathroom has a wooden sliding door which I like and there was a spacious area for the bed and the table considering that it is a room which is good for two only. But in fact it can accommodate a family of four, perhaps adding an extra bed will do.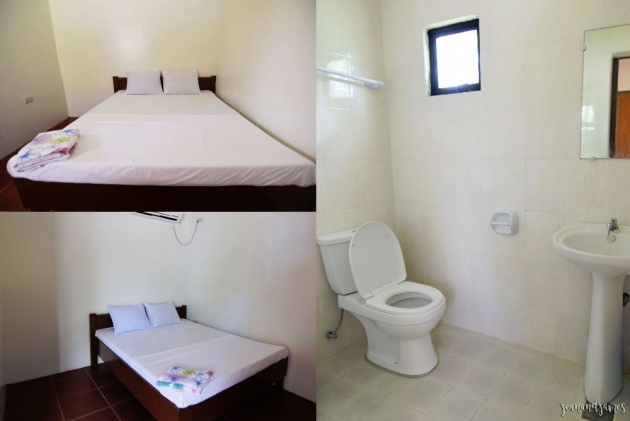 Another thing is that the air-conditioning is pretty working and from the looks of it, it is still brand new. I can sense that it has a great responsiveness and it gets really cold in just a few minutes of turning it on.
The fan rooms are also cute and although there aren't that much rooms available, they won't have problems with accommodation since again, the resort is located in a secluded area and only a few ones know there such a place like this.
I actually love the fact that there are hammocks in between the coconut trees. It makes the resort more island-dy. Like I felt like I am in a different island. Then there were also beach front tables and cottages for those which would be coming for day tours only. There's a favorite lanai too, a wooden one which was newly painted.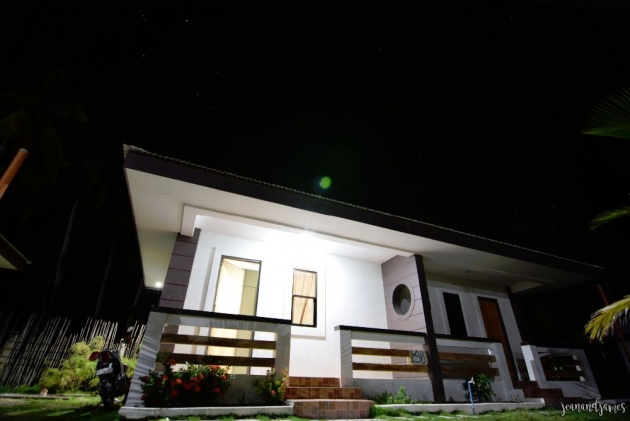 When we first arrived, I actually had my power nap on the beach chair and I loved it.
Here's the Con's this time:
Whilst I don't want to talk about the negative parts of our stay, I need to add this for the sake of my review blog entry. My husband knows the owner of the resort, he is a friend of the Montemar because of the game fowl business.
Although the resort looks really beautiful and peaceful and I like it that way, not all people would want a place where:
1. Almost Zero Mobile Signal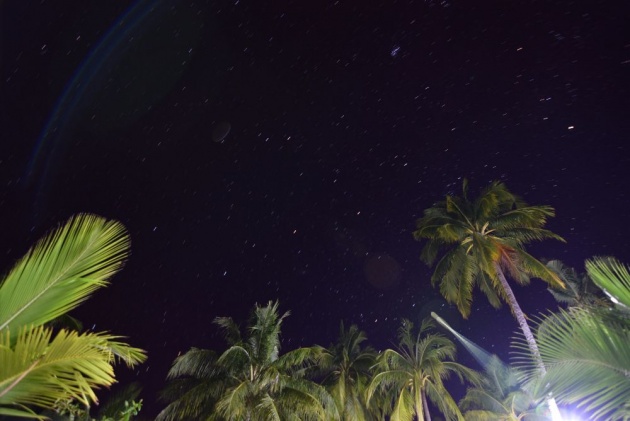 When we arrived in Santa Fe port, it was an quarter to lunch and since we didn't have breakfast, James and I thought it would be best to have lunch first. Gladly, some random local guy offered his motorcycle for rent. This reminded us of Siquijor because their 24 hour rent was also worth 350 pesos only. Of course we grabbed that opportunity so we could roam around the island freely.
After lunch we asked Mr. Google Maps for the Beach Montemar's exact location. After 16 minutes, we found the resort. I actually didn't notice that there was no mobile signal when we paid for the room rent instead I had only noticed it after my power nap at around three in the afternoon.
Of course this is a huge factor which would discourage guests and tourists to get to the resort. Unfortunately for us, we had already paid for the one day room accommodation fee so we got no choice but to stay.
In fairness, we found a signal from the beach shore area which we were already thankful. But in the room, there's nothing at all.

2. No free WiFi Connection
And since there isn't any mobile signal, definitely there would be no internet access too. We can't find any data from our room but there was a bit of signal at the beach shore area so we tried to check if there's also a little connection since I had to complete my bitLanders quest on the second day. James finally found near the coconut tree and it was just enough for me to complete the task.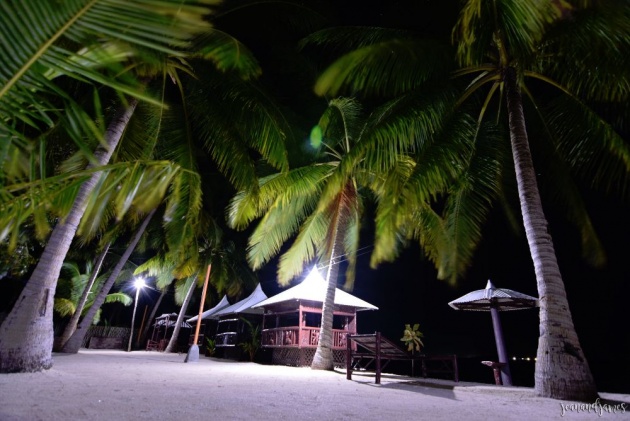 But it is just disappointing that there isn't any data connection. There are certain things that would really limit you from accessing the internet and this is one of them.
Oh well, I guess this is really good for those people who want to get detached from the web and just be a cave man. But that was not the case for the two of us although my husband is okay if there isn't any internet access, I myself would be a bit sad. Well I can live without the internet thought but that would mean no bitLanders earning on that day.
Then again, if we had known beforehand, before we could pay for our one night room accommodation, we could have looked for somewhere else since the Santa Fe main town has LTE connection. So we treated it as a lesson learnt the hard way.



3. Slow Service
I can actually take the previous two points but then this third one was perhaps the most disappointing thing because first, my husband had already been here with the owner since they know each other so I have high expectations. Then second, we are the only guests in the resort at that time being. There is no reason why they would be slow to do the needed things to do.
Here are the situations:
Locked Gate
The first day's afternoon was spent on a different area, it was where we stayed before in Budyong Beach since we would like to catch the sunset. So James and I also ate dinner there which resulted to getting back to the Beach Montemar Resort at almost seven in the evening. Since it is a province, there aren't much lights in the road and that it took us more time to get back because of the road challenges.
I was advised by the front desk that they won't be closing the gates so that in case we would like to go out we can do so. However, upon reaching the gates of the resort, the gate was closed. Not just closed but locked! I have to knock, bang the gate but no response. Then I had to shout until the neighboring dogs were already shouting back at me too, glad they have their own fence.
It took ten minutes or more before one of them could open the gate finally!
Blackout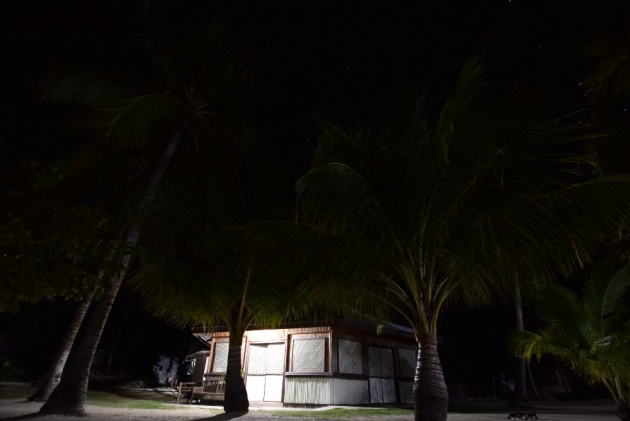 One unfortunate event that night was the blackout. We paid for the air conditioned room and now, there was a blackout! I almost freak out because we were outside, watching the stars and have not really used the AC yet and by the looks of it, we won't be able to use it anymore. We would like to sleep peacefully and comfortably but this looked like impossible.
I went out and asked the male personnel about it who responded their generator is broken. I almost cried! That was really ridiculous, a resort without generators!
As a result, we took a second bath so to cool ourselves. After two hours, the electricity was back and I praised God for that!
The Super Late Breakfast
I had already forgotten the locking of gate incident and the almost no AC night the next day but when breakfast time came, they reminded me again of their slow service. James and I woke up at four in the morning, got our things prepped up and went to the beach shore, low tide at that time so we have a huge playground with the sea and the skies plus the sunrise. After this, we got back to the resort hoping that breakfast is already served but to our disappointment, no personnel is available at the bar! No one is up except me and my husband.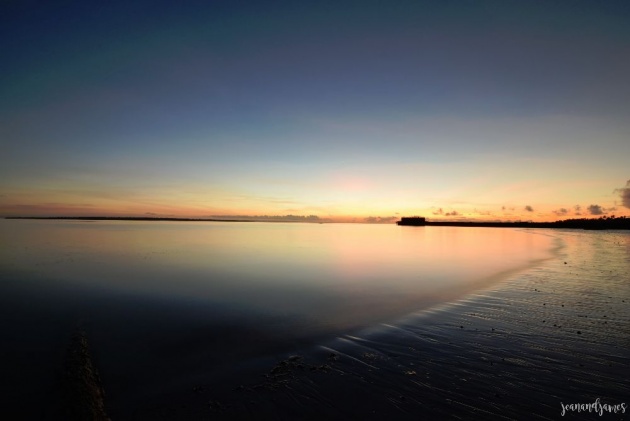 At seven in the morning, a staff was at the gate but it looked like he's not the cook. Waited for another hour and our stomachs were already rumbling. I went to the bar and asked about breakfast, the front desk said they will serve it once cooked at the table where we were seated near the shore and that made me happy thinking it will come in five minutes but an hour has passed and yet no food was served!
I actually had to find an alternative, I couldn't find anything good for breakfast on my bag but these Nacho chips. James is already hungry and we have to feed our parasites so yes we ate unhealthy chips for breakfast!
It was ten in the morning and we still have no news about our breakfast meal so we ended up in the waters. We had to cool down since our blood pressure is already steaming up.
Gladly, at 10:30 or perhaps quarter to eleven, our breakfast was served. And no, we were not happy about the late breakfast with just instant corned beef and two sunny side ups served, oh I forgot to mention we also had coffee but they didn't serve water.

So if I would be rating the resort, I will say 2.5/5 stars. Yes the place is beautiful but the service is horrible. I wonder if it was just us or if this is how the other guests felt when they were at the resort. I hope not.
Regards,
Copyright 2016. All rights reserved.