Beef spicy tiky
This is EID special spicy delicious and hearty dish, you can make tiky with chicken but I am going to make it with beef. Make this at home for Eid days, marinate the beef and place in freezer fry whenever you have to fry. Enjoy special Eid day with special spicy dishes….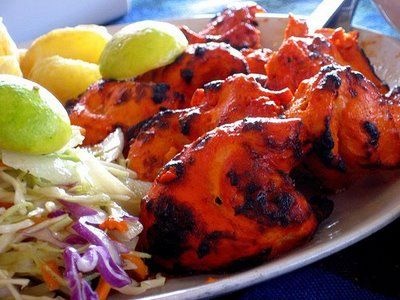 INGREDIENTS
Beef ½ kg
Ginger garlic paste 2 table spoons
All spices powder 2 table spoon
Dry coriander powder 1 table spoon
Red chilli powder 1 table spoon
Turmeric powder ½ table spoon
Yogurt 1 cup
Green chillies 2-3 chopped
Lemon juice 4-5 table spoons
Salt to taste
Oil as required
METHOD
Take a bowl add beef, ginger garlic paste, yogurt, salt, red chillies, all spices powder, green chillies chopped, turmeric powder, dry coriander powder and mix it well so that beef is cotted well. Keep it in freezer for 2-3 hours so the beef is marinated.
Now heat oil in pan, add marinated beef and fry till beef is tendered and golden.
Now turn off flame, add lemon juice in it.
Serve with rice or naan.