Frank Darabont, the Oscar-nominated writer/director of such films as The Shawshank Redemption and The Green Mile, and the man behind the first season of the ground-breaking TV series The Walking Dead, cut his teeth writing so called "B-grade" horror films like The Blob and A Nightmare On Elm Street 3: The Dream Warriors (both favorites of mine, I must admit).
But before he directed such critically-acclaimed films as the two aforementioned Stephen King adaptations, he made his directorial debut with Buried Alive (1990), a TV movie produced for the USA cable network.
On the surface, the film (about a woman who poisons her do-gooder husband to run away with her sociopathic lover, only to discover that her husband isn't quite dead and is back for revenge), sounds like just another cheesy 90's made-for-TV movie (cue the bad synth score, the has-been TV actors struggling through their middle-ages crises, and the horrible dialogue). But Buried Alive proves to be much more than that.
Milking the limited budget and the twisty script by Mark Peter Carducci for all their worth, Darabont injects this modest thriller with tons of energy, style, wit, and transforms what could have been a forgettable B-movie into a minor suspense classic.
Good performances by Tim Matheson, Jennifer Jason Leigh, and William Atherton, and the moody score by Michael Colombier, also help. But this is Darabont's show, and you can see glimpses of his filmmaking genius showing through the trappings he tries to transcend.
An atmospheric piece of American Gothic, Frank Darabont's Buried Alive is worth rediscovering.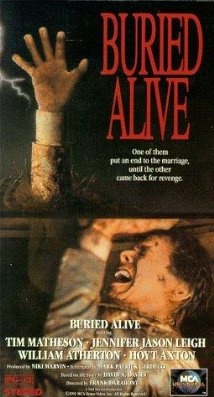 About the author: Ahmed Khalifa is a filmmaker and writer. He is the author of Beware The Stranger, a horror novel, and Egyptian Gothic: Stories. Both books are available on Amazon here. He is also the director of The Weapon, Egypt's first action/supernatural Web Series, which centers on a vigilante called "The Hunter". You can watch the complete first season, for free, here.