Welcome to Bitlanders, the home of avatars where you can earn money FOR REAL!
So if you've just registered here, congratulations! You are on your way to getting that extra end pot of the rainbow. :)
I especially wrote this for the newbies and for those whom i have referred. I have seen many people asking in the global chat with questions like, "What is this?", "What to do here?", "Can somebody tell me what to do?", "How should I start?" and other questions related to those.
This has prompted me to make a blog dedicated to beginners, since I might be also inviting a lot of people to join this site so why not explain this golden opportunity in-depth once and for all?
This blog will be a two part blog mainly because one blog is not enough to explain this site thoroughly. Part one will discuss the main points I want to point out while part two will be the rigor of part one. Rigor means it will give you a better understanding of part one as there will be deeper explanation in part two.
What is bitLanders?
In my own definition, Bitlanders is a social platform where its users get paid for their contents and social engagement on the website. There are three main contents that we can make here: the blogs, movies, and (photo) galleries. For bloggers or for those who like blogging, they can earn here for their blogs. For filmmakers or for those who are fond of creating interesting videos, they can get paid here for their movies. For photographers or for those whose hobby is taking good pictures, then earning here through their galleries is a good idea. But for those people who just want to earn money through online means, then bitLanders is also good for them. BitLanders is open for everyone!
NOTE that when I say photos, they already mean galleries so don't get confused when I use the two words interchangeably for this blog.
And now, let me introduce you to the buzz score.
Earning is possible though the bitLanders scoring system called the Buzz Score.
Screen shot source: bitLanders.com
*In the picture is an example of the buzz score. It is encircled in red. How much is it? It should be 105.
You can check your own buzz score by clicking your own avatar icon (encircled in blue) which will redirect you to your profile page and then you can see your own buzz score from there.
What does our buzz score have to do with how we earn here?
Simple. The higher the buzz score, the higher the earnings. That is why all of the members here strive their best to increase their buzz score to as high as they can. In the place of beginners, it's normal that their buzz score is zero since of course they are still starting. But if they do their best and work hard here, then they are bound to reach the highest possible buzz score they could ever have.
I will show you a list of the top 30 users with the highest buzz scores below as of June 1, 2016 (Philippines time). Note their earnings for that day.

Screen shot source: bitLanders.com
*Note:
1. Our earnings are given to us on a daily basis. Take note that if your buzz score was 286 on that day, you would have been given with 5,642,847 BM or 5.6$ if converted to US dollars (But don't worry. You'll earn something like that if you work diligently). Added to that, if you are able to earn 5$ per day, let's try to multiply that by 30 which is equals to 168$. That would have been your estimated earnings after one month. But since earnings are given on a daily basis, they can either decrease or increase the day after, still depending on our buzz score.
2. This is the same with our buzz score. If today, we have 286 buzz score, tomorrow might be a different case. In the same manner, the buzz score can either go higher or go lower on the next day but it can remain stagnant as well. All of these things can happen depending on the users' activities and on some minor adjustments made by bitLanders team. But regardless of any situation, we should always try to give our best shot here so that we can increase or at least maintain our buzz score for as long as we can and that's what even matters more.
What is BM (bitMiles) loyalty point??????
(ex. 5,642,847

BM

)
It is the currency unit of bitLanders earnings. For more information, kindly read "bitMiles loyalty points" in Part 2.
What's the highest buzz score we can possibly attain?
No one can really tell about it since buzz score seems to be infinite. The calculation of our buzz score is something only bitLanders team is on hold. The only thing that we can do is to show them that we are doing our best and again, for as long as we are trying our best, then our buzz score is fine.
How can we increase our buzz score

FAST

?
This is where our blogs, movies, and galleries come into play. The following can be done to increase our buzz score FAST :
(1) Submitting blogs, movies, and galleries for review
Let's take submitting blogs for example. To do this, we just need to:

Screen shots source: bitLanders.com
Submitting blogs for review requires 10 gems. You can buy gems from bitLanders shop. But did I tell you that you'll be receiving 21 free gems at the start of your stay here? Then it means you still don't need to buy gems for a beginner like you! Perhaps, bitLanders understands beginners' situation. :)
You can get your free gems by doing the tasks from the Quests box.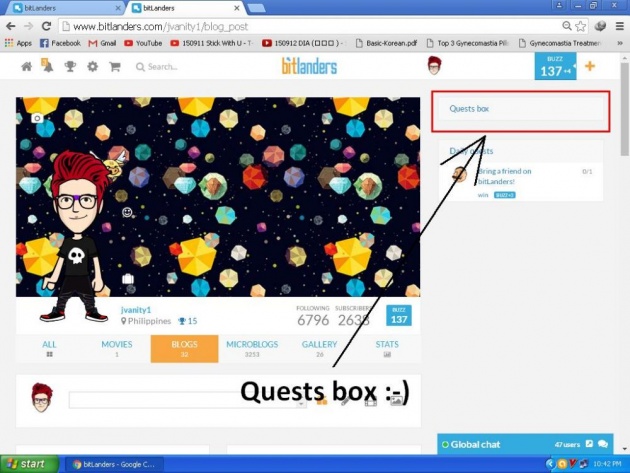 Screen shot source: bitLanders.com
*Don't know where the Quests box is? Simply go to your profile page and from there, you will find the Quests box. It's on the right side of your page.
As for movies and galleries, you can also do the same by clicking the same orange cross button like what I've shown you above but instead of clicking "WRITE A BLOG" after, click "UPLOAD A MOVIE" for movies and "ADD A PHOTO GALLERY" for galleries instead. Try it. :)
Also, be guided by the FAQS to know the rules when submitting contents for review, as mandated by bitLanders.
After submitting your contents (especially blogs) to bitLanders team for review, wait for a few days until you get notified that your content has been reviewed. Normally, if you do your best, your contents (especially blogs) will receive positive feedback and because of that, expect to see a shocking increase on your buzz score. :)
Are there other ways to increase our buzz score aside from submitting contents for review?
Yes! You can do it by:
(2) Purchasing items with buzz bonus from the store
In the store, you can find clothes, accessories, and gems for sale. So how to find the store?
You can do it by clicking that "shopping cart" button.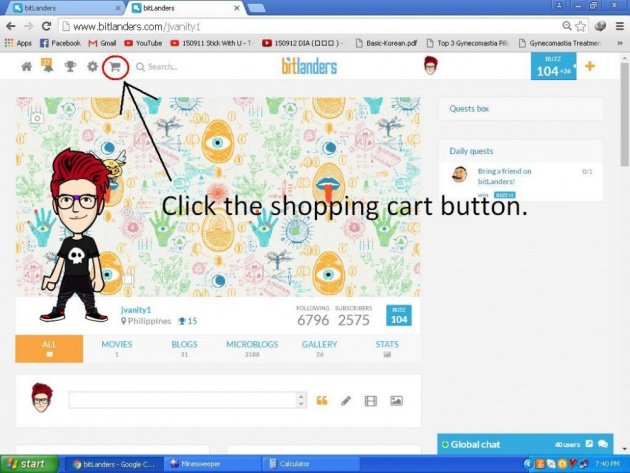 Screen shot source: bitLanders.com
When you get to the shop page, three sections will be displayed, the bitCharities, the bitFashionista, and the bitGoodies sections.
a. bitCharities - In this section, you can donate a specific amount of bitMiles points or gems in exchange of buzz bonus. But since we are still talking about purchasing items and not about donating items, we will set this aside for now and talk about it later in the third way of increasing our buzz score which is, "Donating items to different charities".
b. bitFashionista - Next is the bitFashionista section. From the word itself, it's about Fashion! In this section, you can buy clothes and accessories for your avatar to wear. You can access it by simply clicking the "bitFashionista" word.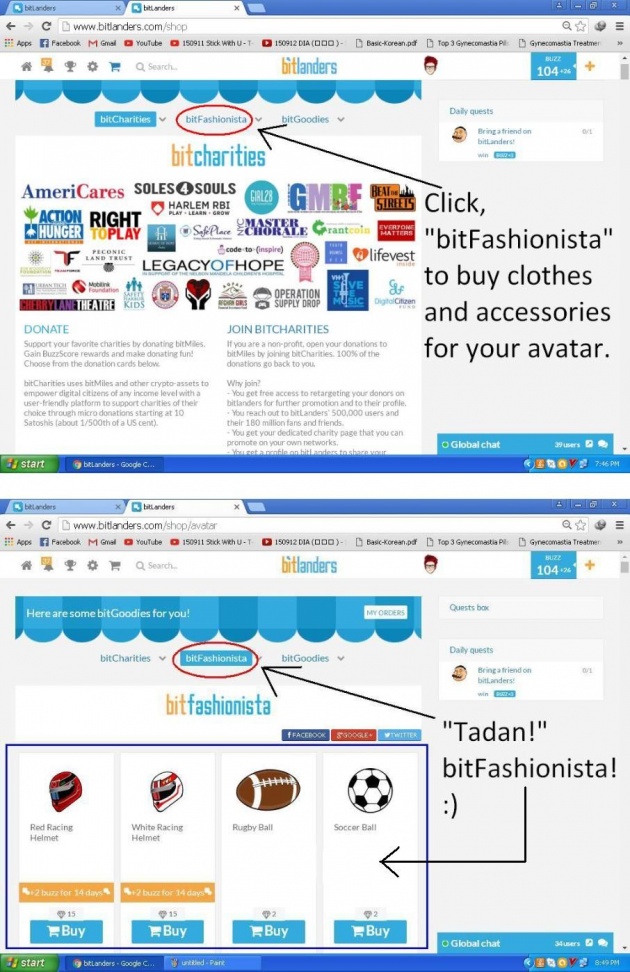 *If you want to check out for more clothes and accessories, just scroll down and......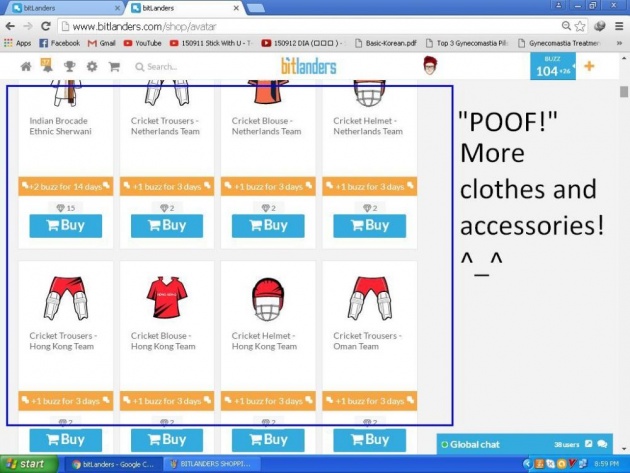 Screen shots source: bitLanders.com
A few samples of clothes and accessories are displayed in the pictures above. There are helmets, trousers, balls, and a traditional Indian costume with prices ranging from two gems to 15 gems. The rewards also vary from +1 buzz for three days to +2 buzz for 14 days. Just remember that not all items have buzz bonus rewards in them like the rugby ball and soccer ball. But it's up to you to decide which items you want to buy.
c. bitGoodies - In here, you can purchase gems which you can use in (1) submitting contents (blogs,movies,and galleries) for review, (2) purchasing items, and (3) doing other activities that require gems. BitGoodies is essential when you run out of gems. To access bitGoodies, just click on the word itself.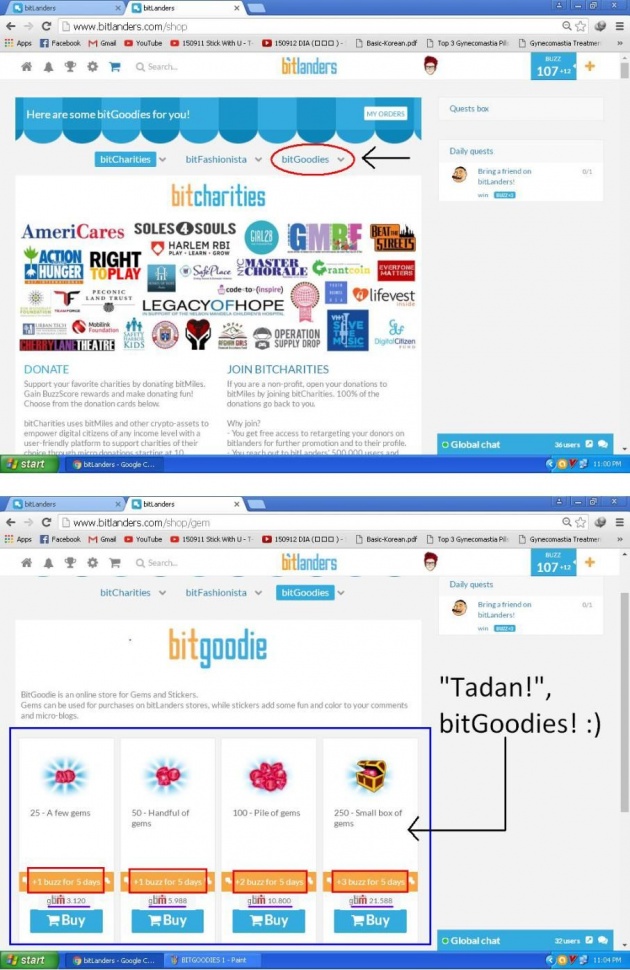 *Scroll down and you'll find more boxes of gems.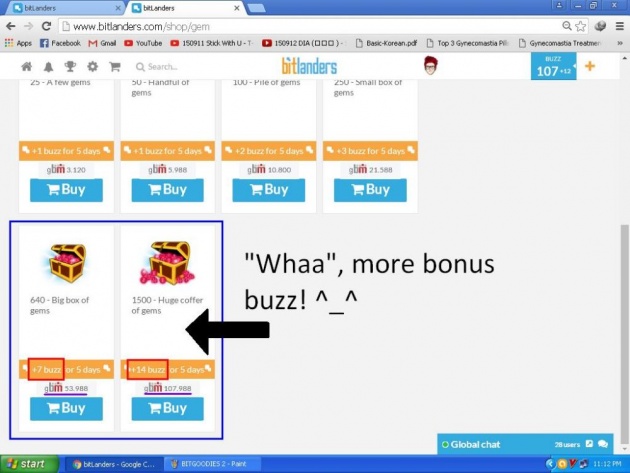 Screen shots source: bitLanders.com
I guess it's self-explanatory. The higher the price (Price is in gBM unit), the higher the buzz bonus. So consider also how many you want to buy.
I suggest you buy the smallest amount of gems first which is 25 gems as you are still starting, only if you run out of gems and if you have enough gBM. Twenty-five gems is worth 3 gBM.
*To know more about gBM, you may read "bitMiles loyalty points" in part 2.
(3) Donating items to different charities for buzz bonus rewards
BitLanders also encourages its users to help those who are in need. That is when bitCharities becomes important.
Normally when you open the shop, the first section you will be encountering is the bitCharities section without having to click on that word. With that said, all you have to do is just scroll down and view all the charities present on the website. Just choose the charity/charities of your choice.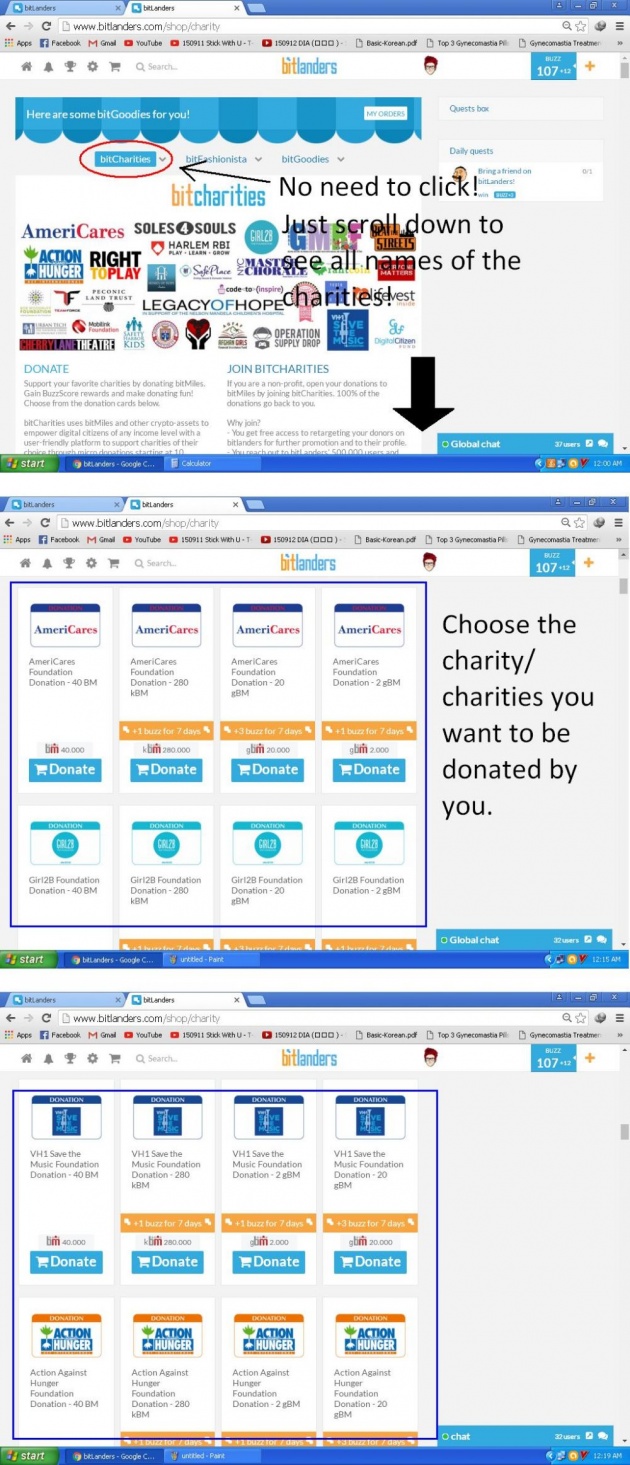 Screen shots source: bitLanders.com
In the pictures, you will see some of the charities that will be available in front of you when you go there. In fact, there are many of them so it depends upon your discretion whether what and how much you want to donate and how many or what charities you want to be donated to. Bigger donations mean bigger expenses but if you really want to help people that much, then it won't matter. You can donate to as much as what your heart desires. Just take note that not all donations contain buzz bonus but most of them do. In the case of donations that have buzz bonus, you will see how much buzz bonus you'll receive after donating. It is displayed in orange. Why don't you check out this page now? I'm sure you will find the charity/charities of your liking. BitCharities, helping others in need. Have fun donating! :)
So again, to increase your buzz score, submit contents for review, buy items, and/or do charitable donations!
You must have been mentally worn out after reading this blog. Now, I want you to take a rest first for a few minutes. Take some time to breathe for awhile and if you are ready, you may proceed to part two. :)