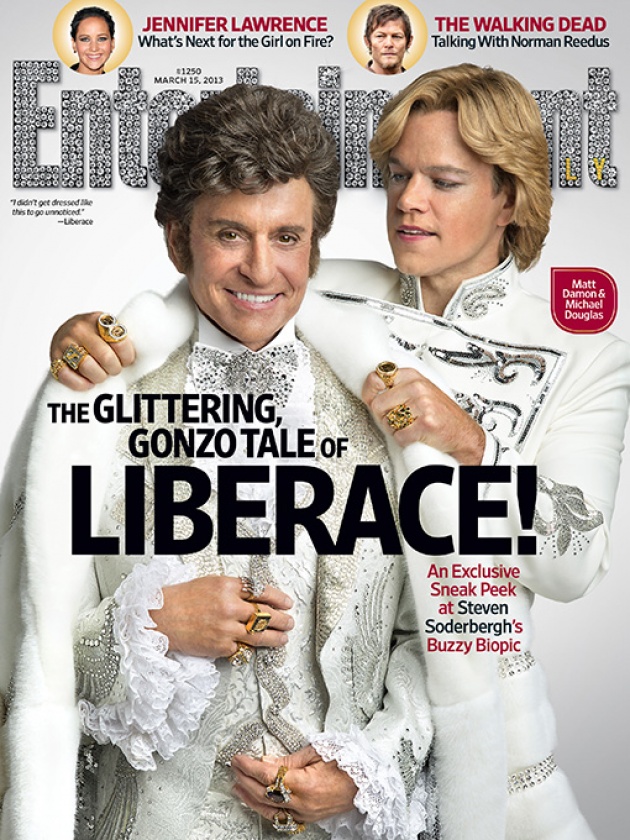 Ladies and gentlemen, here's a first full look at Michael Douglas and Matt Damon in full character! Douglas plays the legendary Liberace while Damon is his young lover, Scott Thorson. The film covers their torrid relationship from 1978 to 1982. This is from director Steven Soderbergh and is supposed to be his farewell film ("Side Effects" was his last theatrical movie, "Behind the Candelabra" will premiere on HBO).

In this week's issue of Entertainment Weekly, Douglas and Damon revealed fun insights into the making of the film.

So what does Damon afraid to show his wife? Here's what the actor said in the interview:


"Every Sunday night, this girl would come to my house and I would stand in my garage and I would hike my boxer briefs up into the crack of my a– and she would give me a spray tan," explains Damon, who spends plenty of the movie in tiny swimsuits, and wasn't too excited about his real-life wife seeing his bronzed backside. "We've been through three childbirths, we've been in the trenches, there are no secrets. But I really wish she didn't see that. That's too much."


Why? Because the actor must wear metallic thong for some of the nude (!!!) scenes. Well okay, wearing just a metallic thong.

That Soderbergh let me tell 'ya, he made Channing Tatum, Matthew McConaughey and the gang wear thongs in last year's "Magic Mike" and now, he's taking it a step further with a new and improved metallic version! HA!