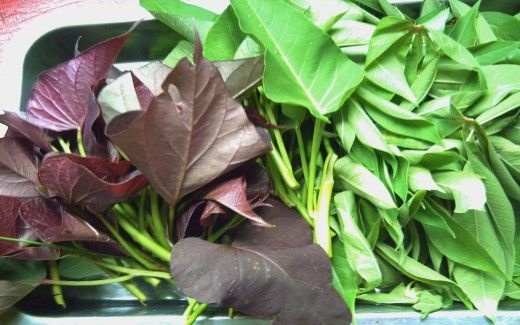 Sweet potato tops or camote tops or sweet potato leaves of simply talbos ng kamote in tagalog areexcellent sources of antioxidative compounds, mainly polyphenolics, which may protect the human body from oxidative stress that is associated with many diseases including cancer and cardiovascular diseases.Its scientific name is Ipomoea Batatas.
It contains protein, dietary fiber, lipid, and essential minerals and nutrients such as calcium, phosphorous, magnesium, sodium, potassium, sulfur, iron, copper, zinc, manganese, aluminum and boron.
- Lowers blood sugar and cholesterol.
- Regulates good bowel movements.
- Boost the immune system and thus helping to prevent infections and disease.
Among all the other plants, research studies have shown that Camote tops may be used as a remedy to Dengue fever. It is said to help increase platelet counts that would help recover from Dengue.
Camote tops can also be used to treat other diseases or sicknesses:
• Diabetes (Type 2)
• Heart Disease
• Cancer (Colon, stomach)
• Problems on bowel movement
• Destroys bacteria and inhibit fungi
• High Blood Pressure
• High Cholesterol
• Kidney Stones
• Boils
• Acne
Sweet Potato Leaves are packed full of great antioxidants… also vitamin C making it great for fighting off free radicals thus preventing premature aging and disease.
Talbos ng kamote is also recommended for anemic person since it is rich in iron. The leaves and the rest of the plant may work wonders for balancing out blood sugar making great for diabetics. It contains a substance called FIBL… that in studies done on mice did lower blood sugar levels.
Crushed leaves are applied to boils and acne.
Making a drink of the Sweet Potato Leaves really works wonders for distress, stomachaches, diarrhea, and nausea. But if we make a juice it tastes bad even if we add it sugar or any kind of juice.