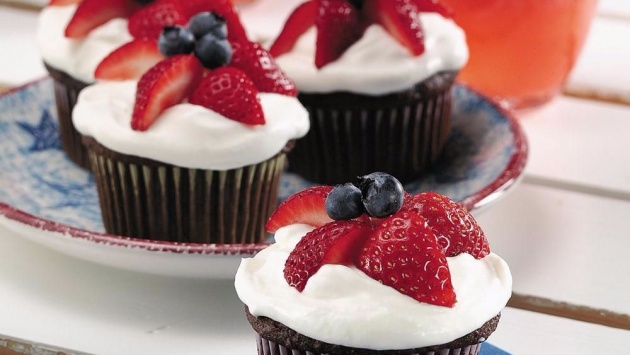 Star-Berry Cupcakes

Ingredients
1
box (1 lb 2.25 oz) devil's food cake mix with pudding
1 1/3
cups water
1/2
cup oil
3
eggs
1/2
cup marshmallow creme (from 7 oz jar)
1
cup whipping (heavy) cream
3
cups quartered fresh strawberries
1
cup fresh blueberries
Steps
1 Make cupcakes as directed on box using water, oil and eggs. Cool completely, about 30 minutes.
2 Place marshmallow creme in small microwavable bowl. Microwave on High 10 to 20 seconds or until slightly softened.
3 In medium bowl, beat whipping cream until soft peaks form. Add marshmallow creme; continue beating until stiff peaks form.
4 Frost cupcakes with whipping cream mixture. Arrange strawberries, cut side down, on each cupcake to form 5-point star. Place 3 blueberries in center of each star.

Enjoy!