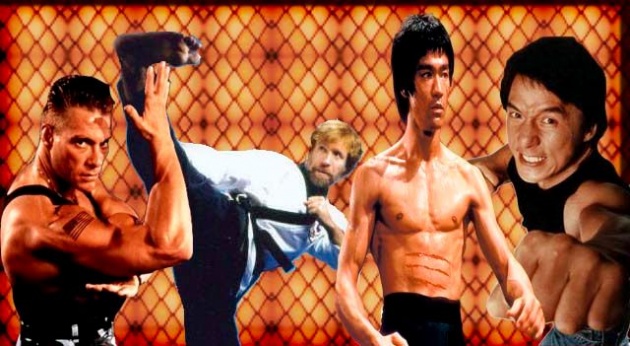 Bruce Lee
Bruce Lee (Chinese: 李小龍; born Lee Jun-fan, Chinese: 李振藩; November 27, 1940 – July 20, 1973) was a Hong Kong American martial artist, Hong Kong action film actor, martial arts instructor, filmmaker, and the founder of Jeet Kune Do. Lee was the son of Cantonese opera star Lee Hoi-Chuen. He is widely considered by commentators, critics, media and other martial artists to be one of the most influential martial artists of all time, and a pop culture icon of the 20th century. He is often credited with helping to change the way Asians were presented in American films.
Chuck Norris
Carlos Ray "Chuck" Norris (born March 10, 1940) is an American martial artist, actor, film producer band screenwriter. After serving in the United States Air Force, he began his rise to fame as a martial artist, and has since founded his own school, Chun Kuk Do. Norris appeared in a number of action films, such as Way of the Dragon, in which he starred alongside Bruce Lee, and was The Cannon Group's leading star in the 1980s. He played the starring role in the television series Walker, Texas Ranger from 1993 until 2001.
Jackie Chan
Jackie Chan, SBS, MBE (born Chan Kong-sang, 陳港生; 7 April 1954) is a Hong Kong actor, action choreographer, comedian, director, producer, martial artist, screenwriter, entrepreneur, singer, and stunt performer. In his movies, he is known for his acrobatic fighting style, comic timing, use of improvised weapons, and innovative stunts. Chan has been acting since the 1960s and has appeared in over 150 films.
Chan has received stars on the Hong Kong Avenue of Stars and the Hollywood Walk of Fame. As a cultural icon, Chan has been referenced in various pop songs, cartoons, and video games. An operatically trained vocalist, Chan is also a Cantopop and Mandopop star, having released a number of albums and sung many of the theme songs for the films in which he has starred. He is also a notable philanthropist.