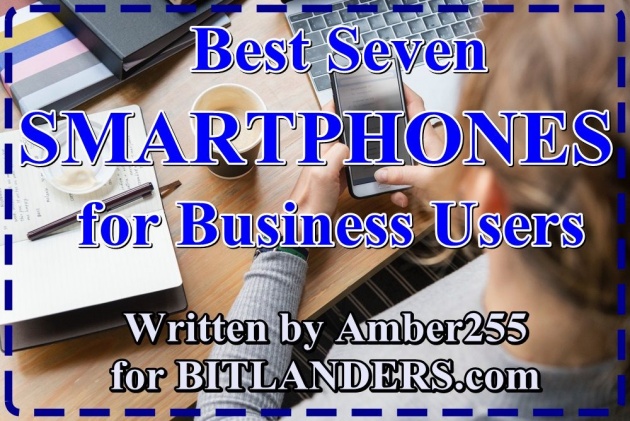 Best Seven Smartphones for Business Users
Photo credit: blog.tracfone.com Edition by Amber255 via Bitlanders.com
Greetings. You already saw my headline of this blog - 7 best smartphones for business. The case is that I am too much engaged online because of my ordinary work and extra earning sites, and it appeared that my smartphone started to interfere with my quick job. Some time already I searched for the new one that would lessen my work online. I love to work on my laptop when I am at home, but we all know that we cannot live closed ourselves between four walls from the whole world, so the time from the time we need to go outside. It is a habit to work at any place where I am, to check Bitlanders, to add some posts, buzz others posts, to check other sites I am in. I even write short blogs via phone for a few sites. I use phone numerous times a day. So, I need a comfortable, enough big smartphone compatible to work online.
I guess, you also do not imagine your daily routines without smartphones - we use them not only to make or write text messages, so it's no wonder that many of these devices also use for work purposes. So if you need a smartphone that meets your business needs, check the list that I got from the smartphone shop specialists, and you may find the most suitable models for these purposes.
There are so many options for smartphones that is hard to choose the best suited for your business. Which is the safest, the most trusted, which has more useful features and can become the best helper to overcome the challenges? Finally, which will require less of such a precious our time?
Bellow is the list I composed by the advice of specialists, walking from one shop to another in order to find the best one for me.
How to Choose the Right Smartphone for Business 2018 - Video credit: Diana Gladney - EntreWoman TV via Youtube.com
1. Samsung Galaxy S9 & Galaxy S9 Plus Phones - easy keep track of the data security
These two are the best Samsung smartphones at this time. In terms of design, the novice is almost identical to the predecessors but has received other useful updates. One of the most important features is the camera. Both camera lenses have a dual aperture that adapts to the environment like the human eye. In poor lighting conditions, the camera uses an ultra-bright aperture. And a normal aperture is used in normal lighting conditions. Not any other smartphone has such properties. This ensures extremely high picture quality under all conditions.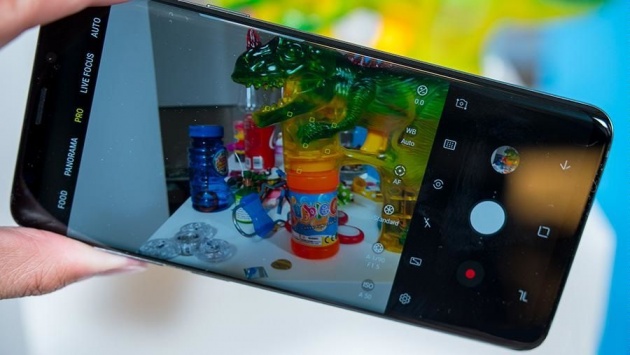 Samsung Galaxy S9 - Photo credit: twitter.com
The Samsung DeX plug-in will turn the Samsung Galaxy S9 Plus or Samsung Galaxy S9 into a fully-fledged desktop without losing space for your files. With the help of a memory card, you can expand memory up to 400 GB. One of the most advanced processors will ensure a smooth and fast operation. And the battery will serve faithfully throughout the day.
Another major upgrade is the opportunity provided by the augmented reality. The advanced Bixby Virtual Assistant will provide you with detailed information about the food items you will use if you turn your camera phone to them. The phone will provide real-time translation of notes in a foreign language. And with the help of a smart camera, you can create a virtual avatar for you, and send lively video messages.
The only disadvantage is that Samsung's flagship is getting better and faster, so it's unclear how long the Samsung Galaxy S9 Plus and Samsung Galaxy S9 will be the best productions.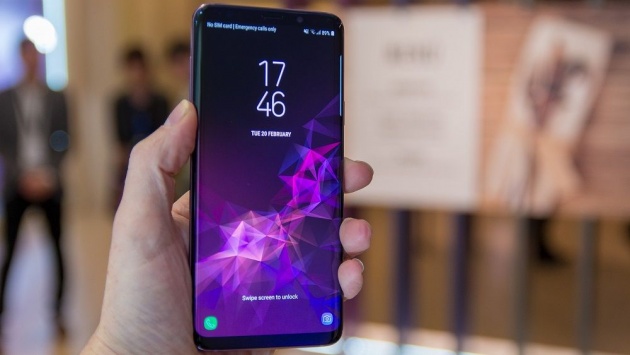 Galaxy S9 Plus Phones - Photo credit: iphones-wallpapers.com
As soon as they appeared on the market, both Samsung Galaxy S9 and Galaxy S9 Plus Phones did not have to wait for the compliments. Often they are mentioned among the devices that are suitable for work. By choosing these options, you'll be able to keep track of the security of your data. There, you will discover a number of even more security features.
2. iPhone 8a and iPhone X - reliable choice for work
Obviously, if you're using Apple computers and iPad tablet at work and at home, you will not discuss any other manufacturer's phone. And the iPhone of the latest generation should be purchased at least because of the waterproof performance of these models. Along with a glass back, they got wireless charging, and the security of your personal data is taken care of by the ultra-fast A11 Bionic processor with artificial intelligence.
An iPod, a phone, an internet mobile communicator… these are NOT three separate devices! And we are calling it iPhone! Today Apple is going to reinvent the phone. And here it is. – Steve Jobs

Credit: ansonalex.com
It would seem that we could choose a more cost-effective iPhone 8 or the smartest choice - iPhone 8 Plus. All have the same processor to enjoy the added features of reality, and the dual iPhone 8 Plus rear camera differs not so much from the existing iPhone X. So why was the iPhone X all the way to this list?
First of all, because it's enough to have one look at it - it's a phone from the future. And the iPhone 8 needs to be well looked at to be able to separate it from the old iPhone 7. It's clear to everyone that the future of Apple phones will look more like the iPhone X, so this model will not get old any longer. Here's a paradox of prestige - buying more expensive you are saving.
Secondly, because I am pleased to know that I have a phone that is so well protected against the intrusion that the FBI expert called its creators ugliness.
Thirdly, iPhone X has one of the best camera ever seen on Apple phones. And nobody needs to explain how important it is.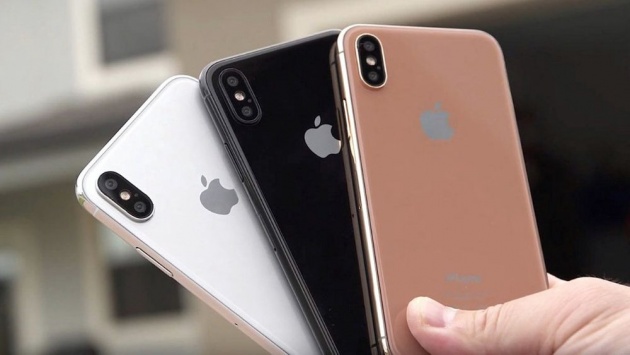 iPhone 8a and iPhone X - reliable choice for work - Photo credit: youtube.com
Well, and everything else is simple - all the iPhone's are compatible with each other, convenient and has secure synchronization of data with other Apple devices, always keeps up-to-date on the operating system, and it's hard to find so many gadgets for productivity and hard work in other phones.
Apple phones are always a great choice for those looking for high-quality, easy-to-use user interfaces and many business applications. Of course, if you can invest more in this device, it is recommended to try the latest iPhone X model, which features even more powerful specifications.
3. Huawei P20 Pro - created for professionals
The long-awaited Huawei P20 Pro has finally arrived. This is one of the most impressive ever created phones. And it's not just the high-quality Huawei smartphone, perfect for business people. It is a device that challenges all the other flagships and even puts an innovation cartel ahead. So if you keep up with the innovations - the Huawei P20 Pro is for you.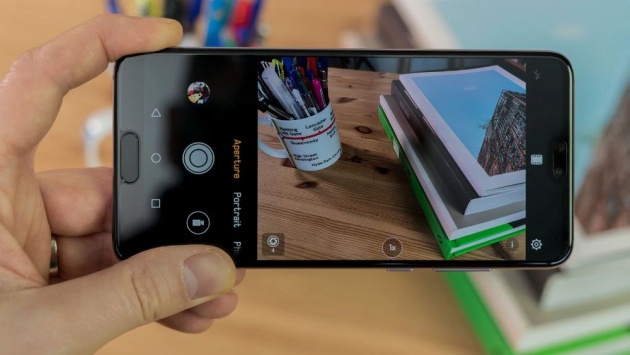 Huawei P20 Pro - Photo credit: gurugadgets.ru
The biggest innovation, not seen in any other manufacturer's devices, is the triple, artificial intelligence-driven camera. Combining the image information collected from all three of the eyes together brings a professional-looking photo. In addition, without losing quality, the image can be zoomed up to 5 times, and the artificial intelligence will select the best camera settings for each shot. From now on, on a business trip, you will not have to carry on a heavy camera.
You will not have a chance to complain about the weak battery because the device is equipped with a 4000 mAh battery! The processor is also one of the best in the market. It constantly optimizes energy consumption, so the batteries will last longer than a day.
A slight disadvantage is that the Huawei P20 Pro only has 128 GB of internal memory and cannot be expanded with a memory card. Well, and perhaps the fact that there is no longer a traditional headphone jack, the USB-C connector becomes a new standard.
Huawei P20 Pro Review - Video credit: AndroidAuthority via Youtube.com
4. OnePlus 5T - not only narrow frames but also face recognition system
The main feature of the OnePlus 5T is the high-end, latest trend-matching display with Full HD+ resolution, which provides new information sharing experiences. This Android-based device has as much storage space as you cannot find in any of the smartphones that are being used so far. This feature, of course, ensures the best possible performance.
Another important feature of OnePlus 5T is the Face Unlock face detection system, which is implemented at the software level and uses a high-quality front camera.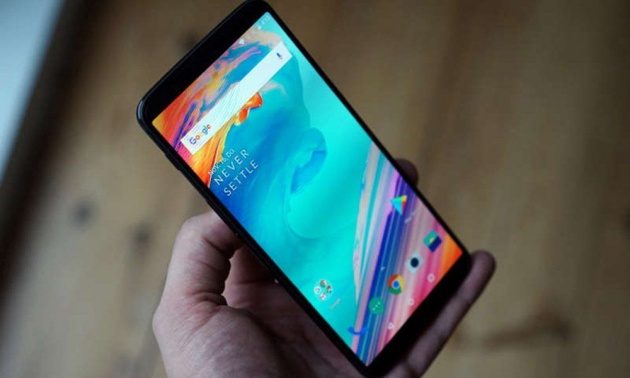 OnePlus 5T - Photo credit: drejatel.at
Of course, the company could not ignore the design: a narrow metal casing, a 3.5 mm audio jack - all of this emphasizes the concept of OnePlus 5T.
It's worth mentioning the OnePlus 5T camera, which is particularly well-working in portrait mode. Its main features are predetermined: a dual module with 20 and 16-megapixel sensors, but this time both have the same aperture, which, according to OnePlus, has a positive effect on the quality of pictures in low light.
The fact that OnePlus 5T model is not loaded with unnecessary gadgets was a good idea, leaving everything to the user's imagination and needs. It is perfect for work and entertainment. One Plus uses the one of the fastest charging technology in the world, and your phone will become fully charged for a full day just in half an hour.
This model is especially liked by those who are interested in cheap smartphones for business. Although there are several defects in the specifications, however, these appliances meet the highest standards and can really meet all your business needs.
While reading my blog about the best smartphones for work, please check QUERLO CHAT:
5. Samsung Galaxy Note 8 - for those who value every second
Samsung Galaxy Note 8 is just an ideal phone for work, which has everything that even the most demanding business person can ask for. The solid glass body and the Infinity display simply shows the prestige. And functionality - the screen of this phone is already large enough to allow it to effectively simultaneously monitor two programs' windows.
This is the only phone in the world with such a convenient and perfectly functioning pen. And the ability to scratch your corrections on a drawing or a photo or to quickly snap notes onto a locked screen is just a tiny fraction of what can be done continuously with your hand holding an electronic pen.
Samsung Galaxy Note 8 is incredibly fast, the internal memory is expanded with a microSD card, and its cameras are one of the best in the world. You will be able to shoot 4K resolution at the same time and take 9 MP photos, so you will only need the camera at a time if you want to play the photographer in the carnival.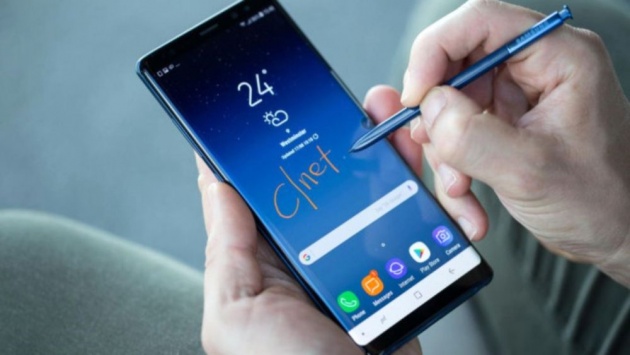 Samsung Galaxy Note 8 - Photo credit: dailymotion.com
Adding a wireless charging, the ability to create a secure business environment, the addition of important file protection with the eye iris scanner, water resistance, and the ability to turn the phone into an Android system computer with the Samsung DeX add-on, and there are only two minor disadvantages.
The first one is the location of the fingerprint sensor that has not been selected well. The second one - this phone needs deep pockets in all senses. Well, it's big.
Samsung Galaxy Note 8 was designed specifically for business needs. It not only looks luxurious - it's designed for those who are interested in the highest quality experience. A lot of attention is paid to the special pen S Pen and other accessories for these mobile phones that allow you to connect your monitor to this device or try out various entertainment. With such a smart one, you will always feel confident and easy to do any task.
6. Motorola Z2 Force - quality and durable smartphone for your business
Motorola Z2 Force can boast a modular design and a durable and slim corpus. The latter is made up of 7000-series aluminum, and the front panel is protected by Moto ShatterShield glass. In the United States, the manufacturer provides a four-year guarantee and assures that during this time it will certainly not break.
The smartphone's thickness, besides the camera, is just 6.1 mm. Due to the dimensions, the manufacturer had to sacrifice the battery - it is not powerful. But the battery is recharged with TurboPower.
The Motorola Z2 Force received the first dual camera in the manufacturer's assortment. One sensor matrix is black and white, which allows you to blur the background or make it gray. There are laser and phase focusing.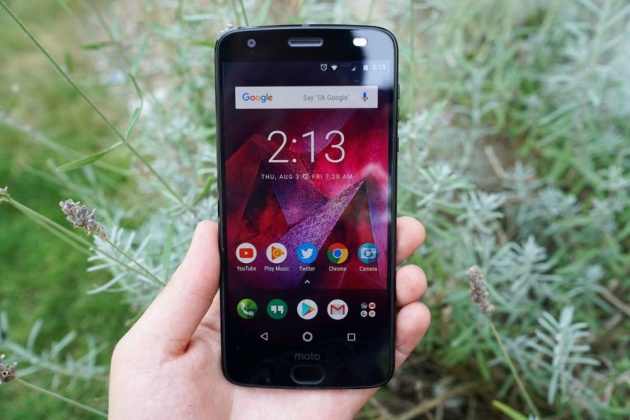 Motorola Z2 Force - Photo credit: twitter.com
Special Moto Mods accessories allow you to add new features or upgrade existing ones. In addition, this smartphone will surprise you with its performance and powerful specifications that will make it easy to perform even more sophisticated tasks. So if you are looking for a quality and durable smartphone for your business, this model will not really frustrate you.
7. BlackBerry KEYone - a solid, intelligent classic
BlackBerry KEYone has not only a touch-sensitive display but also a highly functional physical keyboard.
Like all BlackBerry smartphones, the KEYone QWERTY keyboard allows you to use a variety of keyboard shortcuts for faster writing and data entry as well as device management. The smart keyboard responds not only to clicks but also to touch and gestures. You can configure hotkeys that respond to a click-through time, short or long.
BlackBerry KEYone has pre-installed DTEK software, which allows you to increase the level of confidentiality, as well as monitor gadgets for access to a camera, microphone, location data, and personal information.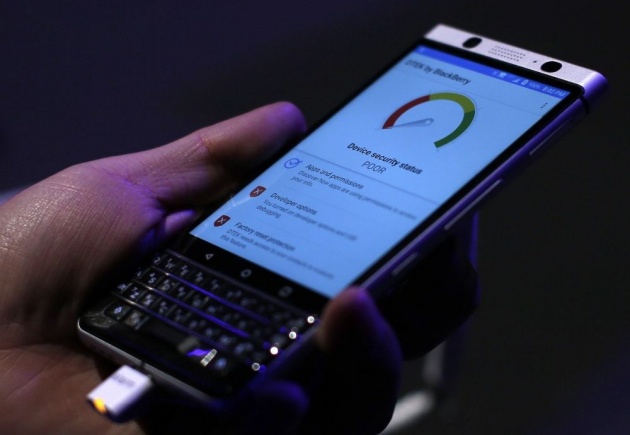 BlackBerry KEYone - Photo credit: foto.delfi.lv
Smartphones with an exclusive QWERTY keyboard are designed to meet the expectations of ease-of-use and effectiveness loving entrepreneurs, and to this day they are considered one of the best models for the work. The security gadget, keyboard shortcuts, easy access to key tasks and fast-paced physical keyboard are just a fraction of what you'll find on this smartphone.
On the Final note
Our smartphones can perform more and more. As a result, more and more of a variety of business and business actions are carried out using only these devices. And although after the decline in BlackBerry's market share, the business class smartphones almost no longer exists, we know that for business users a few things are key: speed, convenience, design and battery life. Phones that stand out in these aspects can still be found between most advanced ones.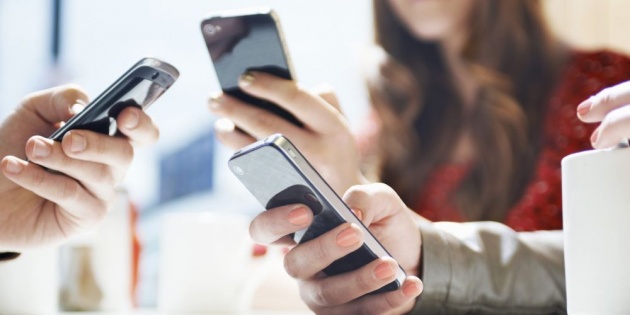 The best smartphones for work - Photo credit: twitter.com
This list of business smartphones can be supplemented by some more recent or much earlier released models. It is important that the smartphone would be fast enough, convenient, and secure for our data - with these three specifications, you will be able to handle even the most difficult tasks without much effort.
For me, it is hard to choose. when I ask for info about one phone, listen to advice and already think that this one is the best, I will buy it. Then I get info about the other one and already do not want to buy the first one. It's like a vicious circle. If you have any of those or another smartphone easy operating for work online, please share your experience in comments. Please, help me to decide which one is the best. I need it not for the entertainment, but for my work online. What is the smartphone you are using for the work?
Most of us sense instinctively that the rise of smartphones has had a dramatic impact on the way we work and live. We know it's made us more connected and available, better able to communicate with colleagues and clients, and quicker to respond to opportunities as they arise.

Credit: insights.samsung.com
***************************************************************************************************
Thank you for stopping by and reading my blog.
2018, All Rights Reserved.
You are very welcome to join Bitlanders and share your valuable knowledge and opinion.
***************************************************************************************************
You can check my other blogs :
1. First Steps To Starting An Online Store
2. How To Become Successful in Amazon e-Commerce Business
Come back to find more...
***************************************************************************************************