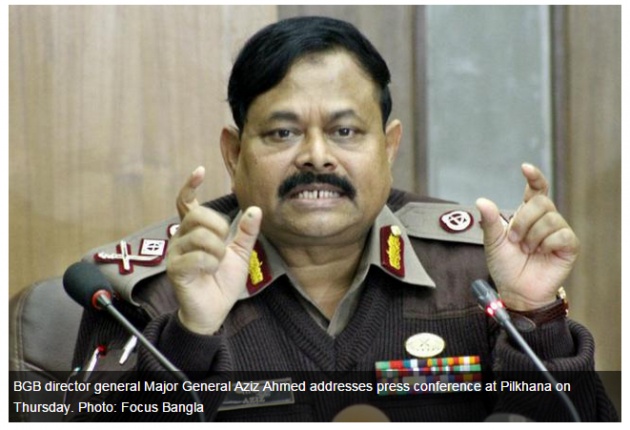 Paramilitary Border Guard Bangladesh (BGB) troops will shoot to protect lives or for self-defence if attacked by miscreants, said its DG Major General Aziz Ahmed.
The BGB director general came up with the note of warning at a press conference at Pilkhana on Thursday, in the wake of rising violence during the BNP-enforced non-stop blockade.
"If attacked, BGB (troops) will be able to use force. It's a matter of right to do so," said Gen Aziz accompanied by high officials of the BGB.
He, however, claimed 'BGB does not want to kill people nor has there been any directive on it to use force'. At the same time, the BGB head mentioned that all arms under the possession of his troops are deadly.
He made it clear that the BGB men would consider shooting immediately if there is a bomber found on the spot.
Asked on how he assessed the present political situation, he said it has changed now. As many as 35 deputy commissioners have requested deployment of BGB personnel and the BGB has deployed troops in 17 districts so far.
He pointed out that they were assessing the situation for deployment of more BGB men. There are stand-by troops as well in some areas, he added.
Asked how many BGB men are deployed till date, he said eighty five platoons of BGB troops have been deployed and 80 more are awaiting deployment.
About their stay in the field, the BGB chief said his troops would be there as long as required to restore "a sense of security in public mind".
BGB is also working with other law enforcement agencies to help ensure smooth and secure movement of vehicles, Gen Aziz.
He informed newsmen that about 35,000 vehicles moves on the streets from Wednesday evening to Thursday dawn.