This is a continuation of my first blog about my husband and I's Anniversary Travel Special in Bicol about three weeks ago. This travel was something we both had dreamed before and we are thankful and blessed that we are already fulfilling those dreams from years ago. One of the top places we had dreamed visiting was Palawan. I blogged about it too! Just click the hyperlink. Then we got to also visit Baguio and then now, we have fulfilled the dream of being able to see Mayon Volcano personally. What we thought were just book covers during our Elementary years had been realized and we both were in awe with its beauty.
Truly, there is nothing more fulfilling than being able to see these natural beauty within our own country. That is also the reason why we are into traveling within the country. The Philippines has a lot of wonders to offer and I guess it will take us our life time to be exploring the whole archipelago of this beloved country.
But before I get sentimental here about our passion of traveling, let me share to you the second part of this travel special. I did already inform you of our experience from Cebu flying to Legazpi then our first meal at the province plus how we were both amazed with the peacefulness of Albay and its tasty foodies as well as how we had struggled just to get to the top of Lignon Hill however, we ended up happy at the restaurant we dined in for dinner on our first day in Legazpi. It was worth all the sweat!
This time, let me share our second day or shall I say the things that had occurred after our dinner.
Phase VII. A Night at Legazpi Boulevard
As mentioned on the previous blog, we had dinner at the RMJ Restobar after the long walk at Lignon Hill. A dinner with a great view of the entire Legazpi Boulevard was a perfect way t perhaps end our first day in Legazpi city yet it was not the end of the day, just yet.
More exciting things await us outside of the rest bar and we had no idea that there were more things we were yet to explore.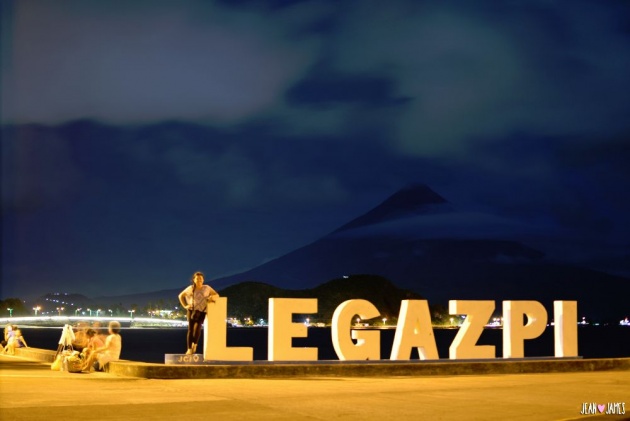 One was the magnificent view of the Embarcadero bridge. Well, actually I am not sure if it was indeed the name of that bridge. I am simply assuming because that was the place where the famous Embarcadero is situated. Thus the name. But seriously, hubby and I had taken more time than expected to take a photo of us with the view.
It actually took as around almost an hour to get the right setting and the right timing so the photo wont be blurred since the boulevard was really windy at that time.
while we thought that was the end, we figured out there's a Legaspi imprint at the distance so we walked towards that area. We then found a lot of people over there with some police visibility too. There were ones who were setting some snacks and other evening foods like balut and peanuts and cigarettes too!
And then again, the same story went as we tried to take a photo of the imprint but we have to consider the other people around, to wind which was very strong as well that it feels like it will blow our tripod down. But after all the patience, we were able to get a successful photo of the imprint with the shadow of the Mayon volcano at the background. That concluded our first day in Legazpi.
Phase VIII. ATV Adventure to Mayon's Lava Front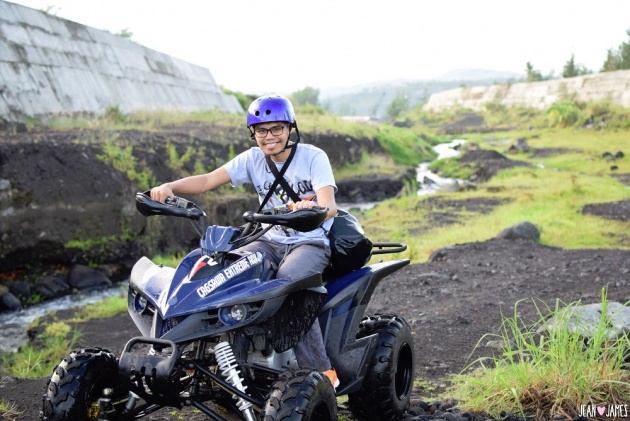 The second day in Legaspi was full of surprises for both my husband and I. We woke up early at five in the morning since call time for the ATV Adventure was at six in the morning. In certain times, our plans don't go as how we had visualized it to be and that should be okay. Like this second day. We planned to rent a motorbike so we can move around Bicol with it but then the contact person didn't arrive at the specific time so we ended up commuting towards the Cagsawa Ruins.
That was the first surprise. Now the second was the ATV ride from Cagsawa Ruins going to the Lava Front. We both thought that ATV is a simple ride, we had no idea that there will be bumps, humps and a lot of rocking around on our way up and down. Aside from that, we got wet, we got muddy and dirty but nonetheless, it was an extra exciting activity that everyone should be doing when they get to visit Legazpi or Bicol in its entirety. It is perfect for group of friends and even if you are a solo traveler, it would still be a fun thing to do!
The third was that we never thought that it would rain and things started to fall apart when we had to wait for a almost thirty minutes at the Lava Front area for the rain to stop. Then Mayon was also nowhere to be found at that point. Thick dark clouds were covering her.
But everything went well since the rain stopped and the sun started appearing and we were able to go back to the main road afterwards. You may learn more about our experience on this blog below:
Phase IX. Timelapse at Cagsawa Ruins
I admit it, I regret not taking a photo of Cagsawa Ruins when we arrived there at six thirty for the ATV Ride. That time, no one was there, literally, the place was empty, it was only the attending officer who was present with some guys asking if we are going for an ATV ride. Aside from that, no other tourists or guests were present except for the two of us. I was very worried at that time looking for our contact for the ride and so I told hubby that we should get out of there since Joel was outside. Joel was our contact person for the ATV ride though.
Fortunately, hubby was able to take one photo of it with the Cagsawa Ruins and the Mayon Volcano view at the back. Although it was only one shot but still, it was good that we got one photo of it without any person photobombing the beautiful view.
Now after the ATV ride, we went back to Cagsawa Ruins, since we were hungry and wet, we dined at a nearby eatery then hubby got a chance to play with some locals at their basketball court while waiting for his shoes to dry. I on the other hand got bored watching them play so I decided to walk around and check on what is happening at the ruins.
There were so much people around, tourists, local and international ones were all taking photos. Some came in as groups with their choreographic poses while some took selfies alone while others were with their families and loved ones. I was alone and thought I should be taking a time lapse instead because again, Mayon was covered with clouds.
Gladly, the time lapse turned out good. Check it out here:
Aside from taking time lapse videos, we got to taste another version of Bicol Express and a Halo halo de Bicolania too! Plus the kind lady who attended the shop which we were staying for those hours sell us some stuffs and I ended buying a lot from her.
I got Chili Keychains, the coin purses, the native shoulder bag, a makeshift hammock and the Lava Rock which was left at the airport since it requires to be checked in and we don't have any check in luggage on our way back to Cebu. She gave me lots of discounts. She was so kind.
Keychains with Chilis in it. These are really cute and affordable, each piece costs ten pesos only!
The nicely knitted native bag which I bought for my mother. It only cost me Php 250.
Phase X. Slept at Sumlang Lake
I had been telling this and I will repeat it again, this was the best part of our trip although the ATV ride was the highlight but why I had set it as the best part? Because we had simply been relaxed and chilled in this part of the day.
The whole second day was an adventure and full of surprises and this was just the top surprise. We never thought that the Sumlang Lake would be as wonderful in person. I had mentioned that the services were definitely affordable and they had aimed it to be that way so that everyone who will be visiting would be able to enjoy the place and the view. And I certainly agree with them in that case.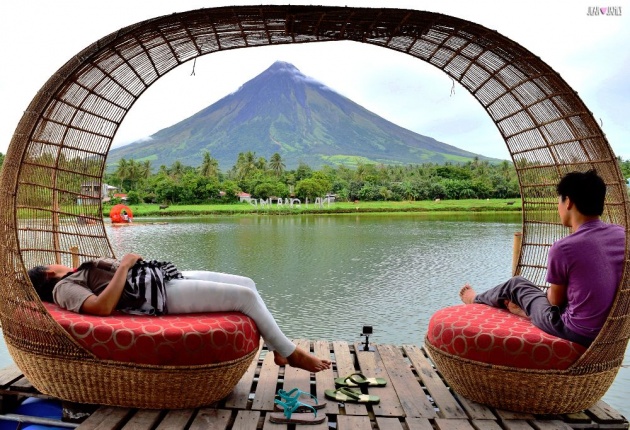 Then the part where my husband and I were just simply sitting at the provided wonderfully woven seats at the raft, looking at the beauty of Mayon plus the calm ambiance and peaceful surrounding, it made us fall into sleep after talking and laughing about everything under the sun.
My husband has been my bestfriend and we can talk to each other for hours and we would not be bored to be together. I just love that moment when we finally woke up and surprised that it was almost dark! And those expressions in our faces when the personnel there were like asking if we could be fetched then.
Check the entire story about our stay in Sumlang Lake and why I can't forget about it:
Phase XI. I Scream for that Hot Sili Ice Cream
Third day and we only had half day before bidding good bye to Mount Mayon. But before doing so, we had made it to some nearby places. One was their famous Chili Ice Cream or locally called Sili Ice Cream.
It was a surprise that we were just a few blocks away from it that it only took less than five minutes commute going there. We found it just right next to a school and we had our brunch over there.
1st Colonnial Grill as what it is called and I've been reading blog reviews about it and that their Chili Ice Cream indeed is a must try. We opted to get the mild one but the kick of chili was still obvious.
Their food prices aren't really pocket friendly and so it was only good for us to order one meal each and then the dessert afterwards. Still, it is one thing that needs to be experienced when in Bicol.
Phase XII. View of Mayon from Daraga Church
One more nearby area was the Daraga Church which is situated in an elevated area along Daraga. It has a perfect overview of the Mount Mayon but since it is a church, not much tourists are staying there.
We found ourselves walking in the steps going to the Church. There was a mass going on and so we were very quiet and the people around it too. I guess we were the only tourists at that time. The sun was up and the clouds were still covering Mayon but it is still obviously beautiful.
It is one of the things that you can pass but if you have extra time, you would want to take a photo of the church with the Mayon at the background.
Phase XIII. Pili Nut Goodies
Another one good spot to kill time while in Albay is to look for some stuffs to get for your families and friends back home. One of the best places to find for good foodies is the Pilinut Shop along the highway of Albay.
We were on our way back to Mayon Backpackers Hostel when we spotted the shop which was already closed at that time. We then made sure to pass by the area on our way back from Daraga church.
As per their claim, they were the firsts in terms of making Pili Nut goodies. They had started it since 1960s. That was the posted information which was posted outside of the store.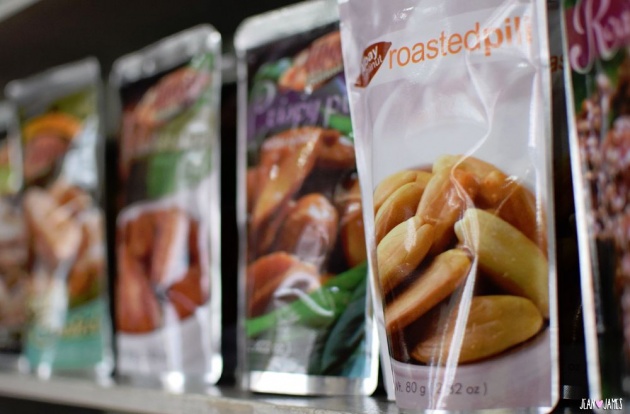 we went inside and found a capiz shelled door. I can sense that this is an old house which I presume was constructed during the Spanish Era and now had been made into a store showcasing the good foodies mail able to be eaten either in the province itself or else bring it home to the province as a souvenir for friends.
Of course we ended up buying a few packs of Pilinuts. But they also have other delicacies which are really rare and I haven't heard of before. Like the Bicol Express in a bottle.

Phase XIV. Til Next Time Mayon!
All good things come to an end and so our good memories are now saved on our digital gadgets to be shared on social media and here in bitLanders so we can also share the things that we had experience in Bicol. I am quiet sure that me will be coming back to Bicol soon too to check out other things that it has to offer.
Unfortunately, when we were already at the airport, the airport personnel had to call my attention and told me I can't bring the Lava stones as hand carry items and instead has to be checked in but we don't have any check in luggage so we have to leave them behind. That definitely broke my heart because I really want to bring it home.
Anyways, I am still okay with it and I have to just accept the fact that the items has to be left behind.
Bicol is indeed a beautiful province. Mayon Volcano is a perfect location for those who loves nature and chilling. I love the fact that we were really relaxed and we did the best things that we could do while in Bicol. This is indeed a great place to experience an anniversary.
Hope you had a great time. Check the first part here:
xoxo,