Video credits: Jean Beltran via bitLanders.com
Birthdays are invariably worth extolling. It is a day where our parents were the happiest as they first get a glimpse of our tiny little hands, our sweet cries and the dependency to their love and care. Every single year, we are reminding them of these days.
Which is why, during these days, our parents are the first ones whose won't ever fail to greet us and would make sure that we feel their love and support. Most of us grown-ups may tend to forget about reveling it but be reminded that this is a day of happiness and that it is also worth recognizing.
There were different times before when I really don't care about having celebrations at all but I am grateful for the people around me who are granting me reasons not to forget thanking the heavens for giving me another day for me to cherish.
My family is one of course but because of my husband, I am feeling extra special.
This year as I turned 30, James didn't let the day pass by without the two of us celebrating it. Although both of us were busy at work and I had personally told him to ditch the plan because of work, he went out of the office so he could spend some hours with me. I truly appreciate his efforts and for treating me as his priority. I guess my love language is real time, whenever he gives me his time, I feel deeply loved.
Shameless plug: read the 5 Languages of Love by Gary Chapman
Last year, we dined in a buffet at Simply J's. This year, it was extra special because of how the moon turned Super Blue and Bloody on that day and James and I were both watching it together.
But before that, we had dinner at a Japanese restaurant in Ayala Center's Rooftop Garden. It was a referral by my colleague and friend Charo.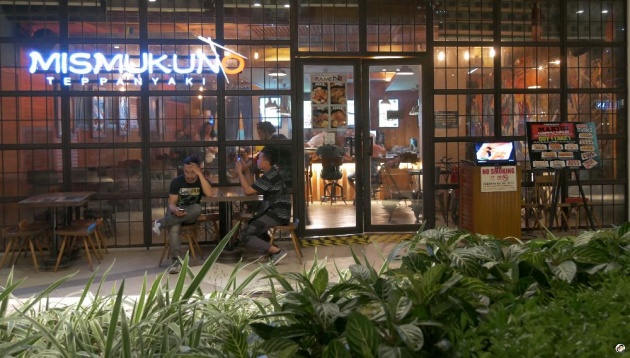 Image credits: Jean Beltran via bitLanders.com
Mismukuno Teppanyaki
The glowing name lettering outside the restaurant was inviting. I could see the customers from outside with their transparent glass walls. The hanging lights were really nice and I could see wooden tables! Japanese restaurants here in the country has the same kind of feel but I could also see a very interesting subject as I was walking towards the restaurant!
So with what I have seen from there, I had listed some of the things that I like about the restaurant:
Mural Paintings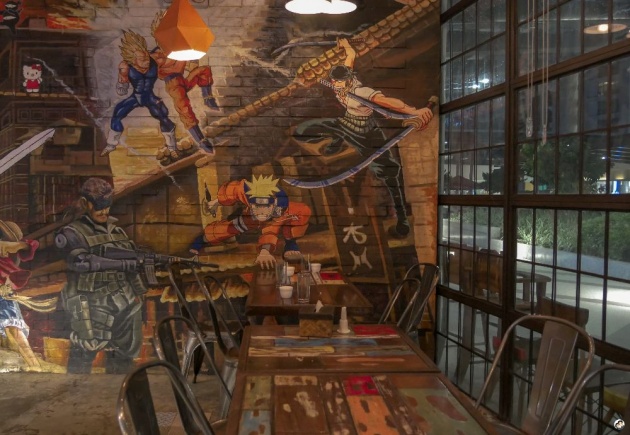 Image credits: Jean Beltran via bitLanders.com
I was about to add the wooden tables to be the first but I have to change that to the mural paintings instead which depicts my childhood favorite cartoon characters! As I entered, I can't get my eyes off the wall.
San Goku and Vegeta from the favorite Dragon Ball series, there were Gundams too! I can't ignore Doraemon of course which has a theme song which can cause last song syndrome (LSS), Astro Boy and the Street Fighter characters.
The wall is indeed part of why they are a good place to chill too especially for the millennials who are into these animes and cartoon shows!
Upfront Live Cooking
Before, we had the same experience when we had lunch in a certain Japanese eatery within SM Seaside Cebu. Teppanyaki Brothers also has the same setup. I guess all teppanyaki has this, I am not sure though but correct me if I'm wrong and these are all just coincidences.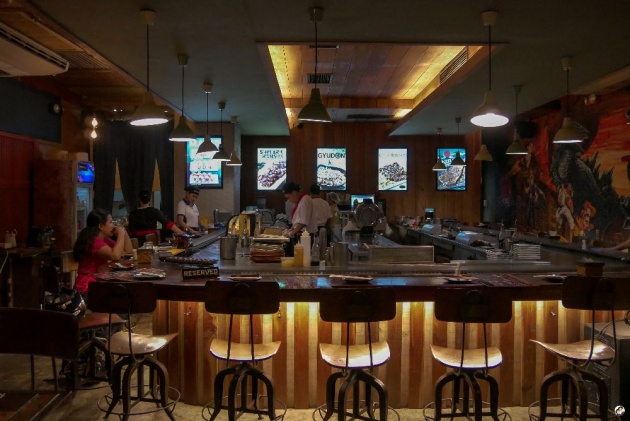 Image credits: Jean Beltran via bitLanders.com
As soon as I was greeted by the staff, I saw all the wooden tables around the four corners but there's one interesting thing about the restaurant and that's the cook or the chef cooking in front of the customers sitting in the continuous table surrounding the center table.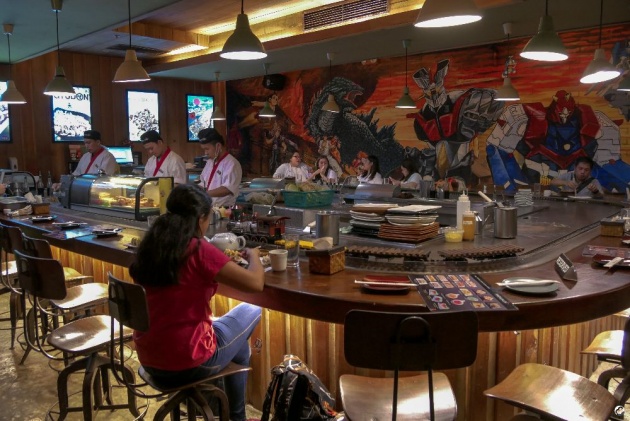 Image credits: Jean Beltran via bitLanders.com
There were around four chefs and since I was curious, I seated right in front of one of them. After giving our orders, one of the chefs started cooking our Yakisoba order. I was so entertained I wasn't able to take a video of it.
Great Makis
I love California Maki. Oftentimes when we dine outside in any Japanese restaurants, I would order for Makis. Mismukuno Teppanyaki didn't disappoint me at all! I admire their Mango Cheese Roll maki which contains mango plus cucumber plus kani and cheese!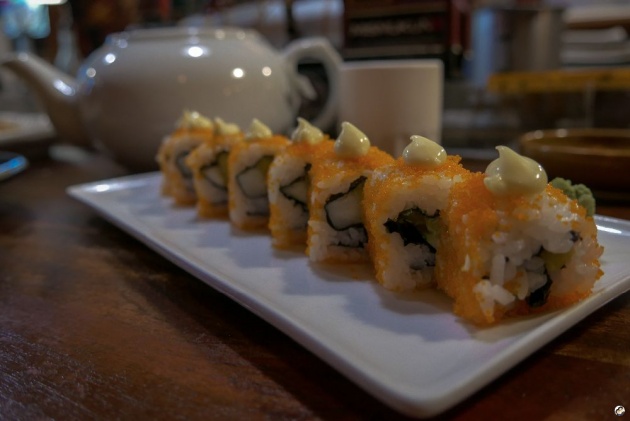 Image credits: Jean Beltran via bitLanders.com
Oh, the taste of the mango plus the cheese made it really yum! Of course, I would say their California Maki is definitely a hit as well! I should say it taste like the one in Shang-Rila's in-house buffet house which were made by international chefs! So it was definitely good plus the Wasabi was just right after I mixed it with the soy sauce!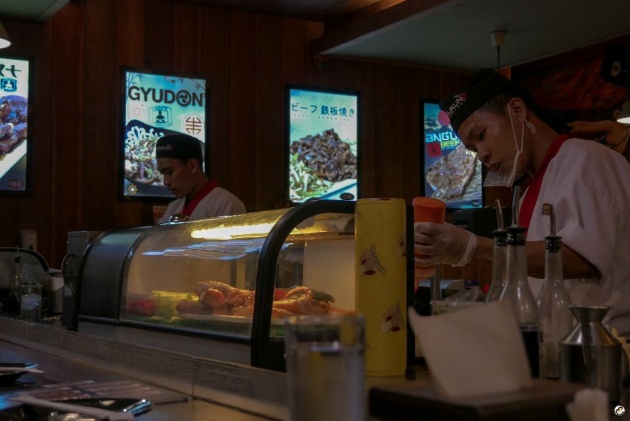 Image credits: Jean Beltran via bitLanders.com
I actually thought of adding another set of Maki but James said it was already enough for us which I agree as well so I guess I am going back soon to try out the rest of their Maki flavors.
Their Maki options include:
Volcano Maki
California Maki
Chicken Teriyaki Roll Maki
Sunrise Maki
Tempura Maki
Dynamite Maki
Mango Cheese Roll Maki
Mazinger Roll Maki
Salmon Skin Maki
Mismukumo Maki
The pricing ranges between 180-230 peso. But mind you, the taste would make you feel that it was worth all the money!
The Experience
Mismukuno Teppanyaki is the newest and most dynamic Japanese Restaurant in Cebu, with an exciting interior that unites the traditional and contemporary Japan. Information Reference: mismukunoteppanyaki Facebook About page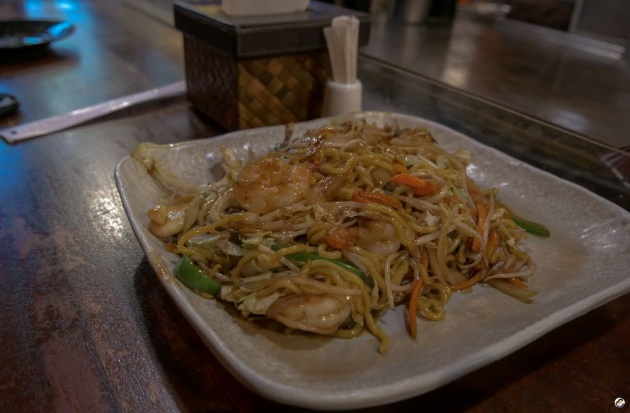 Image credits: Jean Beltran via bitLanders.com
Since we went there past eight in the evening, there were only a few people inside which was a good thing. There were few Japanese or Chinese persons at the corner while Nursing students were giggling at the opposite side while watching the chefs mix the noodles and the ingredients.
There were few tables and chairs empty at that time. I wanted to go to the table but thought it would be more exciting to be upfront so we sat in front of the chefs.
By the way, as I entered the room, everyone said something in Japanese and I didn't understand them. I guess it is a greeting because every single time a new customer comes in, they would greet them with that word.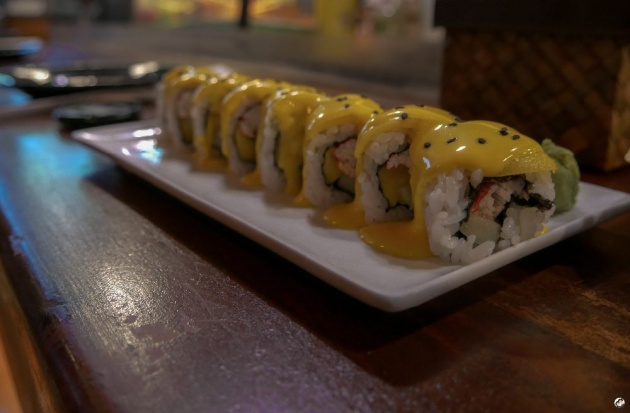 Image credits: Jean Beltran via bitLanders.com
Both of us ordered the following:
Yakisoba
Yakimeshi
California Maki
Mango Cheese Roll Maki
Green Tea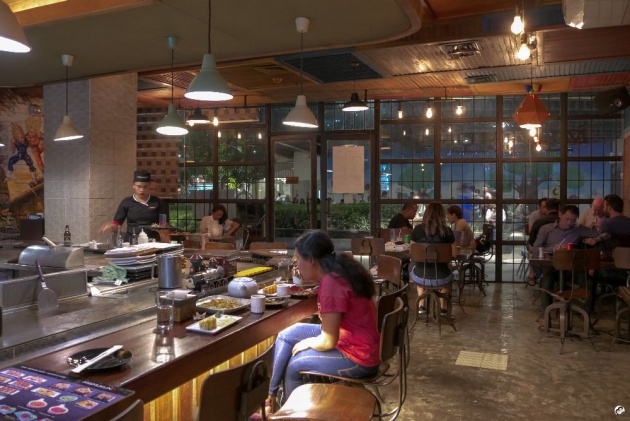 Image credits: Jean Beltran via bitLanders.com
Since I went in before James came, I was proffered a free miso soup. I am not a fan so of course, I wasn't able to finish it. But James didn't get one when he stepped in and sat next to me. Perhaps the servers were not really paying attention to their customers.
Serving time was really fast perhaps because of the number of customers while we were there. Our Yakisoba and Yakimeshi were served in less than ten minutes and we started eating then our makis were served afterward to my delight as I was already craving for it. I really like how Wasabi tries to blow my mind in just a bit then recovers right away, James, however, dislikes it so I had it all for myself!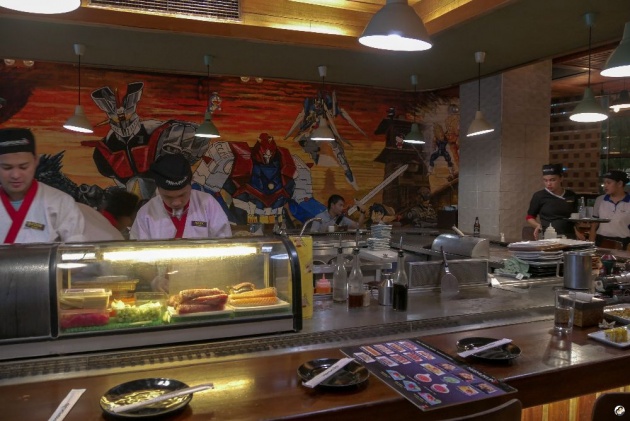 Image credits: Jean Beltran via bitLanders.com
Tea was also served later on and I like that it was served in a teapot with the accompanying teacups too, Japanese types by the way.
Overall, we were not disappointed at all choosing Mismukuno Teppanyaki and were even glad we opted to go there because we had the fortune to watch the Super Blue Blood Moon from the outside at the Rooftop Garden of the mall.
Video credits: Jean Beltran via bitLanders.com
Recent Blogs:

Blog entry written and published by Jean Beltran-Figues, A Pinas traveler and photography hobbyist, find more travel blogs in my blog section, click here.
Follow here at the following social media platforms: