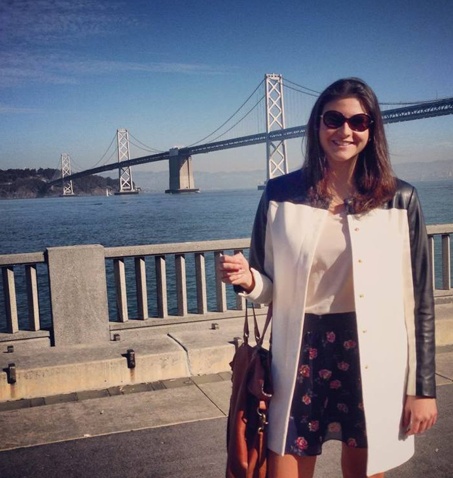 "... it's amazing to see WAF's expanding opportunities available to women through financial independence"
Arianna Simpson is a Bitcoin enthusiast and investor, she is particularly passionate about helping women get involved in the Bitcoin community.
WA: Can you briefly tell us about yourself and your background?

AS: My background is a bit unusual - I was born in Milan, Italy and lived there until I started college. My mom is Italian and my dad is American, so I went back and forth a lot growing up. I studied International Relations and Spanish in college, and didn't really become fascinated with tech until my senior year. I finished classes a semester early and had a few months before my official graduation date, so I went to work on an ecology research project funded by the National Science Foundation in South Africa.
While I was there I had an idea for an app that would help botanists and ecologists with species identification, and that evolved into my first startup, called Tigervine. Eventually my cofounders and I moved on to other projects, and I joined Shoptiques (YC W12) to lead sales and partner relations. When I left Shoptiques, I took a few months off to backpack around southern Africa, and that experience has informed a lot of my thoughts on bitcoin's potential in other parts of the world. I'm currently at Facebook working out of the New York office.
WA: How did you find out about Bitcoin?

AS: I originally heard about it from one of close friends, Ryan Shea. He was a little obsessed with Bitcoin and talked about it quite a bit, so I became curious and started doing some research. I've pretty much been fascinated by it ever since. Ryan has gone on to found a bitcoin-related startup called OneName.io with another friend of ours, Muneeb Ali, and they're in the current batch of YC.

WA: How do you think of Bitcoin as a tool that can financially support and empower women particularly in developing countries?

AS: I think bitcoin has huge potential for developing countries, where the traditional banking system does not serve the needs of the majority of the population, and I have written about this in the past. There is a tremendous amount of small-scale entrepreneurship lead by women in the developing world, and keeping transaction fees low will allow them to expand beyond the confines of a cash-based model without requiring them to give up a substantial portion of their profit margins to credit card fees. The main impediment to widespread adoption in the developing world right now is that infrastructure is still a bit lacking, but I'm confident that will change within a few years. At that point, the road for mass usage will be cleared; people will have an easy time adjusting to using mobile bitcoin wallets, because in many areas they are already using mobile payments via processors like M-Pesa.

WA: How do you see women's involvement in Bitcoin discussions? Why do you think women are less active than men in this topic?

AS: I would like to see a lot more women becoming involved in the bitcoin ecosystem, because it's going to be one of the defining advancements of our generation, both financially and technologically. Part of the problem is that bitcoin lies precisely at the intersection of tech and finance, both of which have historically been strongly male-dominated. Neither tech nor finance are known for being especially welcoming to women, and I've had some pretty negative experiences myself, but I think it's important to press on. I try not to concern myself with the gender ratio too much; if I'm interested in an event I'll go, even if I know there's a good chance I'll end up being the only woman. I realize it's an intimidating environment at times, but that's true for men as well, at least from an intellectual perspective.

WA: What do you think of Women's Annex Foundation's initiatives to develop the concept of digital literacy using digital currency globally and starting from Afghanistan?

AS: I think it's an incredibly important initiative, and it's amazing to see WAF's expanding opportunities available to women through financial independence. Because the traditional banking industry does not serve women to the extent that it should, there is a clear and immediate need for alternative solutions. Bitcoin has the potential to fill that role, and I think we'll see that happening very quickly when more merchants start accepting it. There's still much to be done in the US in terms of gender relations, but it's also important to remember that women here are still far better off than in much of the world, including Afghanistan. The Women's Annex Foundation's goal of empowering women through technology is definitely doing important work in that direction.
Fereshteh Forough - Film Annex Senior Editor
Please visit my personal page on Film Annex and subscribe. Please also visit Women's Annex and subscribe to it for updates, articles and videos.