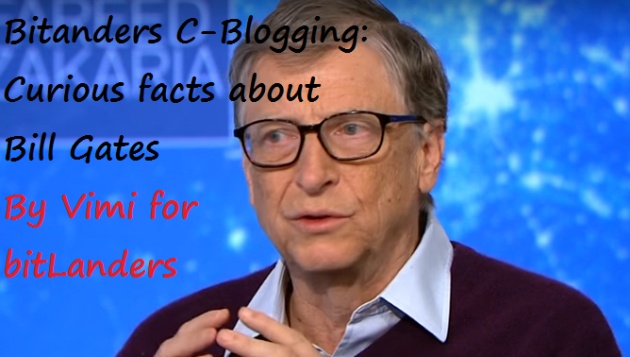 Image credit: Screenshot of This Morning via YouTube, changed by Vimi
This is my new C-Blog created in a framework of the unique project known as the "Bitlanders C-Blogging." Today, I would like to share several curious facts about Bill Gates.
My latest C-Glogs are: "BitLanders C-Blogging: Interesting facts about Steve Jobs," "BitLanders C-Blogging: What you should know about Chatbot Assistant," and "Bitlanders C-Blogging: Unknown facts about Jeff Bezos."
Bill Gates is a very intelligent man, gifted with a huge amount of energy and aimed at winning. He is the recognized father of the computer software industry, the personification of the portrait of a successful person. His life resembles the American dream.
Gates is known as a strong family man - in 1994, he married Melinda Gates. In 1996, they had a daughter, named Jennifer, in 1999, son Rory, in 2002, daughter Phoebe.
One of the most important Gates' personal qualities is the ability to recognize the talent and intelligence of another person. Gates claims that he does not hire fools. He values his time but also understands the importance of intellectual capital in a business.
The desire to be first always and everywhere, to do anything better than others - these qualities are inherent in Bill Gates since childhood. This person is known for pragmatism literally in everything and hard work.
Whatever may be said about Gates, it is impossible not to recognize his influence. He is famous, this world needs him more than he needs the world.
To check out the results of my research, feel free to join the Querlo chat below. I have divided the curious facts about Bill Gates into the three blocks: "Bill Gates: early years," "Gates and vehicles," and "Personal facts about Bill Gates." Respond to my words with the given replicas, please.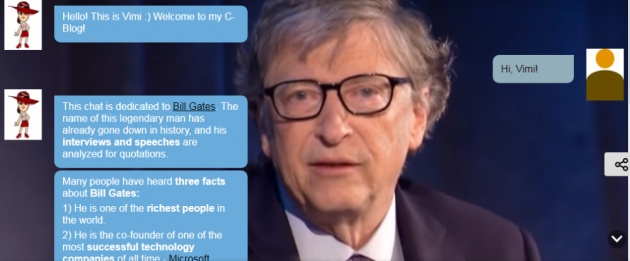 Image credit: Screenshot of Querlo chat
C-Blogs are claimed to be the future of blogging. They build a closer communication between writers and readers. To participate in the "Bitlanders C-Blogging," visit Querlo.com. There, you can create a chat that you may also use in your own online business.
Thanks for reading!