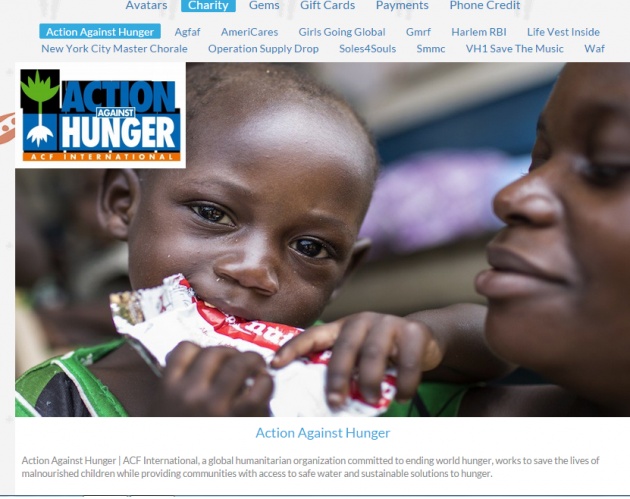 I am really happy to see the Charity tab on Bitlanders Shop & find out first tab "Action Against Hunger" under ACF International, a global humanitarian organization committed to end world hunger. They really work to save the lives of malnourished children while providing communities with access to safe water and sustainable solutions to hunger. I am very glad to see this that BitLanders team is really working hard to save the lives of humanity (especially children).
There are many more too like;
Afghan Girls Financial Assistance Fund "AGFAF" helps young Afghan women, who are committed to working for gender equality and improving life in Afghanistan, pursue and finance educational opportunities in the U.S. AGFAF works in partnership with the students and their families in Afghanistan, a secondary school or college and an American host family.
AmeriCares is an emergency response and global health organization committed to saving lives and building healthier futures for people in crisis in the United States and around the world.
Girls Going Global empowers girls through travel and cultural exchange.​
The Global Medical Relief Fund (GMRF) aids children who have been injured due to war, natural disaster or illness. By choosing to donate part of your earnings to the GMRF, you will directly support medical treatment, transportation and rehabilitation of injured children.​
To provide inner-city youth with opportunities to Play, Learn and Grow. We use the power of teams to coach, teach and inspire youth to recognize their potential and realize their dreams. VISION: To be a model learning community where youth become healthy, educated and active global citizens who achieve excellence and change the world. VALUES: Teamwork, Respect, Diversity, Promise, Effort, Integrity and, of course, Fun! When Harlem RBI youth graduate from the program, they are expected to embody the attributes of our DreamList: • PHYSICALLY HEALTHY • CONFIDENT, COMPETENT AND CARING • ACTIVE CITIZENS • WORK-READY • HIGH SCHOOL GRADUATES • COLLEGE GRADUATES TEAMMATES, FRIENDS AND FAMILY.
To empower and unite the world with kindness. Life Vest Inside inspires people to recognize the potential they have to affect real and positive change in this world through kindness. We set out to affect global change and fuel kindness through inspirational media, technology, education, and on the ground social engagement.
The mission of the New York City Master Chorale is to make a significant statement for choral excellence. To this end, the Chorale, which consists of trained musicians from the greater New York City area, broadens public interest in fine choral music by performing a full range of musical styles at the highest level of quality. The Chorale also educates the public through a regular program of outreach concerts and workshops for groups that might not otherwise have the opportunity to learn about and experience choral music.
Operation Supply Drop is a 501c3 military charity supporting active-duty and veteran troops of the United States Military and NATO allies with video gaming since 2010. MISSION: To provide a community connection to troops through video games and digital entertainment. VISION: To become the most generationally relevant active-duty and veteran support organization in the world.
Soles4Souls is a global not-for-profit institution dedicated to fighting the devastating impact and perpetuation of poverty. The organization advances its anti-poverty mission by collecting new and used shoes and clothes from individuals, schools, faith-based institutions, civic organizations and corporate partners, then distributing those shoes and clothes both via direct donations to people in need and by provisioning qualified micro-enterprise programs designed to create jobs in poor and disadvantaged communities. Based in Nashville, Tennessee, Soles4Souls is committed to the highest standards of operating and governance, and holds a four-star rating with Charity Navigator.
Southampton MultiMedia Center (SMMC) is a non-profit, tax exempt entity formed in Southampton, New York. SMMC serves as both a digital literacy educational and training facility, a distribution center for Internet content and HD television production, and a professional video production facility for local government, educational, social, historical, and cultural institutions.

SMMC's primary mission is to provide a unique opportunity for the Southampton community to have a professional, community-owned, community-centric facility which will develop a wide array of video content suitable for distribution on both the Internet, cable, and broadcast television. This content will be produced substantially from material created by local artists, writers, architects, chefs, farmers, fishermen, historians, community leaders, and other appropriate participants, as well as Southampton students and educational professionals. SMMC's output will include original as well as archival and public domain content which can be edited and distributed for many purposes, with a view toward providing a window on the East End for a world wide audience.
The VH1 Save The Music Foundation is committed to ensuring that music instruction is a core component to a complete education.Since 1997, we have partnered with more than 1900 PUBLIC SCHOOLS in 231 SCHOOL DISTRICTS to give 2.3 MILLION CHILDREN the tools and confidence to excel in academics and in life.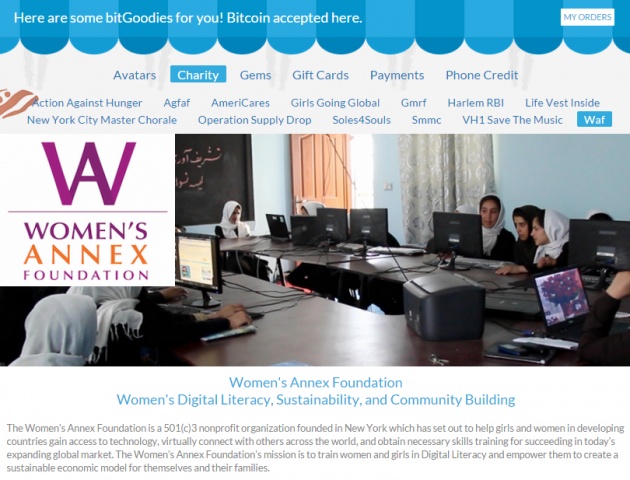 At last but not the least:
The Women's Annex Foundation is a 501(c)3 nonprofit organization founded in New York which has set out to help girls and women in developing countries gain access to technology, virtually connect with others across the world, and obtain necessary skills training for succeeding in today's expanding global market. The Women's Annex Foundation's mission is to train women and girls in Digital Literacy and empower them to create a sustainable economic model for themselves and their families.
Thanks!