While we have known bitLanders as a social media that pays Bitcoin, it is far more than that to me. I have grown to love the site and I will be staying as long as I still have breathe I guess. I want to share today what bitLanders is to me and how I had reached the place where I am at right now in terms of the site.
Since joining bitLanders, I have gone through a lot of challenges and faced things I never thought I will be gaining afterwards. I have been enjoying the site so far but that also means I have earned some hardships and specific disappointments too.
I had shared earlier about the challenge I had faced in terms of the Spammers here in bitLanders, read the post here
Spammers Invading bitLanders what to do
And so in this post I will be sharing the things which I and the rest of the users had experience. The things which had changed and had been improving within bitLanders, at least within my time with bitLanders.
The Début
At this writing, I had been tagged as someone who had joined a year ago. I can only figure out when I started with bitLanders by searching for my own profile. The photo below shows up: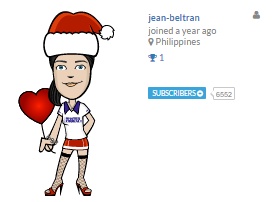 Now without the recommendation of my brother @jjeeppeerrxx-beltran to join here, I wouldn't know what this site is all about and I am grateful for him. I started out as a newbie ofcourse, everyone starts as a newbie. I had no idea what to do here but the bitLanders FAQ guided me.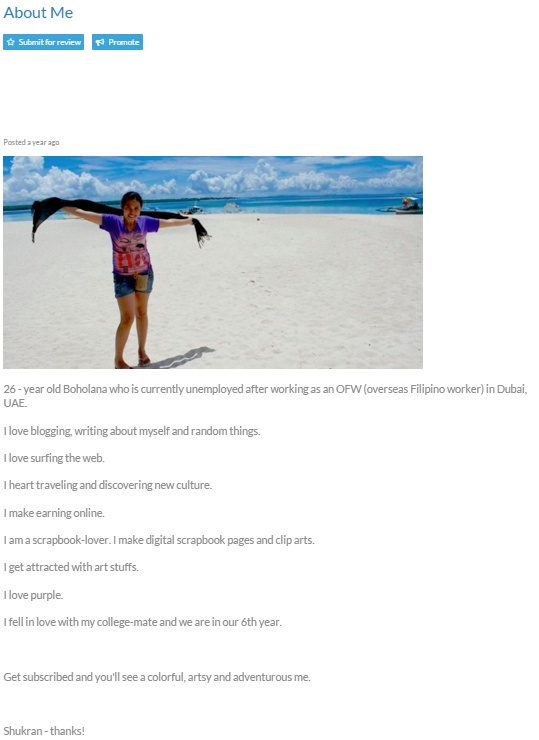 So to everyone who is asking me on my inbox on what to do here, I would immediately refer you to the FAQs so your questions will be answered.
My first ever blog post here was about myself of course, I was still working in UAE specifically in Dubai at that time.

And at that time, what we only do was to post microblogs, blogs, galleries and movies just like what other social media can do so.
But what's so different with bitLanders is that it gets to pay you with what you post.

First Earnings
I don't want to be a hypocrite so I would say that I had joined the site because it pays and I had this belief that there is money in the internet, a lot of people had earned much through the web and I am also looking in my own ways another source of income. It happened that bitLanders is the first social media type of site which pays that I have known.
On my first day in the site, I had posted a blog about sharing my daily earnings which will help me track my earnings and get me motivated.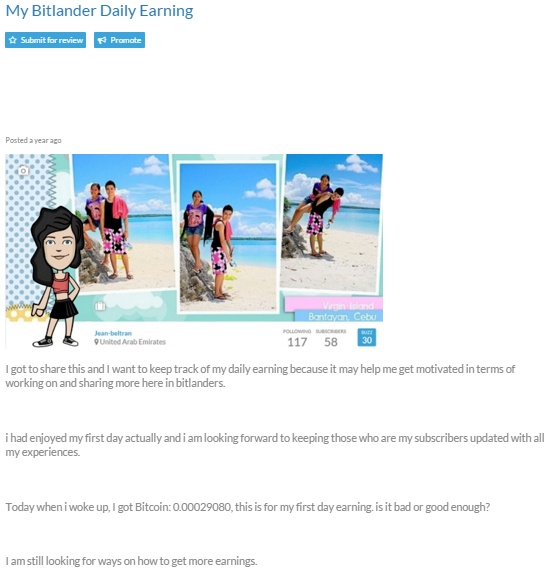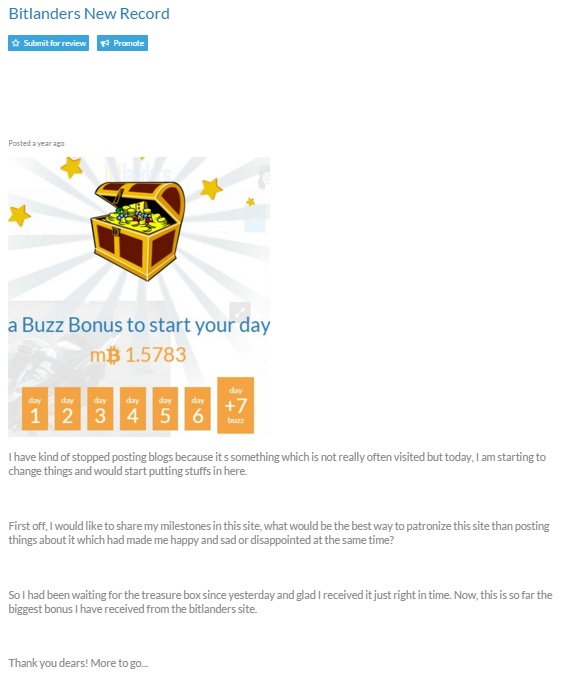 If you have noticed, the number of followers and my subscribers were still a few, my buzz score was still at 30. And I had celebrated my first hundred subscription which at that time was very hard to achieve.
And my first ever earning was at 0.0002. Then it had increased in a daily basis:

Notice that we don't have any treasure box at that time yet. The score only increases and so I had to note my previous day's earning and compare it with today's so I will then get the numbers for today's earnings.

Treasure Box + Daily Login Bonus
Astonished and was probably wondering why a treasure chest box came infront of my computer screen while doing bitLanders. At photo was my first screenshot of the first treasure box. And the daily login also was introduced at the same time.
I had enjoyed every treasure box and I still feel the same way today. Here's one of those biggest bonus I had received from the site:

Gems and Christmas Costume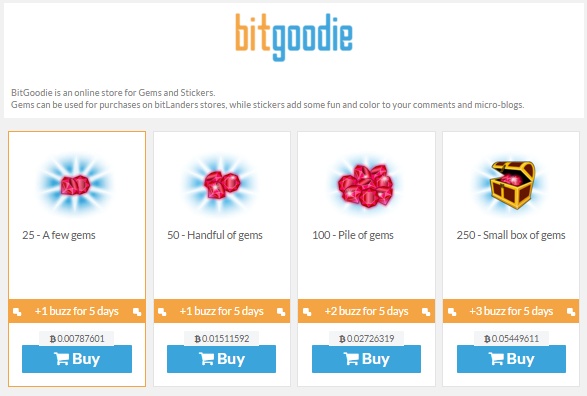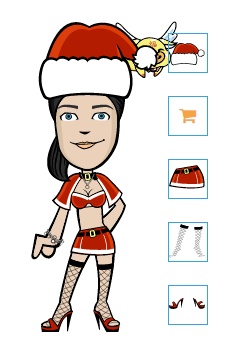 bitLanders then started introducing gems and purchasing of costume goodies starting off with the Christmas costumes. Everyone else were hesitant but I was courageous enough and bough my pair of Christmas costumes. I then received a bigger earning.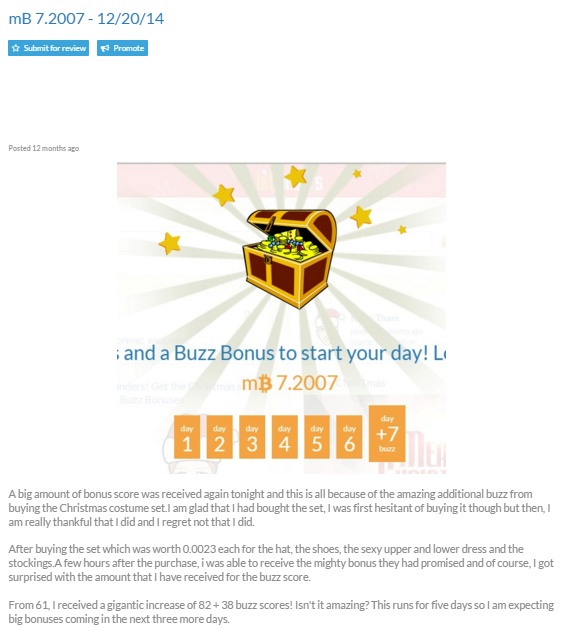 Customer Service Rocks
As a customer service agent myself, I had proven it again and again that clients or customers stay within a specific product or site because of its customer service. And I am glad that the bitLanders customer service never fail to reply to my emails.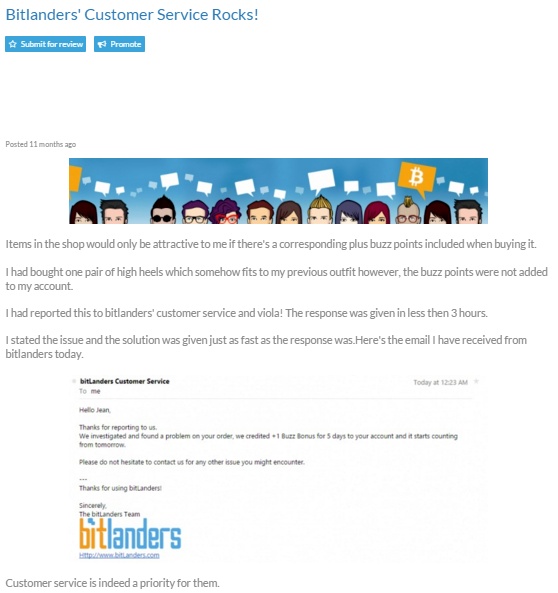 My first email was when I had issues with my buzz score. That was 11 months ago and I got the response in less than 3 hours.

Content Submission For Review
Eleven months ago, bitLanders had opened up the option to submit our blog contents for review. It will cost ten gems at that time and everyone was like no, we are not doing that because gems were quite expensive but I gave it a try and I had a blast!
My first ever blog was about Tumalog Falls www.bitlanders.com/blogs/tumalog-falls/2491214. That was a simple blog and I had received great score after submitting it. Here's my first blog review result:

Read more about it here: 1st Blog Review
After the review, my bonus had increased and I was super happy about it. It was then the start of my blogging adventure here in bitLanders.
Then a few weeks after, submission for review opened up for galleries and videos too!
But the disadvantage at that time was that the more you submit for review, the bigger it would cost you gems.
I am glad that at this point, submission would only be at 10 gems.

Innovative Graphics
I have been here for a year but the innovation which bitLanders had been giving to its users are really amazing. It has started as a social media that pays until it encourages the users to become bloggers and film makers while evolving their platform to empower the users and earn more.
It has also provided ways of expression in terms of the avatar and alertness to what is happening on the other side of the world.
Such as when the Cricket game was introduced by giving us Cricket costumes. The interface before changes depending on what celebration is being held. During Christmas of last year, the interface was also Christmas-like and when it was the Love month, there were hearts and flowers around the page.
It also offered Easter eggs and other Easter dresses and bunny hats too for the Easter season.


And also Chinese costumes for the Chinese New Year of 2015. It is just amazing how the developers and the crew here are doing. I am rating them 5/5 stars too!
bitLanders Leaderboard
By around ten months ago, Leaderboard was introduced by Micky-The-Slanted-Salerno
The leaderboard somehow provides the users here a way of determining how we are getting with in terms of our earnings and buzz numbers.
It has been available until these days. I am grateful to be the first one to reach the top of the leaderboard.
I am also glad that other users had experienced how to be on top as well. Everyone deserves to be there.

bitStickers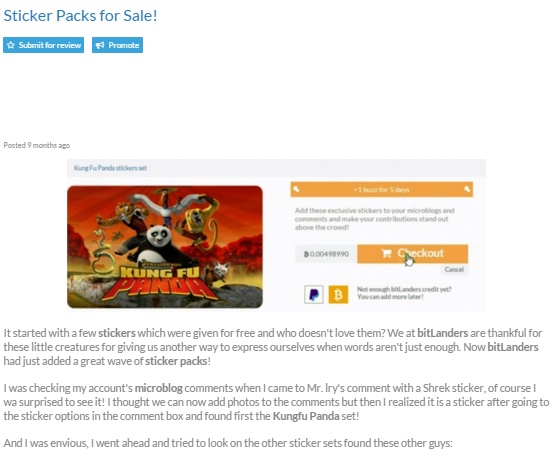 Then came the cute stickers offered by bitLanders. This was used in a way to get rid of spamming and sending the same comments and posts for some users.
It has been rampant actually and I believe bitLanders had made a great alternative to it. I had even posted a blog about it: Spammers Invading Bitlanders, What To Do?
Satoshi Hunting
While the site is a social media site, it is also a source of Satoshis to its users. This is one way of earning more bitcoins aside from getting our daily treasure box which contains our daily earnings, the site has also provided us with an alternative or additional way of increasing our satoshis.
Here's an example of how Satoshis appear on the homepage.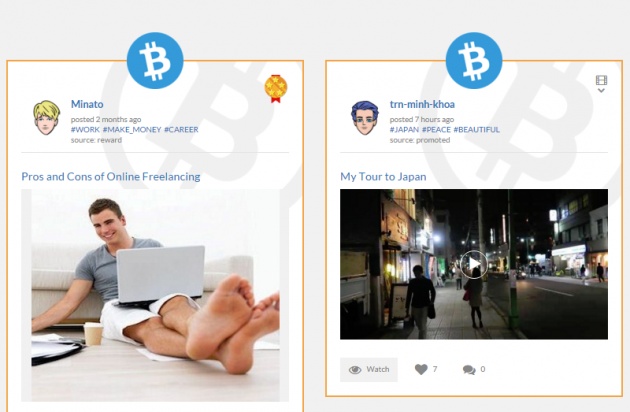 The article is noted with a satoshi sign on top of it and once opened, it will show the option to claim the reward. Claiming the reward would show this :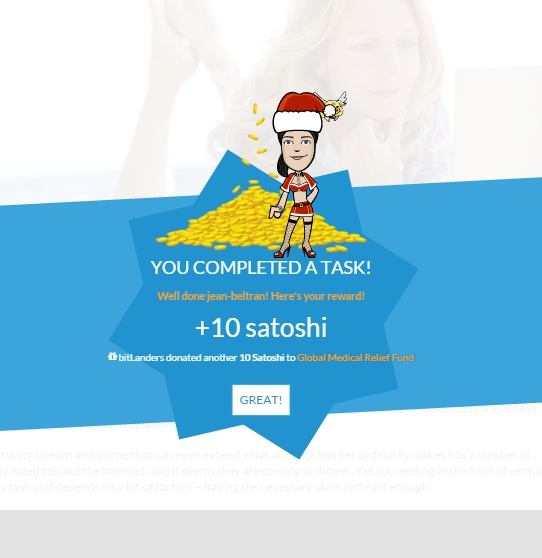 Donation to bitCharities
Aside from earning here, one more option which has made bitLanders better than the rest of the social media sites is the fact that bitLanders empower its users to become givers in our own little ways.
These charities which were listed in the site are the ones which really needs attention from all over the world.
Bitlanders had just paved a way for us to share and become a blessing to others.
The idea of charity gives me goosebumps and learning that there are more than one charities which this site has been supporting for years now definitely gives me this light blessed feeling. It somehow enables me to consider that this place is a heaven-sent because I can't just socialize, I can't just earn but I can also give back to the community.
bitLanders Chat
And here's another big update to the bitLanders community, the chat!
Inbox was mostly the widely used option for the users here to communicate directly to their friends and other users but most are not really into using the inbox option. Although there are indeed users who are sending them, others don't really prefer reading them and I am one of those people. It is just not really convenient to look on the inbox while you want to interact more with the site.
But this issue has been handled by the site when they have provided the Chat option. Global Chat would be to chat with everyone within the bitLanders community while the personal chat can be used for personal one on one communication with another bitlanders user.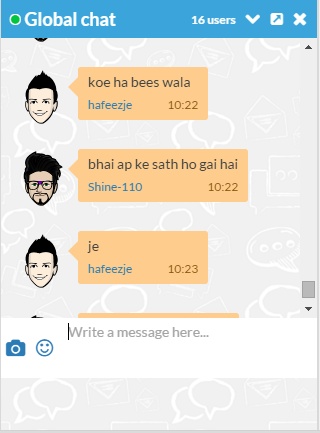 So far, I am enjoying the site and the earnings I am receiving from it. I will continue to work here and hopeful that it will give us more innovative stuffs to improve the site and to attract more and more users.