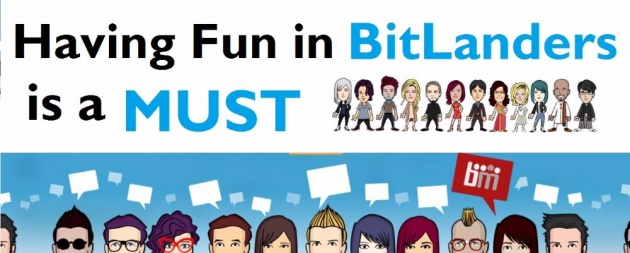 Image Source: BitLanders Home via BitLanders / Edited by Me
When you think only about having money here at the first time. It won't help you
Hi everyone! especially to those newbie out there and to the people who wants to have fun while having fun. NellShaOza here! ^ I'm going to share to you my perspective in BitLanders and how I got in the Leader Board within two months. So, Everyone Take a closer look and Enjoy! ~
HOW TO EARN IN BITLANDERS?
1. Be Active
Being Active here doesn't mean you need to be on this site 24/7, being active here means having a good communication with other people of bitLanders and updating your account if you have spare time. You'll eventually understand this when you learned enjoying the site!
2. Invest
Invest when it comes in buying gems for making blogs. For the first time you use bitLanders you'll have 3 free submission of Blogs, Gallery, and Videos. Use it well because for the next 4th times you'll submit one, You are required to buy some gems which cost 1.8 dollars for 10 gems, 3.5 dollars for 25 gems so on and so fourth
Personally I've already invested 10-12 dollars in buying gems and now I can submit any blogs I want. at first I struggled letting some of my earnings go to buy gems but eventually, I've learning the right way and it's called Investing and using the invested product wisely ~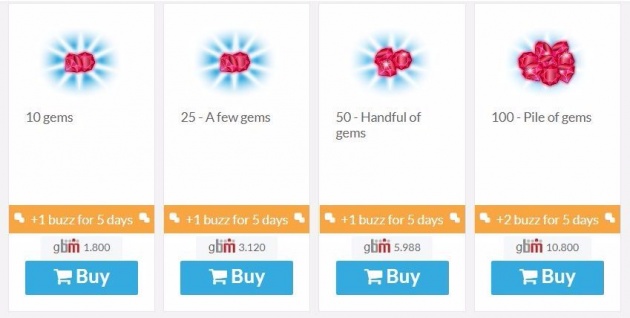 Image Source: Screen cap via bitlanders.com
3. Make a Quality blog
Some users in BitLanders doesn't show quality blog for the reason of THEY ONLY THINK ABOUT EARNING. I've been in that part where in I was too excited to earn and I sacrificed the way I write and prepare my presentation. It was not good and I thought of If I would continue that kind of Perspective, I would not earn the way I'm earning right now.
Going back, Remember that you have 3 free submission. Use this to learn and improve your blogging tactics. Hillary would give you some useful tips on how you'll get a higher reviews. The more quality blog you'll submit, the more your buzz score would increase. BUZZ SCORES Increase means Higher EARNINGS.
4. Post Videos and Images
Make sure to post some Videos and Images for others to Buzz. Some People who's on the Leader board doesn't post always but they invest a lot of time in doing some blogs. Just post some of this or as much as you can to make your account active and updated.
Just Like I do, I post 2 Videos and Images in the morning, afternoon and evening. Save some videos and Images when you take a ride from your destination to home or when you attended something. Its up to you what kind of photos or images would you post, Just update your account as much as you can
Video Source: NellShaOza Daily Activity via NellShaOza Youtube Channel
5. Buzz Buzz Buzz
Buzz as much as you can, Buzzing other people post has a benefit to you and to them. Make a Schedule with the amount of buzz and number of people if you are too busy to buzz every time.
In my case, I only buzz in the morning and in the evening (depends upon my schedules) where in I chose those people I see in my notifications. So you better be active in my notif :D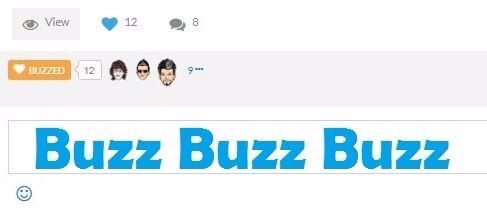 Image Source: Screen Cap via bitlanders.com
6. Log in Everyday / Do the Daily Quest
Log in Everyday is a MUST. It's for you not to cut the everyday bonuses, Maintain the Everyday log in to have higher buzz bonuses.
There's a exciting and thrilling chest box that you will see whenever you open for the first time in one day. The time of the log in varies for every user. Mine shows at 8 in the evening.
You need to accomplish the Daily Quest everyday, this will help for your buzz to increase. Read 5 Blogs, Watch 5 videos, Invite a friend and Submit a blog.
Personally, I don't always do the Invite a friend quest. The Submit a blog everyday is a little bit challenging but it just a choice whether you can make a blog everyday or not.


Image Source: My Daily Earning last month / Screen Cap via bitlanders.com
7. Enjoy
Most Importantly, Enjoy your stay here :D You may not earn immediately but I can assure you that it is a great thing to spend some time here. Just do your best and appreciate all the simple things that BitLanders can give you.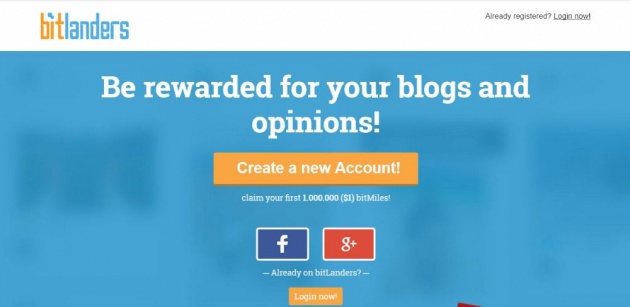 Image Source: via BitLanders
One Ordinary day and I felt like that I need to do something in my life, Vacation is mostly over and things are covering up again like before. So I've searched through the Google Play store to install an app that can give me Ideas how to earn online. After installing, I've scanned the entire selection of ideas and if I am not that determined to earn online, I might not saw BitLanders.
I've clicked the description and it was stated their that BitLanders is a social media that can pay their users just by submitting quality content, not like Facebook, Twitter and other site, BitLanders pays.
BitLanders was recommended by determination, I was lucky to find this site. I never thought that I can earn here (2 dollars a day. 100 php a day) With the time I spent here, I would really come back for more.
BITLANDERS IS FUN BECAUSE..
1. You can be creative
Making a blog is number 1 way to earn fast here in BitLanders. Good thing about making a blog, You can have any topic you desire (Any topic except sexual and some sensitive stuffs, See FAQS) You can post anything that was captured by you, You can have fun outside, save all the little things and post it here in bitLanders. Trust me, its fun and relaxing!
Take a look at my Profile, From video to gallery to blogs. I've take all those things as if I'm just playing my favorite video games :D and It help me too enjoy the site.
2. Its Fun to be free
Like what I've said above, You can be the person you want to be, TYPE what you want and voice out the things you can't post in other social media like Facebook. No one would judge you because one of the reason is that the only thing they can see is your avatar (Your choice if you want to post one of your pictures but in my case I wouldn't post mine for the reason of I WANT TO BE FREE)

Image Source: Screen Cap via bitlanders.com / Edited by Me
3. People are nice and approachable
People here are nice to talk to. People like @Jean-beltran @TRB @Ninab @LookUp @AdGoggleKo @ArtGirl @Ninski @Squidnt and many more. If you have some questions and if you are confuse of something, it might be about bitlanders or other stuff, You can talk to them :D
4. Hard works Pays off
Did you ever wonder why I've reach the Leaderboard in a small amount of time? Well Its called Hardwork, Determination and Motivation. Whats the reason why you're here? because of the earnings right? Then what is the reason why you need to earn? for your necessities or to help your family. But remember that like any other jobs, Small or Large kind. You need to be patient and to work hard to achieve it, Work on your blogs, input some efforts and don't give up.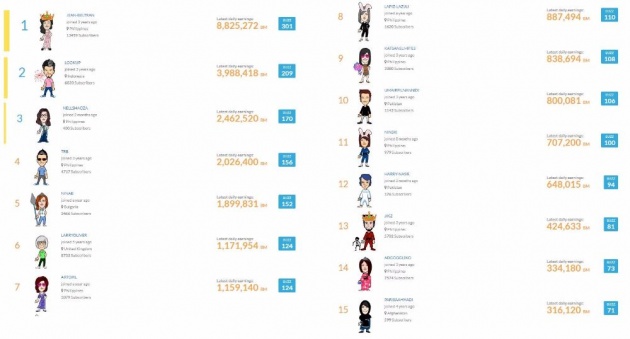 Image Source: Leader Board Screen Cap via bitlanders.com
because as the saying goes, after the rain there's a rainbow, after the night there's a morning and after submitting a blog there's a Buzz increase. hehe ~
WHAT CAN YOU DO IN BITLANDERS?
1. Read informative blogs
Take your time reading, This will help you with some other issues in your life and some needs you want to cover up. There are a lot of Story blogs and Informative blogs here in BitLanders that can motivate you in making one.
Like what happened to me, I saw and scanned @Jean-beltran's blog and I was provoked to invest a lot of ideas and time in making blogs, It help and boost me to make a blog as much as I can everyday. So do this and have fun ~
2. Have fun in your avatar
This is what makes BitLanders more interesting, Those cute Avatar which partly represents a user is genius! You can be whoever you want to be, you can make them wear what you want them to wear. Your avatar represents your character so be smart in choosing those faces because for the next time you'll edit your avatar, it will cost a couple of gems and I think that's not a good move ~ Dress and Accessories are more likely cost 2 gems, But they offer some Beautiful and elegant FREE Dress/Clothes that you can used to make your avatar looks pretty :D
I only dress up my Avatar if there's a free clothing offered in the store. I valued my gems thats why :D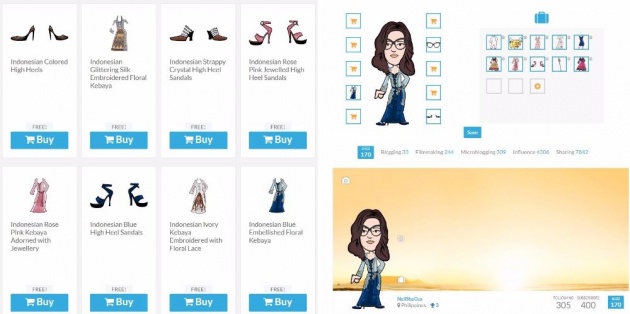 Image Source: NellShaOza Avatar via bitlanders.com
3. Meet other races
Did you scanned the Leader Board? People coming from different part of the world is invading BitLanders! you can be friends with them and learn assorted culture and preferences! Know about their experiences here and be part of the growing community ~
4. Create your own story
Here in BitLanders, Your Profile page is YOU, You decide what to put, You decide what to show as long as you know it is not forbidden, Then Go! Create your little world here, It will help you to be comfortable and later on have some fun.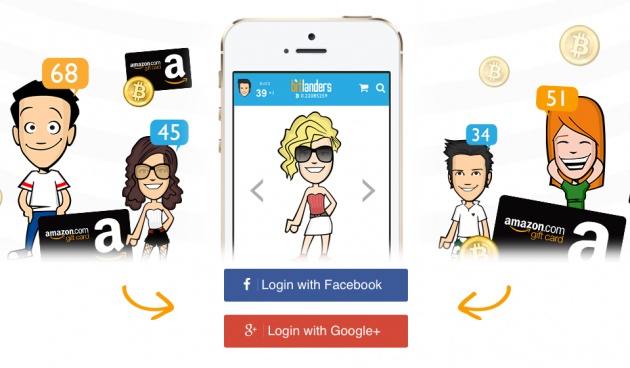 Image Source: via earning-daily.blogspot
5. Earn
Best thing here is that All the things you'll do would be recorder, All the things you'll do with passion and hard work would cause an satisfying earning.
JUST REMEMBER THIS...
Once you found this Site, Cherish it and know how to use it in a way YOU'LL LEARN, SHARE, EARN, HELP OTHER PEOPLE
and of course HAVE FUN
So that's it, It's up to you now if you'll apply it and execute it.
Goodluck to your journey! and in the deepest part of my heart...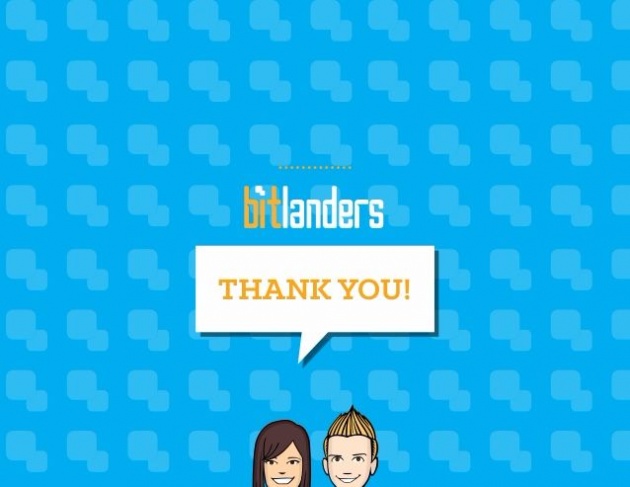 Image Source: Thank You Bitlanders via slideshre.net
This is a Friendly Blog to all BitLanders users out there.
Hope I've help you, somehow hehe
Until Next time Everyone!
Keep Safe
and
Have Fun!
Best Regards,
August 2017