bitLanders will once again be a proud supporter of the New York Open Judo Team Championship on Sunday, March 20, 2016. The New York Athletic Club will host the event.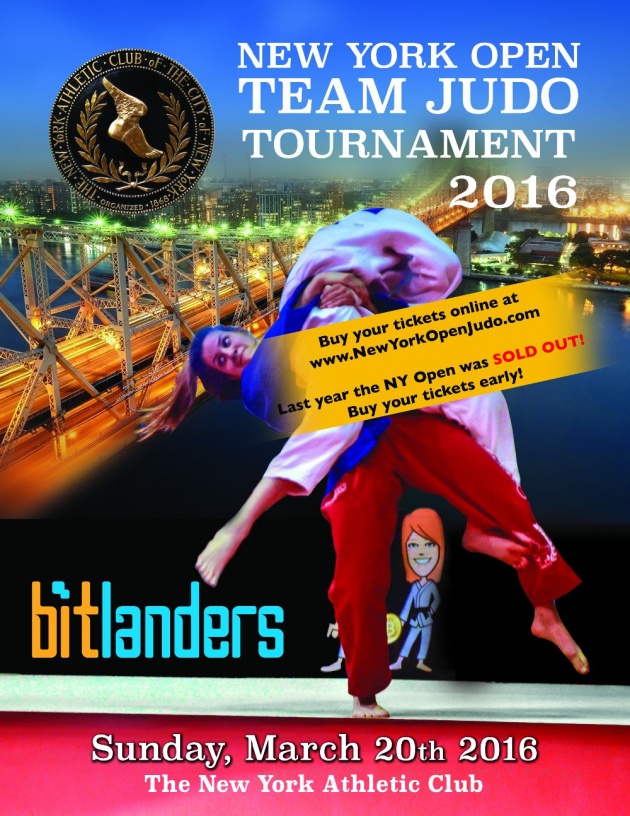 This Sunday Slam will feature teams from France, Germany, Israel, Georgia, and USA with both men and women competitors. NYAC's Kayla Harrison, the first and only American to win an Olympic Gold Medal, and NYAC's Marti Malloy, 2012 Olympic Bronze Medalist, will be part of the Women's USA Team.
Kayla Harrison said, "The NYAC is a special place for judo, and I look forward to returning for the 2016 New York Open. As we gear up for Rio, the NYAC event gives us a chance tobe close to the fans and show them where we are in our preparation for the Olympics."


You can get your tickets now at www.newyorkopenjudo.com. Last year the NY Open was SOLD OUT! General Admission is $25 online, $30 at the door; VIP tickets are $70 online, $100 at the door.
See below the USA Team lineup:
Coach – Jimmy Pedro, 2012 & 2016 Olympic Coach, two- time Olympic Medalist
Women
-48kg – Katelyn Bouyssou
-52kg - Angelica Delgado
-57kg – Marti Malloy
-63kg – Hannah Martin
-78kg – Kayla Harrison
Men
-66 kg Aaron Kunihiro
-73 kg Anthony Vennitti
-81 kg Travis Stevens
-90 kg Thomas Capra
+90 kg Andrew Jacobs/Akbar Iminov
About Judo
Judo debuted as an official Olympic sport in 1964 and is practiced by millions of people throughout the world today. The United States won its first Gold Medal in judo at the 2012 London Olympic Games (Kayla Harrison). The discipline of Judo is a Japanese martial art and combat sport that originated in Japan in the late nineteenth century. Best known for stunning throws, Judo also involves much grappling on the ground like wrestling, using hold-downs, submission chokes and arm locks.
Judo, translated as "gentle way," teaches balance, leverage and flexibility in performing throws and other skills, and helps to develop complete body control and fast reflexive action. Technique and timing, rather than brute strength, are the essential ingredients for success in this sport. Worldwide, over 20 million people practice Judo, with all age groups, both sexes and disabled persons all able to participate in learning and practicing the sport.
Judo develops self-discipline and respect for oneself and others, and helps teach self-confidence, concentration and leadership skills. It's no coincidence that several world leaders have also studied Judo, including Russian President Vladimir Putin, former Prime Minister of Canada Pierre Trudeau, former U.S. Senator of Colorado and Olympian Ben Campbell, and former President Theodore Roosevelt, as well as many celebrity judo practitioners such as director Guy Ritchie, actors Chuck Norris, James Cagney and Peter Sellers.
About bitLanders
bitLanders is a gamified platform where brands connect with brand ambassadors and social good initiatives. Users on bitLanders are rewarded for creating and sharing content, and fulfilling tasks. Designed in Italy and developed in New York City, bitLanders is a community of over 600,000 users and influencers with 180 million fans and friends.
bitLanders was launched in 2014 by MTI USA Inc., the original holding company started in 1995 by Francesco and Tommaso Rulli who immigrated to the United States in the early 1990's. While the original fabric, design and fashion business still operates on 20th Street in New York City, MTI USA, Inc. has evolved into a series of companies at the cutting edge of technology, Bitcoin, philanthropy, fashion, insurance and real estate.
About the New York Athletic Club
Founded in 1868, the New York Athletic Club is among the world's foremost athletic clubs, boasting a unique history. The Club's founding premise was to bring structure to a sporting environment that was lacking in organization and uniformity of measurement. Quickly, the NYAC organized the first US championships in boxing, swimming, wrestling and track & field. Today, the NYAC stands in tribute to an unmatched athletic history and an ongoing commitment to the pursuit of sporting excellence, while also providing unmatched social opportunities to its members.