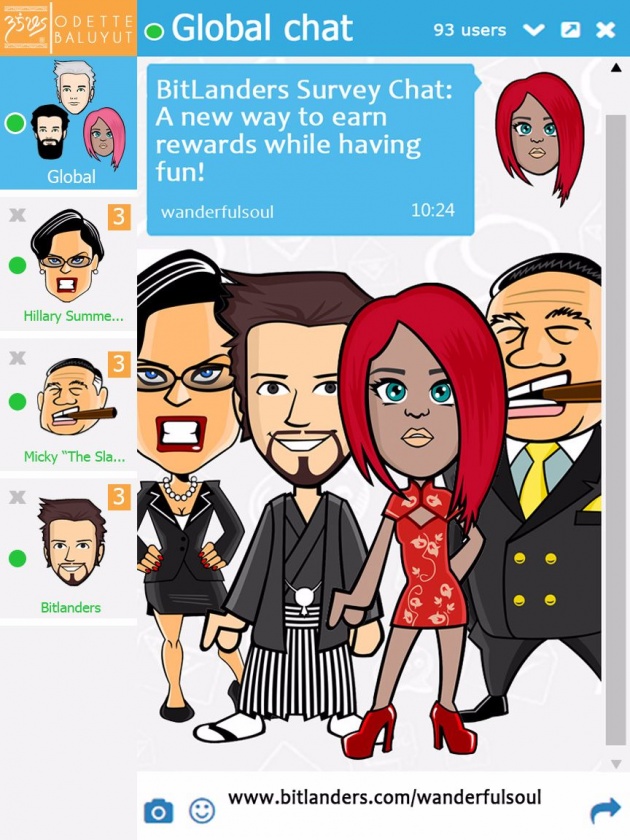 Hello there humans! Let me ask you a question, we all know what a survey is, right? Even just for once in our life, we encountered answering a survey. Surveys are common especially when we did our research paper during our junior high, senior high and college days. Oh! I remember those days where the deadlines of my thesis / research papers are due on that week and I haven't even started making my thesis' yet! (HAHA *facepalm*) The study out with friends to make my research paper, the staring at the blank page of the Microsoft word page for hours, the procrastination, the food trip because my brain needs food excuse, the cups of coffee so that I can't fall asleep but later on sleep, more procrastination, the complaining on how hard to make a thesis / research paper by posting my rants through facebook or twitter, the panicking, handing out research questionnaires and ask the respondents to answer my questionnaire even if I don't want to approach them and the sleepless nights. Those were the days, oh! Good old days! (*dreaming* HAHAHA) If you guys haven't tried making a research paper, at least you've tried answering a survey for a research questionnaire of your schoolmate, or what about those times when you're eating at a restaurant and the waiter asks for your time to answer their survey questionnaire on how good their food are and how well they serve their customers; If you haven't tried all those things at all, then let me ask you a question, are you living under a rock?! Where did you come from?! (*straight face* haha) kidding! Just ask Mr. Google to know more about surveys if you honestly don't know what survey is all about. *tongue hanging out*
Anyways, don't worry if never in your life have you answered a survey yet because bitLanders is here to save you! (woohoo!) It's another good month for bitLanders and for us users in this site for bitLanders community is offering us an opportunity to earn extra cha-chings while having fun! (Woot! Woot!) Are you guys ready? Here we go!
WHAT AM I BABBLING ABOUT?
Last April 9, 2016 while khokarjamal69 and I are chatting, he told me that Mr. Micky-the-slanted-salerno posted a new blog — Share your thoughts and Earn bitMiles points with the new bitLanders Survey Chat. Sir Micky explained in his blog that BitLanders launched a survey chat where Madame Hillary will ask us survey questions through Global chat and in exchange of answering her survey we get rewarded! This explained why earlier that night when I opened Global chat senhorita Hillary-Summers private messaged me! Boy! I thought I did something wrong, it turned out that she was already doing a survey (HAHA! *facepalm*).
HOW DOES THE SURVEY CHAT WORKS?
Well, it's pretty simple actually. As what Mr. Micky said in his blog, all you have to do is to open Global Chat and Senhorita Hillary will automatically send you a private message in which the survey will start and when you're ready, you can start answering the questions! (woohoo!) Madame Hillary will ask you 10 – 30 questions depending how many questions BitLanders offered you in that day and after answering everything, you can still come back the next day to answer more survey questions.
But wait! That was before, now, Sir Micky himself and Bitlanders will also ask questions in their survey for you to answer! Plus, they would also give you rewards! Now that's awesome! The more the merrier baby! (haha)
WHO ARE QUALIFIED TO PARTICIPATE IN THIS SURVEY?
Don't worry buddy, every bitLanders member is qualified to participate and answer the survey. That means you! Yes! You are qualified to join! (*wink*)
WHAT ARE THE KEY TOPICS THAT ARE COVERED UNDER THE SURVEY CHAT?
Unlike other survey's, the BitLanders Survey chat covers variety of topics! So don't think that answering the survey is boring because it isn't boring at all! (*grin*) The following are the key topics that I have encountered:
POLITICS:

Some of the questions of the survey lay under politics especially the upcoming 2016 US Elections. So, if you are interested in politics, this survey is for you. (teehee!)
SPORTS:

(IMAGE BY: WANDERFULSOUL; To zoom in, click this link.)
If you are into sports, then the survey chat is for you! Questions under the survey chat include sports as its topic.
TECHNOLOGY:

If you're a tech geek, then you might enjoy answering questions in the survey chat, for Mademoiselle Hillary also asks question regarding your expertise. (*wink*)
SOCIAL ISSUES:

Social Issues are also covered as one of the key topics of the survey chat. So if you're an activist, you might want to participate in this survey. (*wink*)
CURRENT EVENTS:
Who doesn't want to know the current events happening around the world? I'm sure we all do. This topic is also a part of the survey. Awesome right?
TRAVEL: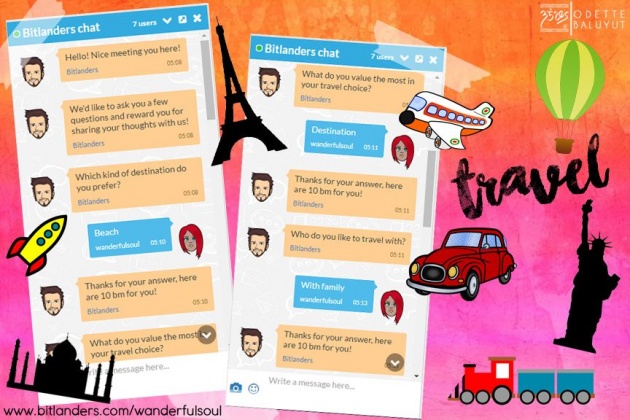 If you're a wanderer like me or has wanderlust, you'll surely want to answer the survey chat for BitLanders also asks questions about traveling! (yippee!)
ENTERTAINMENT:
Okay, if the entire topics I've mentioned above don't suite you, then what about entertainment? I'm sure I got your attention now! BitLanders also asks your thoughts about entertainment, so finish reading this blog and start answering the survey! (haha)
FASHION:
For those fashion enthusiasts, fashion is also part of the survey. See? I told you the survey chat not boring at all!
Wait! That's not all! Some topics discussed includes Religion and economy too! Actually there are a lot of topics, feel free to check your global chat now!
CAN I ASK QUESTIONS TOO?
Yes! You can make you own survey campaign through bit-Miles. Just go to bit-miles.com, log – in to your bitMiles account and click New campaign or you can email info@bitlanders.com and directly ask your questions there; be careful though, you should only limit your questions up to 150 characters and answers to 15 characters.
As for me, I asked my question through cs@bitlanders.com and gladly, BitLanders added my questions for this week's survey (April 25, 2016). By the way, thank you Ma'am Jennifer and the whole bitLanders team!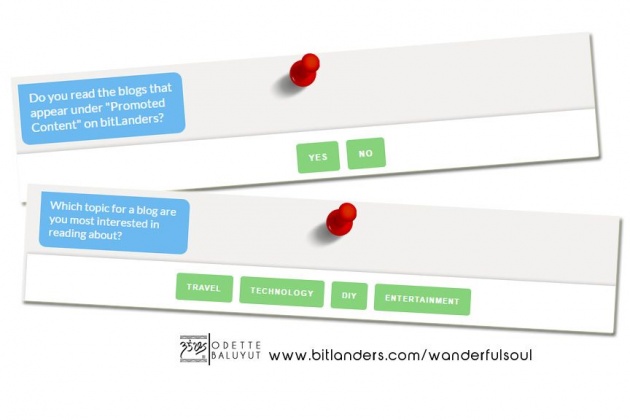 (IMAGE BY: WANDERFULSOUL; To zoom in, click this link.)
I'M NOT DUMB, BUT I JUST DON'T KNOW THE ANSWER, WHAT SHOULD I DO?
It's okay if you guys don't know the correct answer of the question (bitLanders is on our side). BitLanders would still accept and give you a reward after clicking your unsure answer to that specific question. (booyah!)
HOW CAN I EARN WITH THIS SURVEY THING?
As what I've said earlier, even if your answer is wrong you would still get a reward. Now, regarding this reward, you get +10bitmiles in every answer you clicked whether your answer is right or wrong, it doesn't matter, you would still get rewarded! Okay kidding! That was before, now, you can earn as much as +30 bitmiles! Imagine that! You can now get 30 bitmiles for each answer you give weather it's right or wrong! Plus, as what I've said earlier, it's not only Madame Hillary who will let you answer the survey, Sir Micky and the official Bitlanders account will also ask you. (You can now imagine dollar bills! teehee!) Also, you can make a blog about it afterwards and share your thoughts and opinions about the survey. As a reward, you get to have double rewards after you publish and submit your blog about the said topic for a review! (hooray!)
HOW WILL I KNOW MY REWARDS FROM THE SURVEY HAS BEEN DELIVERED?
You'll receive your bitMiles rewards minutes after you answer the survey but there are times, you will receive it after 24 hours or after you get your treasure box on that day (treasure box will appear every 8:00pm, +8 GMT). To see your rewards, go to the rewards page.
AND I AM SUPPOSED TO ENJOY THIS?
Why won't you enjoy it? Come on, you look at your laptop and banging your fingers on your keyboard almost 24/7, and all you are doing is wasting your time reading useless thoughts on twitter, facebook or 9gag. While in bitLanders, aside from earning, you get a chance to earn more everyday by answering the survey chat! Plus, you get to learn the current events, social issues and other key topics covered under the survey chat ,if that's useless for you then God bless you buddy! (*tongue hanging out*)
WANDERFULSOUL'S THOUGHTS AND OPINIONS ON BITLANDERS SURVEY CHAT:
I have noticed a few things in the BitLanders survey chat:
First off, as what I've mentioned above, there are a lot of Key topics in the survey chat but I asked myself why is BitLanders making a survey? Each survey has at least one objective, so, what is the objective / are the objectives of the survey since the participants are random respondents? As I was thinking what could be the possible objective of the survey, I came across the advertising page of BitLanders and they explained that the Bitlanders survey chat is one way of advertising one's product. Companies can make questions and in return, BitLanders will give the users links to the company's product. A good example is the one with NBA cares or Apps from iStore. Another objective is to let the company know what users think of their product (as for me, I asked about what users think about BitLanders promoted content).
Secondly, what I've noticed about the survey is that most of the questions under politics are about the upcoming 2016 Elections of the United States of America. I am a Filipino and we also have an upcoming 2016 Elections this month, May 2016. So obviously, I would want to listen to the Presidential Debates of the Philippines, Vice – Presidential Debates and the like, and share my thoughts and opinion about the Philippine government rather than listen to Donald Tump's rants. Though, the U.S candidates and their issues are informative, but I would also want to learn more about other countries' government rather than to focus on the American Government. As a political science graduate, I think asking people about their thoughts and opinions on what is the best type of government should their country or a specific country should implement or what are their thoughts and opinion on other countries' government? These are some of the questions that the survey should ask since not all of the respondents of the survey reside or is an American citizen.
Third, Let's face it, I know some users also encounter this problem, some questions doesn't have an "I don't know" option to choose from, so if I really do not know what to answer, I tend to choose a random answer and click it just so that I can proceed to the next question. But, it is also understandable that each question doesn't need to have this type of option because if bitLanders will give you an "I don't know" option to each question, some users would just click it and won't take the survey seriously. (Good job bitLanders! Woot! Woot!)
Fourth, during the first week, Senhorita Hillary is the only one who is doing the survey and only gives 10 BitMiles per question but now, Sir Micky and BitLanders will also ask us questions plus they give away 30 bitMiles per answer! This is better than before because bitLanders gives us users a fare share of rewards! (hurrah!)
I, personally, enjoyed answering the survey chat. Unlike most surveys, BitLanders survey chat offers variety of topics in which is entertaining enough for me to answer! Not boring at all bro! Plus, as a not-so fresh grad and an unemployed person, the survey chat is sort of a brain exercise for me. How so? Because when Senhorita Hillary asks a question that I do not know the answer of, I would panic and do a little research on that question afterwards. It feels like I'm back to my college days again and Madame Hillary is my terror teacher (*ROFL* Kidding Madame Hillary! HAHA), Sir Micky as my cool teacher and BitLanders as my awesome classmate! (Woot! Woot!)
My favorite feature of the survey chat, aside from the rewards, is that I got a chance to ask my fellow bitLanders users on what type of blog topics do they enjoy reading. I have posted a microblog before regarding on what blog topics users want to read but only khokarjamal69, Amirzubair, Moon-Khan-4606 and Romannawab replied in the comment section below my microblog, but now, with the help of BitLanders survey chat, I already got an idea on what type of topic should I write! (bravo bitLanders! Hats off! Woohoo!) and to top it all off, I got a chance to gain more bitMiles reward by just having fun! (Hurrah!!)
WANDERFULSOUL'S BITLANDERS SURVEY CHAT JOURNEY (AND A LITTLE BIT OF TROLLING):
Enjoy watching my trolling humans! (haha)
So there you have it buddies, I listed my thoughts and opinions and everything I know about BitLanders Survey chat and a video on how I enjoyed my survey chat!
Until my next blog!
TTFN!
Ta! Ta! For! Now!
COPYRIGHT © 2016 ODETTE BALUYUT. ALL RIGHTS RESERVED.