hello Friends,
Here i am going to share some interesting tips with you people.Through which you can increase your subscribers very fast.Actually its the big issue with some people to subscribe someone else,because its takes too long time to do so,but i had found a solution for you Friends.May be some people are familiar with it,but others will also find it by reading this blog.
So without wasting further time lets come to the Topic.Remember one thing,the more you will subscribe other,more chances to get subscribers back.Just find out the posts with high BUZZ RATE,you can use Bitlenders itself,Google,twitter,yahoo,bing and many other search engines to find post with high BUZZ RATE.Example post with 135 BUZZ RATE you can see below.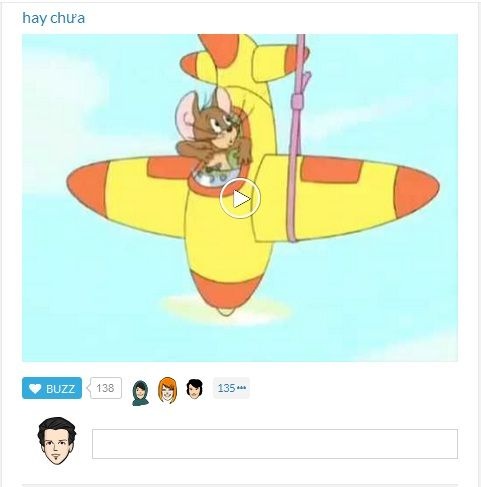 Once you have found such post,then go to post,and see the buzz option,beside the BUZZ option you will find subscribers,Only three would be apear there,you open the others by clicking on the three dots beside the subcribers.The window will apear as below.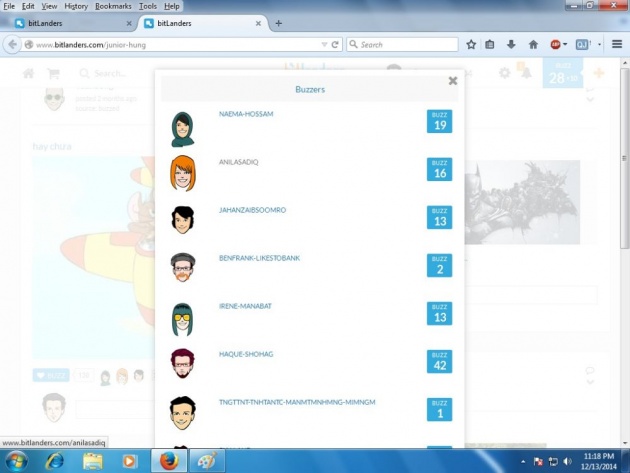 with this example image i try to make you guyz understand.So Here you can see that Only 7 BUZZERS(Subscribers) are being show.so you can open only 7 at a time on other tabs.But you can increase this quantity with a Trick.Trick is very simple.You just need to press few keys from you Keyboard.Once you have get the buzzers window.then press 'Ctrl+Minus' button.If you repeat this process two times you will found the BUZERS WINDOW as below: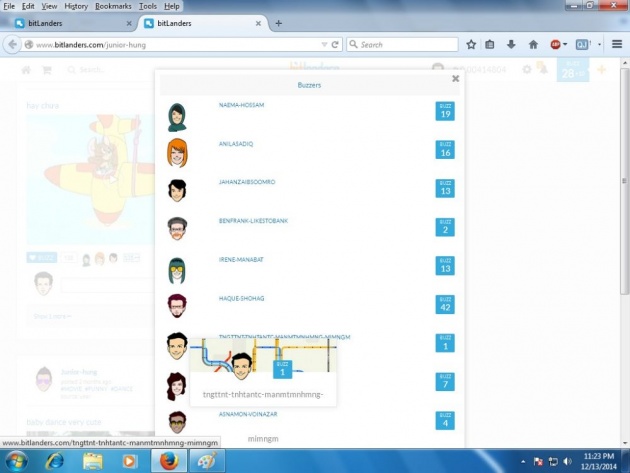 The more time you will press the key combination,the more BUZERS you can see on the window.as i press the key combination 4 times,my window looks like below one: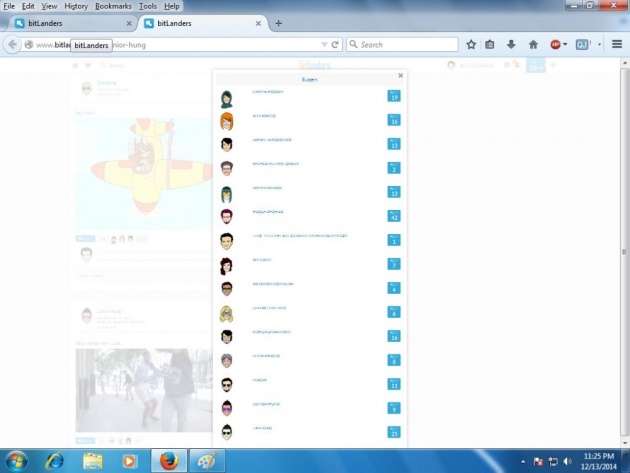 you can get your original window just by pressing 'Ctrl+Plus' Button from keyboard.
Now come to the Important Trick,You know that when we have to subscribe some one we have to go its profile.One way is to press the Right button from mouse on BUZER's Picture and select the "open link in new tab". But this method is too slow.A lot of time is wasted by doing so.this process seems like this: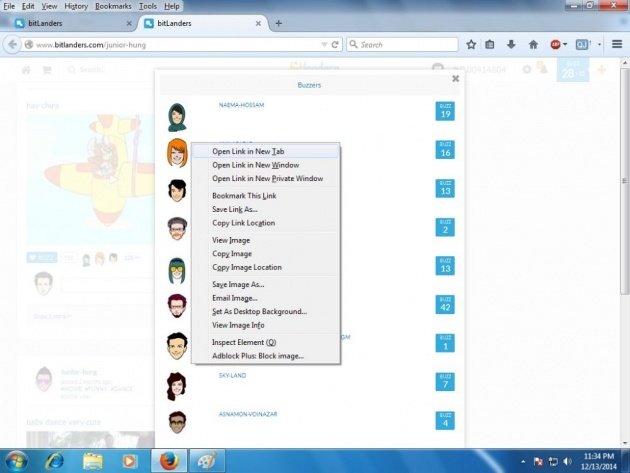 So i have found the way to do this task easily,Here we go... :) Once you have set your window.Then Just Press the 'Ctrl button' from keyboard and keep it press(it means do not release the 'Ctrl' Button) & click on the BUZZER's Picture.you will see it will open on the other tab automatically.Do not release the 'Ctrl ' button till you have open all you desired BUZERS's Profile.This trick will save your a lot of time :) So you can subscribe 1000 people a day easily without getting tired just in an hour.and from those people at least 500 will subscribe you back and will give you more BUZZZZZZZ..... :)
Good Luck & Stay Happy
Thanks...