Topics Discussed
Why people spam on Bitlanders
Effect of spamming on Bitlanders environment
What can we do as users to stop spamming
Important steps taken by Bitlanders to make a spam free Bitlanders
My opinion on the steps taken
( source: google )
Why people spam on Bitlanders
Now to have answer to why people spam on bitlanders, we will first have to understand what is bitlanders. Bitlanders is one of a unique social network website, unlike many others, that values the time of their users. Bitlanders develops a great respect and value for the time consumed by its users on here, which they pay off by paying them for the time spent on here.BINGO!
( source: google )
Now some of users here, found it a great way of income, and yes bitlanders is a great platform for income but that dose not mean to ruin the environment of social network by spamming. Bitlanders dose not pays a fix amount of money, rather the amount changes, depending on the buzz score of user. Buzz score is a measure of your activity on bitlanders. Higher the buzz score higher the earnings.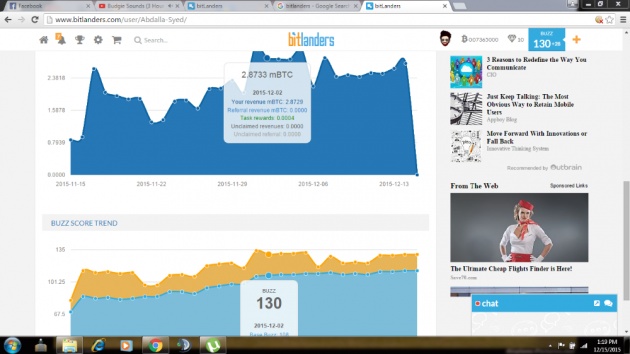 A representation of buzz score related to earnings ( source: bitlanders )
Buzz score increases if user uploads good quality content, and other users who like it can buzz it, or writing good quality blogs and submitting for reviews or having a good number of subscribers. So bitlanders actually encourages you to upload and share good quality stuff with the users from all over the world.
Earning money on bitlanders ( source: youtube )
Finding it a good source of income, some users have started spamming in bitlanders global chat. They force other users to subscribe them and buzz their content by sending spam messages like " buzz for buzz" and "sub for sub". This whole thing was completely ruining the environment of bitlanders, and there was no value of real and creative content. These users made their need a greed!
Effect of spamming on Bitlanders environment
By now things were gone so worst, that no one could talk properly in global chat. It became more of a spam room than a chat room, everyone was trying to increase buzz score by forcing and dealing amount of buzzes on their content, and force subscriptions. This was effecting the environment very badly as no one was uploading quality content, just some random stuff, because they knew they will get buzzed by spammers. This was also unfair with users who would work hard and upload a good quality content, as spammers were already making it to leader board and earning a lot more than they deserved.
( source: google )
Since bitlanders was not a platform for spamming, therefore the administration had it in notice and was worried about it as well as the anti-spam users too.
Important steps taken by Bitlanders to make a spam free Bitlanders
Since to save the originality and quality on bitlanders, the spamming was brought in the notice of bitlanders administration. I had also been involved in informing Micky-the-slanted-salerno ( one of bitlanders administration team member ) about the spam going on.
Micky-the-slanted-salerno ( source: bitlanders )
Micky-the-slanted-salerno has had a great hand in stopping the spammers from spam, and making the bitlanders environment good again. He would personally come and monitor the global chat room. Micky released a blog clearly stating all spammers will be blocked from bitlanders for a period of time, and wont be getting any rewards during that period. Micky's blog states as following
-----------------------------------------------------------------------------------------------------------------------
bitLanders is a place where you can read and watch interesting and catchy content, create your own, and be rewarded for it. It's also the place where you can chat up with other users and comment on their content.
To make bitLanders a better place, we decided to ban all comments that spam the platform and the chat asking only for "buzz" and/or "sub".
We will be monitoring the exchanges on the chat, as well as the comments posted on all blogs, videos, and galleries.Any user who spams with that type of buzz/sub requests both in the comments and the chat will be banned from bitLanders for 1 day and won't be able to log in or collect any Reward for that time period.
Simply buzz the content you like!
We're hoping this will motivate you to post more relevant comments and focus on creating content for your profile and enjoying other users' blogs and videos.
So how about you write a blog about how to use bitLanders without spamming or how this new rule affects your use of bitLanders?
Submit it for review and you'll earn double rewards
(for all blogs submitted in December).
Let's stop spam together!
- Micky
------------------------------------------------------------------------------------------------------------
After release of this blog he had great reviews and supportive comment on his blog, many users looked satisfied and happy by all the steps taken in this blog, however some users were still saying that was not enough and more of actions shall be taken. following are reviews of some of the users on Micky's blog.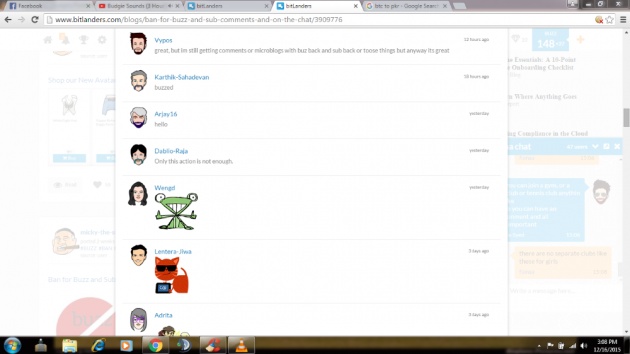 ( source: bitlanders )
After this there was a great effect on spamming, however the spammers found a way out and started sending spam messages and deals in their own languages, which again in started the spammers go good on here on bitlanders. This was a new problem that bitlanders had to face regarding spam. However with in less number of days, Micky released a blog which had clearly stated out that English will be the only language of communication on global chat. Micky's blog stated as follows.
-----------------------------------------------------------------------------------------------------------------------
Following the previous news about banning users from the platform for spamming with buzz/sub requests, we are now making the Public Chat an English-speaking only zone.
Users who will use another language on the Public Chat will be muted for a specific amount of time. This will allow us to monitor the Public Chat more efficiently and encourage conversations.
If you wish to converse in another language, you can use the private chat.
Help us keep bitLanders a spam-free platform!
- Micky
-----------------------------------------------------------------------------------------------------------------------
After this it was like bitlanders killed the spammers and spam. I appreciate the hard of bitlanders team and Micky, who comes and monitors everything himself personally, for making efforts to build a spam free bitlanders. Thumbs up! team bitlanders.
( source: google )
My opinion on the steps taken
I think bitlanders has tackled spammers in a quite awesome way, they have taken quite mature steps to stop spammers for spamming, but they will probably come up with new ways. One thing that bitlanders shall do is to stop these sticker comments, as comments on a post shall be related to the topic only. I would really request bitlanders team to look into this matter. Bitlanders shall strictly monitor the spam acts in future to make a more suitable and secure environment. We shall all stand together with bitlanders team to make a spam free bitlanders.
Stay united against spammers! ( source: google )
GOOD LUCK! Bitlanders.
About Me

Hey! I'm Abdalla Syed and I have been flying on Simulator, since past 4 years and am part of VATSIM community since past 1 year. Im VATSIM P1 rated pilot, P2 theory passed and practical check to go and Boeing 777 commander with PIAV. Flew Cross The Atlantic 2 times, 1 time participating in VATSIM GRAND CTP Event 2k15 (East bound). Also I have obtained S1 ground controller rating of VATSIM from Pakistan vACC. In real I'm a trainee pilot going through my basic training.