Earlier, I already wrote about Bitmiles in my previous blog, Introducing Bitmiles Innovation - The Rewarding Platform. I hope it helped you understand Bitmiles or gave you an idea what Bitmiles is all about. Now, I'm going to write about Bitmiles and its new offers this time.
Bitmiles: A Rewarding Platform
Bitmiles is a rewarding platform that increases or attracts users to a certain brand by paying them as a reward for completing a task. This is an innovation that helps a brand who wants to find clients or users to increase their interest in the campaign by connecting or engaging them through tasks or quests. It is where both users and brand discovers new rewarding campaigns. It is a technology where you can earn rewards in bitcoin-based points from a brand like Bitlanders.
Bitmiles Educates Clients about the Brand
Bitmiles helps their clients, particularly with what a brand should offer and how to reward their users to increase the interest and interactions of the Brand Ambassadors and Market Influencers. It builds a direct connection between brand and users.
When it comes in Advertising, It should be well managed to entertain and get the users' interest in learning about the brands and its offers and let them become a brand ambassador. Because when mismanaged, it will ruin the brand's reputation once it fails to satisfy the users. That's why clients should choose their brands and their offers wisely and have a good creative advertisement.
It's really important to have good advertisement because it will surely motivate a user to be one of the brand ambassadors and market influencers that were interested in engaging with the brand and be rewarded depending on how a user support a brand.
Effects after Implementing Bitmiles to Bitlanders
Bitlanders has been using this platform for half a year now. As a result of implementing Bitmiles, Bitlanders gained more users and increased their daily engagement rate of 20%-80% than before. So if you have a site and wants to increase your viewers, and their interest in your sites, then Bitmiles is what you need.
According to Bitlanders Founder, Francesco Rulli:
User's time per session grew from 2 to 16 minutes.
Registered users grew of 100%.
Unique users grew of 60%.
80% of active users engaged tasks on a daily basis.
200,000 tasks are fulfilled every day.
300,000 users activated 3.6 million charitable donations to 34 different charities.
The Team Behind Bitmiles & Bitlanders
I know most of us doesn't know who are the team behind Bitlanders and Bitmiles yet. Check the image below.
Francesco Rulli (the founder of Bitlanders) and Elaha Mahboob (the communications manager for BitCharities) were very hands on and has been attending several events to communicate with the companies' marketing leaders. And they were also the one who visits personally the office of creative agencies where they met Luca Lorenzini and Luca Pennese, Global Creative Directors in Saatchi & Saatchi where they got their perspective "Advertising for Social Good".
Aside from being a head of digital media and content for Bitlanders, Jennifer Bourne (New York) is working with the game masters and developers of Bitlanders, Lorenzo Meriggi (Florence) and Maurizio Ranaboldo (Taiwan), as a developer of Bitmiles UI (user interface) even if they were based in different offices.
As per Francesco, they are now planning to launch Bitmiles outside Bitlanders' platform and will introduce the power of this technology to other publishers or Ad-networks.

(Image Source: Francesco Rulli)
Visit your Bitmiles account and start collecting rewards
While using Bitlanders, you can visit your Bitmiles accounts by just clicking it from your home page to open the Bitmiles' site in another tab. They just added this lately. It's like a reminder to us to visit and complete tasks to collect some additional earnings. Start Collecting now because it adds directly to your earnings. The more you collect, the more earnings you will get.
Note: Use same log-in and password to your Bitmiles if you already have Bitlanders account.
Tasks and Quests Powered by Bitmiles
There were really many ways to get reward.Just by completing tasks, you'll get rewards depending on the tasks you completed. The more task you complete, the more you earn. Check it here for your reference.
- Collect Satoshis in Homepage

- Share your Ranks and Buzz scores

- Hunt for BitMiles' Banners

- Video Treasure Hunt

- Daily Quests

- Shopping
Lately, Micky announced that they added some new tasks/quests followed by new offers in Bitmiles' shop. Isn't that great? Since I entered Bitlanders, I always try everything here out of my curiosity until I get the answer I'm looking for, or just enough to be satisfied from what I just knew. I really want to discover/experience it by myself and would love to share it with others.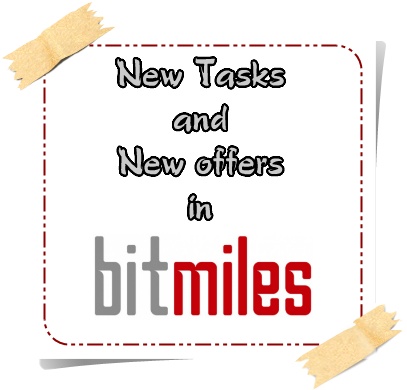 1. New Tasks in Bitmiles
In Bitmiles, new tasks are shown on our dashboard. I noticed that we have different tasks depending on our country. But we can still get rewards after completing them. By using our mobile device, all we need to do is to complete those offered tasks to get the rewards.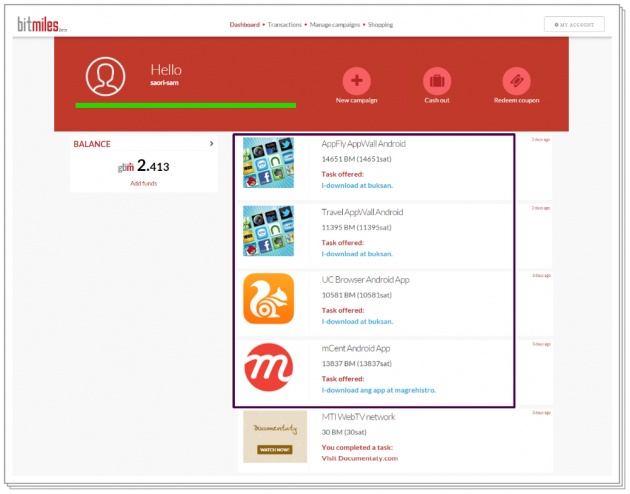 How to Complete a Task
1. Log-in to your Bitmiles account through your mobile.
Use same log-in and password to your Bitmiles if you already have Bitlanders account.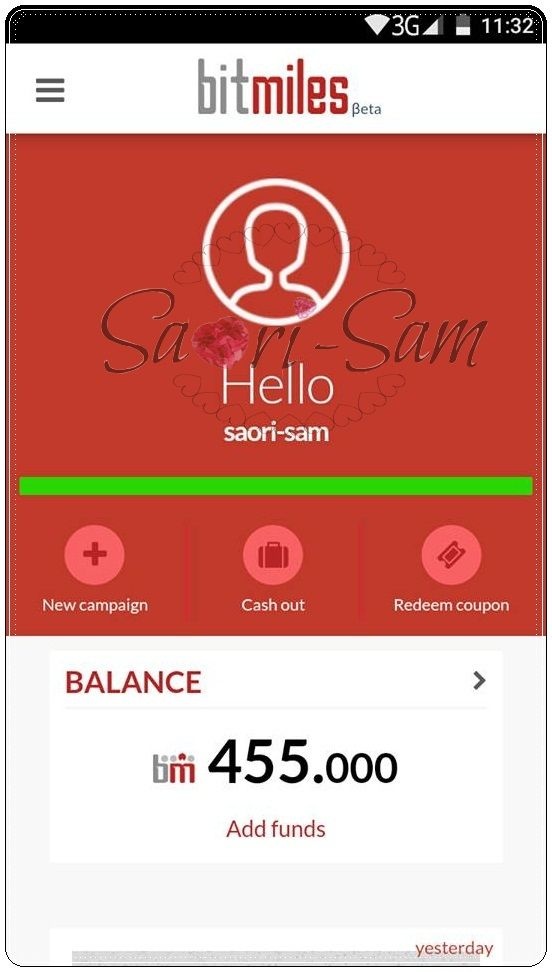 2. Choose any task you want to complete.
Click the task highlighted in Blue color to be redirected to the page in order to complete the task.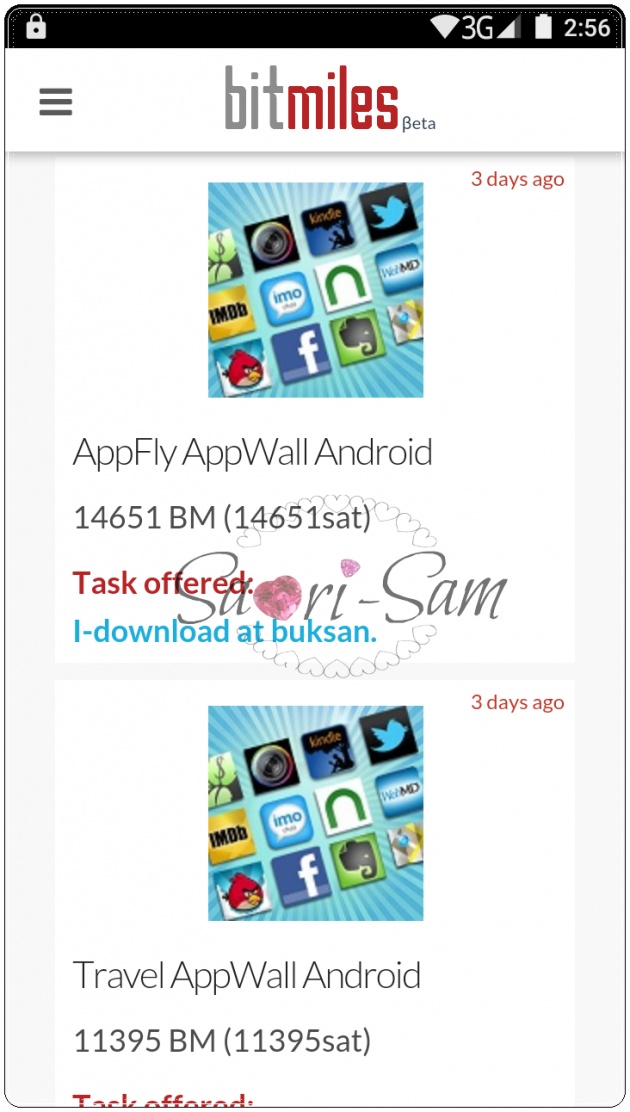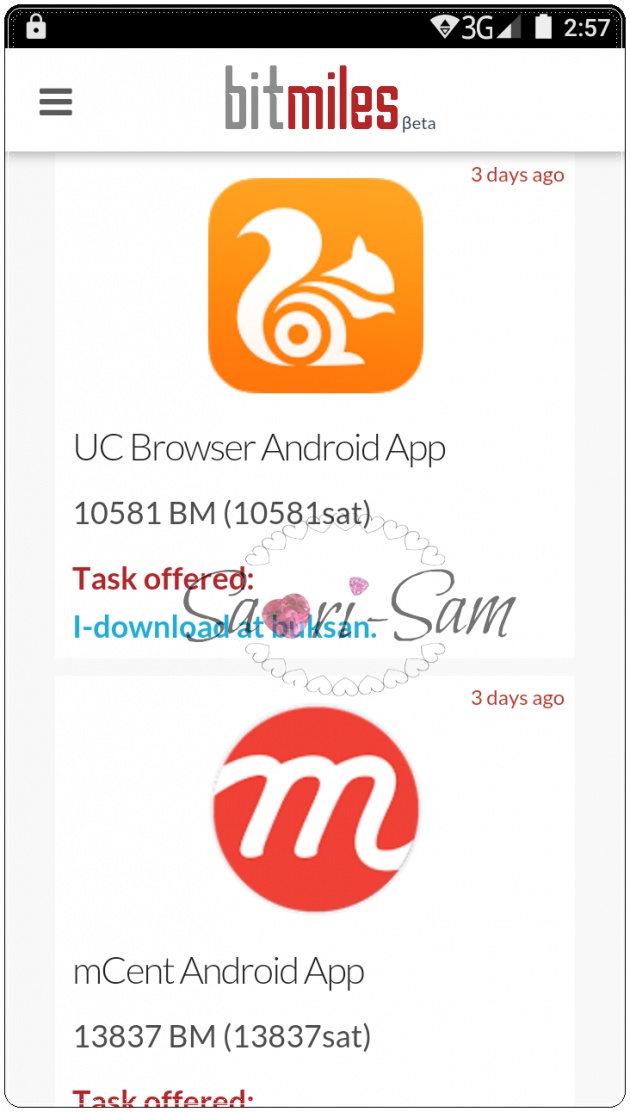 3. Complete the task - For example: UC Browser Android App .3
To complete the task, Install the app then open and use it for awhile.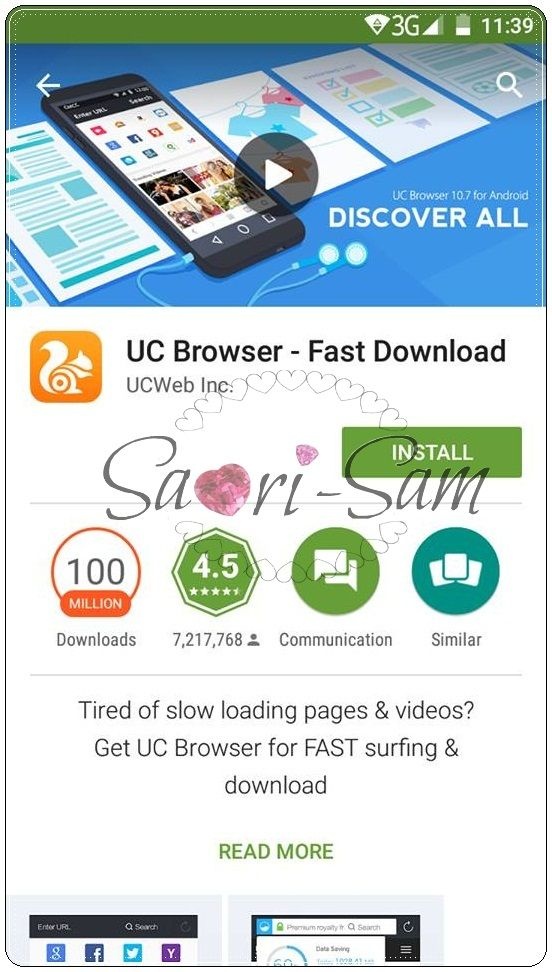 4. Go Back to Bitmiles
Then, go back to your Bitmiles account and you'll receive your reward if you completed the task successfully.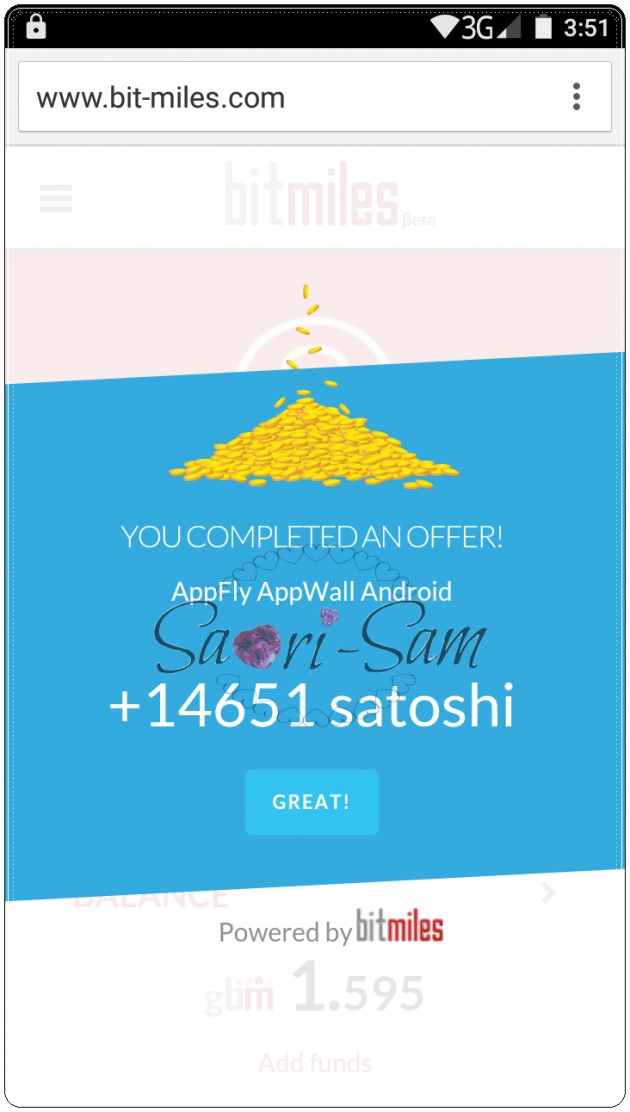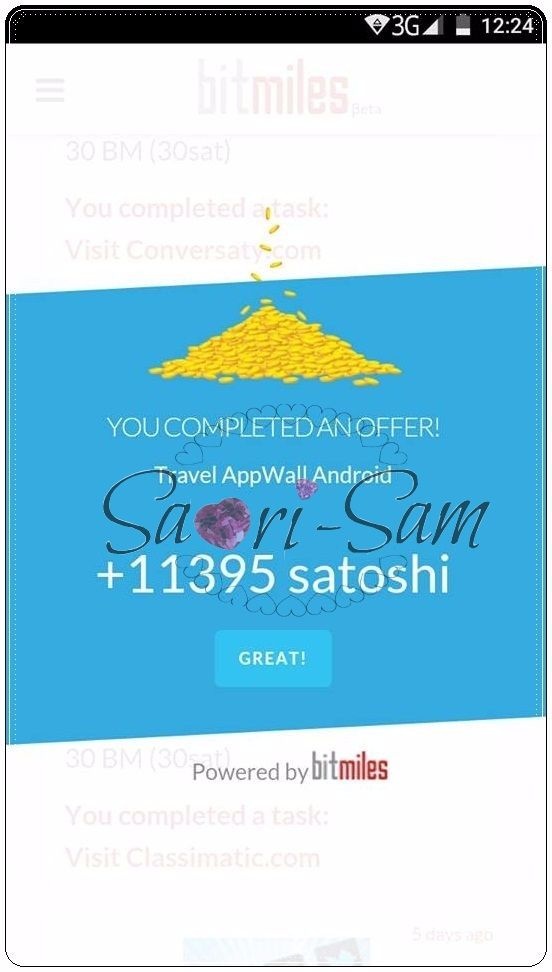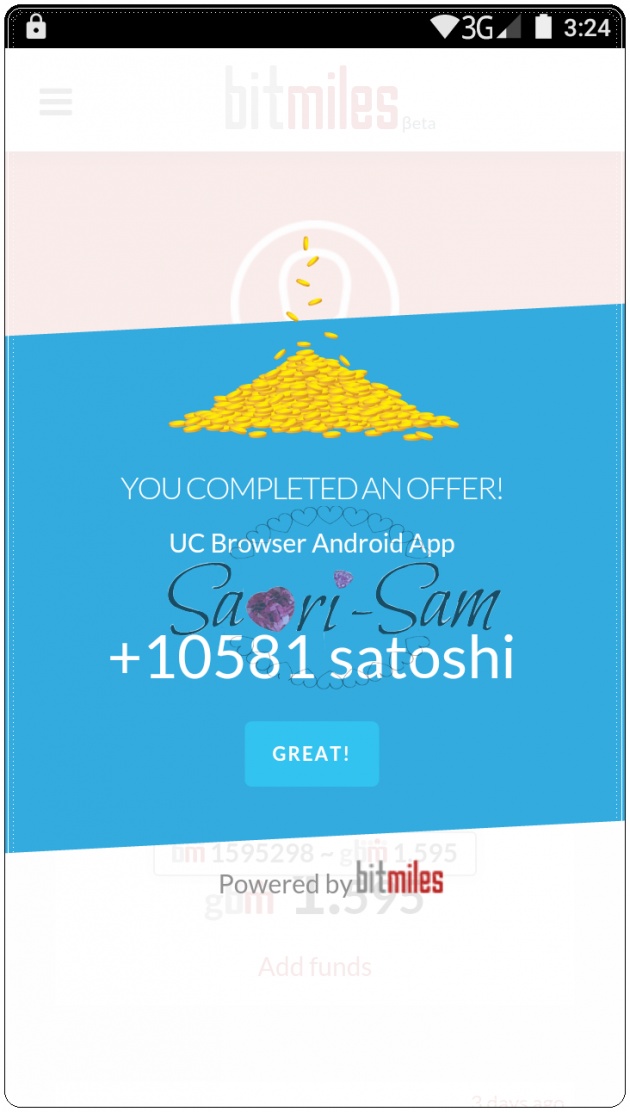 2. New Offers in Bitmiles Shop
Here is another new offer in Bitmiles and you'll find them in your Bitmiles Shop. On this page, you can add funds for your App rewards, withdraw your earnings or exchange it with gift cards available in Bitmiles. For old members if you remember, these gift cards were also available in Bilanders' Shop before and we can also exchange our bitcoins with these gift cards too. But those gift cards were now available in Bitmiles' shop only.
This time, our bitmiles' rewards can be exchanged to these gift cards now. Just got to your Bitmiles Shop.
Before
Gift Cards can be exchanged with bitcoins in Bitlanders.
(Image Source: Bitlanders)
Present
Gift cards can be exchanged with Bitmiles' rewards in Bitmiles.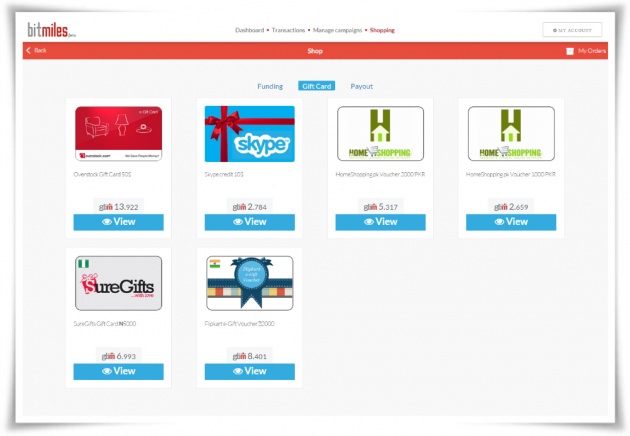 These are the gift cards available in your Bitmiles' Shop.
Overstock Gift Card 50$

Skype Credit 10$
HomeShopping.pk Voucher 2000 PKR

HomeShopping.pk Voucher 1000 PKR
SureGifts Gift Card ₦5000

Flipkart e-Gift Voucher 2000

If you want to get these gift cards, but no enough Bitmiles credit yet, don't worry because you can pay your balance later. But sad to say you can pay the balance through PayPal only. Last time you can also pay your balance through Bitcoin (from coinbase/coins.pH/blockchain wallet). Now it seems like they already removed the Bitcoin payment method for paying the balance even in Bitlanders shop.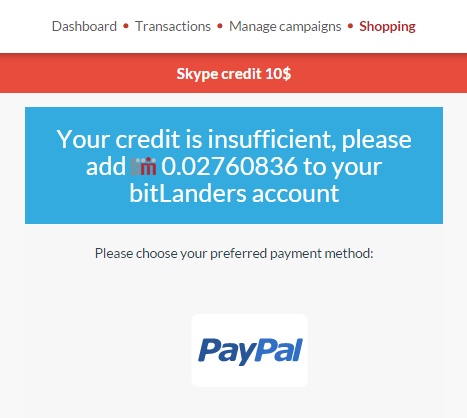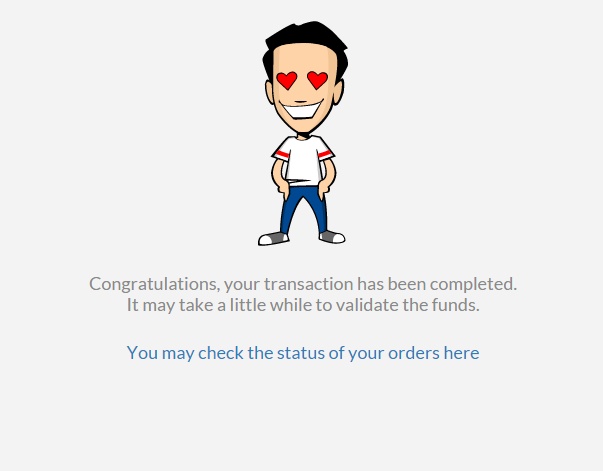 3.Find the Hidden Rewards(Bitmiles Banners) on Promoted Contents
Micky announced the new task earlier by hunting Bitmiles Banners on Bitlanders' site to get additional 30 Bitmiles reward. Then, a few weeks later, those banners were gone or you can't find them now on rotating banners/ads in Bitlanders. But lately, I just noticed some hidden rewards on promoted contents. Although Micky didn't announce about this task yet, I still tried to click on those promoted contents to know what are the rewards. Then I kept on checking my Bitmiles account and there it appeared on my dashboard that I got rewards from visiting those WebTV channels which were promoted in Bitlanders.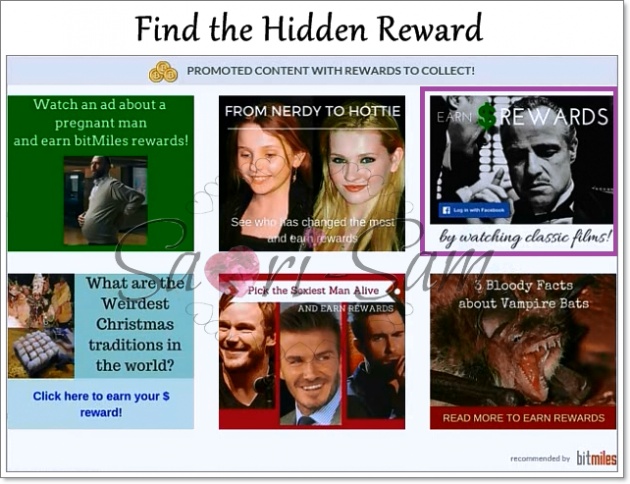 It's really hard to find those Promoted Contents because most of them were blogs and no reward at all while the Promoted contents with rewards contains the WebTV channels.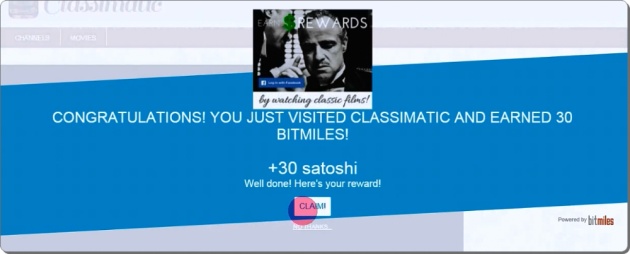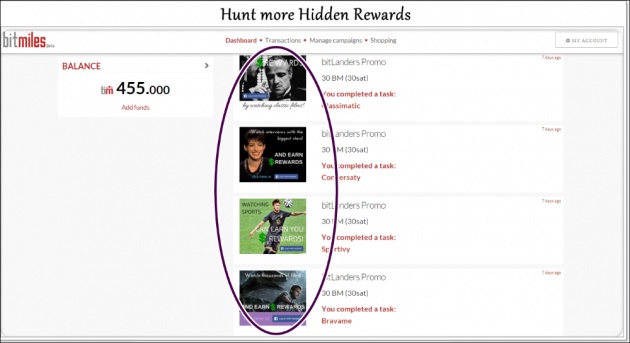 I hope this helped you understand more about bitmiles. Thanks a lot for reading.