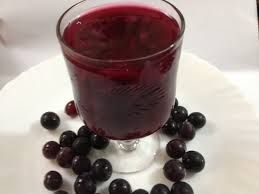 INGREDIENTS (measuring cup used, 1 cup = 250 ml)
500 to 550 gms organic black grapes
2 to 3 pinches of black salt (optional)
1 tsp lemon juice or as required (optional)
sugar as required or powdered jaggery (optional)
water as required (optional)
INSTRUCTIONS
rinse the black grapes well in water first. drain them.
then add them to the blender and blend till smooth. using a juice strainer strain the juice.
with a spoon press the pulp in the strainer well, so that all the juice is drained away.
taste the juice and if it feels strong for your taste, add some water.
if the juice is not sweet, add some sugar or powdered jaggery.
for a tang add lemon juice. stir and pour in glasses or mugs.
while serving the juice, sprinkle a pinch of black salt in the glasses.
serve the black grapes juice immediately with or without ice cubes.
you can garnish the grape juice with grapes or mint leaves.