Credits: https://enelrollo.com
Marvels world has always produced blockbuster movies. They possess their own different class and quality. The story line and plot line of their all movies are always different and unique. Their movies are always full of action, entertainment, and thrill. They do not only have action, entertainment, and thrill but they also have a mystery in them. People of every age love to watch their each and every movie. Avengers is their one of the most successful movie series ever. There are many movies of Avengers Series and Black Panther is one of them about which I am going to write my review today to let you people know about this wonderful movie. So let us start with Avengers another blockbuster movie Black Panther.
Credits: http://www.qzcns.com
The Origin of Black Panther

This is the movie which is about a tribe living in Wakanda. Wakanda is a country of black people and European countries think that Wakanda is a third world and poor country but it is not true. Wakanda is a well-developed advanced country and they have the most advanced technology than the rest of the world but the world does not know their secret. Despite all the technologies they still have old customs of Kings and tribes. When they select their king, they have a tradition that all the candidates have to fight with the one who was previously king.
Credits: https://boingboing.net
Black Panther also fought with one candidate and defeat him in one to one fight and become a king. The name of Black Panther is T'Challa who is the son of the previous king.
Vibranium and Wakanda

Vibranium is the main subject in this movie upon which this whole movie lies. What is vibranium?
Vibranium is a fictional metal appearing in American comic books published by Marvel Comics. It is noted for its connection to Black Panther, as his suit is made from vibranium and is found in his native homeland of Wakanda. Antarctic Vibranium or Anti-Metal, is created by artificial means, in contrast to natural, or Wakandan, vibranium. Vibranium is also commonly known as one of the materials used to construct Captain America's shield.

Source: Wikipedia

Vibranium is the most powerful metal ever existed on the Earth according to the Marvel comic books. The secret behind Wakanda's invisible development and progress is Vibranium. They have millions of tones Vibranium under their lands and they are using it for their betterment and progress. This metal is so powerful that the people of Wakanda are very advanced in technology than the rest of the world.
Credits: http://sfwallpaper.com
But the problem is that they do not share their technology with the rest of the world and for this, they have their own false reasons which T'Challa breaks at the end of the movie and reveals Vibranium to the whole world. In doing so, he fought with his uncle's son whose father was killed by T'Challa's father and since then he began to hate T'Challa's father and family. He fought in the wars and trained himself so that he could become a good warrior in order to continue his father's lost cause which was to use Vibranium in the whole world so that the black people could take revenge from the rest of the world for their cruelty towards them.
T'Challa's father does not want this to happen so he killed him. His son, Erik Killmonger, grow up burning in the fire of revenge and finally takes on Wakanda.
Credits: http://collider.com
Black Panther's Fall

Erik returns to Wakanda and challenges T'Challa for the thrown. Both fight one to one for the thrown and Erik injured him and throw him from a high mountain. All the tribes accept Erik as their new king and Erik decides to launch a war on the whole world. So he ordered to deliver the weapons made of vibranium in the whole world to the black people. Meanwhile, T'Challa's sister, mother, and girlfriend managed to escape from Wakanda and went to Jabbari tribe for their help. When the reached their leader, they found Black Panther lying there injured. They took care of him and healed him and he was still alive.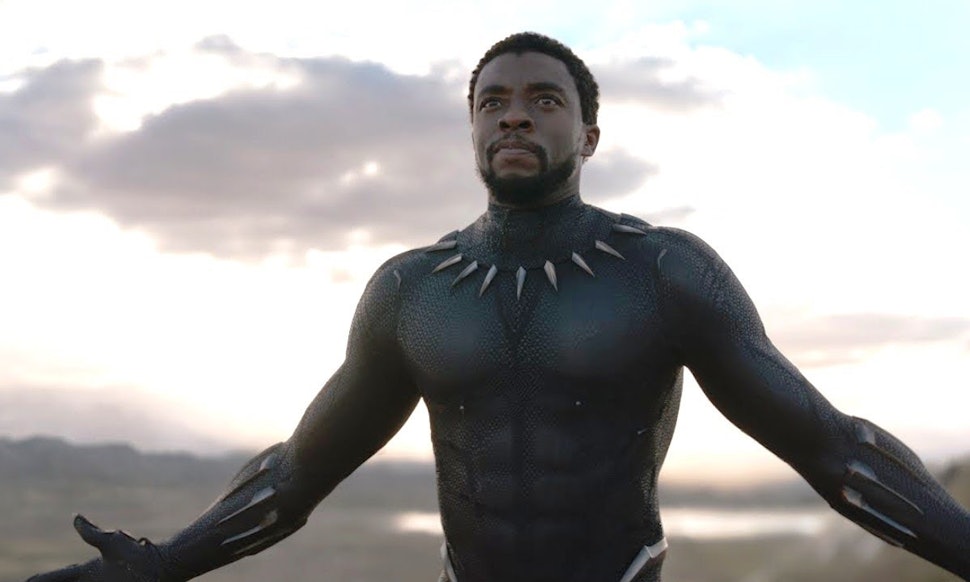 Credits: https://www.bustle.com
Black Panther's Return

T'Challa decides to go back and get back his throne. Not only to protect his country but also to protect the world from the war which Erik was going to launch. He asked the leader of Jabbari tribe to help him but he refused. So he made a plan with his sister, mother, girlfriend and a white guy. They return to Wakanda where Erik was using Wakanda's army to send the weapons to the different parts of the world. T'Challa came by surprise and Erik was not ready for it. So his attention was diverted towards him whereas T'Challa's sister managed to get into her lab where she asked the white guy to control the fighter spaceship and destroy those 3 space crafts which were going outside of the boundaries of Wakanda to different parts of the world.
Credits: https://www.popsugar.com
T'Challa was fighting with his own people because of his own uncle turned against him but at one time, they stopped to fight with him so T'Challa decided to take on Erik. Erik was about to kill Black Panther's sister but he reached on time and pushed him into the Vibranium mine. They both fell down and fight with each other. However, black panther managed to kill Erik and he gave up.
The white guy was fighting with the jet spaceships and he managed to destroy 2 space crafts. The third one was about to went away but he increased the speed of his spacecraft and thrashed it into that spacecraft and boom. All the three spacecraft full of weapons were destroyed.
Credits: https://hdqwalls.com
Happy Ending

Erik died, Wakanda was saved from a merciless king and the weapons were destroyed before reaching to their destination. The best thing happened in this movie was that T'Challa revealed Vibranium to the world and decided to cooperate with the rest of the world and share their technologies with the rest of the world for their mutual interests. His throne was restored and he was back as a king again.
Credits: http://parrotainment.co
Credits: Trailer City via www.youtube.com
Short Review
This is the movie which I have watched without watching its trailer and I was really happy that my two hours are not wasted. I have enjoyed watching this movie because all the visual effects were awesome, especially, the traditions and customs shown and well performed by the actors are awesome and lovely. The technology shown in this movie is remarkable and really needed to be praised. The action scenes, the combat scenes and the conversational scenes, all were well set and well managed. I did not find any mistake or any thing to criticize this movie. I would love to ask the readers to watch this movie because it is really going to be fun especially with your friends and family.
In the end, I have a quick movie review in the form of video by manythemovieguy and a Querlo chat for you.
Credits:
mannythemovieguy
via
www.bitlanders.com
************************************************************************************************************************
All rights are reserved for Tauseeq Magsi written for Bitlanders.
Click to see my other Blog Posts.
Click on Facebook to contact me.
Click on Youtube to see my channel.