Foreign Service Officer
I was reading the broadsheet the other day when I came across this ad: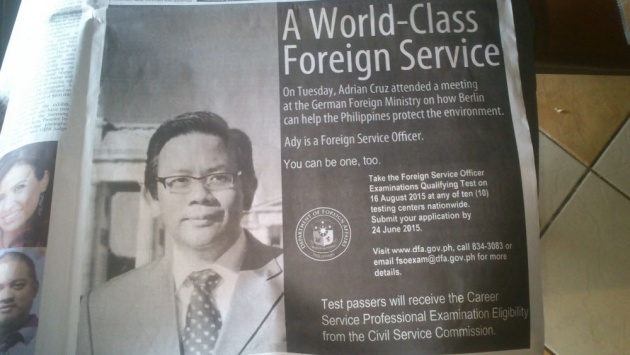 According to the DFA website, the qualifications are:
Natural born Filipinos.
Not more than 35 years old on the day of exam.
Finished a four-year course.
Have been employed for the past two years.
To apply, you should fill up applications forms downloadable from the DFA website. These should be submitted to any regional consular offices or Philippine embassies.
The FSO Examination is composed of five (5) parts:
Qualifying Test
Preliminary Interview
Written Test
Psychological Test
Oral Test
The testing centers for the Foreign Service Officer are in Bacolod City, Baguio City, Cagayan de Oro City, Cebu City, Davao City, Iloilo City, General Santos City, Legazpi City, Lucena City, Metro Manila, San Fernando City (La Union), City of San Fernando City (Pampanga), Tacloban City, Tuguegarao City, and Zamboanga City.
Click here for more details.