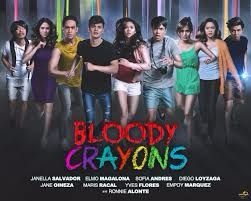 (credits to google.com for the picture I used.)
Before anything else I just want to clarify something and say that all tje comments and opinions here are from me. All the words I'm using and I'm saying is my own opinion, no one or nobody pursue me to do it. This is my own and this is not a sponsored post.
And also this is my first time to do it. First time to make a review to the movie I watch and I like most and also I'm not good and perfect in English Language, so pardon me guys if some of my words here and my grammar here are not correct and wrong. And sorry too if my review is not perfect and good like others reviewers out there.
Anyways, this is my first time to watch this movie which is "Bloody Crayons" a semi horror movie. I said semi horror because it's not totally horror for me. But this movie is looks like a suspense movie not a horror or scary movie.
I decide to watch this movie because of my boredomness. Yeah guys, every time I bored and nothing to do already, I always watch movie or T.V but yesterday is totally different because I don't like watching T.V, I want movie that's why I borrow the CD tape to my sister-in-law and this movie is the only one caught my attention. And my curiosity is drive me to watch it.
The story of this movie is all about the group of teenagers whose friends each other and decide to going somewhere. They're going in Isla or should I say an Island to take or make a short movie as their projects in schools. But suddenly the vacation is not going well, it's became bloody and miserable for them.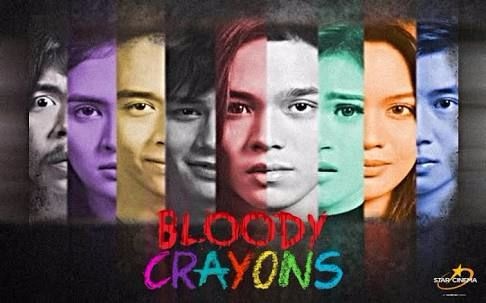 (Image credit to Google.com)
Bloody Crayons is the following:
Janella Salvador as Eunice Nicolas
Elmo Magallona as Kiko Rivera (whose have a secret feelings to Eunice)
Empoy Marquez as Gerard Anderson
Sofia Andres - Marie Ragma (the latest and newest girlfriend of Kenly)
Ronie Alonte as John Jose (new member at the group)
Diego Loyzaga as Kenly Sy (ex of Olivia and boyfriend of Marie)
Jane Oineza as Olivia Mendez (the owner of the summer house where the group stayed and the killer on this movie)
Maris Racal as Richalaine Alcantara
Yves Flores as Justin
The story start in friendship but later on, it became miserable because of what Olivia did to Marie. Everything is started in games called "Bloody Crayons". The group played the games, and the games is a form of truth or dare with a twist. And everyone instructed forming circle around a box that has four (4) sets and five (5) crayons which is Black, White, Blue, Pink and Red. And each colors represents a consequence, and each player will draw a crayon at a time.
Black crayons represent a rule to be given by the drawer. This rule is to be followed during the course of the game until the next black crayon is draw. Failure to follow the rule means the drawer will vandalize the face of the violator.
White crayons represents immunity of the drawer from the rule until the next white crayons is drawn.
Pink crayons represents friendship and whoever drawn a pink crayon will choose a friend and have them make the drawer perform the dare.
Blue crayons represents honesty. The drawer will confess something they haven't done. If the other friends have done the confession, they have vandalize their own faces. The drawer can also write on the face of someone they know has done the confession.
The last colors is the red crayon which is represented and considered as the bloody crayons will be given the chance to each put a substance of their choosing in a cup and the last person to draw the red crayon will unfortunately drink the mixture. It's game over when the last red crayon is drawn.
The mysterious on this movie is, who is the real killer and why their friendship broken and their vacation became worse and miserable and who can survive from murderer and from the killer. This is the questions in my mind when I watch the thriller in YouTube and on the T.V but when I watch it, all my questions are answered one by one.
This movie is so really suspense and not boring to watch. This movies is exciting to watch because of the mysteries involve on this movie. For me, I rated this movies 9 out of 10.
By the way, this movie is not suitable or not fit for the person who have heart disease and to the old person and also I think even on the kids/child who afraid of because of the some scene and also because of the sounds effects.