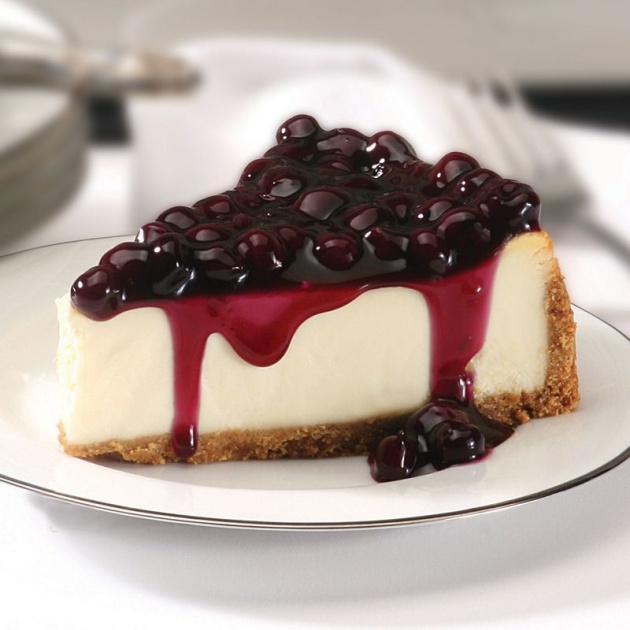 Blueberry Cheesecake
Serving for: 4
Cooking time: 1 hour.
Ingredients Required
cups of cream cheese: 2
Cups of Whip Cream: 6
Gelatin: 2 tablespoon
Fresh Milk: 3/4 cup
Egg yolks: 4
Sugar: 1 Cup
Vanilla Essence: 2 Tablespoon
Lime Juice: 2 Table spoon
Digestive biscuit, crushed: 1 cup
Melted butter: 3 tablespoon
For Topping
Blueberry Filling: 1/2 cup
Gelatin: 1 tablespoon
Water: 2 cups
METHOD
Take a bowl, mix butter to the crushed digestive biscuit. Spread the powdered biscuit in the bottom of the mould and smooth the surface with the help of a spoon. Keep it the freezer to freeze so that it hardens. Take another bowl, take cream cheese and add vanilla essence to it folded by lime juice. mix it properly. Take 1 and 1/2 cup of cold water and add gelatin and mix till dissolve, keep it separate.
Take another bowl and mix egg yolk and sugar and add 2 table spoon of boiled milk to it.
Now, add the whole mixture into the pan of milk. Cook on slow flame to thicken the mixture. Keep stirring to avoid sticking and burning. Turn off the flame and mix gelatin, cool it to room temperature. Add cheese to the mixture and mix till it smoothens avoiding lumps. Then fold it in whipped cream.
Finally, pour the mixture on the biscuit base and freeze till it becomes hard.
For Topping
Take water and mix gelatin and blueberry filling. Boil it and then cool it down. Pour it and keep it the freezer to set and serve.