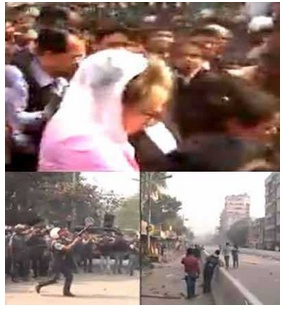 BNP activists clashed with the law enforcers outside a makeshift court at Bakshibazar in Dhaka, which was holding hearing in two graft cases against the party chief Khaleda Zia in her presence.
Police also charged batons on the agitators to disperse them, leaving at least five people injured.
The activists of Jatiyatabadi Chhatra Dal, the student wing of BNP, also torched a private car in front of Dhaka Medical College during the clash.
Meanwhile, the activists of Bangladesh Chhatra League, student wing of the ruling Awami League, attacked the workers of BNP and its associate bodies when they were waiting at Chankarpool to welcome Khaleda's motorcade.