Husband and I had pretty planned our long vacation last December until January so we had to make the most out of it. We had already planned it that by Christmas time, we will be in Bohol, my home town and New Year will be spent in Southern Cebu, his hometown.
So after Christmas my husband and I did a mini tour in my home province, we had planned to visit the Chocolate Hills which is the main tourist spot in the said island. Then we looked for the best way on how to get there and the plan was to start from the town of Candijay, to Alicia, then to Sierra Bullones then to Pilar and lastly to Carmen where the Chocolate Hills are located.
We thought it may take a bit long to go there so we had to start our travel by the morning time as early as eight in the morning.
So were already on the road at that time, here's a shot of the Candijay road which we passed by.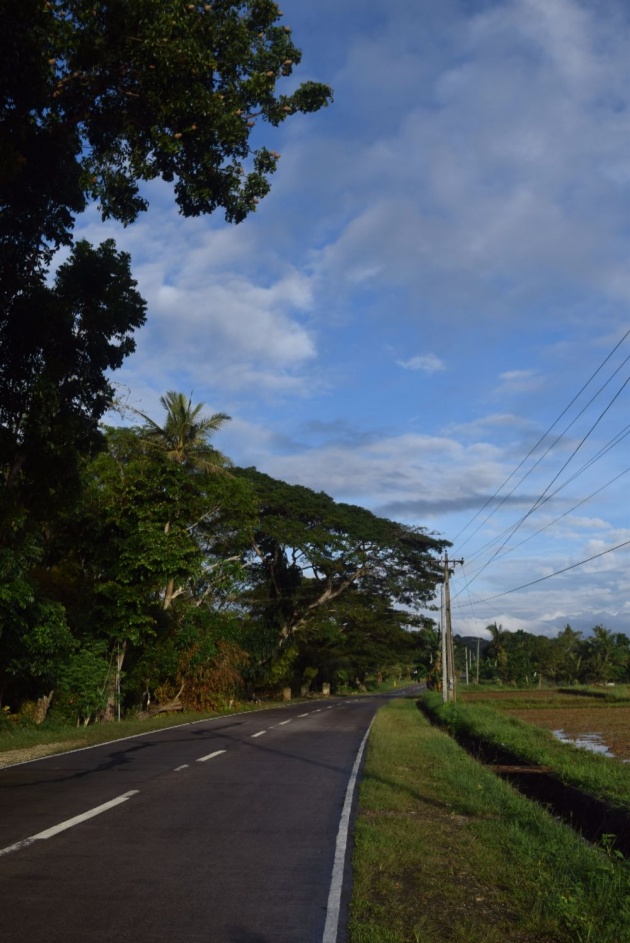 Bohol has a land area of 4,821 km2 (1,861 sq mi) and a coastline 261 km (162 mi) long which makes Bohol the tenth largest island of the Philippines. We actually have a choice of going to the other side so we can also check the coastline view of the island but since going in the inner part of the province is the fastest way to go to Chocolate Hills, we instead went this way.
But it is better this way because we were able to check the other part of the province which we don't usually visit. Let me share to you our mini Bohol tour.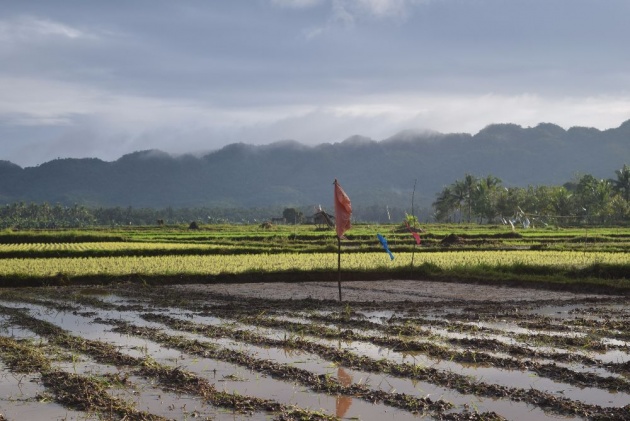 CANDIJAY - our first stop for the mini tour. Their rice fields are nice to see and really picturesque which really deserves to be frozen in photos. The photo above shows newly plow, the lines in the rice field is just show that the rice field has been done just a day before.
Candijay also offers new tourist spots like their Can-umantad Waterfalls which would require a few minutes ride away from the main high way which is why we were not able to get to there just yet. Aside from that, they also have their own cold spring.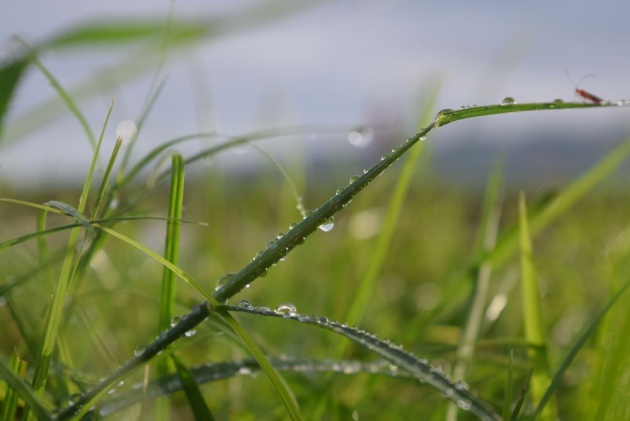 Since we were super early, we got a chance to take a photo of a morning dew drop hanging on a leaf.
We were really lucky that these are still able to take some shots of it.
But then we have to move forward. We moved on and we reached Alicia. We were really glad that the roads are not anymore bad at that time. It was all cemented and that our ride was actually smooth at that time.
Until we reached a certain area in the town of Alicia.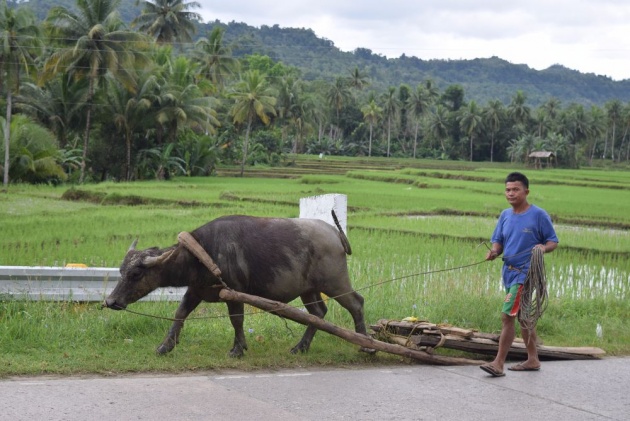 ALICIA - We saw this tough guy right here so we decided to stop and take a photo of it while it is carrying something on his back together with its master.
Carabaos have been helpful to the Filipinos specially the farmers because they help in plowing the rice fields and even carrying their stuffs and their materials used in planting rice. Even during harvest, they would still be there to help them with the harvested.
Here's a view of the rice fields just in the area of the where we met the carabao.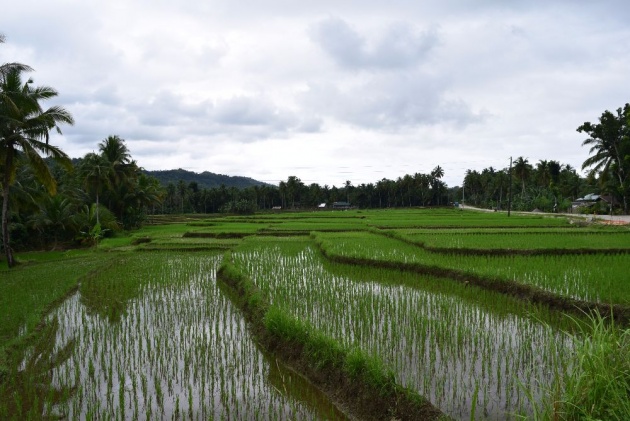 The image above reminds me of the Banaue Rice Terraces but this seems like a mini version of it. It is just amazing how Filipinos and the locals here were able to maximize the land that they have so they had made these very nice structure made manually through the mud and water available from the rice fields itself.
It was indeed a time or a season for planting again so the rice fields above have been already planted. I love to see newly planted rice fields because of the aligned positions of the young rice plants.
We would love to stay but we need to move on.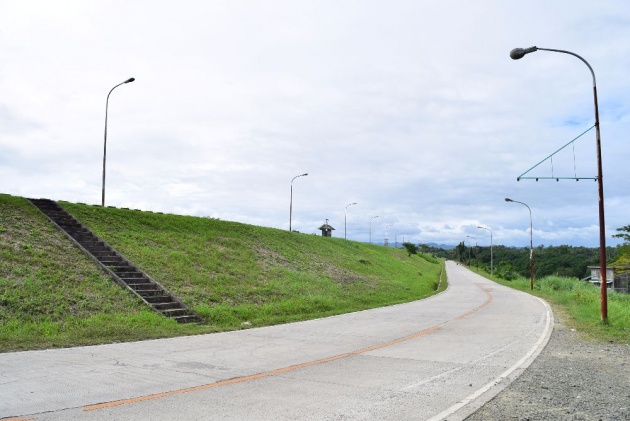 PILAR - The high way roads of the town of Pilar caught our attention and we have to make a stop to capture this view right here. On our left is the staircase going up to the Pilar Dam. Some cottages are available there so visitors can go observing the waters of the lake and the Dam itself.
The lamp posts here are also attractive and I guess this is the only high way in Bohol that has this kind of feel. On our right is a mini forest which we came to visit too before going up to see the Dam.
Well, it is better to show it in a video than sharing a lot of pictures to explain what I am referring to. So here's a video coverage of what I am speaking about:
Here's a view of the mini forest. It looks like we were on another country when we were taking some photos: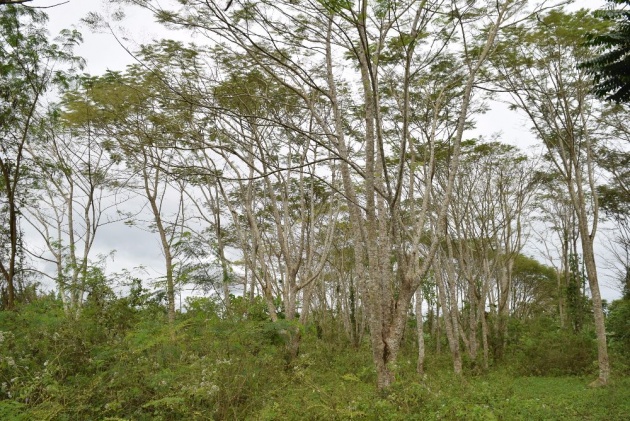 And I also took a video of it:
Then we came to the Dam area but it isn't filled with water yet because it was not really that rainy during those days. So here's a view of the dried up Dam and my husband took a photo of me too.
It's kind of strange that when you are in this area, you'll think that the lake is also dried up but it is definitely not. The lake is still filled with waters and that there are even boats and fishermen fishing around the area.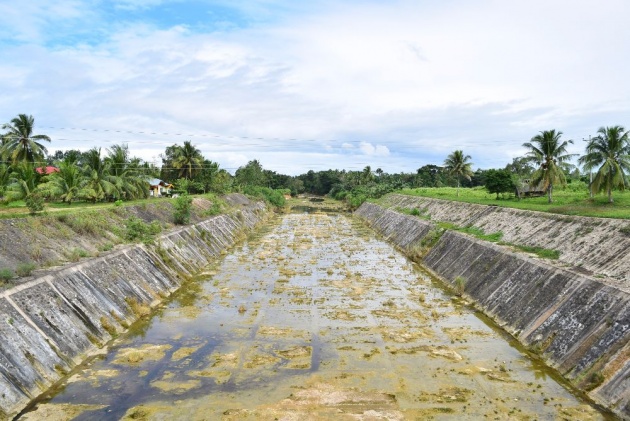 That photo above is a view of the Dam on the opposite side of the Dam bridge while the photo below shows me and the Dam itself.
It was a bit scary while I was standing there because the bridge is very narrow that when other vehicles cross over, they see to be hitting me so I have to be quick and we went up to the Dam view.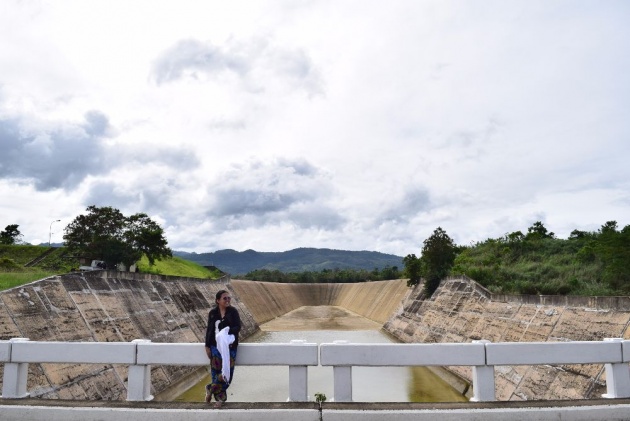 I remember being here before when I was in secondary school but I had already forgotten how it looks like so it was just ideal that we check the area so my memories gonna be refreshed as well. We have to pass by the specific road below with the tall lamp posts which gave the grassy road a cool look.
As you can see, the high way which we had taken earlier can be seen in the photo below on the right side of the picture.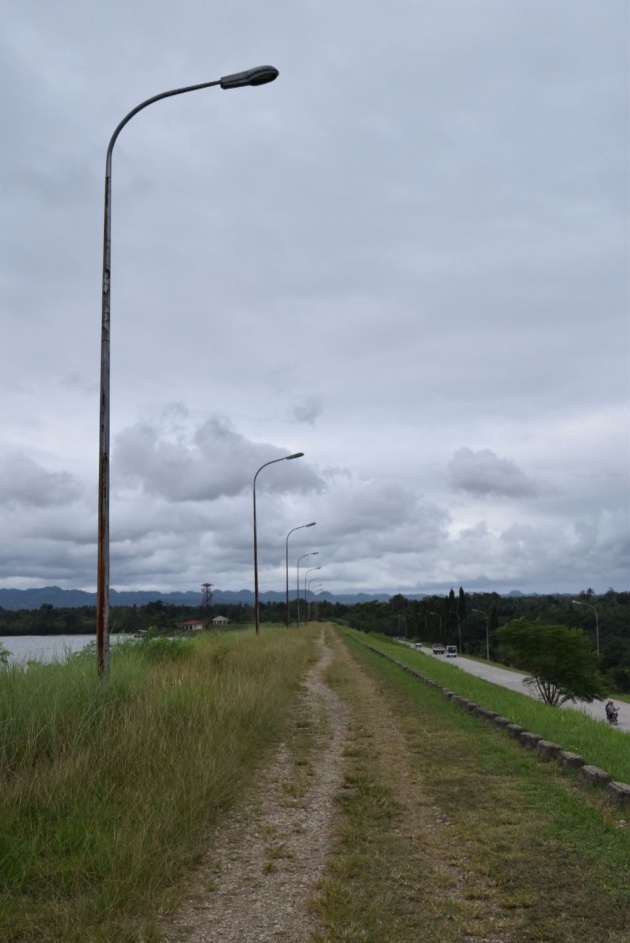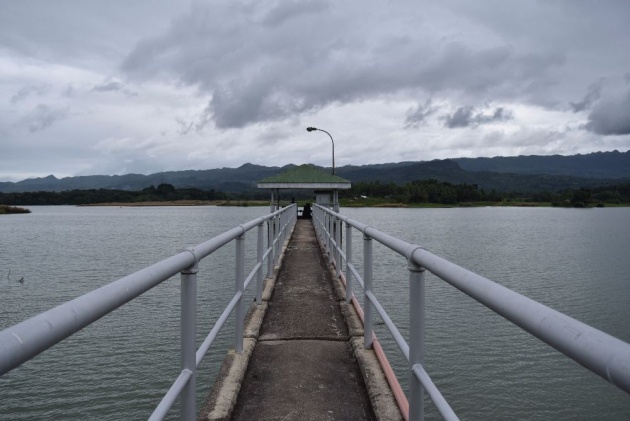 The Pilar Lake view below while the one above shows the long extension for the persons assigned to watch over the lake if there are unusual things happening around the area. That place is off limits to the visitors and only the authorized ones can go inside.
The lake is really cook as you can see there are some kind of brown flowers growing in the sides of the lake and it is quite obvious that these flowers are also alive at the opposite side of the lake. There were fishermen fishing and some other boats going to the other side where there were also houses and residents. Perhaps they were residents of the other lake island.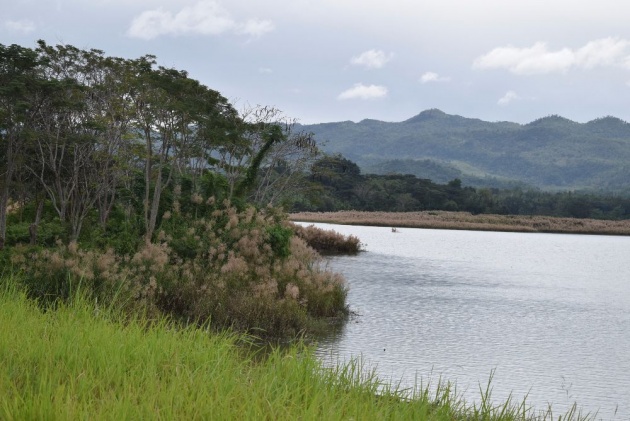 Some videos we took while we were on top of the Dam area, where there were cottages and some group of teenagers were enjoying their time chitchatting and talking about anything and everything.
And when we had already spent some good time there, we thought we have to move on and check the next town, Sierra Bullones but then we have to be fast as our stomachs were already complaining about being hungry. We then went straight to Carmen.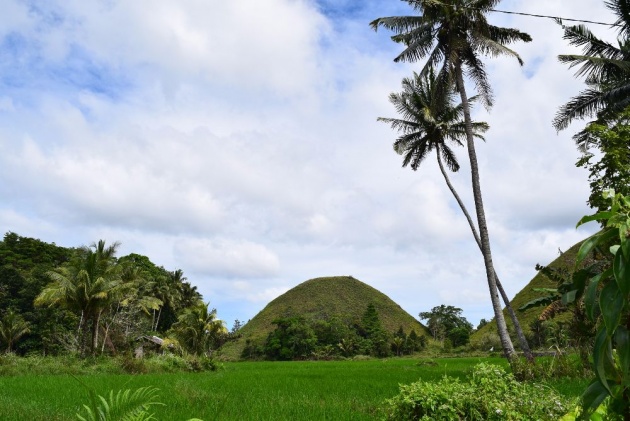 CARMEN - The town is very famous because it is the town where thousands of hills lay and are spread all over the land. It makes the town rich naturally and also financially because of the hundreds if not thousands of visitors both foreign and locals alike every month.
But actually, before we reached the area where we ca check the hills, we ran into a problem because our motorcycle started to become wiggly while riding it. We then stopped and found out that the front wheel had flattened already. Guess we had passed by some sharp objects that killed it.
Good thing the vulcanizing shop isn't that far from the area so we were able to get the guy fixed it for us. We ended up buying a new interior wheel because it was almost impossible to fix the old one. After that incident, we were able to move on and came very near to these so called Chocolate Hills.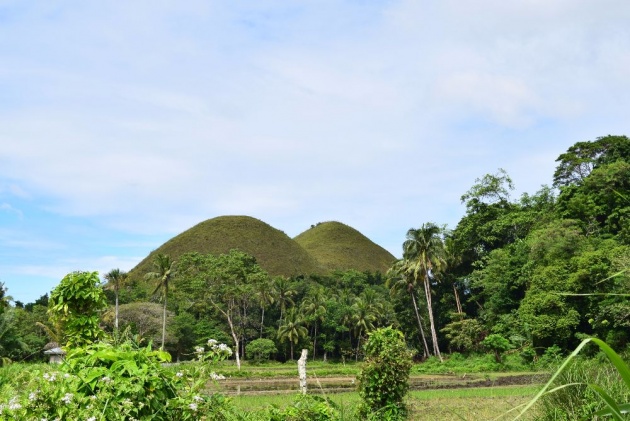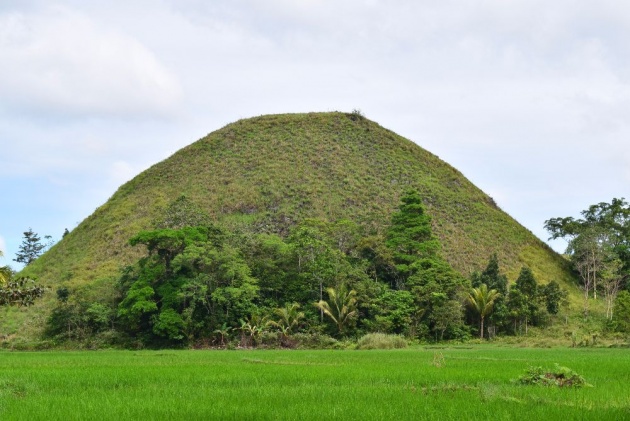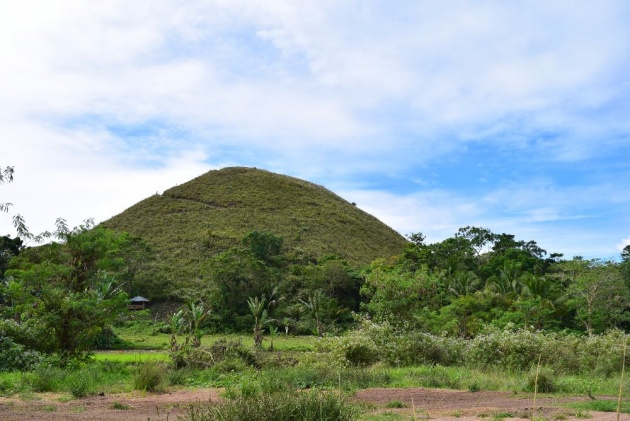 Before this mini tour, my husband and I had been here a couple of times but we stayed at the top of this specific mountain where a number of steps has to be taken in order to have a 360 view of the Chocolate Hills which were distributed throughout the land. Estimates are, there 1,776 hills spread over an area of more than 50 square kilometres. I can't count all of them from that area but my husband suggested we should have a closer look of these hills. And so we went.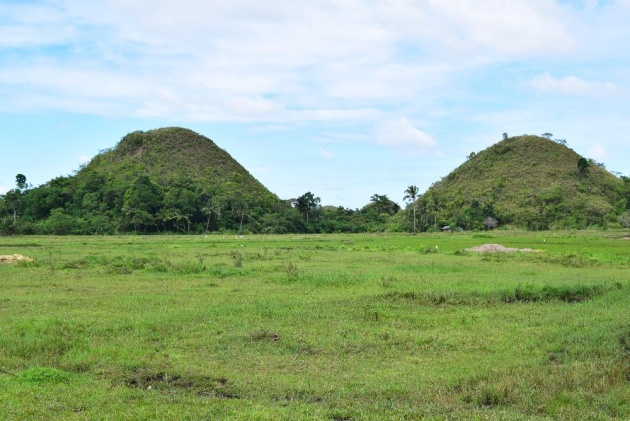 CHOCOLATE HILLS - Those photos show that we were just a few meters away from these two Chocolate Hills which are not really chocolate at this time. This formations are named such because when it is summer or it is dry season, these grasses covering the hills will wither and soon turn to brown which makes them look like the famous chocolate Hershey's kisses. And the rest is history.
Chocolate Hills are considered one of the natural wonders of the world. They are featured in the provincial flag and seal to symbolize the abundance of natural attractions in the province.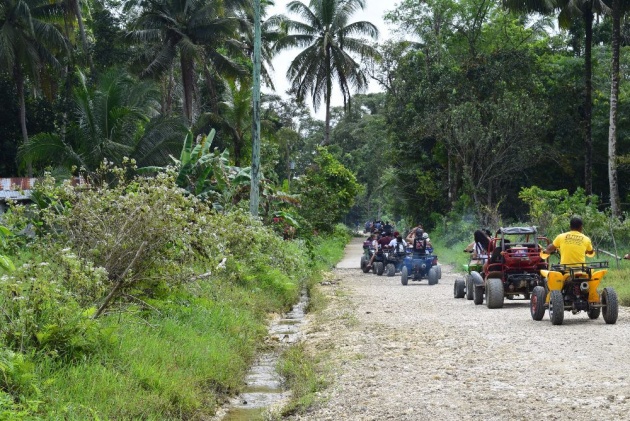 ATV RIDES - A new fun and exciting activity in Carmen, at the feet stools of those hills is the ATV Rides. These ATV bikes shown above can be rented and one can enjoy a tour around the area of the Chocolate hills where one can get very upclose with the hills while also giving yourself an extra adrenaline holding on to your ride.
These bad guys are up for rent for the following options:
- TOUR A - this is good for an hour, it includes the ATV ride, some safety gears and a tour guide to show you the way going to and about. This will cost you Php 850.
- TOUR B - this is goof for thirty minutes only. it includes pretty much the same as TOUR A - ATV ride, some safety gears and a tour guide for the shorter time but this I believe is better than taking an hour there. But then, thinking about the time spent taking photos, then you might think about getting the first option specially if you come in groups. But if you are just there with yourself of your special someone, I would recommend this.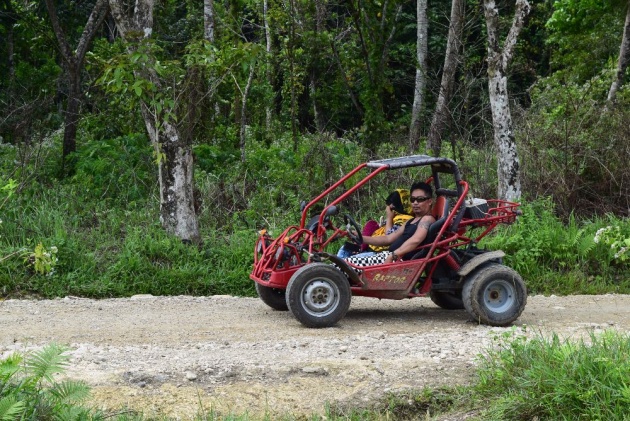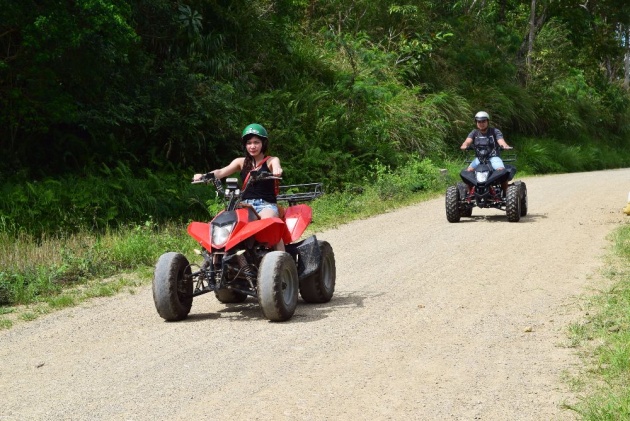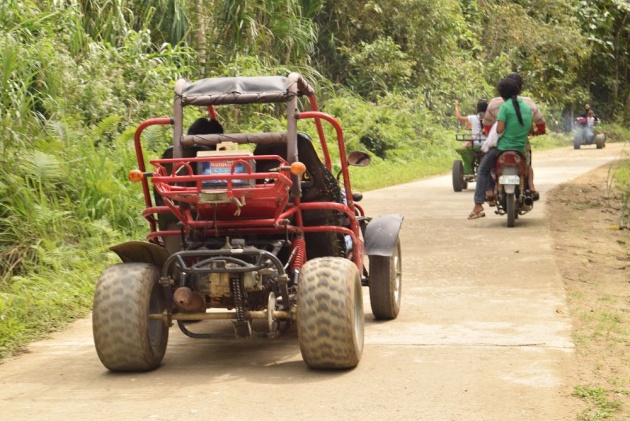 Some cool videos of these guys having the times of their lives:


It was around two in the afternoon when my husband and I thought it would be best to go back home now and so we made our best to take our final photos now and my husband has posed his signature jump shot. Then it was time to go home.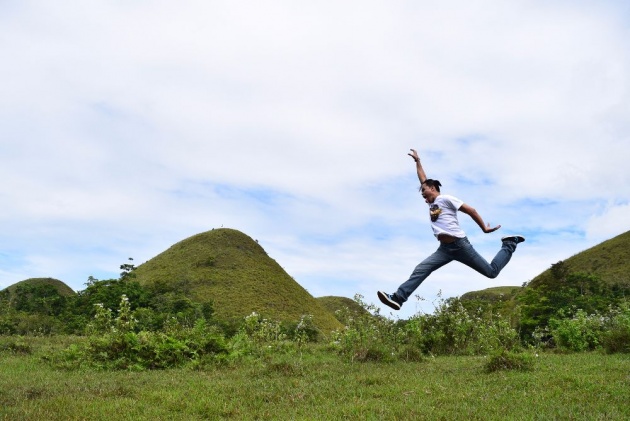 I was feeling sleepy when we were on our way home. While I was at his back and he was driving the motorcycle, I was also banging my head and he continued driving. I guess he was already driving for an hour when I woke up and noticed that we were going the wrong way. I thought I was just dreaming and that my brain is just having a hard time recognizing the place since I was sleepy.
I then I asked my husband where were we and he was not sure as well. It was both our first time to go to this place alone so we have to look for signage as to what is the name of this place.
We then passed by a certain plaza named Dagohoy. Then we realized, we were in the wrong way.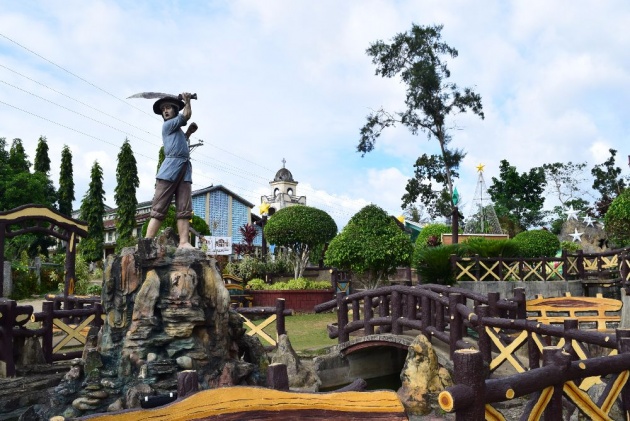 DAGOHOY - is a fifth income class municipality in the province of Bohol and it has a population of 18,868. The town's name was derived from Francisco Dagohoy. Dagohoy holds the distinction of having initiated the longest revolt in Philippine history, the Dagohoy Rebellion. This rebellion against the Spanish colonial government took place on the island of Bohol from 1744 to 1828.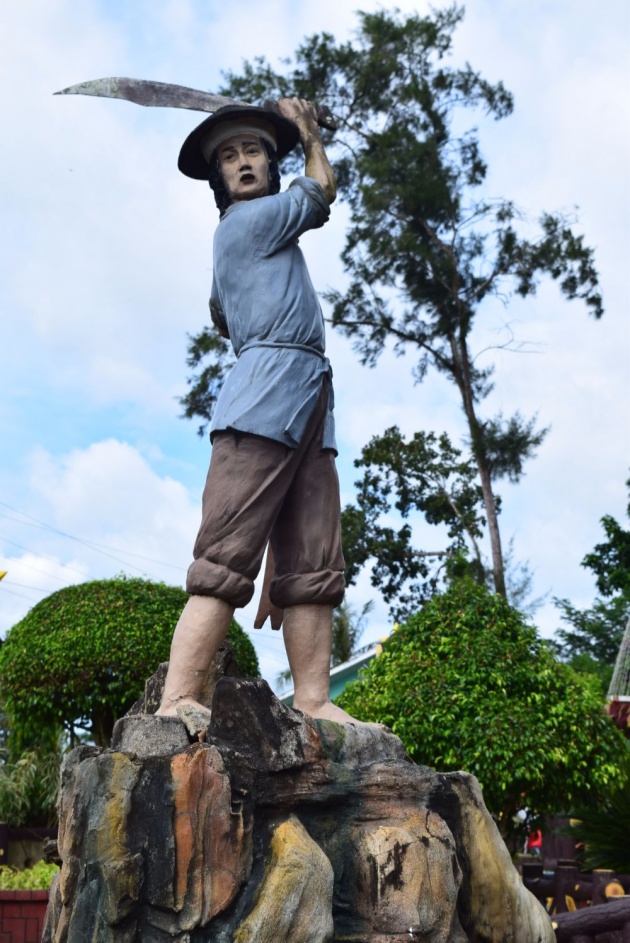 That's Dagohoy holding a bolo knife as his sword when the rebellion took place. His image stands in the center of the Dagaohoy Park. Since it was Christmas time, there were also lights and Christmas trees being displayed in the park. There were stars in the other corners of the park too. I actually like their chair and bench designs which were designed to be like tree branches.
We took some time there since we have to think if we should be going back to where we started or if we would go further. We then took some videos of the area first since we know it might be our first and last visit in this town:
So then we decided to go back instead since we might get lost if we go further. We went back to where the intersection was going to Alicia. We are still thankful that even though we got lost on our way home, it was just a blessing in disguise because we were able to visit another town unexpectedly.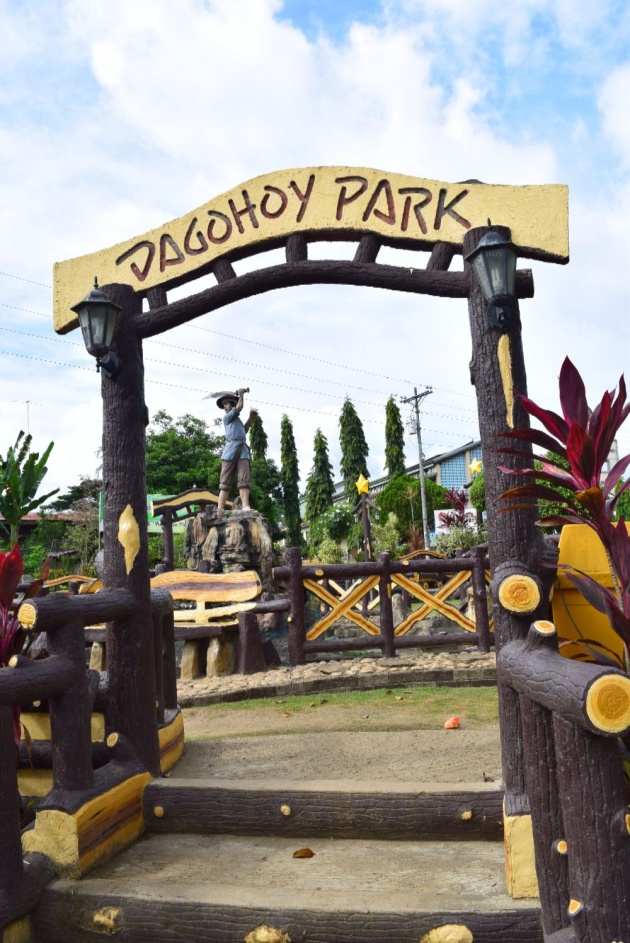 All images in this blog is taken by Jean-Beltran. Copyright reserved.
Check out some of my blogs and adventure experiences: