Bohol, a naturally rich island in the Philippines which is very famous for its tourist destinations like the Chocolate Hills, the Tarsiers and the white sand beaches too. However, there's one thing that I would like to share today, its museum! This contains a lot of historical items and things which showcases the beauty of the island, read on.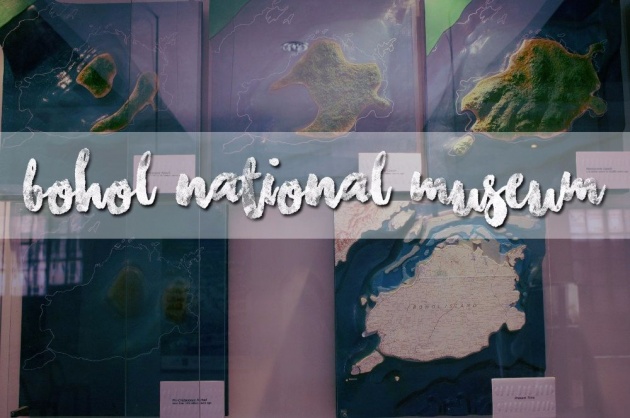 Image by me via bitLanders.com
That photo above is the Map of Bohol. It is the 10th largest island in the 7500 islands of the Philippines and it is my homeland. It is where I was born and I was raised. Although I am now based in Cebu where I am working and got married too however, I would still make sure to go back to Bohol every now and then since my parents are living there. We have to visit them too once in a while and when doing so, we usually travel via Tagbilaran City. While I was used to traveling via Ubay before when I was still a student, my husband and I started traveling via Tagbilaran City after I returned from Dubai, UAE from being an overseas Filipino worked back home.
It is a bit of a sad thing that whenever we go to Bohol, we don't have enough time to stay there and we look like we just get there to kiss our family and go back to Cebu again which is why, we would try our best to also find the best opportunity to come home, like when there's a long weekend due to a Holiday, we would always do so so we could get more time to spend with my parents and to also roam around the town.
But one more thing that makes me really hopeful of coming back home is the province life. When we are in the city, we would be inhaling polluted air, there's super traffic everyday and that traveling to and from work is just a hassle. Sometimes, I would think of staying at home or working from home too but then I feel like it is not very appropriate for me just yet. Perhaps if I get pregnant and have a baby, I can do so. In the province, we could hear birds humming on early morning, in fact they become our alarm clocks!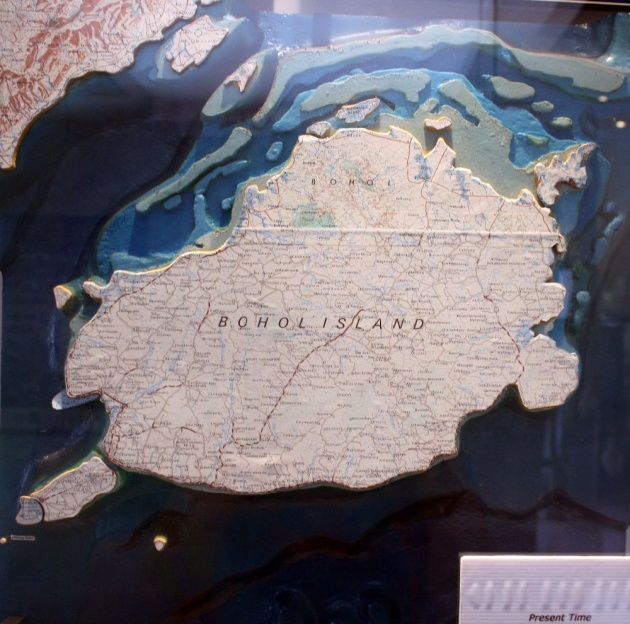 Map of Bohol Island. Image is mine via bitLanders.com
Aside from birds, there are also chickens around. The sound of the tree leaves smashing each other is like music to my ears, seriously. Sometimes there's rain but it is definitely a grateful event since there are rice fields at the back of our house. The view of the backyard changes depending on the season, if its planting season, we'll see crisp green colored fields made of young rice. Then if its summer and harvest time, the golden shade of ripe ones are glittering under the sun.
This is also the reason why my husband, James and I had decided to retire in Bohol, where we have our own land, given to me by my parents, last year, we had already made surrounding fences made of bamboo so to advise the people around that this area is public. Before doing that, the neighbors had made it into a volleyball court while there were also others who had used it as a passage area towards their homes from the artesian well which was part of our land. In short, we want to live away from the city where we can start our own farm and just live in a simple life.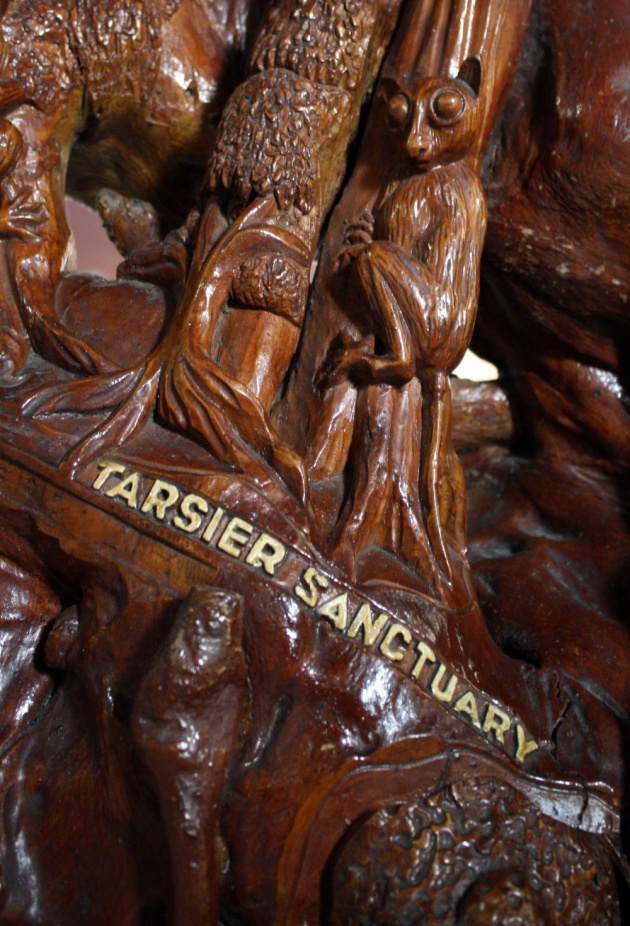 Image is mine via bitLanders.com
Bohol is famous for its natural resources and also for it being the host of the smallest primate, the Tarsier. The photo above shows a representation of what can be seen in Bohol, that is the Tarsier Sanctuary since Bohol had made one to multiply the number of the tarsiers in the province. But aside from Tarsiers, there are more things that the island has to offer and this is what this blog is all about. The items that I have seen in the Bohol Museum, I'll be sharing them to you via a blog. The photos from the Bohol Museum will be included to give you a visual aspect of how these tourist destinations look like.
Bohol Museum is not really that famous in the city, in fact I only had been there three times, one during our. It is situated in the heart of Tagbilaran City, the capital city of the province and is the only city as well of the said island.
Bohol Museum is intended for locals and foreigners or local tourists to get to know what are the attractions and histories of the island. There are hundreds if not thousands of tourists coming to the island for vacation and it would be nice for them to be educated on what the island has in terms of natural resources or man made ones. The Bohol Museum doesn't only tackle that but also elaborates about the culture of the Boholanos and the history too!
Let me do the blog illustration through a tree sculpture which has been carved to showcase the resources and destinations of Bohol. This image below is the tree cut which turned into a very nice sculpture which gives an overview of what to see in the island.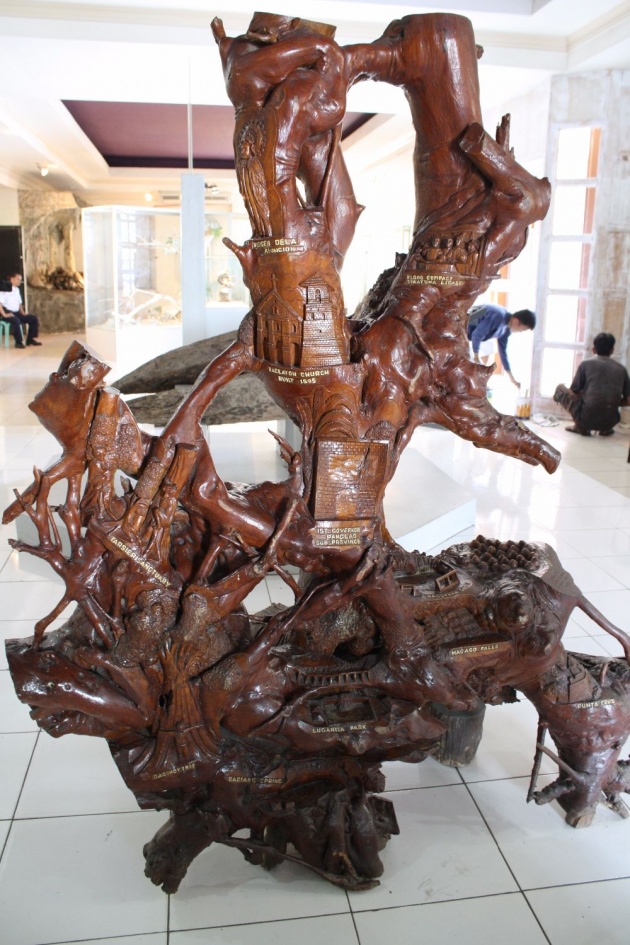 The bronze statue by Bohol's famous sculptor, Cando Atendido.. Photo is mine via bitLanders.com
While it was actually an old City Library before, it was eventually made into a museum. It is made of limestone rock made into bricks and is located just across the St. Joseph the Worker Cathedral Church and the Rizal Park in Tagbilaran City. It is just in the highway making it very accessible to all. In fact when we were in the city, we didn't have plans to go inside, we just passed it and thought it would be interesting to see it again since the inside isn't that huge. It can be toured in less than 30 minutes but would really matter if you are into history.
CHOCOLATE HILLS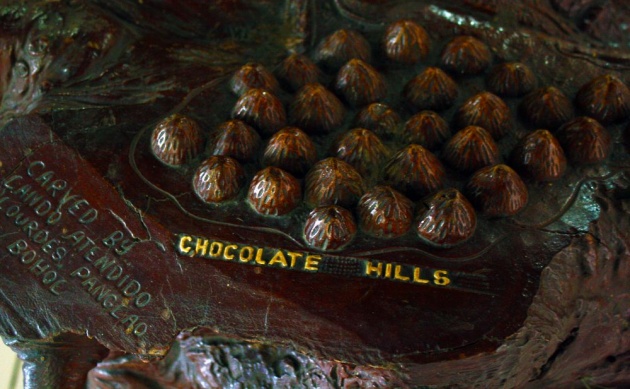 Photo is mine via bitLanders.com
I had been to Chocolate Hills for numerous times and it still amazes me how these hills were evenly structured and distributed throughout the heart of Bohol island. It's quite mesmerizing thinking that these are made of limestone and which made me wake up to the thought of this island where I was born and raised was once covered with sea water. But the beauty of the changing of its colors depending on the season is also a miracle which I am thankful of because I am close to this wonderful natural resources which is making Bohol a name in the International Tourism.
Check the blog I posted a year ago:
Photo is mine via bitLanders.com
Bohol is one of the go to places of tourist when visiting the Philippines and Chocolate Hills is always part of their itinerary. This is not just boosting the Tourism aspect of the province but also the livelihood of the locals where those who are just living in the province or the town would have also their source of income because of tourism.

I had been up close to the hills too when my husband James and I went there a year ago for a mini tour and boy we loved how we were just one with nature, not much tourists except for those who were doing the ATV rides. We would have loved to try that ride too but then it was fully booked the entire day!
Here's a preview of one of the ATV riders we were able to take a film during the mini tour:
Video is mine via bitLanders.com
BACLAYON CHURCH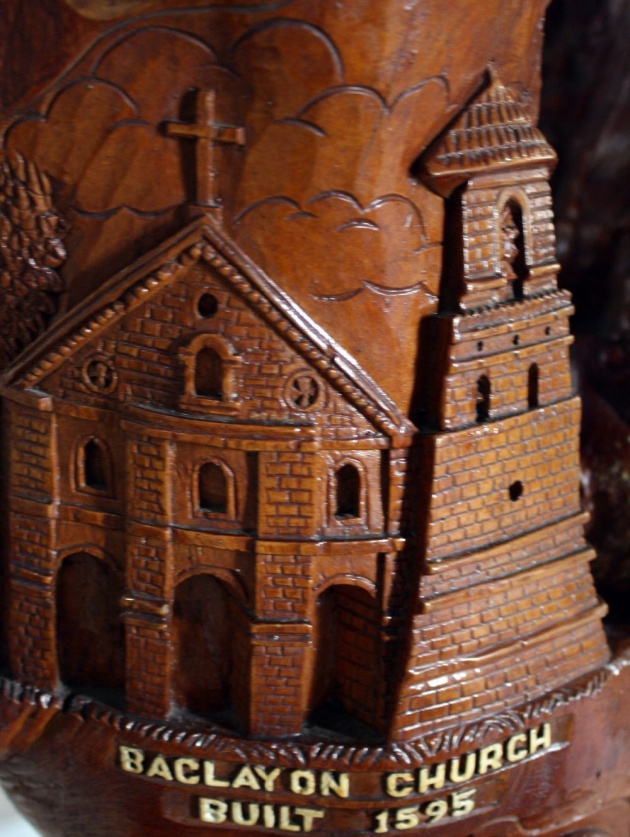 Photo is mine via bitLanders.com
When the 2013 7.2 magnitude earthquake struck the island of Bohol, there were different old and vintage churches which had been affected, even broken down into pieces and one of them was the Baclayon Church.
La Purisima Concepcion de la Virgen Maria Parish Church (also The Immaculate Conception of the Virgin Mary Parish Church) or famously called Backlayon Church, a Roman Catholic Church in the municipality of Baclayon in Bohol, the next town to Tagbilaran.
The church was declared a National Cultural Treasure by the National Museum of the Philippines and a National Historical Landmark by the National Historical Commission of the Philippines. It was formerly included for the UNESCO World Heritage Tentative List of the Philippines since 1993 under the collective group of Jesuit Churches of the Philippines. But it sustained a major damage when the earthquake occurred which was had to undergo a long process of rehabilitation too.
Video credit: LifeBeyondTheSea - Philippines via bitLanders.com
Made of coral stones with its tiled roof, now they are being replaced with galvanized iron, it is facing the sea, there's also a Catholic Church next to it.
Inside the church is a common view, wooden long chairs for the church attendees and devotees. There's an arcade leading to the narthex, Reddish paintings on wooden panels commissioned by Father Antonio Ubeda from 1856 to 1859 can be found inside the church. Murals, mostly replaced by monochromatic tin sheets, were also present on the church's ceilings. There are also altars inside, three specifically and it has a ceiling painting depicting the Last Supper and a Spanish inscription.
One can indeed say that the destruction of the church was a sad event but the locals together with the government unit are working hand in hand to get the church back at least like its old form.
HINAGDANAN COVE RESORT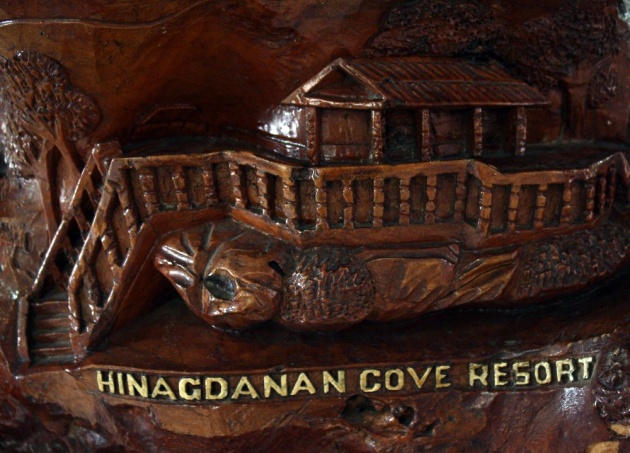 Photo is mine via bitLanders.com
Hinagdanan is a local term which means "laddered" because they use cemented steps which lead to the interior of the cave. This is a cave which is made of limestone, it has holes in the ceiling of the cave and of which allows sunlight to pass through and lits up the cave.
I have been here only once so far and that was decades ago, I can't even remember any details of it anymore but I do remember how slippery the stones were. That was some church getaway and I was still very young, we had swimming in the cave, yes that has been made into a resort because the cave is a huge one which can accommodate a lot of heads at one time but that would be also a bit of dangerous as we don't know what these people around are bringing into the water.
DATU SIKATUNA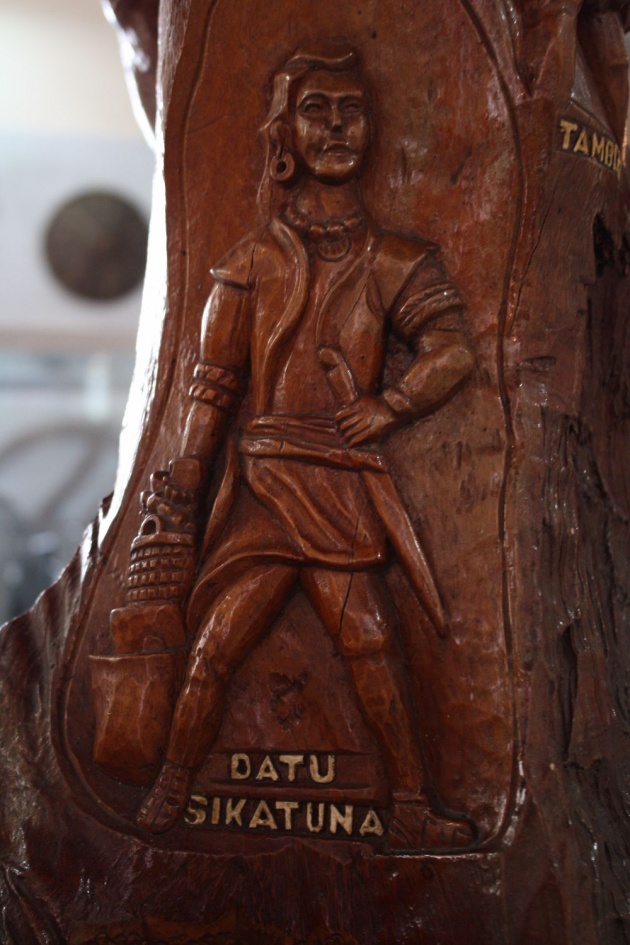 Photo is mine via bitLanders.com
Aside from natural resources and tourist spots, there are also personalities which have been carved into the Bohol Museum and one of them is Datu Sikatuna. The word "Datu" is a highly ranked member of the society during the ancient times in the Philippines. Datu means Lord.
Datu Sikatuna's real name was "Katuna" but "Si" was added to his name as this is a nominative marker for a Filipino. He made a blood compact ("Sanduguan") and alliance with the Spanish explorer Miguel López de Legazpi on March 16, 1565 near the modern town of Loay.
At this day, there's a monument that has been established in Tagbilaran City which was made to commemorate the pact and has become one of the tourist attractions in the province as well.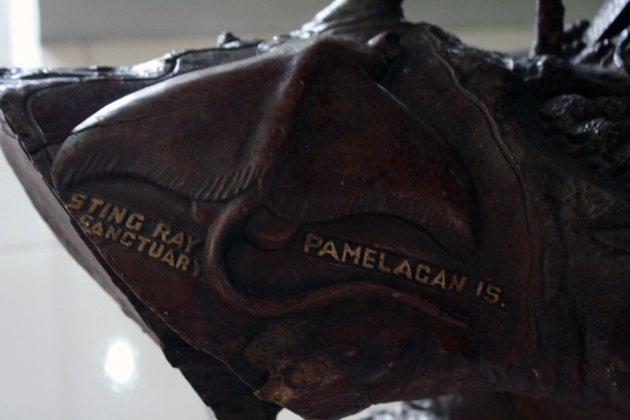 Pamilacan Island is known to be a sting ray sanctuary. Photo is mine via bitLanders.com
If you happen to get to Tagbilaran City in Bohol, make sure that pass by the Museum, you'll learn more about the city and the province in general as well as the history.
Best regards,
Jean Beltran-Figues
bitLanders user since 2015