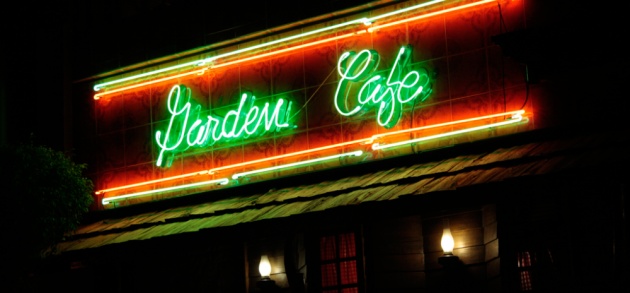 One of my favorite restaurants in Bohol is Garden Cafe, I keep on tagging my boyfriend around here in this place to dine but this was the first time that I brought a better camera with us so it was perfect for the pictorial plus there were only a few customers around so we were able to take photos until we were all contented. Those times when we dine there, we can't really roam around as there were a lot of people going from here and there so this was indeed the perfect timing.

Garden Cafe is located in the street of Torralba in Tagbilaran City, Bohol, Philippines and it is unique for it's Old West Cowboy theme. Aside from that there's something really nice about this restaurant which I will tell you later on. The business has been alive for more than two decades and it is still continuously providing great service.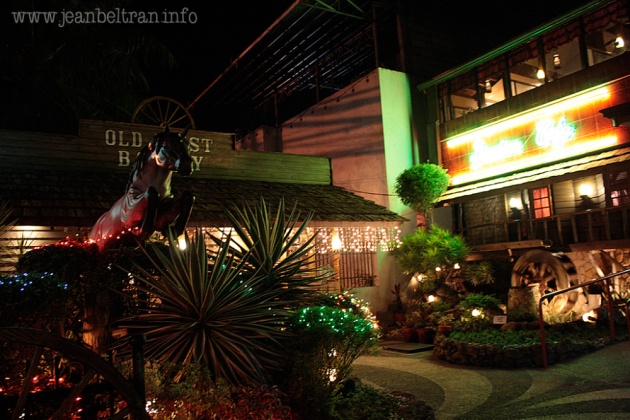 From the outside area of the restaurant, the cowboy feel is already obvious, there's a huge shiny wooden horse which I really like, I had been wondering if I can take a photo of myself riding on that horse but it is not allowed to do so. There's also a wheel kind of structure which i couldn't figure it out that much because it was already dark but I am pretty sure there's water in it.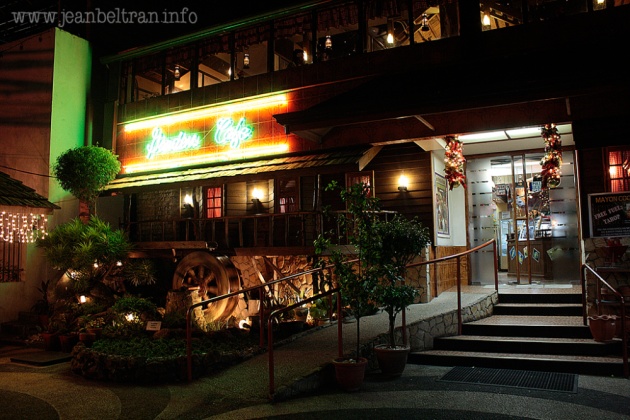 That time we went there was December and so the resto had this Christmas feel of course but it's theme as an Old West cowboy is still dominating in the entire place. It is a two story restaurant by the way and the best part was at the second floor. I will be more focusing on presenting to you that area, unfortunately I couldn't provide food photos for now due to camera battery issues.

Of course we dined inside but took photos first of the place. It took us so much time taking photos, obviously we had a great time and our food was already cold in our table, we came back because our camera ran out of battery. But it was all worth it. Let me take you upstairs right away.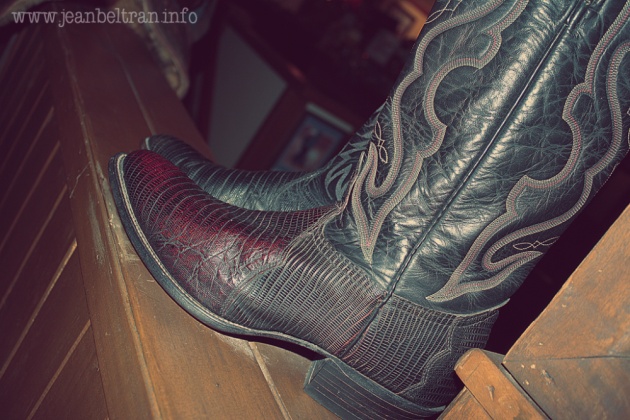 Climbing up the stairs, my boyfriend and I were already greeted by these kinds of boots which are the usual boots cowboys wear. I was actually laughing at it because it was too big for me. We were really lucky that we went there evening time and only a few customers were there as well and the best thing was that they had just stayed in the first floor so the second floor was all ours.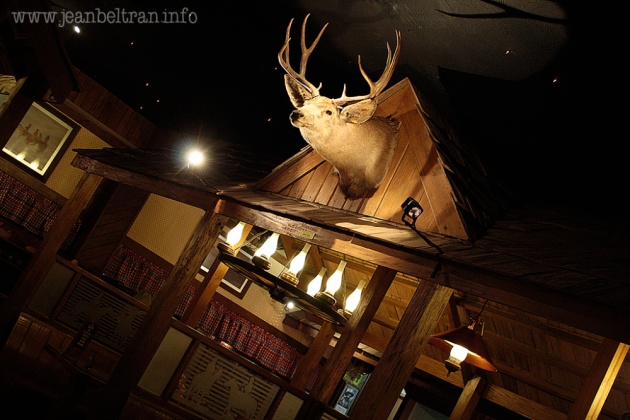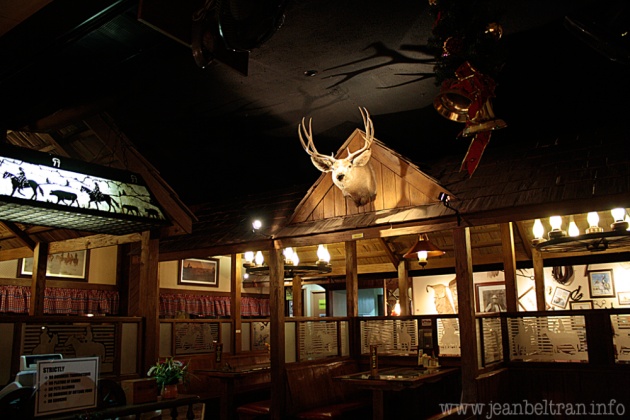 Here's another welcoming view and I was again in awe when I saw this deer head attached to the little barn-like corner of the second floor. The light spot there had made the deer's head really highlighted and that it has made the place even beautiful. The wooden chairs, tables and separators as well as walling had indeed made a great addition to its lovely ambiance. Let me show you the tables then.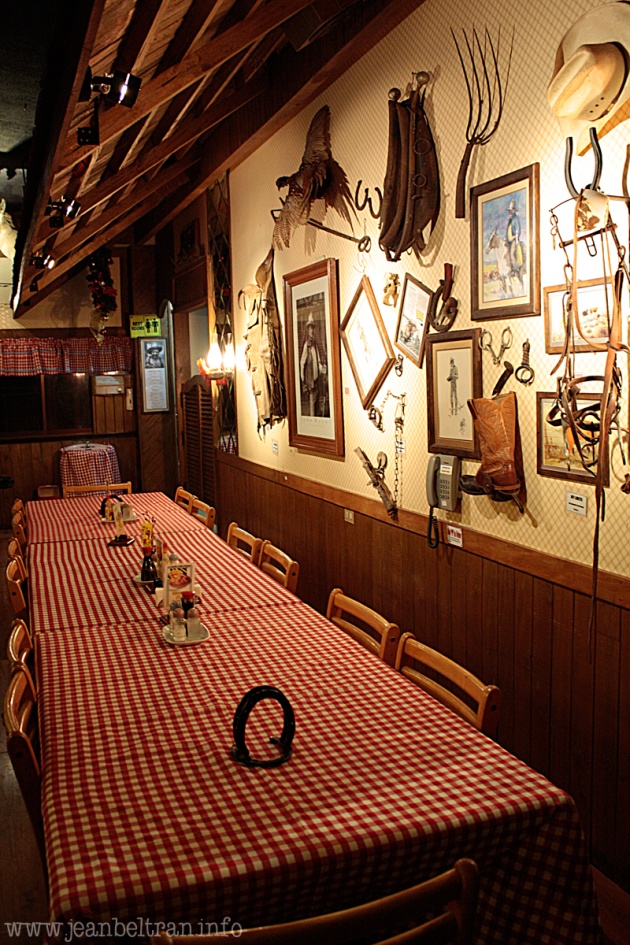 I see these kinds of checkered patterns in most of cowboy's long sleeves while riding on their horses but with Garden Cafe, that was set as their table cloths. What's so nice about their tables? They had been set separately and I like it that way as sometimes we don't want to be seen while eating. Well of course that can only accommodate four people only so they also have a family table.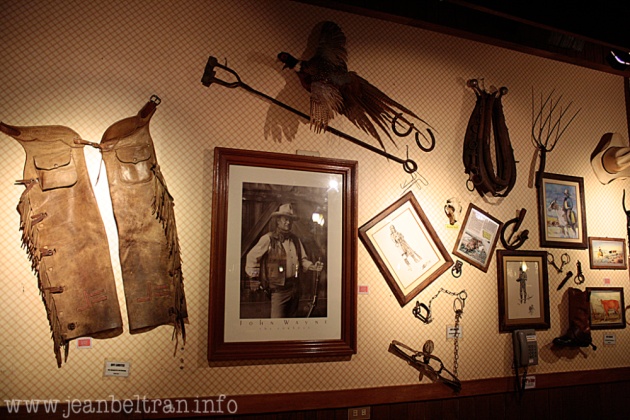 Family table's like a royal table because of the background design. Look at those items they had placed in there, I can't really figure out what are those other items in there but the ones I can identify are some pistols, a photo framed of John Wayne, those horse shoe, then there's these stuffs used by cowboys as well as cowboy hats.

Then while we were roaming around, there's this cowboy riding bull which I used to see in some tv shows here in the Philippines. I then checked it and found that it was actually working! Any customer can have a ride in that chair and it is just super inviting that I want to take a ride on it too but then I got a bit shy so I just let it pass.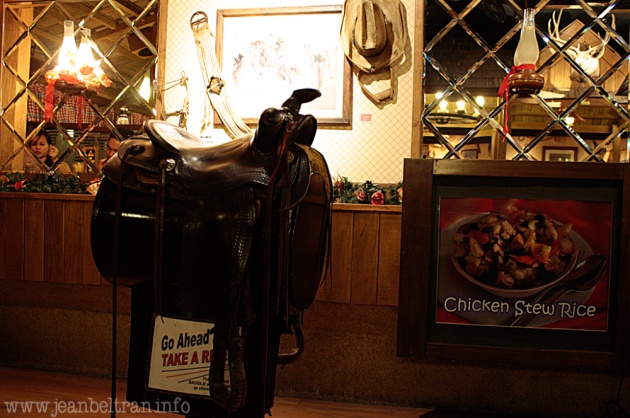 Some more photos of the restaurant: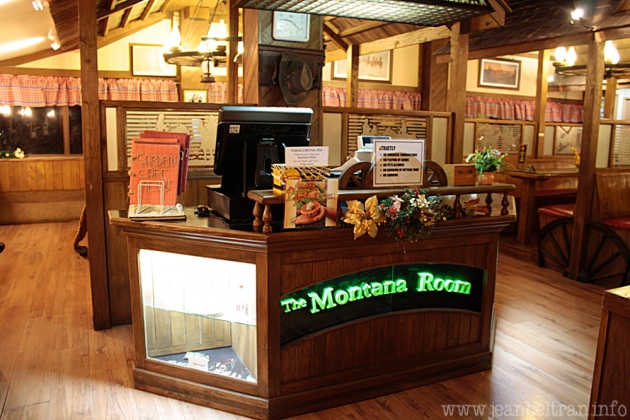 The Montana Room is just a certain corner for the crew to stay in while waiting for them to be called. There are also menus available in there and the cash registry too!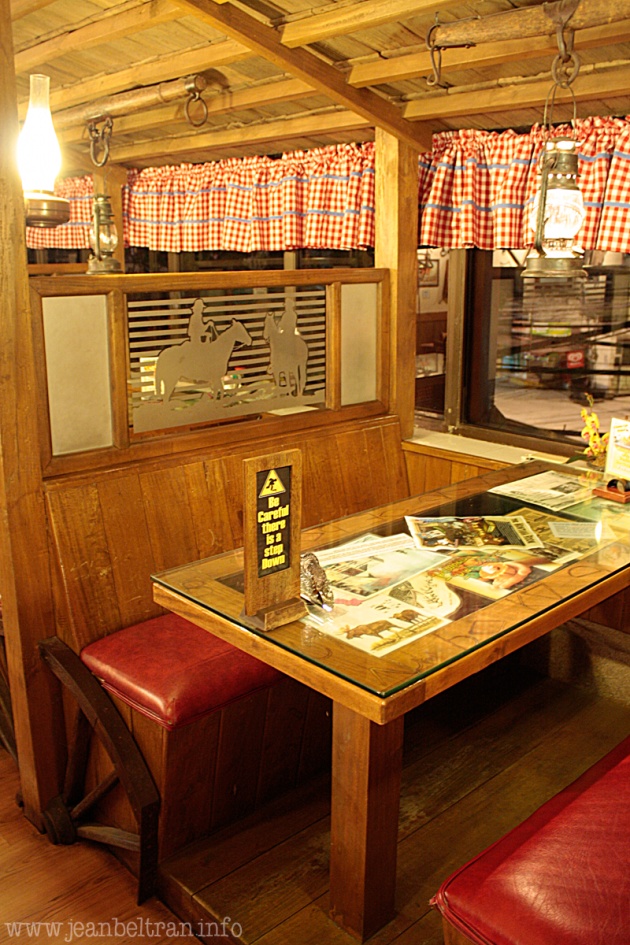 Here's a closer view of the tables, they have this cart wheel design on the seats which are placed in a pedestal higher than the floor together with the table and see those lamps too? That's totally amazing with those hooks they placed as accessories and there's a glass separating the tables with cowboy designs as well, isn't it nice?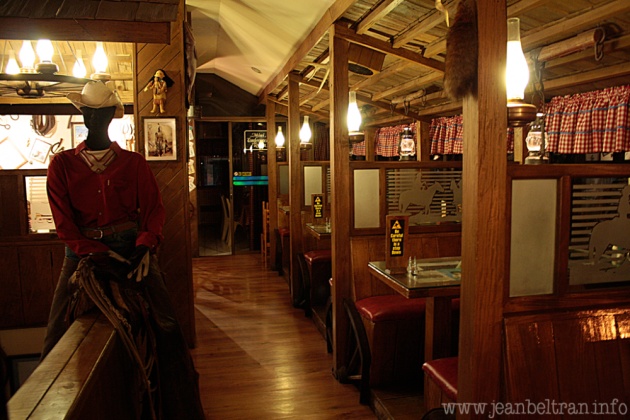 Of course it can't be called an Old West Cowboy restaurant without a cowboy! So here's a mannequin they had improvised, dressed like a cowboy with his own cowboy hat and pants and the cowboy rope too!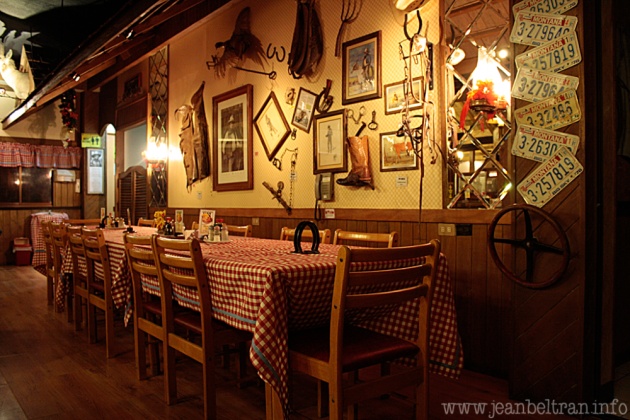 A wider view of the family table and I really like the plate number things in the walls. Please do check the menu holder as well, it's shaped like a horse shoe!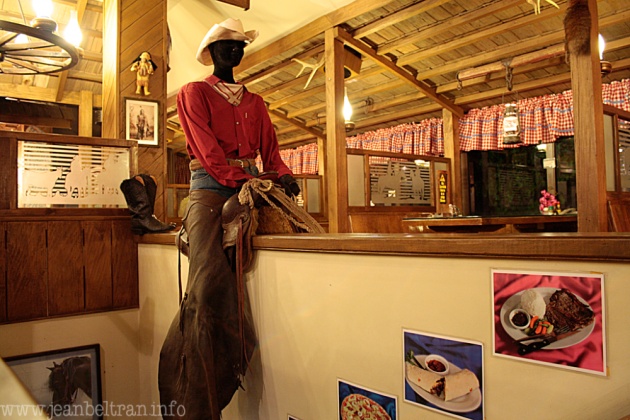 As I was actually telling you guys, aside from it's unique cowboy theme, this restaurant is supporting workers with disabilities. This is the reason why I love this restaurant. In their menu is a guide on some simple hand gestures or what they call as sign language so customers can communicate to the crew who are deaf and mute.

But they still have crews who can hear and speak properly but they only comes in when there's a communication problem between the people inside. I love to say thank you to those crew as it is very easy and yet this is really what makes this resto special to my heart.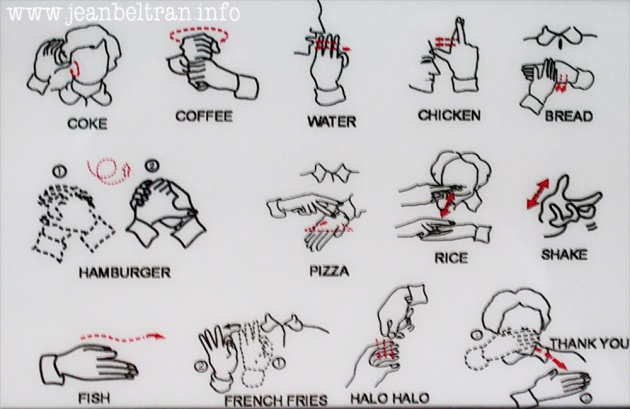 If you somehow get a chance to visit Bohol, please do visit this cafe and support these workers.