Bollywood Movie Review - Dangal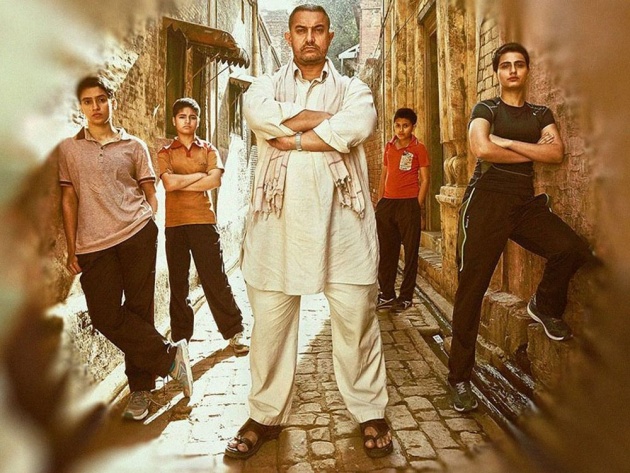 Image Credit: wallpapers.filmibeat.com
✔ Introduction

Hello Friends, I hope you are doing fine and are having a good time on bitlanders. Today I have come up with my another new blog with the title of "Bollywood Movie Review - Dangal". In this blog, I shall review a Bollywood Blockbuster movie "Dangal". This movie is about an Amateur Wrestler who had the passion for this sport and wanted to excel and represent his country on international level. However, he could not pursue his dreams due to his personal and financial reasons. He kept this fire inside him and later trained his daughters for Amateur Wrestling so that they could do what their father wanted to do. This movie is about a father's feeling who wants their children to make their mark in the world and be extra-ordinary kids and serve their country. This film was released in 2016 and was one of the biggest grossing films in the history of Bollywood Film Industry. This film also managed to make a very good business outside India, especially in China where it became the biggest grossing film in non-English category and made a whopping US Dollars 200 Million business which itself is a record. This film was directed by Nitesh Tiwari who is comparatively a new Director but has come up with a great film under the production company of Aamir Khan Productions.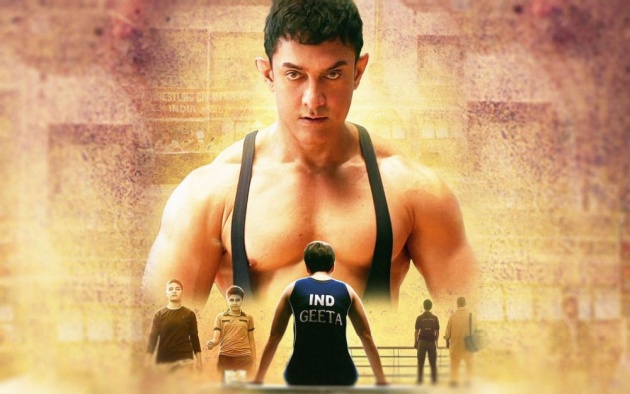 Image Credit: www.hdwallpapers.in
The movie "Dangal" was released on December 21, 2015 under the distribution banner of Walt Disney Studios Motion Pictures. Some details of cast of this movie is as under:
✤ Aamir Khan as Mahavir Singh Phogat
✤ Fatima Sana Shaikh as Geeta Phogat
✤ Zaira Wasim as Young Geeta Phogat
✤ Sanya Malhotra as Babita Kumari
✤ Suhani Bhatnagar as Young Babita Kumari
✤ Sakshi Tanwar as Mahavir's wife
✤ Aparshakti Khurana as Omkar
✤ Ritwik Sahore as Young Omkar
✤ Girish Kulkarni as Coach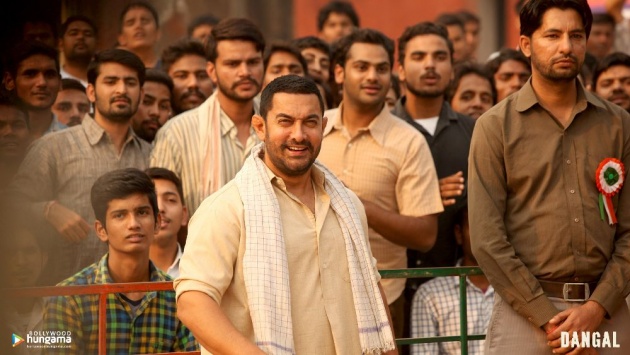 Image Credit: www.bollywoodhungama.com
It is the early 1980s and wrestlers are treated as local heroes. This is yet not the time for gym-toned bodies and common folks like to believe that wrestlers are physically superior to them. On top of that, Mahavir Singh Phogat is a former national champion. Now a government servant, Phogat, who wears a gold ring and a silver-plated watch, has a volatile temper and wants a son to carry his legacy forward.

Such sentiments have already taken Haryana to the wrong side of the gender equality debate by the beginning of the '90s. His apologetic wife (Sakshi Tanwar) shows how you start liking your oppressor because there is nowhere else to go. Not so directly, though. Tanwar's comic timing tries to deflect the focus from her life to the little girls who are forced to fight the local chauvinists because their father has decided to transform them into world-class wrestlers.
Information Source: www.hindustantimes.com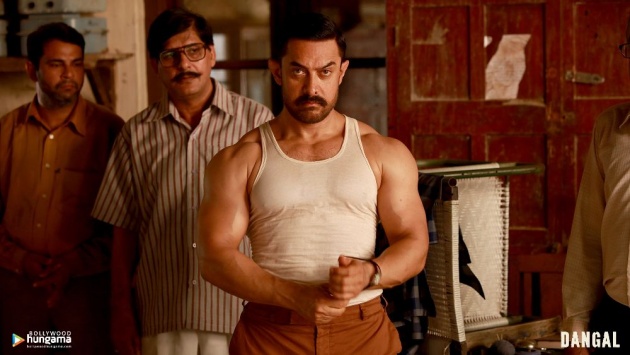 Image Credit: www.bollywoodhungama.com
Video Credit: UTV Motion Pictures via youtube.com
✔ Plot Of The Movie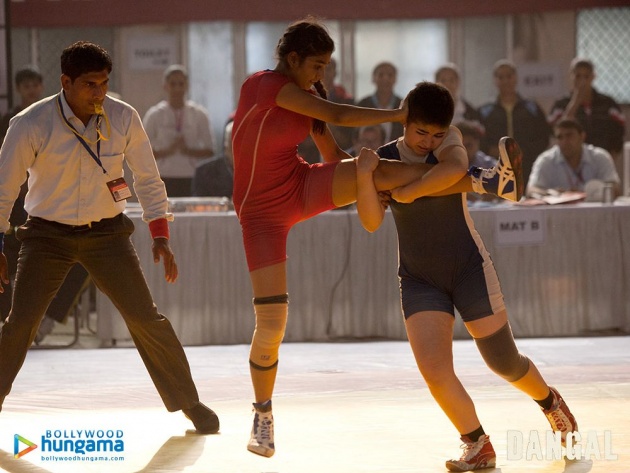 Image Credit: www.bollywoodhungama.com
✿ Mahavir Singh Phogat Is Living A Normal Life In His Village
The movie begins as a retired Indian amateur wrestler Mahavir Singh Phogat is living a general Indian village life. Back in 1980's, he once had a wish and plan to become a world class amateur wrestler in order to earn fame and wealth. However, destiny had other plans and his father forced him to do something beneficial as he thought there was no charm and money in wrestling and his son was just wasting his time. Therefore, Mahavir Singh could not pursue his dreams and started to live a normal life according to his father's wish. However, he made a promise to himself that one day his son will become a wrestler and he will not stop his son from becoming one as his father did. After his marriage when he is bestowed with back to back daughters, he gets disappointed a bit and thinks that his dream of making his son a champion wrestler will not come true as there are no ways for girls to do wrestling and there is no future for them if they want to be wrestlers. However, on one eventful day, his daughters come home and inform that they had beaten up some boys who were teasing them and were causing trouble. At this, Mahavir Singh's aim and wish again flashes through his mind and he thinks about making his daughters professional wrestlers.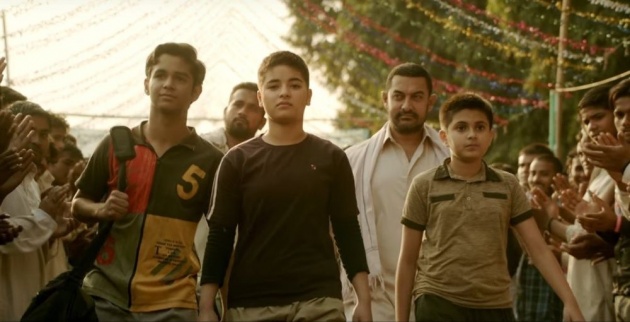 Image Credit: www.kidsstoppress.com
✿ Mahavir Singh Phogat Starts Training His Daughter
Mahavir Singh Phogat talks to his daughters and ask for their consent because he thinks his daughters have potential to become wrestlers if they work hard. His daughters give their consent as they think it will be fun to overpower any boy or someone else and they will teach them a lesson if they tease them. Their extensive training starts and at first, girls are very upset with the strict and harsh routine and fitness program that their father has made for them. Besides, when villagers see that girls are doing such exercises as if they have to become soldiers, they give strong negative reaction to Mahavir Singh Phogat and his family members. However, Mahavir Singh Phogat does not pay much attention to the people in his village and keeps training his daughters who have realized that their father has made up a very good plan for their future. Soon, efforts of Mahavir Singh Phogat bring fruits as the girls are becoming more and more experienced and good at wrestling techniques. Mahavir Singh Phogat encourages his daughters to actively take part in various wrestling competitions and face boys in their matches. The girls make good progress in competitions and win state level as well as national level matches on regular basis. Seeing this, Mahavir Singh Phogat gets very happy and he thinks that his dream is about to come true when he will see his daughters winning the medals for his country on international level and in Olympics.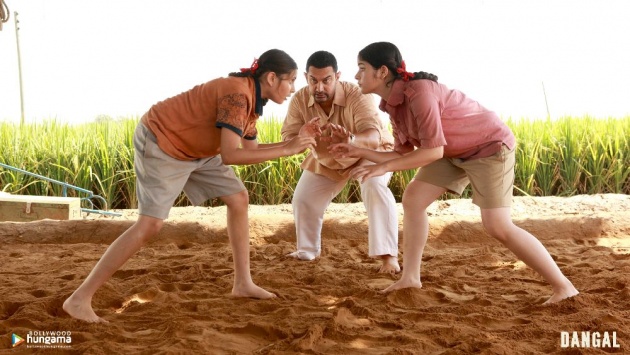 Image Credit: www.bollywoodhungama.com
✿ A Jealous Coach Does Not Want Mahavir's Daughters To Progress Further
Seeing the amicable performance of Mahavir Singh's daughter Geeta, she is given the opportunity to join National Camp to participate in the 2010 Commonwealth Games by the organizers and Wrestling Academy in India. Over there, a coach who is not approve of Mahavir Singh Phogat's abilities and talent, he starts to degrade and suppress the performance level of Geeta and coaches her in such a way that she starts to lose international level matches. At this, Mahavir Singh Phogat confronts Geeta and tells her to focus on her skills and the techniques that he has been teaching her. Geeta soon realizes her mistakes and again starts following her father's advice. However, coach is very angry that Mahavir Singh Phogat is disturbing his coaching routines and techniques and forces the management to stop Mahavir Singh Phogat from entering the academy. Mahavir Singh Phogat finds another way to help her daughter and he keeps coaching her on telephone and by showing Geeta her older games videos in which she lost due to her mistakes. At the 2010 Commonwealth Games, Geeta shows very good performance and reaches the final. Mahavir Singh Phogat gets the opportunity to visit the arena as a spectator where final is being played. He keeps bugging up her daughter during the match and in the end, Geeta applies a certain technique on her opponent which results in her winning the game comprehensively and the first Gold Medal for India by any female athlete. Mahavir Singh Phogat is very happy to see this as his dream has come true to have won the Gold medal for his country.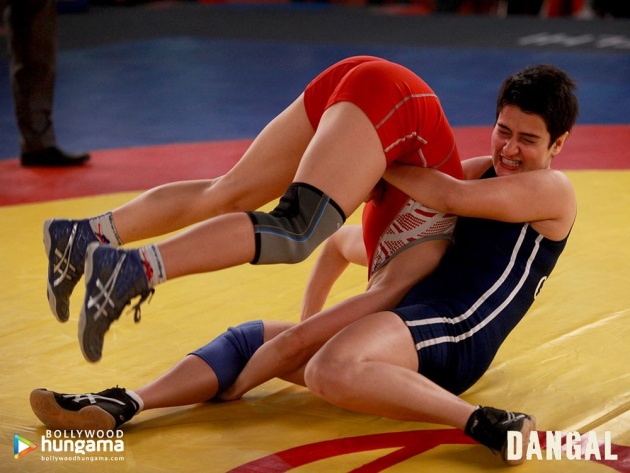 Image Credit: www.bollywoodhungama.com
✿ Here is

Querlo Chat

for you. Isn't it fun to chat with a Chatbot ?
Video Credit: thupten tashi via youtube.com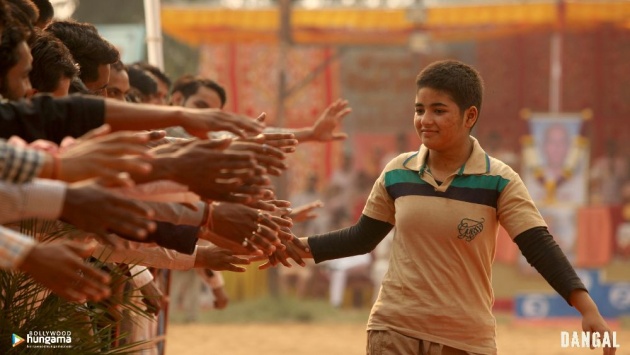 Image Credit: www.bollywoodhungama.com
✔ My Movie Review - Conclusion
Dear Friends, Dangal is a story of a father who has passion for wrestling and he wants his family to make name in this sport. Wrestling is a very common game now and there are many participating countries in this game and the number of countries is increasing in which this game is becoming famous. This movie has a very good lesson that if you have dreams then you should work hard to make them come true. The filming sequence, visual effects, locations and acting of all the acting team was superb in this movie. The film Dangal has been able to introduce Indian cinema all over the world and this movie was liked by many movie lovers around the world. This movie received a lot of positive and favorable reviews from the movie critics and the subject of the film was adored for being unique and appealing to young generation. Sports is a very healthy activity and we must support the healthy activities in the shape of sports for promoting healthy and comparative environment to our future generations. The film Dangal had a low budgeted cost i.e. only US Dollar 11 Million whereas it has so far managed to earn more than US Dollars 330 Million all over the world which shows the popularity level for this movie around the world.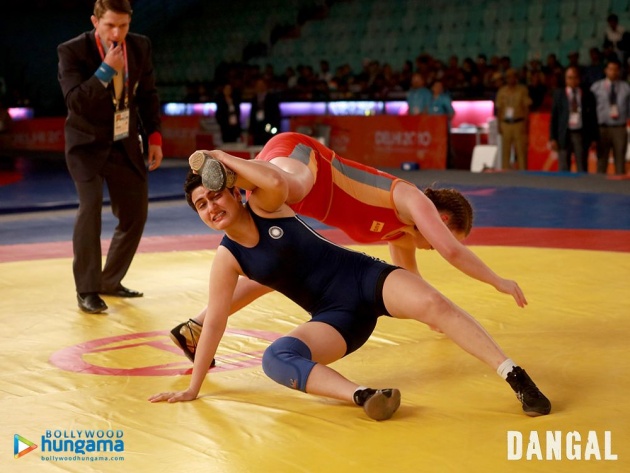 Image Credit: www.bollywoodhungama.com
✿✸✔✤✪ - - - - - - - - - - - - - - - ✿✸✔✤✪ - - - - - - - - - - - - - - - ✿✸✔✤✪ - - - - - - - - - - - - - - ✿✸✔✤✪

Thanks for Reading. This Blog was written by Rafaquat Noman (a Resident of Saudi Arabia and a Traveler) for bitlanders.


DISCLAIMER: The contents of Blog above are that of the author and does not represent his company or agency. The sites, videos, and photos used in this Blog are for information purposes only and links are available for direct access. The author does not receive any monetary benefit from those companies or sites.
✿✸✔✤✪ - - - - - - - - - - - - - - - ✿✸✔✤✪ - - - - - - - - - - - - - - - ✿✸✔✤✪ - - - - - - - - - - - - - - ✿✸✔✤✪