Bollywood Movie Review - Hichki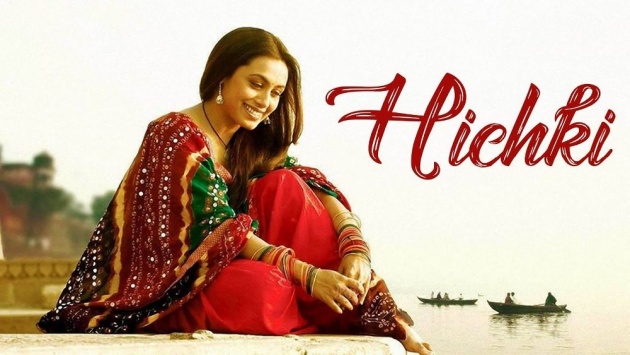 Image Credit: www.amarujala.com
✔ Introduction


Hello Friends, I hope you are doing fine and are having a good time on bitlanders. Today I have come up with my another new blog with the title of "Bollywood Movie Review - Hichki". This blog is about a movie review which is a Bollywood movie "Hichki" and this movie was recently released. This movie is about a Lady Teacher's story who has an inspirational role in terms of teaching her students. The movie is based on autobiography by an American Teacher and a Motivational Speaker Brad Cohen with the title of Front of the Class. In this movie "Hichki", this Teacher whose name is "Naina Mathur" shows utmost determination and will-power to do what she wants to do because she is suffering from Tourette Syndrome. Her students in this movie do not belong to privileged families but from poor and under-privileged families and some of them are even without parents. The Teacher proves her worth and her determination level by educating and enabling them to live a respectful life. This movie was directed by Sidharth P Malhotra who worked hard on this unique idea and made it a success. This movie took Sidharth P Malhotra five long years in production and he worked very hard on it under the Production company Yash Raj Films.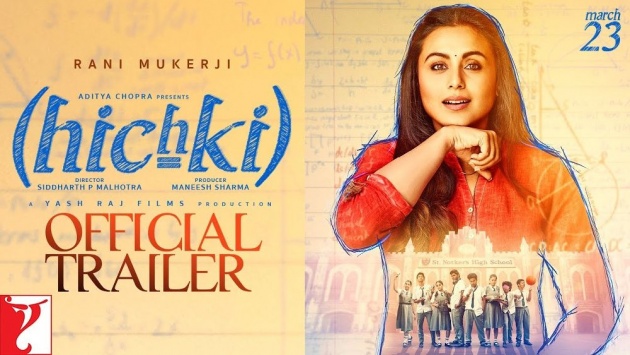 Image Credit: thomasentertaiment.com
The movie "Hichki" was released on March 23, 2018 under the distribution banner of Yash Raj Films. Some details of cast of this movie is as under:
✤ Rani Mukerji as Naina Mathur
✤ Neeraj Kabi as Mr. Wadia
✤ Shivkumar Subramaniam as Principal
✤ Supriya Pilgaonkar as Naina's mother
✤ Sachin Pilgaonkar as Naina's father
✤ Harsh Mayar as Aatish
✤ Hussain Dalal as Vinay Mathur, Naina's brother
✤ Sparsh Khanchandani as Oru
✤ Vikram Gokhale as Mr. Khan
✤ Asif Basra as Shyamlal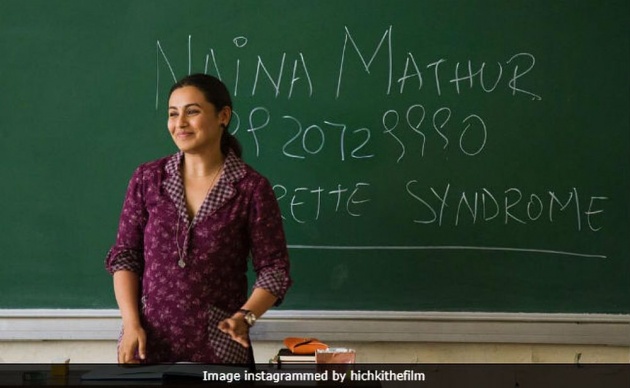 Image Credit: www.ndtv.com
There's so much to love and appreciate in director Siddharth P Malhotra's film. Owing to the Tourette Syndrome, Naina's character makes sounds like 'waa waa' and 'chak chak' at random. The placement of the 'waa waa' sounds in particular is most interesting. There's a sublime level of intelligence and detail in Hichki's direction that's worth appreciating. The use of out-of-the-box learning tools within the school environment adds to the film. The director does a good job at crafting and presenting the film. Sadly, the screenplay doesn't quite cut it for top grades. The first half is spent setting up the story, while the second half heightens the drama but doesn't change too many gears. Hichki is a film full of emotions, but they just don't hit the right arc, especially during the climactic portions.
Information Source: timesofindia.indiatimes.com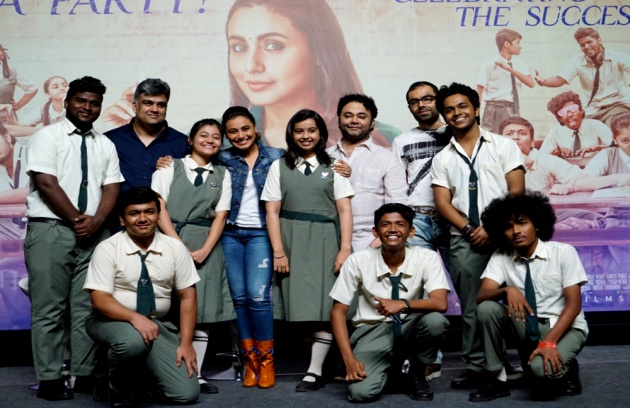 Image Credit: www.patrika.com
Video Credit: YRF via youtube.com
✔ Plot Of The Movie
The film begins as a young educated Teacher Naina Mathur is looking for a teaching job and she has been struggling to get one for quite a few years but is unable to find one because she suffers from a medical condition which is known as Tourette syndrome in which she uncontrollably makes hiccups like sounds which is a big hurdle in her getting a job. She has Masters Degree in Education and wants to be an aspiring teacher. She has support from her mother and her younger brother who have full confidence in her and they think that she can be successful, however, it may take time. Her single mother had a hard time in her marriage and Naina Mathur remembers her father who used to have frequent quarrels and used to abuse Naina Mathur's wife over this kind of ailment of Naina Mathur. He later divorced Naina Mathur's mother and that is why she does not have a very good relationship with his father.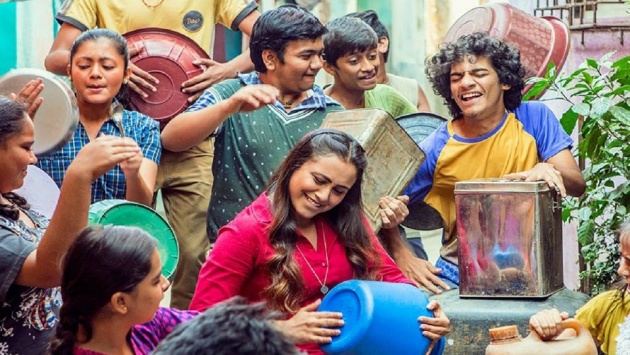 Image Credit: www.firstpost.com
Naina Mathur finally manages to get an interview call from the school in which she used to get education. During the interview she is asked as to why she has been applying for the Teacher's post in this school again and again. On this, Naina Mathur replied that this school has her favorite Teacher and Principal Mr. Khan who used to encourage her and assured her that she will be given a proper chance to get education in this school. Furthermore, she had spent a very good time in that school and that is why this school was her first priority to start her career as a Teacher. The interview committee gets impressed a bit and Naina Mathur is offered the job. Naina Mathur later realize that she had been given the responsibility for a school class which is known to be non-cooperative and who are non-serious in their studies. Therefore, it will be a great challenge for her to prove her mettle. She notices quickly that students in her class are misbehaved and belong to a Slum Area and are studying on Government quota which is a main reason behind their non-seriousness.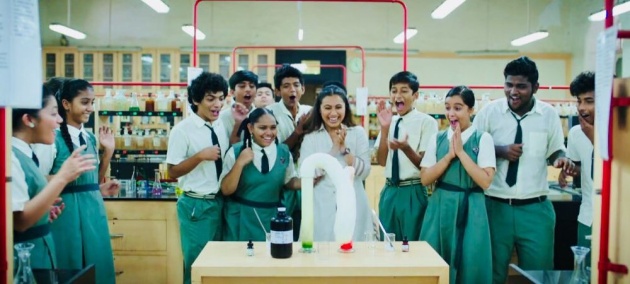 Image Credit: www.desimartini.com
Since students are not serious about their studies, now when they see that a Teacher has been hired for them who herself sometimes stutter and also has a medical condition, they start mocking Naina Mathur and try to tease them in order to make her run away just like previous teachers who could not control the class. However, Naina Mathur has firmly decided to bring this class up and make them believe in themselves that they can give wonderful academic performances just like any other class in the school. Another teacher dislikes the class given to Naina Mathur because his own class is very well disciplined and shows good academic results. Students of Naina Mathur's class also dislike Mr. Wadia and his students because they are always treated as privileged students. There were occasions when the Principal wanted to expel the whole class of Naina Mathur because they caused some incidents which were a threat to the school's reputation and the level of discipline that he wanted in his school. However, Naina Mathur on all occasion defends her class and asks for another chance but the Principal has given enough chances to Naina Mathur's class and now does not want to take any more risks as he suspends the whole class till the nearing exams. In the end, students realize that Naina Mathur had good intentions for them, therefore, they actively take part in studies and show good results in the exams. Furthermore, some of Naina Mathur students even get distinction which proves their talent and Naina Mathur's unwavering confidence on her own teaching skills.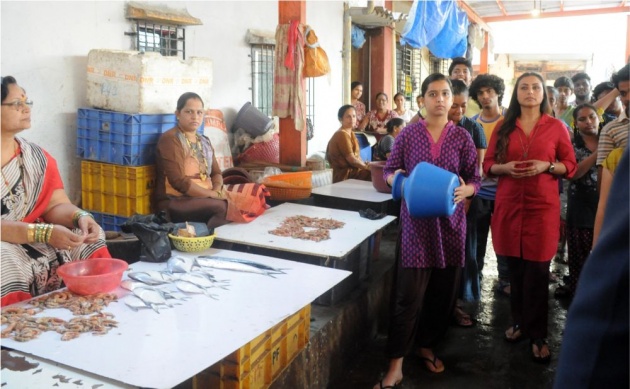 Image Credit: www.firstpost.com
✿ Here is

Querlo Chat

for you. Isn't it fun to chat with a Chatbot ?
Video Credit: YRF via youtube.com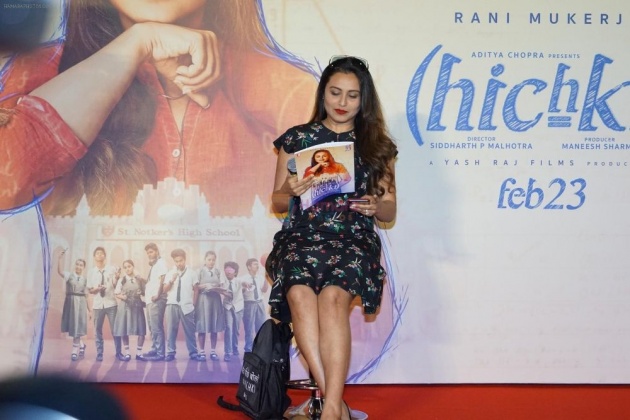 Image Credit: hamaraphotos.com
✔ My Movie Review - Conclusion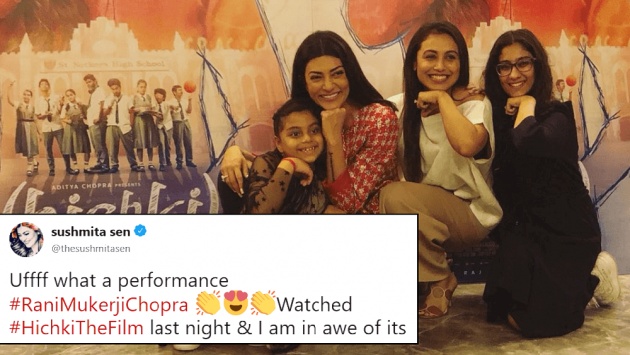 Image Credit: in.bookmyshow.com
The movie Hichki is a very good movie and it is a movie with a great lesson. The story-line is awesome and picturization and filming sequence is very well implemented. You will not get bored and once you start watching the movie, you will tend to completely watch it. This movie has a message that education is very important and students of a great teacher make their mark in the world by serving the country and humanity in an amicable manner. All the teachers must watch this movie as it shows how to treat students who do not actively participates in the studies. Teachers have a responsibility on their shoulders as they are building up the future of their students, therefore, they must make sure that they are performing their duties in the most desired manner. I liked this movie and I feel that you will also like this movie very much. This movie has been a success on box office and has been declared as a Commercially Hit movie. So far, this movie has managed to make more than 75 Million Indian Rupee (INR) business on the box office, whereas its budgeted cost was just 20 Million INR.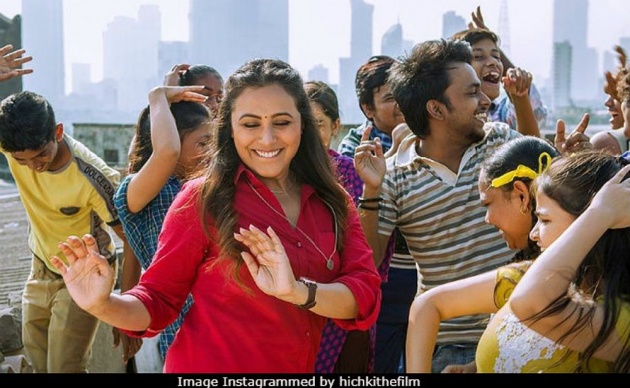 Image Credit: www.ndtv.com
✿✸✔✤✪ - - - - - - - - - - - - - - - ✿✸✔✤✪ - - - - - - - - - - - - - - - ✿✸✔✤✪ - - - - - - - - - - - - - - ✿✸✔✤✪

Thanks for Reading. This Blog was written by Rafaquat Noman (a Resident of Saudi Arabia and a Traveler) for bitlanders.


DISCLAIMER: The contents of Blog above are that of the author and does not represent his company or agency. The sites, videos, and photos used in this Blog are for information purposes only and links are available for direct access. The author does not receive any monetary benefit from those companies or sites.
✿✸✔✤✪ - - - - - - - - - - - - - - - ✿✸✔✤✪ - - - - - - - - - - - - - - - ✿✸✔✤✪ - - - - - - - - - - - - - - ✿✸✔✤✪