Bollywood Movie Review - Rustom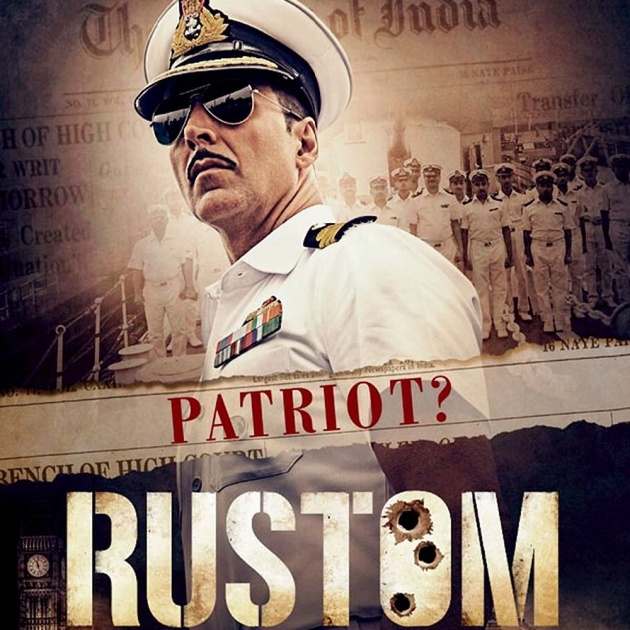 Image Credit: www.koimoi.com
✔ Introduction


Hello Friends, I hope you are doing fine and are having a good time on bitlanders. Today I have come up again with my another new blog with the title of "Bollywood Movie Review - Rustom". Friends, this blog is about a Hit Bollywood movie "Rustom". This movie revolves around a Naval Officer who faces a Court Case for murdering the lover of his wife. Since Naval Officers all over the world have to undergo many courses and assignments locally and abroad, therefore, in one such incident in India arose back in 1959 when a serving Naval Officer K. M. Nanavati allegedly shot dead the lover of his wife when he came to know that they nurtured the mutual love affair in his absence while he was on a long national mission abroad. Although the story of this movie is based on a true incident, however for the movie on screen, the plot was penned down by Vipul K. Rawal who himself is an ex-Naval Officer in India. The film was directed by Tinu Suresh Desai and was produced by the Zee Studios, a Film Production and Distribution Company based in Mumbai India.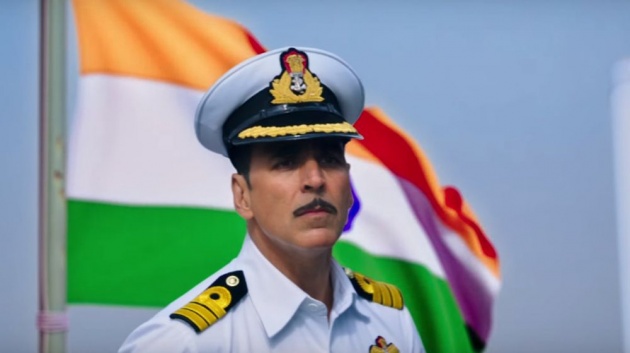 Image Credit: pappufansclub.com
The movie "Rustom" was released on August 12, 2016 under the distribution banner of Zee Studios. Some details of cast of this movie is as under:
✤ Akshay Kumar as Commander Rustom Pavri
✤ Ileana D'Cruz as Cynthia Pavri
✤ Pawan Malhotra as Inspector Vincent Lobo
✤ Arjan Bajwa as Vikram Makhija
✤ Esha Gupta as Preeti Makhija
✤ Parmeet Sethi as Admiral Prashant
✤ Usha Nadkarni as Jamnabai
✤ Sachin Khedekar as Lakshman Khangani, Public Prosecutor
✤ Kanwaljit Singh as Defense Secretary K. G. Bakshi
Though the climax has been smartly fictionalised, this courtroom drama is essentially based on the real life of Naval officer K M Nanavati, who in 1959, shot and killed his wife's lover. The subsequent trial was one of India's most sensational court cases.

Coming to the film, Rustom has a cracker of a beginning. Without wasting any time, the director comes straight to the point. He takes us quickly through the circumstances in which Rustom shoots Vikram and the trial begins.

Akshay Kumar is the backbone of Rustom. The Khiladi renders one of the most understated performances of his career, proving yet again that he can play a range of diverse roles with aplomb. He smoothly pulls off his character with utmost ease.
Review Source: timesofindia.indiatimes.com
Video Credit: Zee Studios via Youtube.com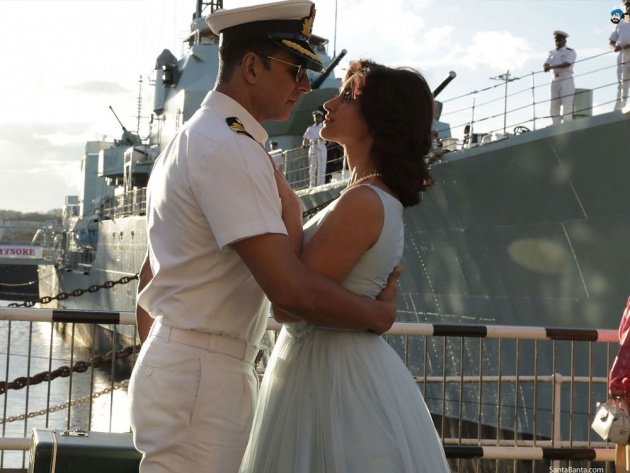 Image Credit: wallpapers.filmibeat.com
✔ Plot Of The Movie
The film begins by showing the circumstances after independence of India from the British Empire in 1950s. It is shown that in India, there are people dancing and having fun in dance parties where there are all kinds of ecstasies present such as alcohol and liquor etc. Meanwhile, the Indian Naval Officer Rustom is serving on ship when his Commanding Officer tells him that they are heading back to home after finishing a long assignment. Rustom as well as all the crew members are happy as they are returning to their homes and will meet their wives and children after quite a few months. Rustom and his wife Cynthia Pavri are having a nice and healthy marital relationship and Rustom Pavri can't wait to be home as soon as possible. On the other hand, at Rustom Pavri's house, Cynthia Pavri is waiting for Vikram Makhija's car in order to go to his house and meet with him and as her servant tells her that Vikram's car has arrived, she leaves. When Rustom Pavri reaches the home port, he buys flowers on the way home and is expecting his wife to be waiting for him. However, when he reaches home, he finds out that his wife is not home and has gone to meet with Vikram, he also finds out some love letters which were written by Vikram and Cynthia Pavri for each other. Seeing that, Rustom Pavri gets infuriated and heart-broken.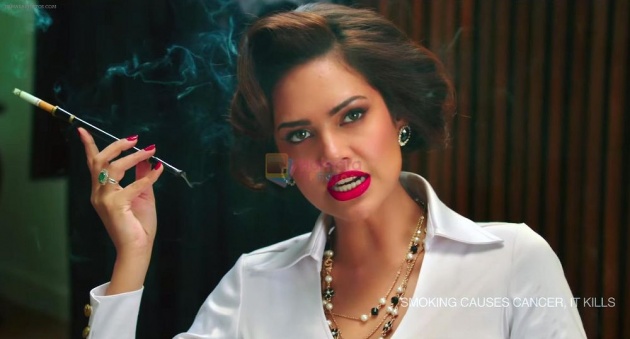 Image Credit: hamaraphotos.com
When Cynthia Pavri reaches home, Rustom Pavri asks her where she was, although he knows where she had been. When Cynthia Pavri tries to explain, Rustom feels that she is making lame excuses and leaves the house in anger after confronting her and arranges for his official pistol through Naval Armory and goes to Vikram's house to take revenge. At Vikram's house, there is his servant who lets Rustom go to Vikram's room thinking that it is a normal matter. However, soon he hears three gun shots and when he reaches the room of Vikram where he is found lying on the floor in the pool of blood and Rustom leaves the scene. Rustom reaches the nearby Police Station and surrenders himself there. When Cynthia Pavri hears what had happened, she gets very heart-broken that Rustom Pavri had not given her a chance to clarify and she had already finished the relationship with Vikram in whatever stage it was. The murder case gets wide media publication as the Police Inspector Vincent Lobo starts the investigation. The media takes special interest in the case and one newspaper's Editor in Chief Erich Billimoria starts publishing the stories in his newspaper in favor of Rustom Pavri.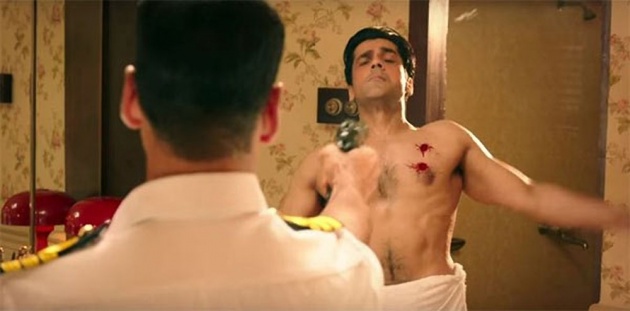 Image Credit: bollywoodleaks0.blogspot.com
Vikram's relatives, especially his sister Priti Makhija hires Lakshman Khangani as Public Prosecutor and gives him the task to hand Rustom the toughest punishment. Meanwhile, Admiral Prashant Kamat who is a senior Naval Officer to Rustom Pavri sends his men to Cynthia Pavri's house and when they reach there, they start searching for some important papers related to Naval Ship purchase. This creates a doubt in Cynthia Pavri's mind and she rushes to the Police Station and informs Rustom Pavri about all this after begging for pardon and narrating her story as to how she got involved with Vikram in Rustom's absence and she said that Vikram had actually trapped her into this relationship. Since Rustom Pavri knows the whole story behind this agile action of Admiral Prashant Kamat, he tells Cynthia to blackmail Admiral Prashant Kamat and ask him to bribe you with some hefty amount in order to get those important papers. Rustom Pavri does not hire any lawyer and fights the case himself. After a long Court battle, the Jury declares Rustom Pavri innocent as he fired gunshots in his self-defense. When Rustom meets with Inspector Lobo again, he clarifies that actually it is all about a Naval ship deal and Admiral Prashant Kamat as well as Vikram as a businessman wanted him to clear the Naval Ship for Indian Navy which was in bad shape. When Rustom refused, Vikram played this whole game and he trapped Rustom's wife. Rustom tells Inspector Lobo that he did not involve any lawyer in the case in order to save the integrity and honor of Navy in the eyes of general public which was on the line due to some corrupt Naval Officers.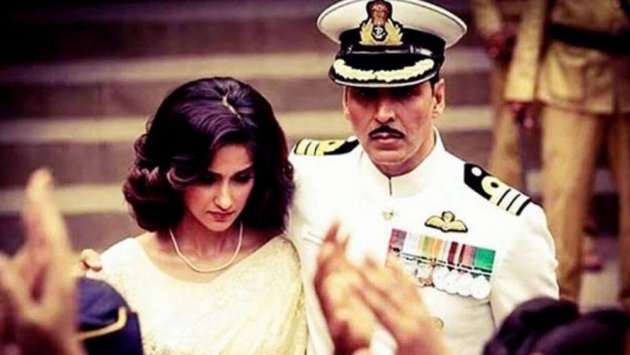 Image Credit: www.hindustantimes.com
Video Credit: ornella3886 via Youtube.com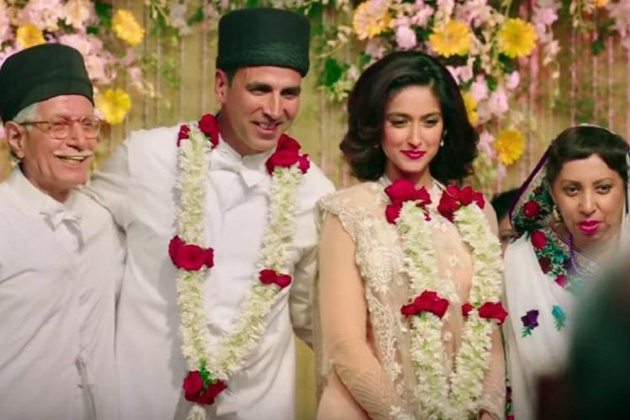 Image Credit: www.thenewsminute.com
✿ Here is Querlo Chat for you. Isn't it fun to chat with a Chatbot ?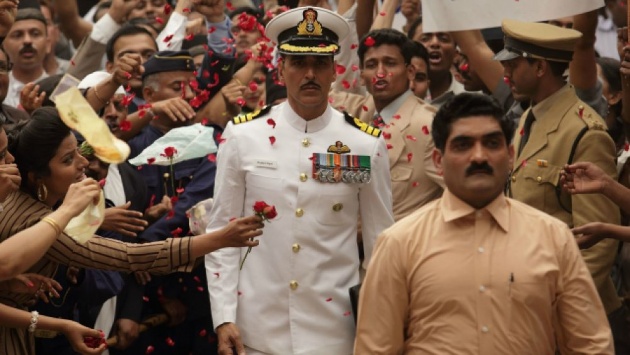 Image Credit: www.dnaindia.com
✔ My Movie Review - Conclusion
The movie "Rustom" is a unique type of movie in which there are emotions, hatred and love for the country mixed with different other sentiments presented in the movie. The acting of Akshay Kumar was superb and he won National Film Award for Best Actor for his role that he played amicably in the movie. The picturization and filming sequence was up to the mark. The film shows that good and bad people can be anywhere and there is a need to draw a clear line between official and personal matters because if these join then the problem starts as it becomes very difficult to maintain the balance between them. The movie's songs were also good and praised by the Bollywood music lovers. On the whole, I shall rate the movie 8 out of 10 stars as the movie was very entertaining and was quite a thriller.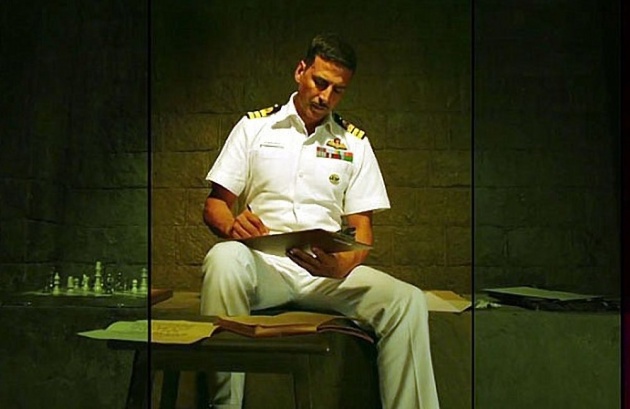 Image Credit: baradwajrangan.wordpress.com
✿✸✔✤✪ - - - - - - - - - - - - - - - ✿✸✔✤✪ - - - - - - - - - - - - - - - ✿✸✔✤✪ - - - - - - - - - - - - - - ✿✸✔✤✪

Thanks for Reading. This Blog was written by Rafaquat Noman (a Resident of Saudi Arabia and a Traveler) for bitlanders.


DISCLAIMER: The contents of Blog above are that of the author and does not represent his company or agency. The sites, videos, and photos used in this Blog are for information purposes only and links are available for direct access. The author does not receive any monetary benefit from those companies or sites.
✿✸✔✤✪ - - - - - - - - - - - - - - - ✿✸✔✤✪ - - - - - - - - - - - - - - - ✿✸✔✤✪ - - - - - - - - - - - - - - ✿✸✔✤✪