Bollywood Movie Review - Tiger Zinda Hai
Image Credit: www.bollywoodhungama.com
✔ Introduction


Hello Friends, I hope you are doing fine and are having a good time on bitlanders. Today I have come up again with my another new blog with the title of "Bollywood Movie Review - Tiger Zinda Hai". Friends, this blog is about a recently released Hit Bollywood movie "Tiger Zinda Hai". This movie is about a secret agent who is serving for the Indian Secret Foreign Intelligence Agency which is also known as RAW (Research and Analysis Wing) but has absconded with a Pakistani Secret Agent working for the ISI (Inter-Services Intelligence) after a love affair with her. Although RAW and ISI both are looking for those absconders but they also have trust in them that they may be useful in getting important information. That is the reason why RAW contacted its agent in the movie to complete a mission in Iraq and being a premiere agent of RAW, that agent performed its duties diligently with the help of his wife who is an ISI agent. The movie was directed by Ali Abbas Zafar who has been giving blockbuster Indian movies for the last ten years. The movie was produced by Yash Raj Films which is a huge name in Indian Film Industry.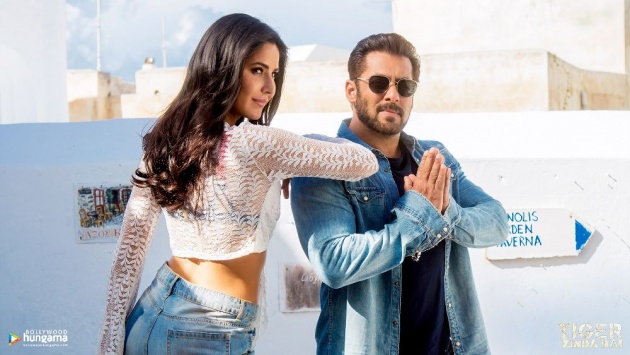 Image Credit: www.bollywoodhungama.com
The movie "Tiger Zinda Hai" was recently released on December 22, 2017 under the distribution banner of Yash Raj Films. Some details of cast of this movie is as under:
✤ Katrina Kaif as Zoya
✤ Salman Khan as Tiger
✤ Paresh Rawal as Firdauz
✤ Sajjad Delafrooz as Abu Usman
✤ Neha Hinge as Maria
✤ Angad Bedi as Nami
✤ Kumud Mishra as Rakesh
✤ Girish Karnad as Shenoy
✤ Paresh Pahuja as Azaan
✤ Gavie Chahal as Captain Abrar
✤ Kashmira Irani as Sana
✤ Anupriya Goenka as Poorna
The film is visually stunning in parts and Salman Khan plays Tiger with roaring confidence and dialogues packed with punch. Of course, his fans get a true-blue Salman Khan moment when he bares his torso. However, the screenplay often loses focus, slackening the film's pace and our attention. Director Ali Abbas Zafar had a lot of ammo in hand, with the star power of Salman Khan and Katrina Kaif adding to that. But the direction falters and he is unable to keep you riveted through the film's runtime. Supporting actors that make up the rescue mission team are competent and Paresh Rawal delivers a dependable performance. Katrina Kaif gets into action-girl mode, displaying some kick-ass stunts. Meanwhile, the antagonist, Abu Usman (Sajjad Delafrooz), heading the terrorist organisation, is effective in his role.
Review Extracts From: timesofindia.indiatimes.com
Video Credit: YRF via Youtube.com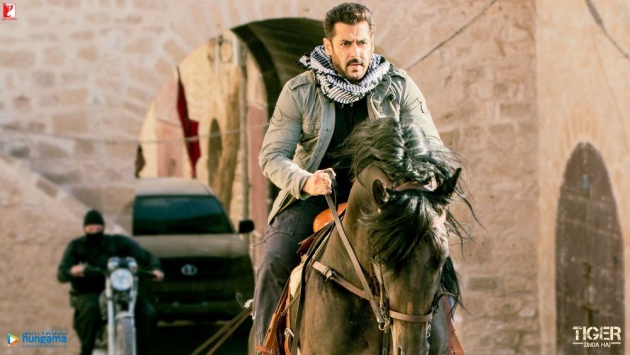 Image Credit: www.bollywoodhungama.com
✔ Plot Of The Movie
The film "Tiger Zinda Hai" in sequence to its first version "Ek Tha Tiger" released back in 2012 in which Tiger has left RAW with her lover Zoya and they have been undercover for many years. Now, after about 8 years when they are living a secretive life in Australia and do not have any interest in Secret Services now as now they have a son with whom they are living a very happy life. In Iraq where there are many overseas employess are working for the built-up of the country once again. There are many terrorists groups operating in the country like (ISC) in this movie who are giving tough time to the local law enforcement agencies as well as international forces which have been deployed for quick recovery of peace and stability. In the same type of incidents, an American Journalist has some kind of secret information and he wants to forward this to CIA as soon as possible because his life is in danger. However, he is killed by the ISC terrorists which is lead by Abu Usman. Since Abu Usman is on the hit-list of Iraqi as well as other forces, therefore, when he comes out of his hiding and gives an outdoor appearance for a speech, he is attacked by the Iraqi National Forces and gets injured. He is taken to a nearby hospital by his group members where Nurses from India and Pakistan are working. Since the ultimate aim of Abu Usman is to spread terror, therefore, he captivates all the nursing staff at the hospital and his terrorist group starts to controls the hospital boundaries.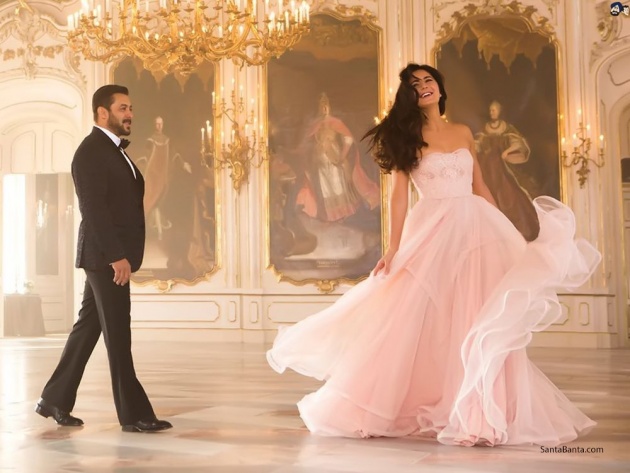 Image Credit: www.santabanta.com
Since nurses of Indian and Pakistani origin have been held hostage, therefore, both RAW and ISI want to have safe recovery of their nursing staff, whereas American Forces want to have an airstrike in order to get rid of Abu Usman. On the request of RAW, American CIA postpones their airstrike operation for a week in order to given them a chance before CIA execute their plan. The Senior Officer at RAW, Shenoy thinks that Tiger who absconded the RAW eight years ago is the best person to command this operation to rescue nurses. They try to locate Tiger who is found to be living in Australia with his wife and a kid. He is requested to join this operation and rescue his country-fellows. Tiger initially refuses to cooperate as he thinks he is no more interested in such activities. However, on the insistence of his wife Zoya, he gives his consent and joins the operation along with his wife Zoya. Tiger reaches Syria and meets with his counterparts Azaan, Namit and Rakesh working in RAW. He finds out that there are some members of ISI present at the site with the same mission to rescue the hostage nurses. These ISI agents are Abrar and Javed. Besides, there is on another person Firdauz who works under Abu Usman management but is actually working for RAW.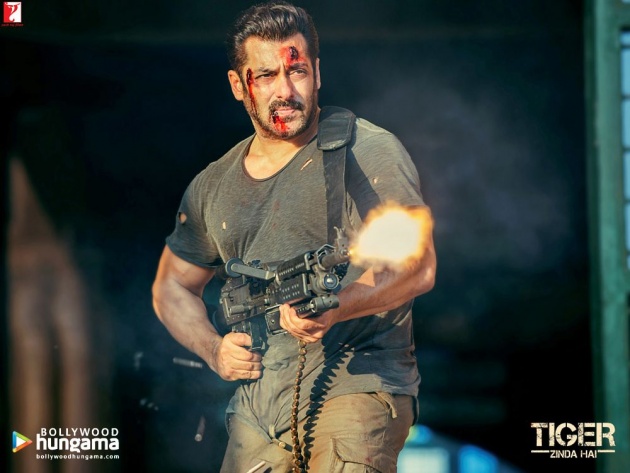 Image Credit: www.bollywoodhungama.com
Tiger reaches an Oil Refinery which is under control of Abu Usman. Tiger devises a plan to burn the refinery in order to reach Abu Usman at the hospital as an injured patients. His Raw agents adopt a ploy to poison the food for Abu Usman accomplices in order to curb them. However, Abu Usman manages to capture Zoya and subsequently Tiger when he sees that Zoya is in trouble. Abu Usman tortures them both but Tiger shows his strength and fights out his way out of the trouble and manages to injure AbuUsman by stabbing him when the heavy fight ensues between them. He then soon manages to reach hostage nurses location and rescues them with the help of ISI and RAW agents. Firdauz overpowers the injured Abu Usman and takes him to deserted place where he shoots him. After completing the mission successfully, Tiger and Zoya again go undercover after ensuring the RAW Senior Office Shenoy that he will be available for any mission to serve his country.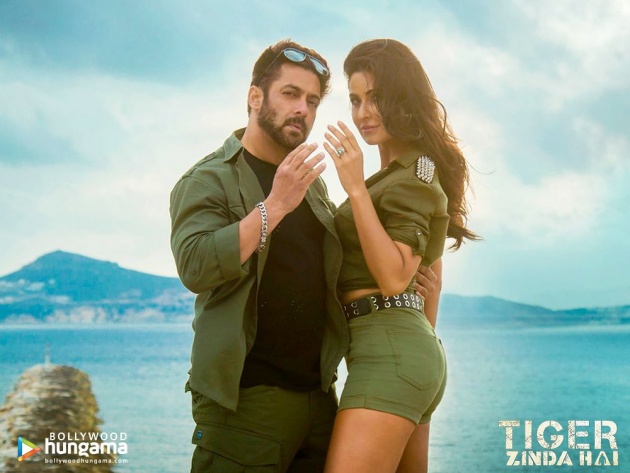 Image Credit: www.bollywoodhungama.com
Video Credit: YRF via Youtube.com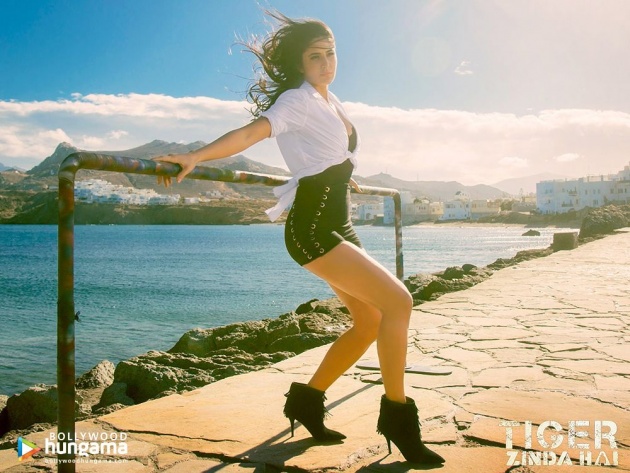 Image Credit: www.bollywoodhungama.com
✿ Here is Querlo Chat for you. Isn't it fun to chat with a Chatbot ?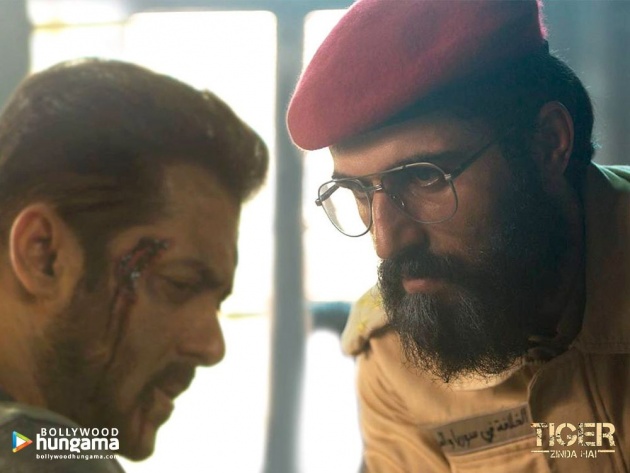 Image Credit: www.bollywoodhungama.com
✔ My Movie Review - Conclusion
The movie Tiger Zinda Hai is a movie full of action and is packed with fighting sequences as well as use of modernized weapons and artillery. The movie is good addition to action movie and has been welcomed by the Bollywood film lovers across the globe. The music in the movie is also very good and the Music Directors Vishal & Shekhar have done a wonderful job because for any Indian movie, music is considered to be the backbone and plays an important role if the songs, dance and music is up to the mark in the movie. The locations in Iraq and Syria were chosen and the very same factor played an important role to fill genuine color in the movie. The movie Tiger Zinda Hai had a production budget of about US Dollars 32 Million and after its release, the movie has managed to make more than US Dollars 85 Million. On the whole, I shall rate the movie 8 out of 10 stars because I enjoyed the movie and its music very much.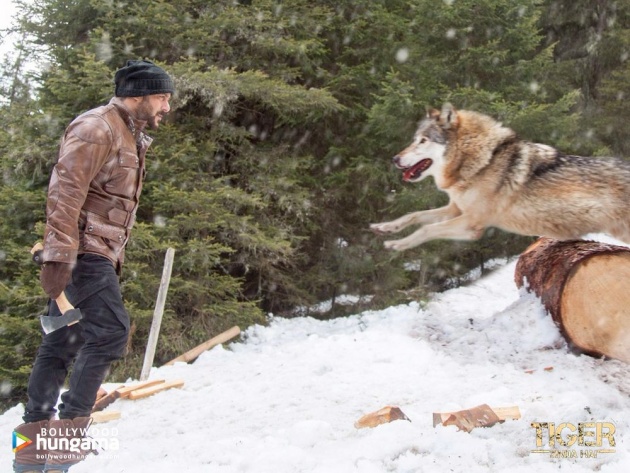 Image Credit: www.bollywoodhungama.com
✿✸✔✤✪ - - - - - - - - - - - - - - - ✿✸✔✤✪ - - - - - - - - - - - - - - - ✿✸✔✤✪ - - - - - - - - - - - - - - ✿✸✔✤✪

Thanks for Reading. This Blog was written by Rafaquat Noman (a Resident of Saudi Arabia and a Traveler) for bitlanders.


DISCLAIMER: The contents of Blog above are that of the author and does not represent his company or agency. The sites, videos, and photos used in this Blog are for information purposes only and links are available for direct access. The author does not receive any monetary benefit from those companies or sites.
✿✸✔✤✪ - - - - - - - - - - - - - - - ✿✸✔✤✪ - - - - - - - - - - - - - - - ✿✸✔✤✪ - - - - - - - - - - - - - - ✿✸✔✤✪