Bollywood Movie Review - Tubelight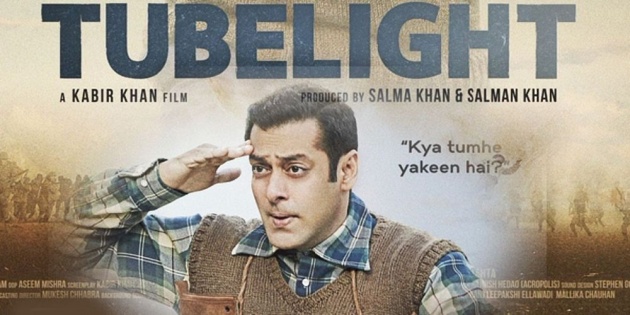 Image Credit: www.indiaglitz.com
✔ Introduction




Hello Friends, I hope you are doing fine and are having a good time on bitlanders. Today I have come up with my another new blog with the title of "Bollywood Movie Review - Tubelight". Friends, this blog is about a recently released and a Hit Bollywood movie "Tubelight". The term "Tubelight" is referred to someone who is at a loss and does not understand things quickly. This movie is also about a person who is kind of mentally retarded and is very much attached to his brother and his hometown which is in Indian Occupied Kashmir. This character "Tubelight" in the movie was performed by Salman Khan who is a Mega star in the Bollywood Film Industry. His brother is in the Indian Army and he is deployed in the war zone as they are in some kind of a conflict with China and from there his brother returns in a very difficult manner. He is caught and captured by the Chinese Army and that makes Tubelight very sad and agitated. This movie was directed by Kabir Khan who is an experienced Film Director in the Indian Film Industry. The Film story was also written by him and was produced by the Salman Khan Films Film Production Company.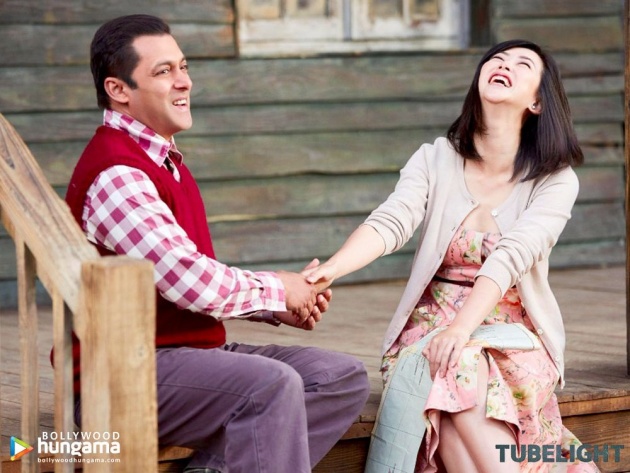 Image Credit: www.bollywoodhungama.com
This Bollywood movie "Tubelight" was released on June 23, 2017 under the distribution banner of Kabir Khan Films. Some details of cast of this movie is as under:
✤ Salman Khan as Tubelight
✤ Sohail Khan as Bharat Singh
✤ Om Puri as Banne Chacha
✤ Zhu Zhu as Gu's Mother
✤ Matin Rey Tangu as Gu
✤ Mohammed Zeeshan Ayyub as Narayan
✤ Yashpal Sharma as Major Rajbir
✤ Brijendra Kala as Shopkeeper
✤ Isha Talwar as Maya
✤ Shah Rukh Khan as Magician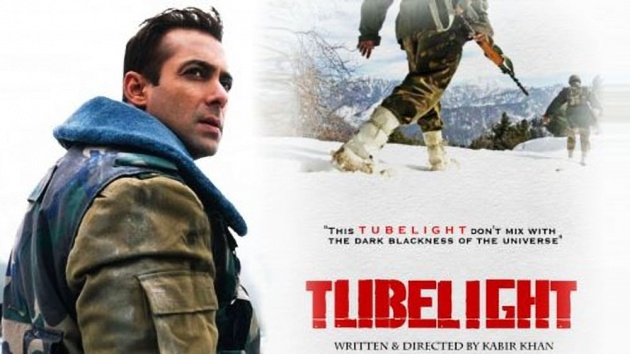 Image Credit: canarabuzz.com
At the outset, one must warn people that Tubelight is a departure from your regular Salman Khan mass entertainer. Here Bollywood's darling-star plays a child-man who doesn't take off his shirt or flex his biceps. So the audience going in for this one should invest belief (or should that be disbelief?) in this age of innocence offering from Kabir Khan, whose past outings Ek Tha Tiger and Bajrangi Bhaijaan were more commercially-wired.

Tubelight inspired by the Hollywood film Little Boy directed by Alejandro Monteverde, is told with a fable-like simplicity. Set in Jagatpur, a pretty North-Indian town, during the Indo-China war, the locals are mostly hangers on, who have little to do except laugh at Laxman's antics or berate him. Banne Chacha (Om Puri) mentors him, imparting Gandhian gyaan at every given opportunity. Narayan (Mohd Zeeshan) is the local bully who slaps the hero around without provocation, making the slaps sting less and irritate more. Things brighten up a bit when the drop-dead gorgeous Liling (Zhu Zhu) and her perky son Guo (Matin), who are Chinese immigrants, move to Jagatpur. But even this track seems like a ploy to play up the Hindi-Chini bhai bhai sentiment.
Review Extracts From: timesofindia.indiatimes.com
Video Credit: Salman Khan Films via Youtube.com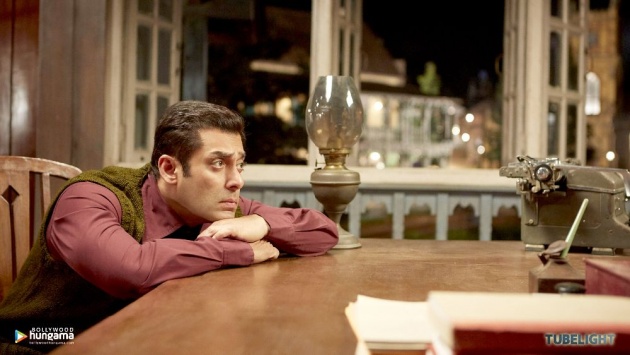 Image Credit: www.bollywoodhungama.com
✔ Plot Of The Movie
The film begins as Tubelight is shown riding on the bicycle and visiting every nook and corner of his hometown in Kashmir. He is mentally not strong and therefore, village boys especially Narayan and his accomplices make fun of him whenever and wherever they meet him. Tubelight has a brother Bharat who is normal and defends Tubelight from the naughty village boys. Their parent had died after India got independence and since then both brothers have been together helping and supporting each other. After India's independence, it has had many geographical conflicts with its neighboring countries Pakistan and China and in one of those war events when China and India are in warlike situation at their borders, the Indian Army starts recruiting the village boys in Army. Both Tubelight and his brother Bharat take part in the Army training program and eventually Bharat gets final selection and is directly sent to the Border to fight with the Chinese Army. Tubelight now knows that he will have to live alone in the village and will have to face all the naughty boys alone. Bharat tries to pacify Tubelight and encourage him to be brave and confident before he leaves to join his duty in the Indian Army Truck to the India-China border.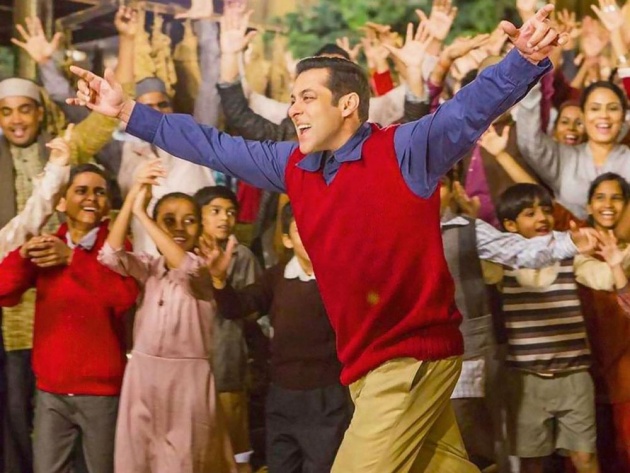 Image Credit: wallpapers.filmibeat.com
On one day, when Tubelight was wandering around on his bicycle after his brother's departure, he sees a Chinese family in the village going somewhere in their car. He gets astonished and follows the car which stops by a place near river where that family lived. Tubelight sees that Chinese family consists of only one lady and her child who is hardly five years old. He thinks that since Chinese and Indian army are at fight therefore, he should inform the Indian Army camp nearby that enemies have invaded the country. However, he first goes to Banne Chacha who is an old person in the village and is friend of Tubelight and his brother. Banne Chacha suggests him to befriend with those Chinese family and don't think about being their enemy. This idea attracts Tubelight and he goes to Chinese family where he meets the naughty little boy whose name is Gu and he first gives Tubelight a very tough time, however, with the help of his mother, Tubelight manages to befriend with Gu in a few days and starts to take him for sightseeing. When Narayan sees Tubelight with the Chinese little boy, he tries to confront them both and tells Tublight to stay away from Gu because he is Chinese and they are at war with us. Tubelight tries to convince Narayan that Gu is his friend and is not Chinese bu an Indian whose ancestors have been living here for quite a long time.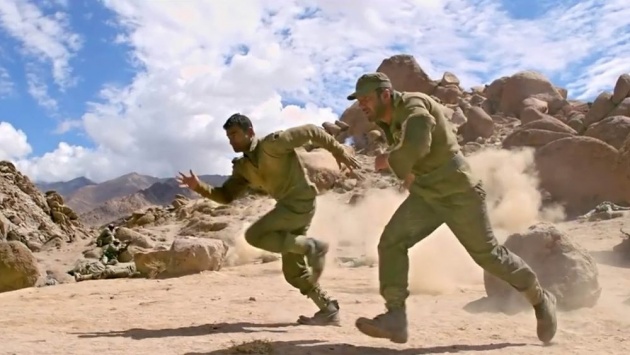 Image Credit: colorfullhdwallpapers.blogspot.com
At the border of India and China where Armies of both nations are at War, Bharat shows extreme bravery and faithfulness to his country. During the shooting from both sides, Bharat gets injured and is taken to his base camp. Since they had manage to complete their mission, therefore, they are now directed to go back to their town. Bharat is happy to know this and he contacts his brother Tubelight back home and informs him that he is coming back. When the Indian Truck carrying the soldiers along with Bharat was on its way, the Chinese soldiers attacked and captivated all the Indian soldiers. The rumor spreads that Chinese soldiers have killed Bharat and when Tubelight comes to know about this, he gets very upset. However Gu and his mother pacify Tubelight and encourage him that if his belief is correct then his brother will come back soon from the battlefield. Soon, Tubelight and all other village people come to know that Bharat is still alive and the war issue has been resolved between the two countries. Tubelight is again happy now as he waits at the Indian Army base camp in his hometown to wait for his brother's bus who comes back after a few days fortifying the belief of Tubelight.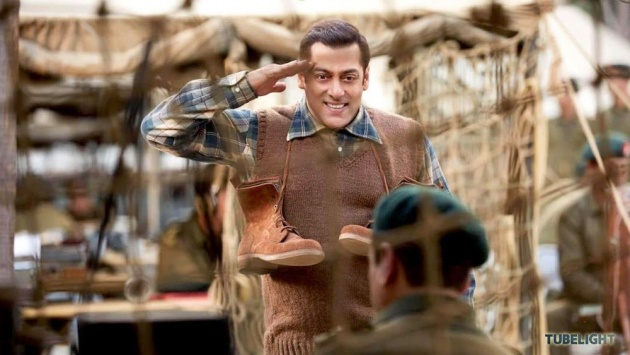 Image Credit: www.pinterest.com
Video Credit: SonyMusicIndiaVEVO via Youtube.com
✿ Here is Querlo Chat for you. Isn't it fun to chat with a Chatbot ?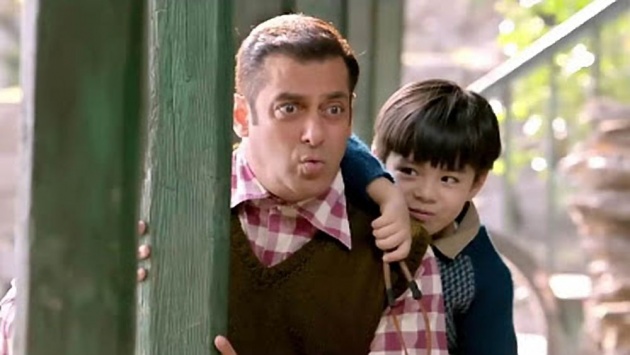 Image Credit: colorfullhdwallpapers.blogspot.com
✔ My Movie Review - Conclusion
The Bollywood film "Tubelight" was filmed in Kashmir, therefore, filming locations were awesome throughout the movie and pleased the audience. Acting of Salman Khan was also very good along with other actors in the movie. Although the film was not welcomed and did not get higher level of likings the way other films of Salman Khan get, however, still the film did good business on the box office. On the whole, the film is a treat to watch and one should not miss it. The songs are also very good and picturization was superb. Generally, people expect Salman Khan to appear as a Macho man in his movies, but in this movie he has played a special character which was also liked by Bollywood movie lovers. The Chinese language was also spoken in the film and it gave a new feeling as it is in not a common thing in a Bollywood movie. Substantially, I shall give the movie 7 out of 10 stars because of its originality.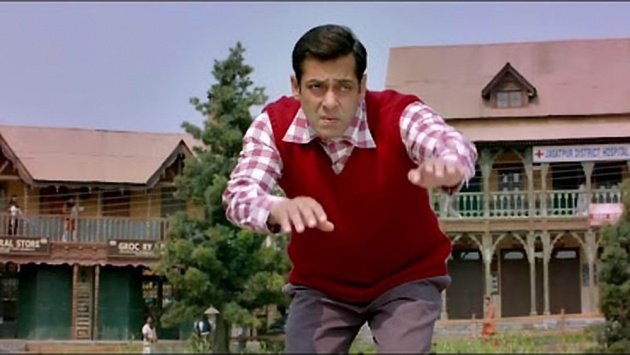 Image Credit: colorfullhdwallpapers.blogspot.com
✿✸✔✤✪ - - - - - - - - - - - - - - - ✿✸✔✤✪ - - - - - - - - - - - - - - - ✿✸✔✤✪ - - - - - - - - - - - - - - ✿✸✔✤✪

Thanks for Reading. This Blog was written by Rafaquat Noman (a Resident of Saudi Arabia and a Traveler) for bitlanders.


DISCLAIMER: The contents of Blog above are that of the author and does not represent his company or agency. The sites, videos, and photos used in this Blog are for information purposes only and links are available for direct access. The author does not receive any monetary benefit from those companies or sites.
✿✸✔✤✪ - - - - - - - - - - - - - - - ✿✸✔✤✪ - - - - - - - - - - - - - - - ✿✸✔✤✪ - - - - - - - - - - - - - - ✿✸✔✤✪