Bollywood Movie Review - Vicky Donor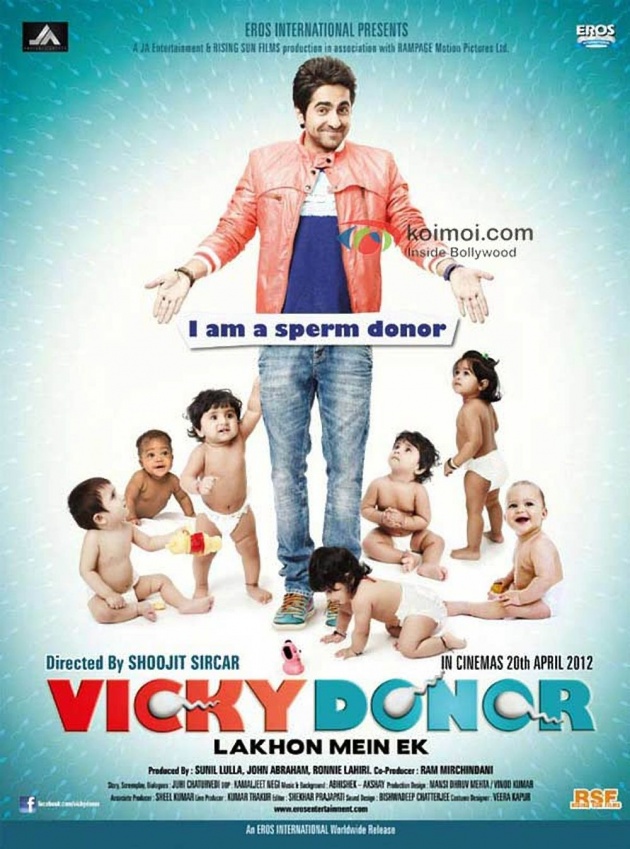 Image Credit: www.koimoi.com
✔ Introduction



Hello Friends, I hope you are doing fine and are having a good time on bitlanders. Today I have come up again with my another new blog with the title of "Bollywood Movie Review - Vicky Donor". Friends, this blog is about a Hit Bollywood movie "Vicky Donor". The story of this movie is based on a person named "Vicky" who chooses the profession of being Sperm Donor. This kind of job is still considered taboo in many parts of the world, and therefore, Vicky also faces a lot of criticism and condemnation. The movie is loosely based on the Canadian Movie "Starbuck". The story of the movie was penned by Juhi Chaturvedi and was directed by Shoojit Sircar. Although the central idea of the film was not a normal one and movies in India do not cover such topics as it is still not normal in the Indian Society. However, the movie received positive reviews from the critics. The movie was produced by the Rising Sun Films, an Indian Film Production company based in Mumbai India.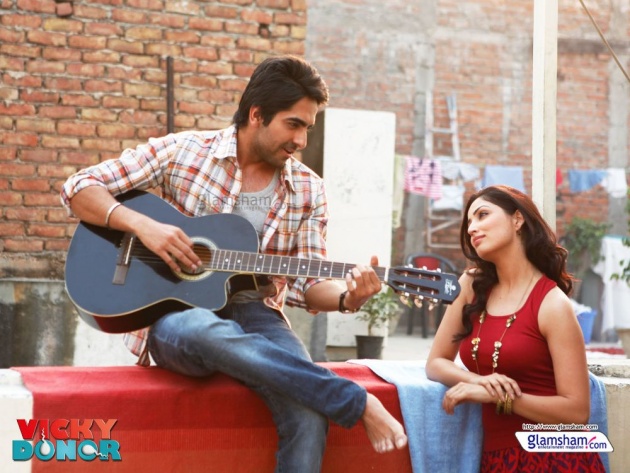 Image Credit: www.glamsham.com
The movie "Vicky Donor" was released on April 20, 2012 under the distribution banner of Eros International Entertainment. Some details of cast of this movie is as under:
✤ Yami Gautam as Ashima Roy
✤ Ayushmann Khurrana as Vicky Arora
✤ Annu Kapoor as Dr. Baldev Chaddha
✤ Dolly Ahluwalia as Mrs. Dolly Arora
✤ Kamlesh Gill as Vicky's Grandmother
✤ Puja Gupta as Shweta
✤ Jayanta Das as Mr. Roy, Ashima's father
✤ Swaroopa Ghosh as Ashima's Aunt
✤ Inderpal Singh as Tayaji
Vicky Donor comes with a fresh story. Call it a love story on the backdrop of sperm donation or a film about sperm donation with a love story within - the writing by Juhi Chaturvedi seamlessly integrates the two elements to come up with a wholesome entertainer. Further director Shoojit Sircar flawlessly catches the pulse of Delhi and the drama in the narrative.


While the film lightly touches on the theme of the shortage of sperm donors and the social stigma attached to the act (unlike blood or organ donations), it intentionally refrains from being an issue-based cinema. Vicky's initial opposition to the idea aptly brings out the average apprehensions and his consequent consent reveals the monetary motives behind the act.
Review Source: timesofindia.indiatimes.com
Video Credit: Eros Now via Youtube.com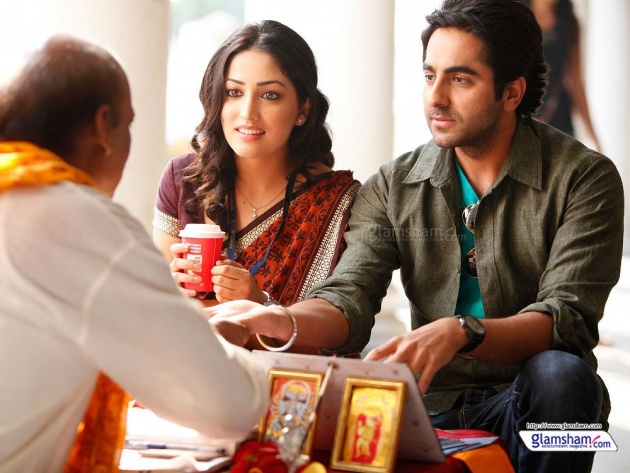 Image Credit: www.glamsham.com
✔ Plot Of The Movie
The movie begins as Dr. Baldev Chaddha is being visited by his different customers in his Fertility Clinic (which is also a Sperm Bank) who are unluckily unsatisfied customers as they have not been able to become parents due to poor quality of sperms provided by Dr. Chaddha. Therefore, Dr. Chaddha is looking for someone young person having a very healthy and quality breed with strong sperms. Mr. Vicky is living in the same town who is a jobless boy and is being forced by his mother to join his uncle business in order to earn something fair. However, Vicky is not interested in doing any demanding work and is looking for an easy job and that too in a multinational company. Currently, he helps sometimes his mother in her beauty parlor and is passing his days without any aim in life. Although he does nothing but has good looks and that is the reason why his neighbor Shweta likes him and wants to marry him, for this she convinces her mother and wants to sends her mother for marriage proposal but is waiting for the right time.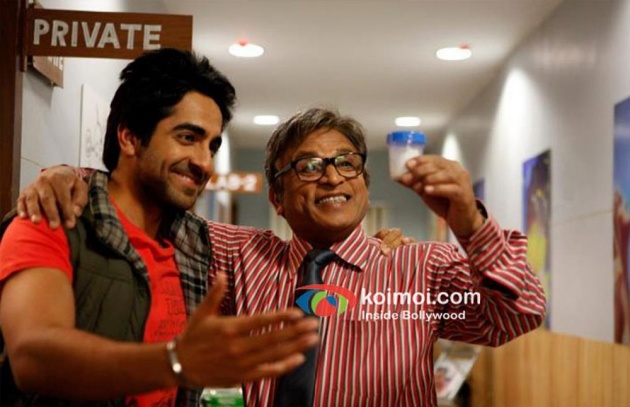 Image Credit: www.koimoi.com
Soon, Dr. Baldev Chaddha finds Vicky in the nearby area and investigates about his ancestors. He gets convinced that Vicky is the right person for him because he has all the qualities that Dr. Chaddha is looking for. He meets with Vicky and tries to convey his motives and persuades him to join his clinic. Initially, Vicky finds this idea as disgusting and confronts Dr. Chaddha, but Dr. Chaddha is very consistent and he keeps following Vicky and offers him a handsome amount for sperm donation because Dr. Chaddha knows that Vicky is looking for job and does nothing. Dr. Chaddha soon finds success as Vicky agrees to donate his sperms for money and this helps both Vicky and Dr. Chaddha to get mutual benefits because soon Dr. Chaddha's unsatisfied clients are now satisfied with the results. One day, Vicky visits a nearby Bank for opening a bank account as he needs to deal with the money he is receiving now. He meets Ashima there and falls for her beauty and style. During the course of time, he convinces Ashima for dating and soon it turns out to be a romantic relationship as Ashima has also started feeling love for Vicky now.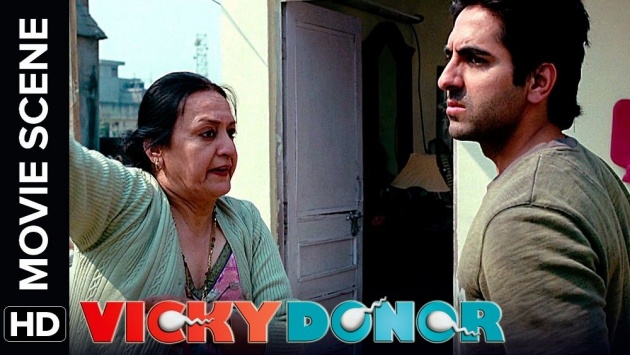 Image Credit: www.youtube.com
Vicky belongs to a Punjabi family, whereas Ashima is from a West Bengali family, therefore, both families show some resistance when they meet on the insistence of their children i.e. Vicky and Ashima but soon give their consent as Vicky and Ashima both are in love with each other. After their marriage, soon they find out that Ashima is infertile and can't become mother. Ashima is very upset and frustrated and gets even more frustrated when she finds out that Vicky is actually a Sperm Donor who has fathered many children but can't have his own child with her. She gets infuriated and leaves the house and goes to her parents' house. Vicky's mother is also very angry and slaps Vicky when she comes to know about Vicky's profession. Vicky also gets very upset at this and when Dr. Chaddha asks him as to why he looks very anxious, he conveys the whole ordeal to Dr. Chaddha. Having listened to Vicky, Dr. Chaddha pacifies him that he can make Vicky's relationship with Ashima work again and he asks Vicky to bring Ashima to his annual function in which there will be many children who Vicky have fathered. Over there, Dr. Chaddha convinces Ashima that Vicky has brought happiness to many families who were infertile and she should not be ashamed of Vicky's profession. Soon, Vicky's relationships with his wife Ashima as well as his mother are back on track and Ashima has also accepted Vicky's profession now. They adopt a little girl who Vicky fathered but her parents later died in an accident. Ashima and Vicky start to live a happy life again.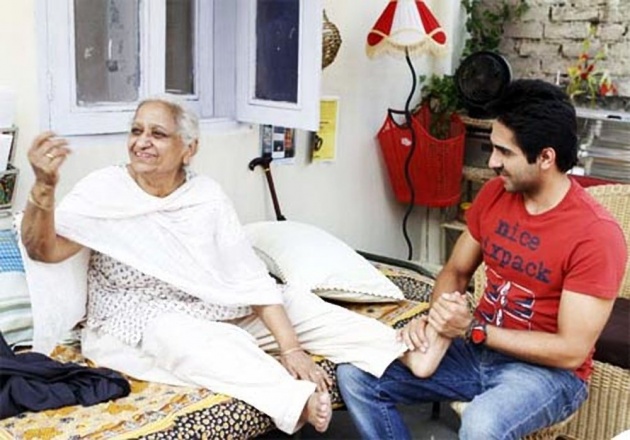 Image Credit: www.rediff.com
Video Credit: Gagandeep Singh Babbar via Youtube.com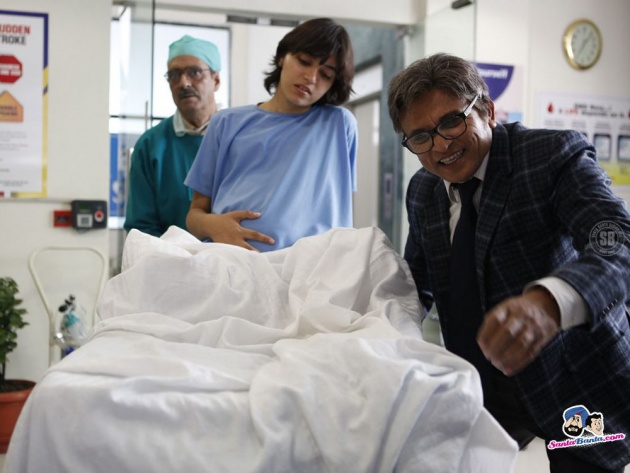 Image Credit: www.santabanta.com
✿ Here is Querlo Chat for you. Isn't it fun to chat with a Chatbot ?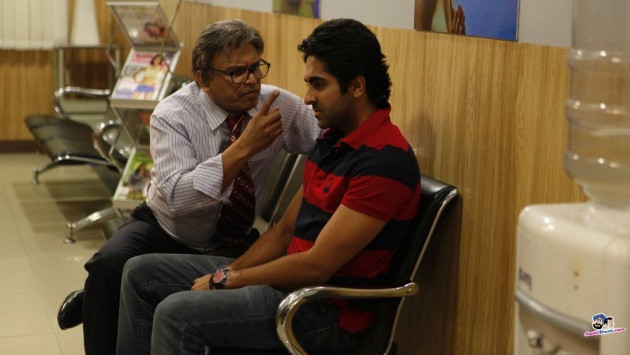 Image Credit: www.santabanta.com
✔ My Movie Review - Conclusion
Although the main topic of the movie is not very family based, however the movie "Vicky Donor" is quite a family movie because all the matters related to a family members have been depicted in a very beautiful manner in this movie. The movie is a complete package of fun and entertainment and provides a very good time pass to its viewers. The music is also very good as almost all the songs became very famous on Indian Music Charts. The film was a very pleasing change in the Industry and that is the reason why it managed to impress large masses and also managed to win multiple Indian Film Awards such as National Film Award for Best Popular Film Providing Wholesome Entertainment at 60th National Film Awards held in India. I liked the movie very much and enjoyed every bit of it. I shall rate the movie 8 out of 10 stars and I recommend to all the viewers who have not yet watched it.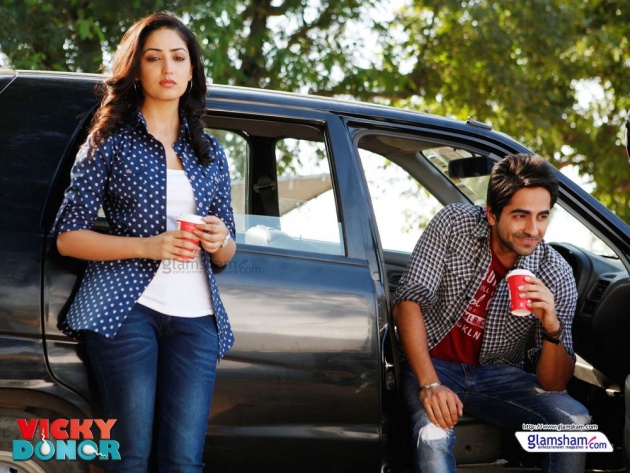 Image Credit: www.glamsham.com
✿✸✔✤✪ - - - - - - - - - - - - - - - ✿✸✔✤✪ - - - - - - - - - - - - - - - ✿✸✔✤✪ - - - - - - - - - - - - - - ✿✸✔✤✪

Thanks for Reading. This Blog was written by Rafaquat Noman (a Resident of Saudi Arabia and a Traveler) for bitlanders.


DISCLAIMER: The contents of Blog above are that of the author and does not represent his company or agency. The sites, videos, and photos used in this Blog are for information purposes only and links are available for direct access. The author does not receive any monetary benefit from those companies or sites.
✿✸✔✤✪ - - - - - - - - - - - - - - - ✿✸✔✤✪ - - - - - - - - - - - - - - - ✿✸✔✤✪ - - - - - - - - - - - - - - ✿✸✔✤✪