Video Credits: Sharon Lopez via Bitlanders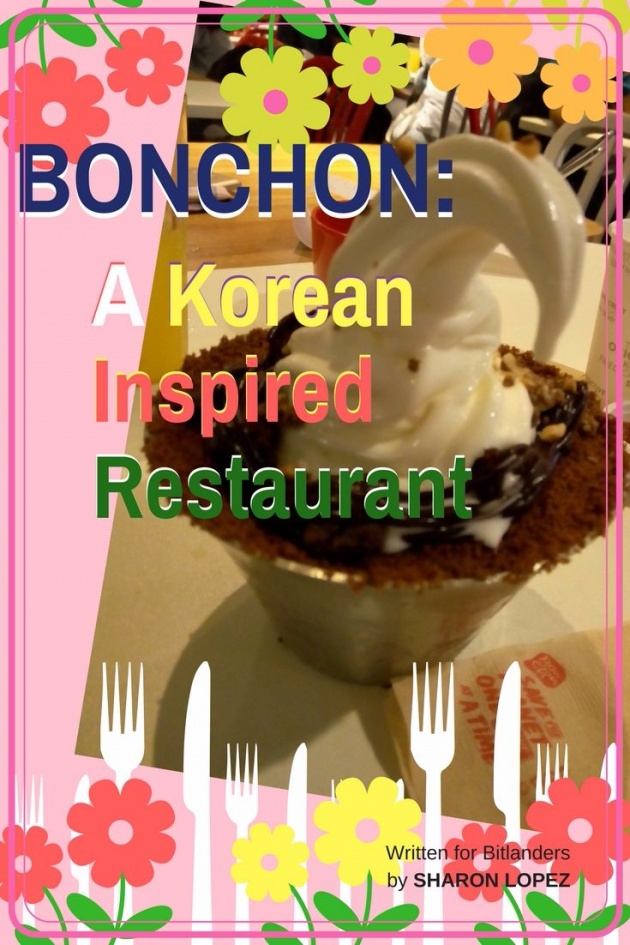 Bochon is the newest Korean Inspired Restaurant in the city of Legazpi. My daughter and I had an unplanned visit to the place. Here was what happened...
February has been a busy month for my princess because of the undergrad thesis which she needs to complete before the school year ends in March. Much as I wanted to invite her out to dine outside or go on some window shopping, I could see that she's tied up with tons of workload required by the school. After her demo teaching which caused her too much stress, here is another project that she needs to do. I know she is doing her best to comply with the all school requirements. One more year and she will be graduating. As a mother I am happy to see her striving. Although there are times when I wanted to help her but I want her to be strong. Trying to be in assistance at all times may not help her.
This Saturday seems to be a good timing for the two of us. She originally had an appointment with her classmates for a conduct of a survey in the adjacent village which would form part of the above-mentioned activity. Either it was fortunate or unfortunate, her classmates were not able to make it to the appointment time due to several reasons. She was all set and yet the meeting was canceled. Since she was already dressed up and ready to go, she asked me if we could go out and buy groceries for the coming week. She also said that she wants to try the newest Korean Inspired Restaurant in the city, Bonchon.
Though I was surprised, I immediately changed my clothes and together, we went to the Ayala Mall, the biggest mall in the city. We stopped by the department store first to buy her an umbrella. She said that her old umbrella is already broken. After choosing a good umbrella, we went to Bonchon Korean Restaurant which can be found on the third floor of the mall.
The Place: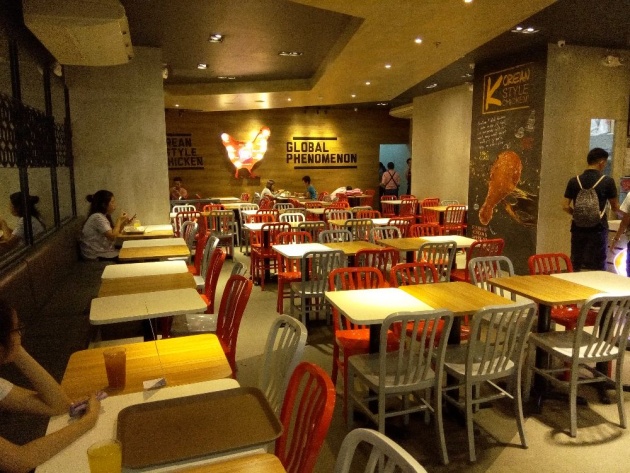 "Bonchon Korean Restaurant"
Image Credits: Sharon Lopez via Bitlanders
There were few customers when we came in. It was a medium-sized place which could accommodate approximately 60 to 70 persons. It was a fully air conditioned room making it comfortable. The place is ideal for small gatherings. The lighting and fixtures are not to bright making the place relaxing.
Some Related Information
The Korean influence is already widespread in the country. Filipinos are fond of watching Korean drama, movies, and K-Pop Stars performances. Korean music is also a growing trend. Korean fashion is also popular, especially with teenagers. On top of it, Korean Cuisine is also a hit among the Filipinos. An evidence of this is the growing numbers of Korean Restaurants in the country.
According to Bonchon Singapore article:
Bonchon, meaning "my hometown" in Korean, is a global Korean comfort food restaurant brand that originated from South Korea in 2002. Founder and owner Mr. Jinduk Seo spent years perfecting the distinct cooking technique and addictive sauces that have made Bonchon Chicken the well-loved global phenomenon it is today.
Source: Bonchonsg
Our Orders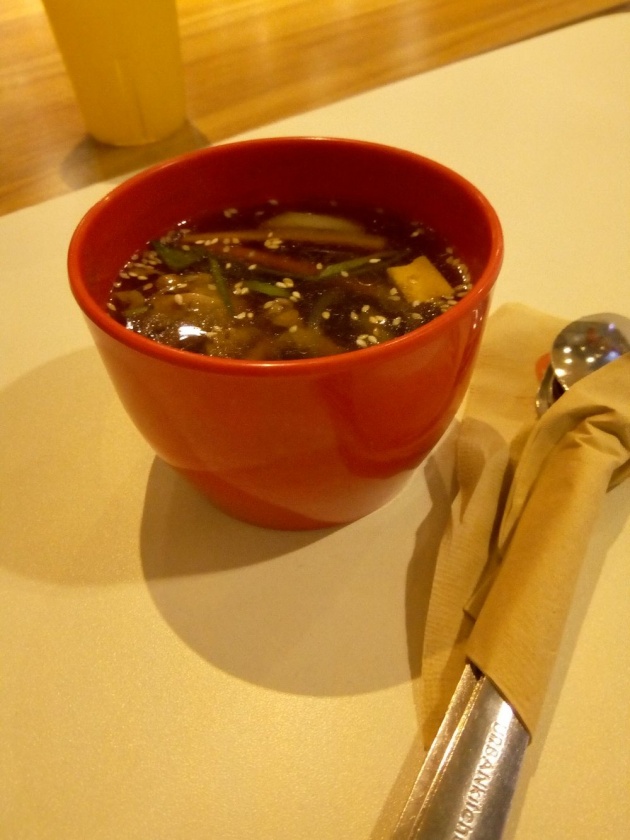 "Bulgogi Noodle Soup"
Image Credits: Sharon Lopez via Bitlanders
My daughter ordered Bulgogi Noodle Soup and Bonchon Fries. She also added Bonchon Korean Bingsu Brownie. Bulgogi Noodle Soup is made of steamed beef with Korean sweet clear vermicelli. Bonchon Korean Bingsu Brownie is made up of powdered iced topped with brownies and topped with Premium Milky Kreme. It's a perfect dessert one must try.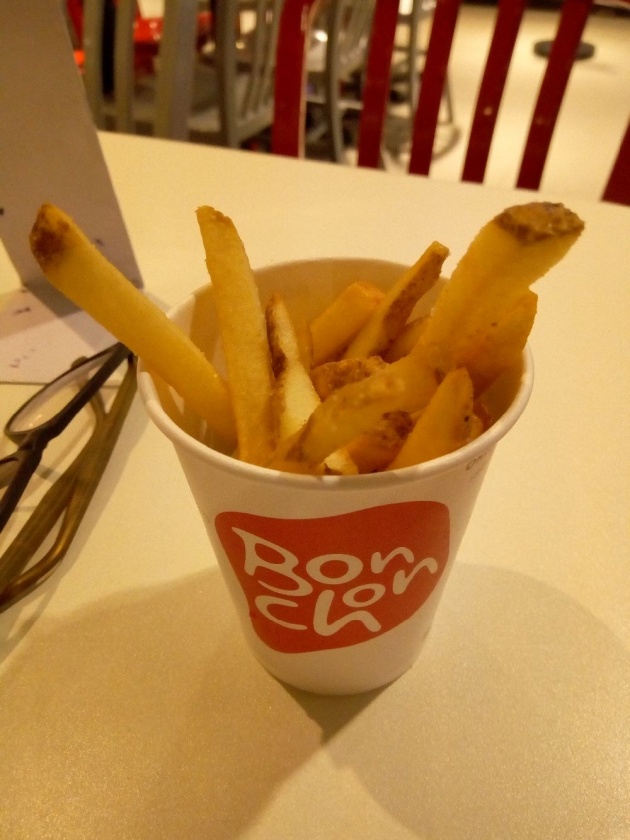 "Bonchon Fries"
Image Credits: Sharon Lopez via Bitlanders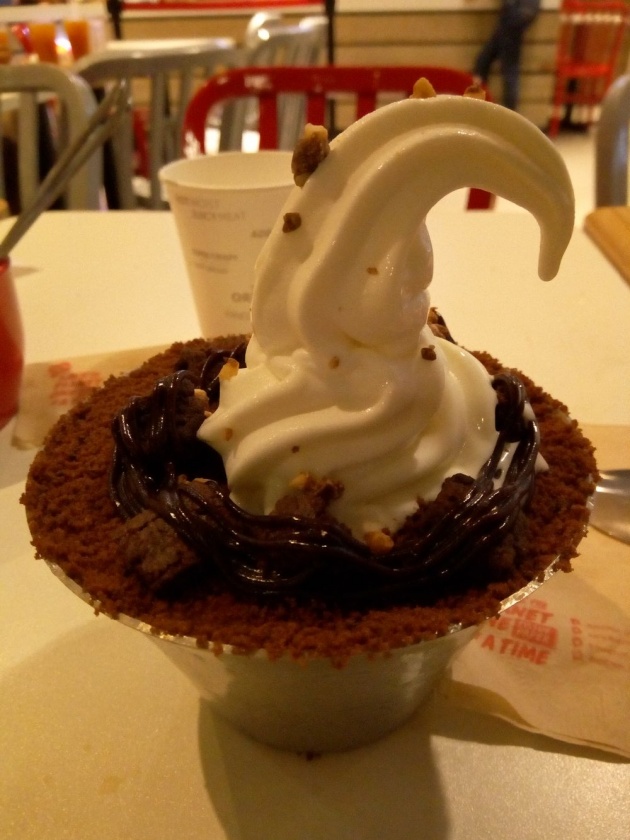 "Bonchon Korean Bingsu Brownie"
Image Credits: Sharon Lopez via Bitlanders
I ordered the Bonchon Honey Glazed Fried Chicken with fried rice. It's my first time to have a taste of a sweet fried chicken and I must say, it tastes good.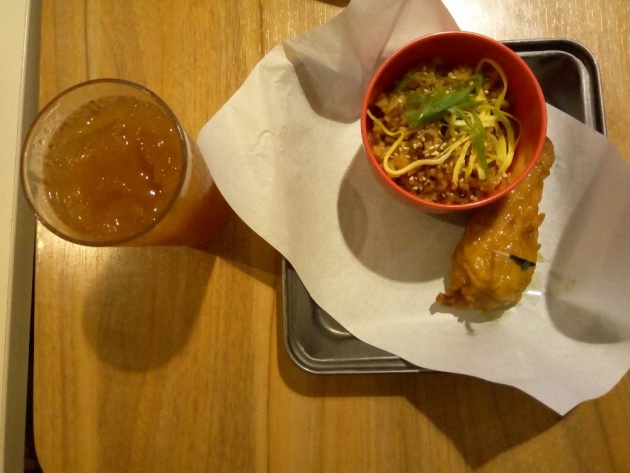 "Bonchon Hoeney Glazed Fried Chicken"
Image Credits: Sharon Lopez via Bitlanders
Here is a short video I took showing the chicken and fried rice I ordered.
Video Credits: Sharon Lopez via Bitlanders
Here is the full photo of the Korean style chicken they posted on their wall. Who wouldn't be enticed to order such?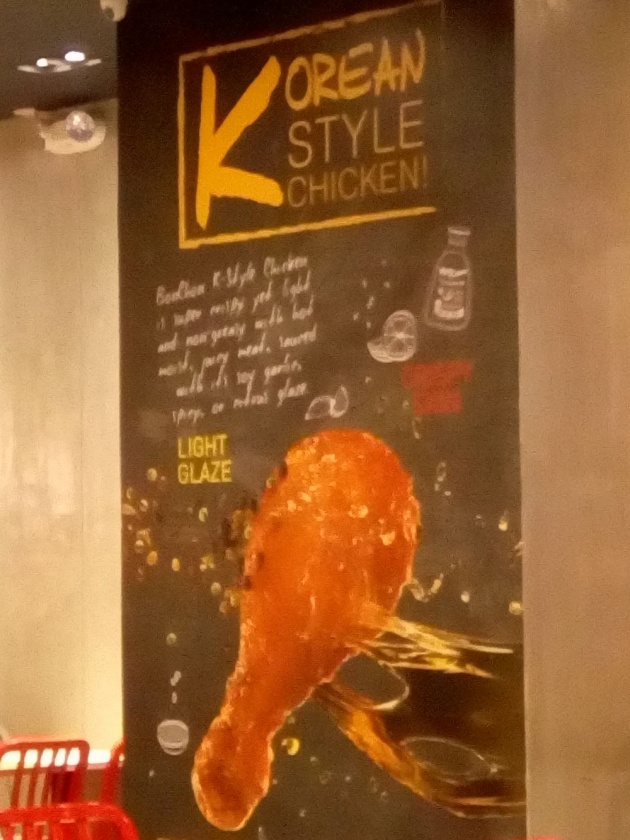 Image Credits: Sharon Lopez via Bitlanders
Other Items on the Menu
There are a lot of things that we can try but we decided to try those other things in the menu on our next visit. That would probably be after the end of the school year.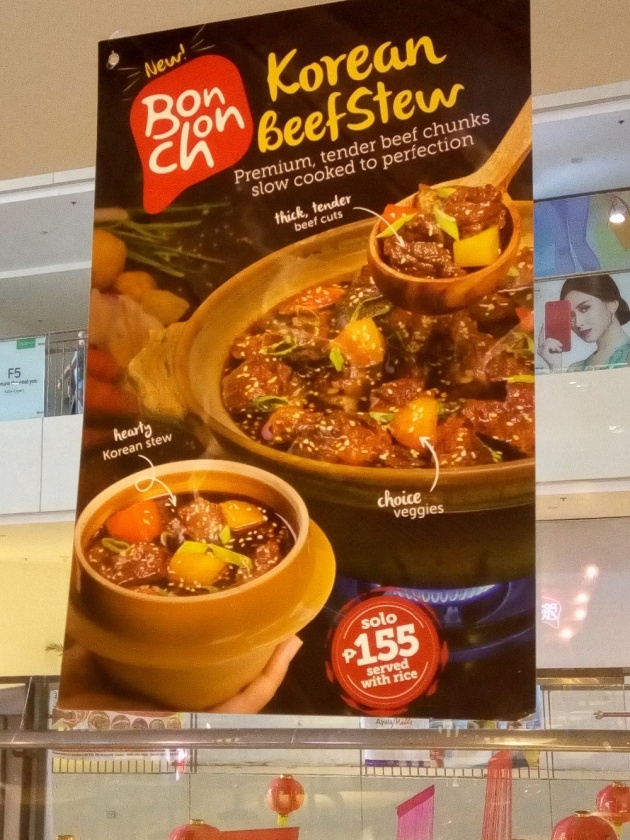 "Bonchon Korean Beef Stew"
Image Credits: Sharon Lopez via Bitlanders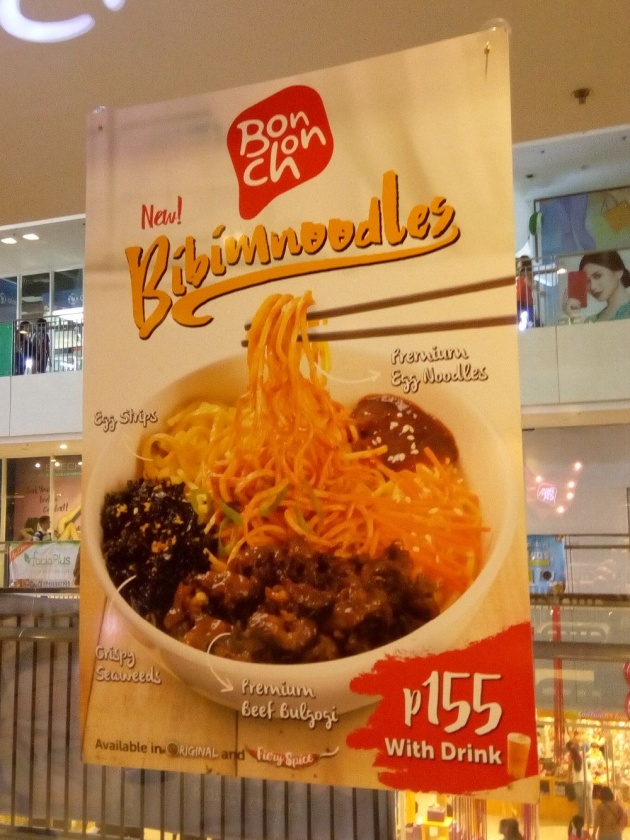 "Bonchon Bibimnoodles"
Image Credits: Sharon Lopez via Bitlanders
Price:
The price is reasonable. We paid less than Php 500 ($10.00) for all our orders. In general, Bonchon prices are almost similar to the prices other fast food outlets in the place.
Overall Experience:
May not be the best place because it tends to be crowded when people flock in, but I can say this a good place to visit when you are in Legazpi City. Ayala Mall is accessible through various public transportation available in the city of Legazpi. If you are from the town of Daraga, you will only need to ride a passenger jeep and you will pay Php 9.00 ($0.18). The passenger jeep will stop right in front of the mall. On special cases, you can ride a tricycle and you can pay Php 50.00 ($1.00).
Don't forget to check out the place once you visit Legazpi City.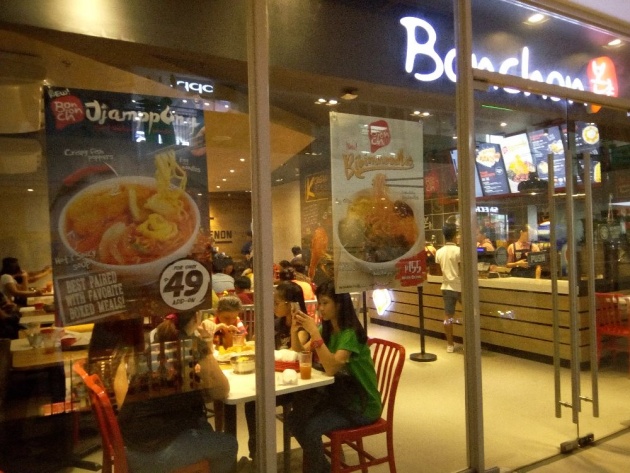 "The Bonchon Korean Restaurant from the outside"
Image Credits: Sharon Lopez via Bitlanders
Thank you my friends for dropping by. Stay happy!
Here a Querlo Chat you could answer...
__oOo___oOo___oOo___
Written for Bitlanders
by Sharon Lopez
Thank you for reading.
Here is the link to my BLOG POSTS
Sharon Lopez is the owner of Online Working Solution.
A Blogger/writer and a Humanatic Call Auditor
''''''''''''''''''''''''''''''''''''''''''''''''''''''''''''''''''''''''''''''''''''''''''''''''''''''''''''''''''''''''''''''''
You may visit me on
Facebook, Twitter, Pinterest and LinkedIn
///////////////////////////////////////////////////////////////////////////////////////////////////////////////////////////
Would you like to earn from sharing your ideas, videos, and photos? Join us in Bitlanders!
///////////////////////////////////////////////////////////////////////////////////////////////////////////////////////////

DISCLAIMER: The views and opinions expressed in this blog post are that of the author and does not in any way represent the agency or department she currently belongs.
ADDITIONAL NOTE: The sites, videos, and photos presented in this post are for information purposes only and links are provided for easy access. The author does not receive any remuneration from the said companies or sites.