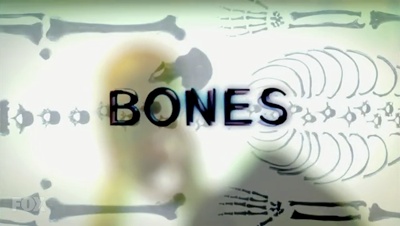 Image Credit: Fox via Wikipedia
"Pilot" is episode one of season one of Bones.
Another pilot episode unimaginatively called "Pilot". Temperance Brennan (Emily Deschanel) is a forensic anthropologist who is loaned out to the FBI, specifically Special Agent Seeley Booth (David Boreanaz - prior to this, probably best known for his role as Angel in Buffy the Vampire Slayer and Angel). This time, a decaying skeleton has turned up at Arlington National Cemetery in Virginia - as Brennan points out, not the most unusual place to find a decaying corpse.
The skeleton isn't in a grave, though, which is a little more unusual and turns out to be the body of a Senator's intern who went missing two years previously. When she is identified, suspicion falls on the Senator. Being a Senator, it's a bit harder to proceed with the investigation.
The first episode seems a bit erratic; it has potential, but relationships and personalities aren't firmed up as yet - hardly unusual for a first episode.
The series is based, extremely loosely, on the Kathy Reichs thrillers (which are loosely based on Reichs' own experiences as a forensic anthropologist), and Reichs works on the show as a producer. There aren't many similarities, though; Temperance isn't splitting her time between helping the police in Montreal and South Carolina. Instead, she's based out of the - fictional - Jeffersonian Institute in Washington, D.C. (it would appear to be based on the real-life Smithsonian Institution), and is helping the FBI. The series' Tempe also seems a bit more gung-ho, as well as younger, and more socially awkward, than the original. Those familiar with the books but not the television series are unlikely to find many points of commonality.
Video Credit onBonesFan via YouTube